JVC is the latest tech company to jump into the 4K TV game, with the release of not one, not two, but three new home theatre projectors featuring 60p 4K source compatibility. The Japanese electronics maker says that its expanded line-up of projectors – the DLA?X500R, DLA?X700R, and the DLA?X900R – are notable for delivering a vastly superior image quality compared to its previous-generation models, not to mention the highest native and dynamic contrast yet seen on this kind of device.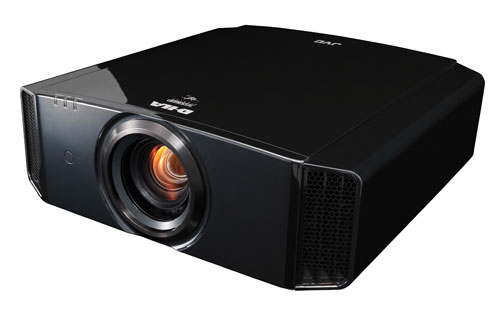 These are pretty bold claims, and its all down to something the company's third generation of "4K e-shift technology", as well as a new user-selectable intelligent Lens Aperture capable of dialling in even deeper blacks, and of course the 4K source compatibility at 60fps. The new features mean that JVC's projectors continue to provide a native contrast performance of the highest quality.
Of particular interest is the 4K e-shift 3 technology. While the JVC X500, X700 and X900 projectors do not offer native 4K resolution like the Sony VPL-VW500ES and VPL-1000ES, the resolution boost is quite notable, with all three projectors equipped with a 4K signal input that allows content from 4K and 2K sources to be displayed at pseudo-ultra HD (3840 x 2160) resolution. As well as the 4K 60p source input, JVC's projectors are also 3D-enabled, and boast sixth generation JVC D?ILA imaging devices that are said to deliver a far smoother picture as the pixel gap is 40 percent narrower than previous models. In addition, the new devices also offer a 10 percent light efficiency improvement, plus superior native contrast thanks to its new third-generation wire grid optical engine. Due to this, the DLA?X900R boasts a native contrast ratio of 150,000:1, while the DLA?X700R offers a ratio of 120,000:1, and the DLA?X500R a ratio of 60,000:1.
The user?selectable Intelligent Lens Aperture is another notable feature for the geeks amongst our readers, producing deeper blacks without degrading white levels. As a result, JVC claims that the Intelligent Lens Aperture means that the projector's dynamic contrast ratios are on a par with their native contrast ratios when the feature is engaged.
Whilst JVC has announced its new projector lineup today, there's no official word yet on UK pricing, though we expect to learn more at the company's European product launch event in October. The JVC X500R, X700R and X900R are scheduled to be available from November.