Imagine you're a car manufacturer who has produced the fastest cars over the last few years, establishing a dominant market share as a result. Suddenly, perhaps due to increased awareness about environmental friendliness, consumers are increasingly turning their attention to vehicles which are powered by a new, greener type of fuel called "Quadtrol". And yet you don't have any Quadtrol-based model in your pipeline, not at least for another 12 months.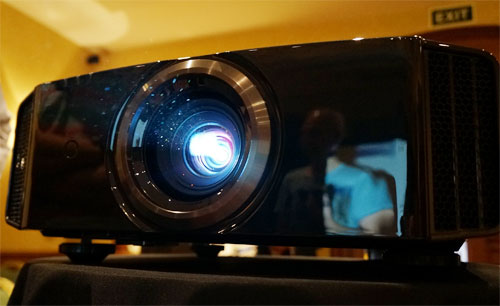 JVC finds itself in such a challenging situation. For the past five years, the Japanese manufacturer's D-ILA (Digital Direct Image Light Amplifier) projectors have enjoyed massive success in the home cinema market both in terms of sales and critical acclaim, owing to their unrivalled ability to deliver formidable blacks. However, with all the hype surrounding 4K Ultra HD and HDMI 2.0 at the moment, the company risks being marginalised by potential buyers, because of the conspicuous absence of a native 4K projector in its 2014 lineup, especially when closest rival Sony are releasing its second-generation true 4K projector in the form of the VPL-VW500ES at a scarcely believable price of less than £10,000.
So it was with some trepidation that we attended an event JVC put together to launch its 2014 range of DILA projectors for the UK and Scandinavian markets. The JVC DLA-X500, DLA-X700 and DLA-X900 will replace the outgoing DLA-X55, DLA-X75 and DLA-X95 respectively, whereas the DLA-X35 base model will be carried over from 2013 with some behind-the-scene tweaks as well as smartphone app control.
After the usual pleasantries, JVC UK's product specialist manager Steven Carter ran us through the key improvements that the 2014 models offer over their predecessors. Despite holding the black level crown as far as home theatre projectors are concerned, the company has seen fit to boost the contrast performance even further through not only an enhanced imaging system, but also the introduction of a dynamic iris – dubbed "Intelligent Lens Aperture" by JVC – for the very first time.
The improved imaging system comprises the sixth generation (6G) of D-ILA panel, and a third-generation (3G) wire grid polariser. The former brings about a 40% reduction in pixel gap from 0.5µm to 0.3µm, delivering a smoother picture and, in combination with the more efficient optical pathway afforded by the latter, brighter light output which of course contributes to higher native contrast ratio.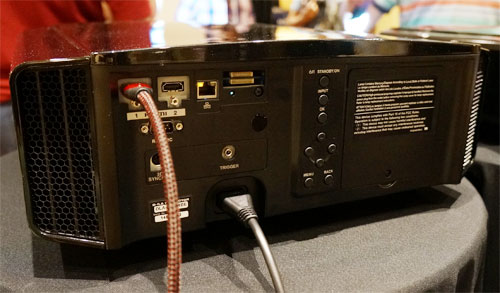 Another major feature on the DLA-X500R, DLA-X700R and the DLA-X900R is their ability to accept 4K/60p (8-bit, 4:2:0) signal through the onboard HDMI 1.4 ports (well done to JVC for being refreshingly honest rather than fudging the line with claims of HDMI 2.0). However, because the D-ILA device is natively 1920×1080 and not 3840×2160, 4K e-shift3 technology is used to extract 2K frames from the original 4K signal, which are then upconverted to pseudo-4K resolution via Multiple Pixel Control (MPC 3) processing.
Other upgrades include optional xvYCC colour gamut, quieter operation in low lamp mode (21dB vs 23dB on 2013 models), simultaneous RS232 and LAN interface control, and expansion of pixel convergence adjustment from one to two memory slots. Furthermore, the DLA-X500 now features auto-calibration which we're informed can be carried out using a Spyder-based meter and JVC's own free software.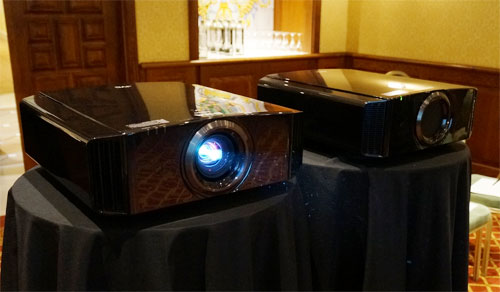 So with these specifications and purported improvements out of the way, how does the image actually look? Utterly stunning, if the demo put on by JVC was anything to go by. The team placed a DLA-X700 and a DLA-900 (both pre-production units) side-by-side in a relatively light-controlled room projecting onto a 110-inch Stewart Luxus Deluxe screen with StudioTek 130 fabric. Even with both units running together, fan noise was inaudible from where we sat (8 feet away), lending credibility to JVC's claim of improved acoustics.
Black level reached a depth hitherto unseen on any digital home cinema projector, surpassing even the outstanding blacks delivered by previous JVC DILA projectors. The company's new Intelligent Lens Aperture tech probably helped a lot in this aspect: despite clarifying with JVC that dynamic iris was indeed in operation, we didn't notice any brightness fluctuation from the few clips we sampled.
And it's not a black abyss either. In a screening of a nighttime scene from the Pacific Rim Blu-ray disc, the JVC DLA-X700R retained plenty of shadow detail, breathing life and texture into the awesome robots vs. monsters battle sequence. The X700 was equally adept at handling bright scenes: a short BD clip from Oblivion absolutely brimmed with pop and detail. This is home cinema at its best, and when a picture is this good, you're no longer watching a projector, you're undergoing an experience.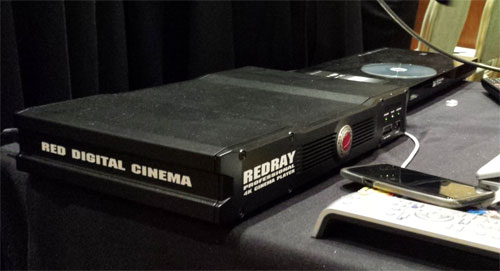 We also auditioned the JVC DLA-X900R with some native ultra high-definition (UHD) content served from a REDRAY 4K Cinema Player, and this is the only area where the company's 2014 projectors stumbled slightly. Having demoed Sony's hugely impressive VPL-VW500 native 4K projector at IFA last month, we felt that JVC's 4K eshift3 system discarded a bit too much detail and then tried hard to overcompensate with sharpening, causing long shots (for instance tree leaves in the faraway background) to appear not only a touch overprocessed, but also lacking in the outright detail and smooth silkiness that the Sony VW500ES was capable of portraying.
Of course, it's worth bearing in mind that the pair of JVCs we saw were engineering units which can potentially be improved come production time, and that with so little 4K UHD content available to consumers (especially for those of us in the UK and Europe), full HD 1080p material will still make up the majority of viewing. In spite of all the hoo-haa about 4K, contrast ratio remains by far the most important attribute of picture quality, much more so than resolution. The best example we could come up with in the TV world is how a 1080p OLED looks infinitely superior to a 4K LED television even if the latter is displaying gorgeous native 4K content.
Whichever way you want to look at it – native or dynamic contrast; Intelligent Lens Aperture on or off – the black level of JVC's new DLA-X700 and DLA-X900 projectors stands peerless among fixed-pixel home theatre projectors at any price. We can't wait to get production samples into our test room for a full review, if only to see whether enough of the image quality goodness has dripped down to the more affordable DLA-X500.
The JVC DLA-X500R, DLA-X700R and DLA-X900R DILA projectors will be available in the United Kingdom from next month, priced at £5299, £7299 and (provisionally) £10299 respectively.