JVC showcased its recently announced DLA-Z1 native 4K laser projector at the IFA 2016 consumer electronics trade show that's taking place in Berlin this week, and we were treated to an early demo.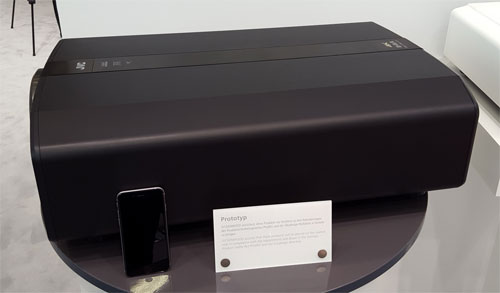 The unit itself looks uber-premium. Commanding a footprint larger than most home cinema projectors, a JVC-branded brushed gunmetal grey column runs down the centre on top of the chassis, serving to highlight the Z1's all-glass 16-group 18-element lens. A textured matte black finish has been applied to the chassis to not only cut down reflections in a dedicated theatre room, but also minimise those pesky fingerprint marks during installation. At the rear of the projector, there are two 18Gbps HDMI 2.0a inputs with HDCP 2.2 compatibility amongst other ports.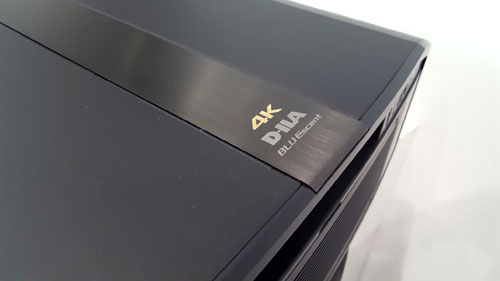 Under the hood is a laser light source engine delivering 3,000 lumens of brightness and 20,000 hours of operational lifespan. We previously thought that JVC's implementation – dubbed "BLU-Escent" – would contain a phosphored colour wheel, but this turned out to be untrue. The DLAZ1's high efficiency laser unit is paired with motorless, inorganic phosphor as well as large heatsink and heatpipe, and provides dynamic light output control instantly at source, thus removing the need for any dynamic iris mechanism.
At 0.69in, the native 4K (4096×2160) D-ILA imager found on the JVC's DLA-Z1 is the world's smallest yet, narrowing the pixel gap by 31% compared with previous devices. As a result, light scattering and diffraction is reduced, allowing the picture to take on a smooth detailed appearance without visible pixel grid even on large screens.
Optically, the JVC Z1 features a new, larger 100mm high-resolution lens designed for 4K and to reduce stray light with a more efficient prism. Colour gamut coverage has been specced at 100% for DCI-P3 and 80% for Rec.2020, owing to a combination of laser light source and a new colour filter. Gamers also has a cause to celebrate, because listening to constructive feedback, JVC will for the first time introduce a [Low Latency] mode on the DLAZ1, but of course we'd need to measure input lag to get a handle on gaming responsiveness when a review sample eventually arrives in our test room.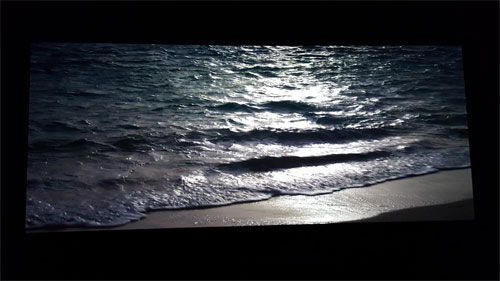 The demonstration was conducted in a light-controlled room fitted with a 130-inch, 0.95-gain Stewart screen. Things started off very nicely with a HLG (hybrid log-gamma) HDR footage encoded by the BBC in 10-bit 2160p60 and BT.2020. Armed with higher peak brightness (relative to other projectors), the DLA-Z1 portrayed bright highlights (such as reflections off the ocean waves, and details in the clouds) with a palpable sense of realism that's simply beyond the reach of SDR.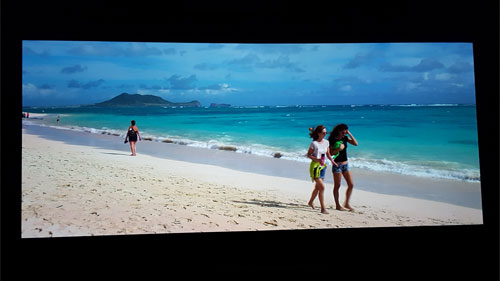 With true 4K resolution output and smaller pixel pitch now on board, texture and detail were off the charts, imbuing the picture with a mesmerising level of silky smooth sharpness we always found lacking on JVC's previous e-Shift projectors. The entire image came across as so pristine and clean with little to no noise and posterisation in sight, though of course the source file was probably not heavily compressed in the first place.
| | |
| --- | --- |
| | |
Next, we were shown a HLG clip of fireworks exploding against the night sky. While blacks looked slightly brighter than what we've come to expect from JVC's legendary black-level performance, the Z1 delivered sufficient luminance impact and retained the coloured details within the explosions. Perhaps of most significance is the fact that this was the world's first working public demonstration of HLG HDR on a projector (the Sony VW550's is pending a firmware update), although understandably [HDR Hybrid Log] mode had to be manually engaged on the JVC DLAZ1 since the broadcast-centric format is not metadata-triggered.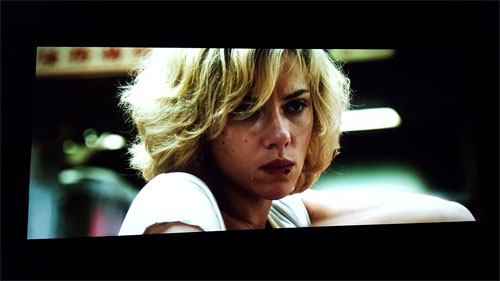 Moving onto 4K Blu-ray, selected scenes from Lucy and Deadpool were played from a custom-modded Panasonic DMP-UB900 player. Colours certainly looked richly saturated and there's ample cinematic feel, but blacks did appear elevated with some near-black crushing going on (which could potentially be dialled out with proper calibration). Nevertheless, this was comfortably the best HDR presentation we've seen from a projector, and JVC repeatedly stressed that the demo machine was only a prototype running on very early firmware, with many software improvements planned in the coming months before the units go on sale in November.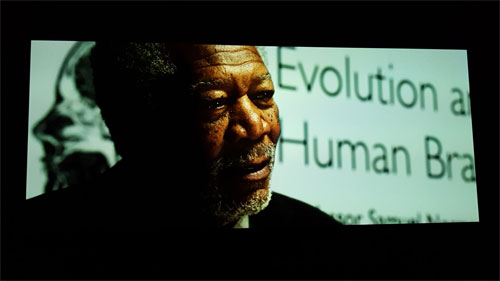 The JVC DLA-Z1 has been given a price tag of £30,000 in the UK or €35,000 in other European markets, which is around half the price of Sony's corresponding VPL-VW5000ES. Taking into account JVC's respect for film grain integrity (Sony projectors tend to apply forced noise reduction however slight even with [Reality Creation] disabled) and its newly-implemented gamer-friendly mode, the Z1 is looking like the projector to beat for the foreseeable future. We'll learn more when we attend a UK launch event next month, and get our hands on a review unit.