We've been very impressed with the picture quality delivered by Sony's high-end TVs this year such as the Bravia X93C and range-topping X94C, but the company's new-for-2015 Android Smart TV system is probably more miss than hit. Before the year draws to a close, let's take a look at the step-down Sony X85C 4K Ultra HD model which has proved popular among buyers due to its keen price.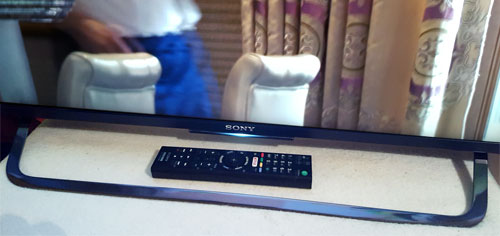 The specific unit we're testing is the 55-inch KD-55X8505C, though our findings should be applicable to the KD-55X8507C and KD-55X8509C whose key differences lie in cosmetics (silver bezel on X8507C; chrome stand on X8509C) and slightly higher Motionflow XR rating (900Hz on the KD55X8507C and 1000Hz on the KD55X8509C vs 800Hz on the X8505C). All these 55in X850C models feature a UHD (ultra high-definition) resolution of 3840×2160, edge LED backlighting, 4K X1 video processor, Triluminos Display colours, and the aforementioned Android TV platform.
Design
But for the Sony logo and a glowing LED saucer beneath the panel, the KD55X8505C would have passed for an all-black affair in terms of styling. A matte black bezel frames the semi-glossy LCD screen, and the supporting "wire rack" table-top stand is finished in gleaming dark chrome. Build quality is hard to fault given the display's price point, though the relatively short length of the non-detachable power cord may limit flexible placement.
Calibration
Using a profiled Klein K10-A meter, DVDO's AVLab TPG generator and SpectraCal's CalMAN Ultimate software, we encountered no problem calibrating our Sony KD55X8505CBU review sample to D65 greyscale, 2.4 gamma and Rec.709 colour standards. Post-cal colour accuracy was particularly impressive considering there's no advanced colour management system (CMS) on board.
Greyscale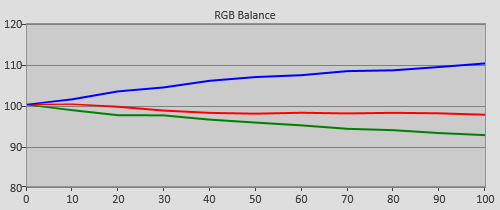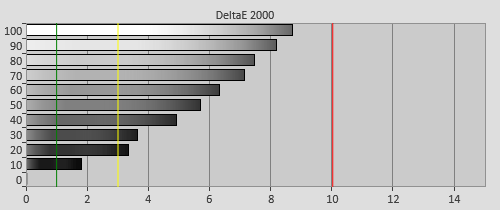 Pre-calibration RGB tracking and delta errors (dEs)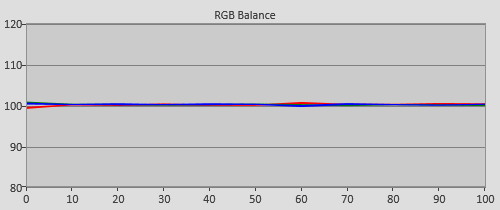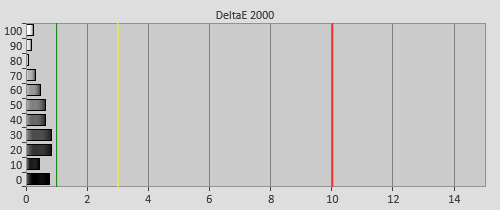 Calibrated RGB tracking and dEs after 2p & 10p white balance adjustments
Gamma
| | |
| --- | --- |
| | |
| Pre-calibration gamma tracking (2.41) | Post-calibration gamma tracking (2.37) |
Colour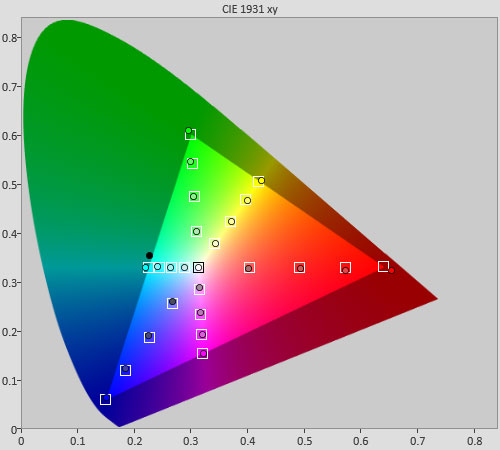 Post-calibration colour saturation tracking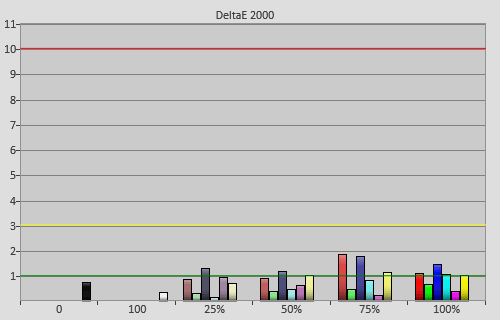 Post-calibration colour errors (<3 not appreciable to the eye)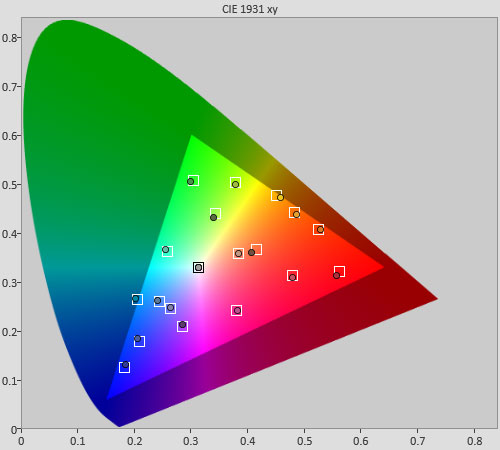 Post-calibration Colour Checker Classic test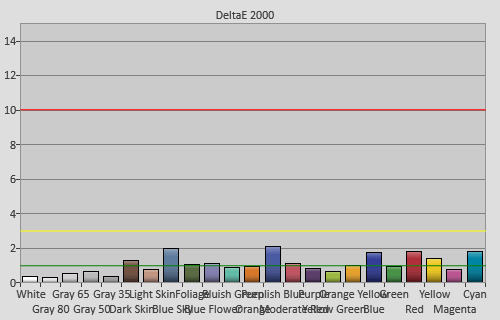 Post-calibration Colour Checker Classic errors (<3 not visible to the eye)
Benchmark Test Results
| | |
| --- | --- |
| Dead pixels | None |
| Screen uniformity | Good especially for an edge-lit display |
| Overscanning on HDMI | 0% if [Screen Format] "Full" & [Display Area] "Full Pixel" or "+1" |
| Blacker than black | Passed |
| Calibrated black level (black screen) | LEDs dim down/ shut off |
| Calibrated black level (4×4 ANSI) | 0.048 cd/m2 |
| Black level retention | Auto-dimming with full black screen |
| Primary chromaticity | Good |
| Scaling | Very good for HD sources |
| Video mode deinterlacing | Effective jaggies reduction |
| Film mode deinterlacing | Passed 3:2 & 2:2 in SD & HD with [Film Mode] enabled |
| Viewing angle | Limited: contrast & colours wash out >30° off-centre |
| Motion resolution | 950 with [MotionFlow] "Clear" & "Custom" |
| Digital noise reduction | Optional; effective when engaged |
| Sharpness | Defeatable edge enhancement |
| Luma/Chroma bandwidth (2D Blu-ray) | Full luma; chroma horizontally blurred except in [Game] & [Graphics] modes |
| 1080p/24 capability | No judder in 2D & 3D |
| Measured panel refresh rate | 120Hz |
| Measured DCI-P3 coverage | 91% |
| Input lag (Leo Bodnar tester) | 35ms in [Game] mode |
| Full 4:4:4 reproduction (PC) | Yes for 3840×2160@60Hz with [HDMI Signal Format] "Enhanced" |
Power Consumption
| | |
| --- | --- |
| Default [Standard] mode | 47 watts* |
| Calibrated [Cinema pro] mode | 70 watts |
| Standby | <1 watt |
*Note: By default, [Light Sensor] was enabled out of the box, thus explaining why energy usage was lower before calibration than after.
Picture Quality
Black Level & Contrast Performance
The VA-type LCD panel on the Sony KD-55X8505C displayed a convincing shade of black by 4K LED LCD standards. With peak luminance pegged to our normal dark-room target of 120 cd/m2, black level measured 0.048 cd/m2 on a 4×4 ANSI chequerboard pattern, dropping to 0.03 cd/m2 on a full-black screen owing to auto-dimming.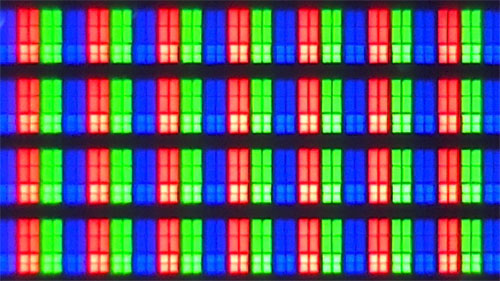 Macro shot of RGB subpixels confirming VA-type LCD matrix
The 55″ Bravia X85C employs frame dimming rather than any sort of sophisticated pseudo-local dimming found on higher-end edge LED televisions. This is activated via the [Adv. Contrast Enhancer] control in the picture menu, which offers three levels of intensity – "Low", "Medium" and "High" – besides "Off". In practice, we found that even the "Low" setting introduced visible backlight fluctuations during dark-to-bright (and vice versa) scene transitions, so we advise leaving it off unless you really crave deeper blacks in predominantly dark sequences.
Backlight & Screen Uniformity
Despite its edge-lit LED configuration (our thermal scan revealed only one strip of LEDs along the bottom of the panel), backlight and screen uniformity on our Sony KD55X8505C review unit was commendable.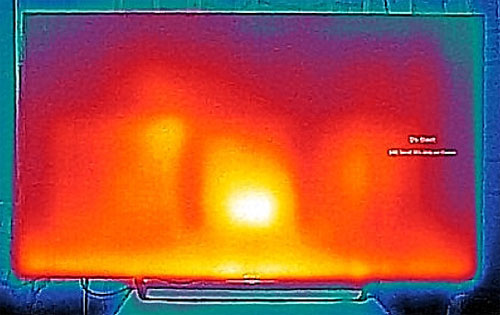 We observed no clouding on a black screen in a dimly-lit environment, although there's some flashlighting from the bottom corners. The dreaded dirty screen effect (DSE) that plagues many edge LED TVs was also largely absent on our sample, but the edges did darken a fair bit possibly caused by the set's restricted viewing angles.
Motion
Overall, we feel that Sony has taken a step back this year when comes to motion clarity on its Bravia televisions. Like all other 2015 Bravias we've reviewed, there's no way to achieve a motion resolution (as determined via the horizontally scrolling lines in Chapter 31 of the FPD Benchmark Software test disc) in excess of 900 on the X850C without also incurring overt soap opera effect (SOE) from interpolation or significant flicker and darkening from black frame insertion (BFI), whereas in the past there's at least one [Motionflow] setting ("Clear" or "Clear Plus") that can provide decent results across both video- and film-based material.
HD
The first thing that struck us once we sat down and sampled some high-definition content on the Sony Bravia X85-C was its staggeringly good detail retrieval even from off-air sources. Images came across crisp and pin-sharp, and when paired with the television's reasonably deep blacks as well as accurate colours, the viewing experience was highly satisfying. The only thing to watch out for is the display's viewing angle: it's narrow even by VA LCD standards, so make sure you sit bang in the middle for the best picture.
4K including HDR
A recent firmware update not only enabled 4:4:4 chroma reproduction at 3840×2160@60Hz resolution (once [HDMI Signal Format] was changed to "Extended Format"):

…but also added HDR (high dynamic range) playback support to the Sony 55X8505C – there's now a [HDR Video] preset alongside the usual offerings of [Vivid], [Standard], [Cinema], etc. And unlike the HDR modes implemented by most TV manufacturers, Sony's allows for the adjustments of many video parameters including [Brightness], [Contrast], [Gamma], [Black Level], and [Colour temperature].
We fed several HDR-mastered demo videos on a USB stick to the Bravia X85C, and upon playback of each clip, the 4K TV correctly read the metadata, automatically kicking into its [HDR Video] mode. Certain footage (for example those from LG designed to show off OLED's HDR potential) looked excellent, although owing to the lack of local dimming, blacks inevitably turned grey when both bright and dark elements had to co-exist on screen.
The widely available Life of Pi and Exodus HDR demos, on the other hand, appeared washed out with elevated black level (in fact, the SDR version looked more contrasty!), suggesting that the wrong PQ (perceptual quantizer) EOTF was being applied. It's very possible that these clips were optimised for Samsung SUHD televisions only… the true acid test will come once HDR content on Ultra HD Blu-ray arrives early next year.
Maximum luminance came in at 332 cd/m2 with both [Brightness] and [Contrast] cranked up to maximum. The KD-55X8505C's widest gamut was obtained with [Colour Space] set to "BT.2020", reaching 91% of DCI-P3 standard: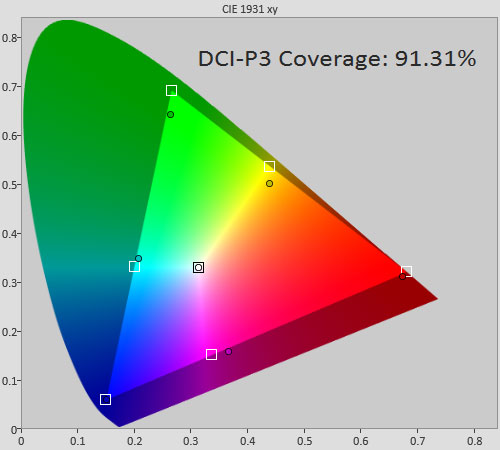 3D
The Bravia KD55X8505C's tri-dimensional performance was good but not great. The 3DTV successfully resolved full HD 3D resolution, and presented 24Hz, 50Hz and 60Hz 3-D material – be it film- or video-based – without any judder as long as the correct [Motionflow] setting was selected. Crosstalk was generally faint and non-intrusive, but our main complaint about the Sony X85C's extra-dimensional presentation was its dimness and softness compared with Samsung's SUHD and especially LG's 4K OLED TVs.
Gaming
Our Leo Bodnar input lag tester returned a figure of 35ms from the Sony KD-55X8505 in [Game] mode. Whilst not as responsive as the UHD models from Samsung (this year's undisputed leader in churning out low-lag televisions), this should still be fast enough for all but the most demanding of twitch gamers.

Outside [Game] mode, input lag doubled: we measured it to be 72ms in our calibrated [Cinema pro] preset.
Verdict
The Sony KD-55X8505C produces a pleasing image, even though it's understandably outperformed by its more expensive X93C and X94C cousins which are equipped with LED local dimming. Looking further afield, the flat-screen Samsung JU7000 (the 55-incher costs only £100 extra over the 55X85C) is the strongest alternative, featuring a more versatile motion-enhancing system, lower input lag, not to mention an eminently more usable Smart TV portal.
Nevertheless, the KD55X8505C still represents good value for money, especially after the latest firmware update which added HDR support and 4:4:4 chroma at 4k@60Hz.