If there's one last review to squeeze in before the end of the year, it would be the Sony X9 series of Bravia 4K TVs. 2013 has been such a trailblazing year for the Japanese brand as far as 4K Ultra HD is concerned, with the launch of the world's first native 4K projector with HDMI 2.0, its FMP-X1 4K media player and 4K movie download service (albeit not in the UK and Europe at this time of writing), and of course more affordable and sensibly-sized ultra high-definition (UHD) televisions, one of which we're looking at today.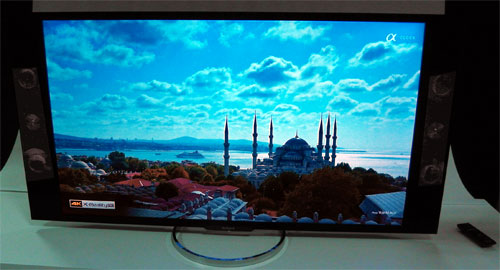 Sporting a screen size of 55 inches, the Sony KD-55X9005A is the smallest model within the company's Bravia X9 range of 4K Ultra HD TVs, which also comes in 65″ (KD-65X9005A) and 84″ (KD-84X9005) sizes. The 4K TV features edge LED backlighting, 4K X-Reality Pro video processing engine, Triluminos Display quantum dot colour technology, passive 3D capabilities, inbuilt Freeview HD and satellite tuners, integrated WiFi connectivity, one-touch NFC remote mirroring, a pair of "Magnetic Fluid" speakers, as well as the Sony Entertainment Network (SEN) Smart TV platform.
Note: The specific model we tested was the Sony KD55X9005ABU which is the UK 3-pin-plug version. The same TV may sold by British retailers like John Lewis and Currys as the KD55X9005. While we usually claim that there shouldn't exist any major discrepancy in picture performance within the same television range, we have reason to believe that at least one aspect of the 55X9's image quality is different from its 65-inch sibling, the Sony KD65X9005. All will be explained later in this review.
Design
The first thing that struck us about the KD-55X9005A was how much wider the set is compared to most flat-screen televisions these days. Going against the trend of slim bezel which has become immensely popular among HDTV buyers in recent years, Sony has chosen to extend the sides of the screen with a pair of front-firing speakers that's ungrilled, revealing the tweeter and drivers in all their beautiful glory. The way the speakers sit flush with the front glass panel is aesthetically stunning, and they deliver undoubtedly the best sound quality we've ever heard from from any flat-screen display.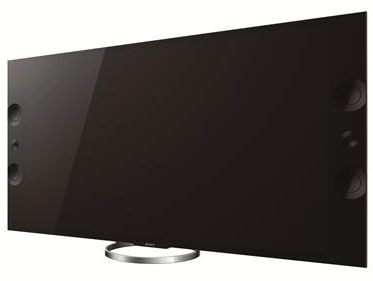 But we cannot help but think that Sony have lost more than a few sales as a result of the Bravia X9's extra-wide footprint, especially in Europe where living room space is at a premium. Yes, the magnetic fluid speakers sound excellent, but most home cinema enthusiasts who can afford the Sony KD55X9005 would probably own a dedicated multi-channel home theatre system anyway, rendering the integrated speakers redundant. This makes the company's decision to not release its Bravia X8 series – which is basically a trimmed-down version of the Sony X9 minus the side speakers – in the United Kingdom and most of Europe quite baffling.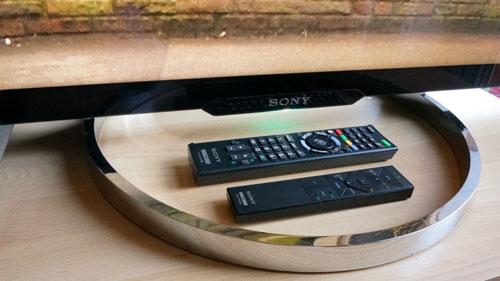 Missed opportunities aside, the handsome look of the Sony 55X9 is completed by a chrome-plated, ring-shaped table-top stand that cannot be swivelled, as well as an "Intelligent Core" unit which hangs from the bottom of the panel, carrying Sony's logo.
Connections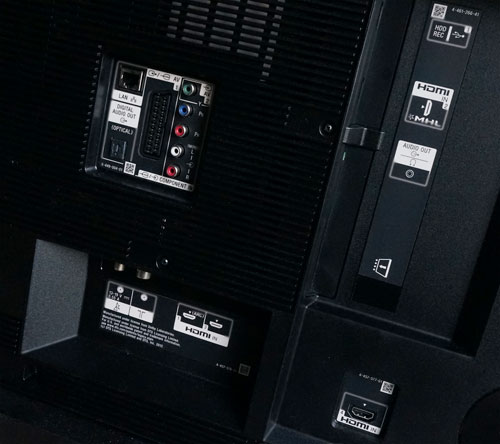 4xHDMI, 3xUSB, component, SCART, Freeview HD & satellite tuners, LAN, audio outs.
Calibration
Note: Our review sample was calibrated using CalMAN 5, the industry-leading video calibration software.
Greyscale
We've reviewed so many Sony TVs this year that the calibration process has become automatic to us now. We first changed [Scene Select] to "Cinema" and used its default [Picture Mode] of "Cinema 1", knowing that this is normally the most accurate picture preset available for critical viewing on the Bravia LED LCDs.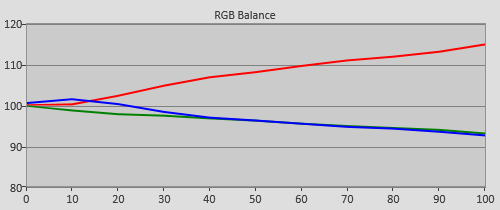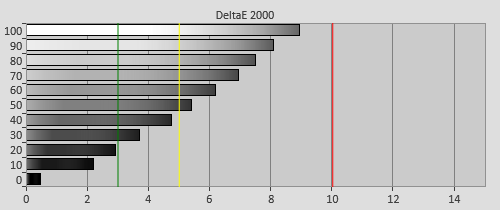 Pre-calibration RGB tracking and delta errors (dEs)
On our set, there existed a red tint which worsened as the image got brighter. Fear not though, because a few clicks in the [White Balance] submenu was all that's needed to dial it out: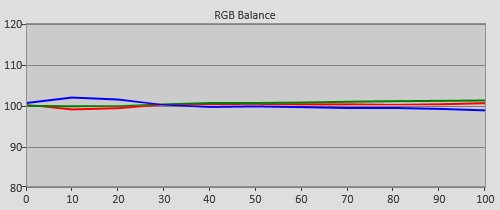 Post-calibration RGB tracking and delta errors (dEs)
…leaving us with neutrally-tinted greys. Delta errors (dEs) were below 2 across the entire luminance range, which means that any inaccuracy is so minor that it's essentially imperceptible to the human eye.
Gamma
Sony is the sole TV manufacturer who's flying the 2.4 gamma flag high this year, and we're pleased to see this continue on the KD55X9005.
| | |
| --- | --- |
| | |
| Pre-calibration gamma tracking (2.35) | Post-calibration gamma tracking (2.35) |
The default [Gamma] setting of "-2" in [Cinema 1] mode yielded an overall gamma of 2.35, which is close enough to the ITU's recommended electro-optical transfer function (EOTF) of 2.4.
Colour
If you thought that Sony is going to start offering an advanced colour management system (CMS) on its shiny new 4K TVs, having refused to do so on full HD 1080p Bravias over the years, well, you thought wrong. As per usual, we only have the [Colour], [Tint] and [Live Colour] options at our disposal to calibrate the colours on the 55in X9. Engaging [Live Colour] produced a pleasingly (over)saturated though inaccurate palette, so we advise leaving it off. [Tint] was correct at its default value; while we gained some improvement from increasing [Colour] to "52":
Post-calibration colour saturation tracking
This gave us the lowest dEs across the 25%, 50%, 75% and 100% colour saturation tracking points, although certain shades of blue and magenta exceeded the visible delta error threshold of 3.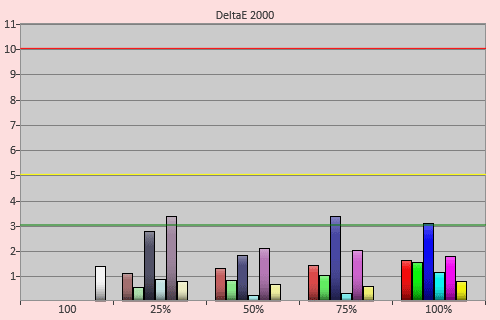 Post-calibration colour errors (<3 not appreciable to the eye)
Nevertheless, most viewers probably won't be able to notice these inaccuracies unless they compare side-by-side with a reference display.
Benchmark Test Results
| | |
| --- | --- |
| Dead pixels | None |
| Screen uniformity | Mild clouding/ light pooling; some DSE |
| Overscanning on HDMI | 0% if [Screen Format] "Full" & [Display Area] "Full Pixel" or "+1" |
| Blacker than black | Passed |
| Calibrated black level (black screen) | LEDs dim down/ shut off |
| Calibrated black level (ANSI checkerboard) | 0.048 cd/m2 |
| Black level retention | Auto-dimming with full black screen |
| Primary chromaticity | Good |
| Scaling | Very good |
| Video mode deinterlacing | Decent |
| Film mode deinterlacing | Passed 3:2 cadence over 480i; failed 2:2 over 576i |
| Viewing angle | Decent for a VA LCD panel |
| Motion resolution | High motion sharpness with [MotionFlow] "Impulse" |
| Digital noise reduction | Light layer of undefeatable noise reduction |
| Sharpness | Defeatable edge enhancement |
| Luma/Chroma bandwidth (2D Blu-ray) | Full luma; chroma horizontally blurred except in [Game] & [Graphics] mode |
| 1080p/24 capability | No judder in 2D and 3D |
| Leo Bodnar input lag tester | 43ms in [Game] mode; 144ms otherwise |
Power Consumption
| | |
| --- | --- |
| Default [Standard] mode | 71 watts* |
| Calibrated [Cinema 1] mode | 125 watts |
| Standby | <1 watt |
*Note: Out of the box, [Light Sensor] and [LED Dynamic Control] were both engaged, which explains why energy usage was lower before calibration than after.
Picture Quality
Black Level
The Sony KD-55X9005A uses an AUO (AU Optronics) VA LCD panel whose measured black level came in at a respectable 0.048 cd/m2 once we pegged peak white luminance to 120 cd/m2 as per our usual calibration protocol. Contrast performance can be improved even further by engaging [LED Dynamic Control], Sony's pseudo-local dimming system which we think is the most effective among major TV brands on the market.
Enabling [LED Dynamic Control] "Low" lowered ANSI black level to 0.028 cd/m2; whereas using the more aggressive "Standard" setting did not result in any further significant improvement (0.026 cd/m2). Like most LED LCD TVs nowadays, the Sony X9005 shuts off its LED backlight when asked to display full-field black, which can be partially defeated by lighting up some pixels on screen (for example via a pause icon from our Blu-ray player). In this scenario, our Klein K10-A meter returned figures of 0.017 cd/m2 and 0.009 cd/m2 for [LED Dynamic Control] "Low" and "Standard" respectively.
Another advantage of engaging [LED Dynamic Control] is that it will better hide any backlight inconsistency. This was the case on our review unit which exhibited some clouding/ light pooling even after calibration.
4K
For this review, Sony kindly loaned us a 4K content generator, which is a small box featuring a 500Gb hard disk drive (HDD) loaded with numerous native 4K videos including a short scene from the 2012 remake of Total Recall, as well as a trailer of Will Smith's absolute wreck of a film After Earth. Although the clips themselves revealed a touch more softness and compression than higher-quality ones (e.g. LG's demo reel and open-source movies like Tears of Steel), they served as a good enough taster of what Ultra HD is all about.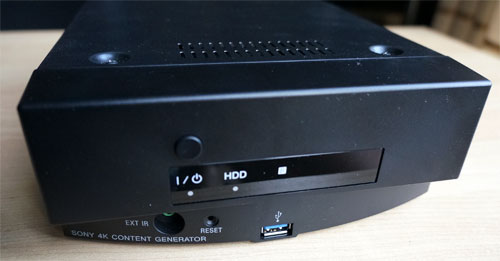 Needless to say, Sony's supplied 4K material looked jaw-droppingly spectacular on the Bravia KD55X9005, thanks to the rich colour palette and the sensational amount of detail on show (which has been proven to be visible from normal viewing distance in a public test). However, we noticed a very light layer of noise reduction running at all times, even with all the [Noise Reduction] options switched off, and the [Noise Filtering] control in the [Reality Creation] submenu set to "Min".
This has the unfortunate effect of scrubbing away the finest detail – the cornerstone of the whole 4K UHD proposition – at the slightest movement, which many users may mistake as motion blur (it's not). The undefeatable noise reduction was misapplied to not only 4K but also full HD 1080p and SD sources, though of course it's with absolutely pristine, super high-res footage where it did the most damage, smoothing out textures and erasing detail when they should be left alone, thus robbing images of depth and realism.
On its own, the Sony KD55X9005A's always-on noise filtering is probably not noticeable to most viewers, but it's blatantly obvious if compared side-by-side with another TV which does not indulge in such mischief, like the Samsung UE55F9000 we happened to also have in our test room throughout the review period. Feeding both TVs concurrently with the first Feel The Beauty clip from Sony's 4K content generator, we could see the X9 heavy-handedly wiping away the freckles on the girl's face, grains of sand on the beach, and breaking waves in the sea. These subtle intricacies were reproduced faithfully on the F9000, making the Samsung seem more detailed whenever there's something moving on screen.

The noise reduction can be defeated by engaging [Game] mode, but this comes with other compromises, namely removal of most motion interpolation modes and native 1080p/24 handling (there's a slight judder during playback of 24fps material like Blu-ray discs). We sincerely hope that Sony's engineers can acknowledge and fix this problem either via a software update or in the company's 2014 Bravia 4K UHD models – Ultra HD content is the last thing that needs any help from noise reduction!
Video Processing
Sony's 4K X-Reality Pro engine produced some strange results with certain 1920×1080 burst patterns. First, the KD55X9005 wouldn't resolve high-frequency pixel-phase pattern (basically a checkerboard of black and white pixels) in full unless the [Mastered in 4K] option under the [Reality Creation] submenu was switched on.
| | |
| --- | --- |
| | |
| [Mastered in 4K] "On" | [Mastered in 4K] "Off" |
However, engaging [Reality Creation] – without which [Mastered in 4K] cannot be activated – caused single-pixel-wide line patterns to be tainted with flicker and noise interference, suggesting throttled bandwidth availability. Here's an excellent video filmed by a respected Finnish tech journalist demonstrating the issue on a 55″ Sony X9 he was reviewing:
© Petri Teittinen, used with permission
What does it all mean? To fully resolve 1080p content, [Reality Creation] > [Mastered in 4K] needs to be enabled, but this in turn may introduce noise when the TV's subjected to as much stress as test patterns, which, to be fair, isn't all that often – we did not detect a single instance of such interference in normal viewing during our time spent with the Sony X900.
3D
Part of the appeal of 4K TVs is their ability to deliver full HD 3D resolution even with passive 3D (actually it's higher-res than 3D full HD since only the vertical resolution is halved but not the horizontal), but that wasn't the case with the KD-55X9005A. When we put up our own custom-made 3D resolution test pattern, we were surprised to see that the 55in Sony X9 failed to resolve full HD resolution in the vertical direction, causing alternating black and white horizontal single-pixel lines to merge into a solid grey block.
| | |
| --- | --- |
| | |
| Full HD 3D | Reduced vertical resolution on Sony X9 |
In other words, the extra-dimensional performance of the Sony KD55X9005 4K TV was similar to a 1080p passive 3D display, which means that the usual description applies: bright, flicker-free 3-D images that betray some softness and jagged edges due to decreased vertical resolution. The FPR (film-type patterned retarder) filter implemented on the screen also led to visible horizontal scan lines and reduced vertical viewing angle (going beyond 15° off-axis vertically would introduce double "ghost" images not unlike crosstalk).
While we haven't tested the 65-inch Sony KD65X9005 ourselves, a YouTube video suggests that the larger Bravia X9 model does indeed resolve full HD 3D:
Conclusion
This article contains a fair amount of technical discussion, so let us summarise in an easy-to-understand manner. The Bravia KD-55X9005A is a good effort from Sony to bring an affordable, high-quality 4K UHDTV to the masses. Available to buy for around £3000 at this time of writing, the X9 delivers deep blacks (by LED LCD standards), neutral greyscale, and vibrant colours that's just shy of being 100% accurate.
The company's decision to widen the wingspan of the television with a pair of front-firing speakers may raise a few eyebrows, but there's no doubting the result: this is by far the best-sounding flat-screen TV we've come across, which can even give some hifi separates a run for their money.
However, there are two areas of concern. First, we found that our Sony KD55X9005ABU review sample had a thin film of digital noise reduction running at all times, even with all the necessary [Noise Reduction] controls turned off. This caused very fine detail to be rubbed away upon movement, undermining the very reason for 4K's existence, i.e. superior detailing and texture. Engaging [Game] mode is a workaround to defeat the forced noise reduction, but it entails compromising in other ways – we'd rather Sony address the issue at source ("Off" means off!) with a firmware fix or on future models.
Second, either because of the FPR 3D LCD panel used or the onboard video processing, the KD55X9005 behaves like a 1080p passive 3DTV in terms of tri-dimensional performance. It doesn't provide full HD 3D resolution, manifesting the usual passive 3D pitfalls of visible horizontal scan lines and jagged edges, not to mention softened depth and dimensionality.
If you're looking to buy a Sony-branded 4K TV, we strongly recommend that you go for the larger, 65in KD65X9005A which does deliver full HD resolution in the third dimension, assuming you have the budget and space to accommodate the set.