Sony was first out of the gates with its television models last year, but the Japanese manufacturer's new Bravia ranges have only just become available to buy in the UK and Europe this month, probably due to delays encountered during the integration of Google's Android TV platform into its 2015 lineup.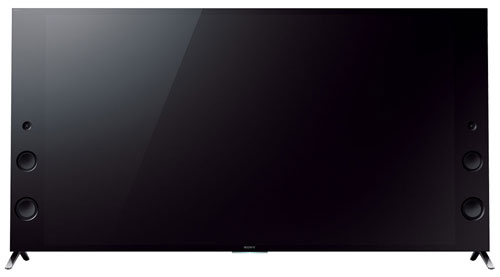 Positioned one rung below the range-topping X94C series, the Sony X93C sitting pretty in our test room today is essentially a direct successor to 2014's critically-acclaimed X9005B, boasting several upgrades such as the firm's new X1 video processing engine, high-resolution audio playback and the aforementioned Android TV system, as well as forthcoming features like high dynamic range (HDR) support and YouView catch-up TV service. The X93 comes in two screen sizes, namely the 55-inch KD-55X9305C and the 65-inch KD-65X9305C. We're reviewing the smaller version.
Design
The Sony KD55X9305 carries over many stylistic elements from last year's X9005B – the wedge design, the mirrored chrome side panels, the prominent Magnetic Fluid speakers flanking the screen, and the pair of supporting metal feet (that can be fitted inwards for placement on a narrower AV rack) – though the company is quick to reassure us that the volumetric dimensions have been trimmed on the 2015 model.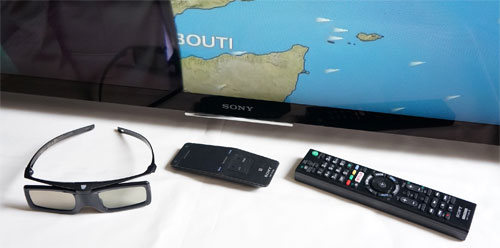 While the Bravia X9305C represents as radical a departure as you can get from the masses of thin-bezel slim TVs permeating the market, there's no denying it's a beautiful and distinctive set. Hard as it is to believe, Sony has managed to even improve upon the already class-leading sound quality from the front-firing speaker system which now features high-res audio (WAV and FLAC formats up to 24-bit/96kHz) compatibility.
Connections
4x HDMI 2.0, 3x USB, component, Scart, Freeview HD & satellite tuners, LAN, audio outs
Calibration
Together with the embracing of Android TV, Sony has also given its user menu a substantial makeover for 2015. Gone are the [Scene Select] top-level presets on the X93; now you simply get a (long) list of picture modes as you would on other makes. Of most interest to us are [Cinema pro] that delivers the most accurate out-of-the-box image, and [Game] which should cut down input lag for playing games.
There are other revamps in the picture submenu which is further categorised into four sections of "Brightness", "Colour", "Clarity" and "Motion". Under the "Brightness" category, we really like how Sony has adopted the correct nomenclature to describe the picture-affecting controls, such as [Brightness] instead of [Backlight], and [Black Level] instead of [Brightness]. Gamma and pseudo-local dimming functions can also be found here.
| | |
| --- | --- |
| | |
| "Brightness" settings | "Colour" settings |
For ages, we've lamented the absence of 10-point greyscale controls and an advanced colour management system (CMS) on Sony Bravias. This year, the Japanese brand finally relented and addressed the former. In addition to the usual 2-point controls, a new 10p white balance system is now available in the [Colour] > [Adv. colour temperature] submenu under the guise of [Colour Gamma Adjustment Points].
Note: The KD-55X9305C's ten-point WB controls are contrast-aligned, so unless [Contrast] and [Black Level] are set to specific values, there will be luminance shifts when calibrating greyscale, and some adjustments may appear to be not working at their supposed signal level.
| | |
| --- | --- |
| | |
| 2-point white balance | 10-point white balance |
Otherwise, there's still no advanced colour management system on the X93C, but as we've discovered on previous Sony TVs, once greyscale was calibrated, colours fell into place very nicely, hitting an outstanding level of accuracy that's more than a match for the majority of CMS-equipped televisions.
Greyscale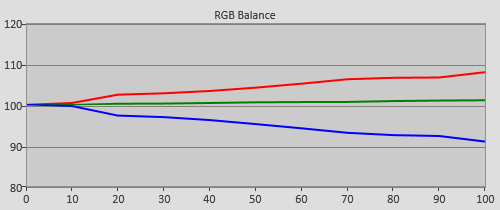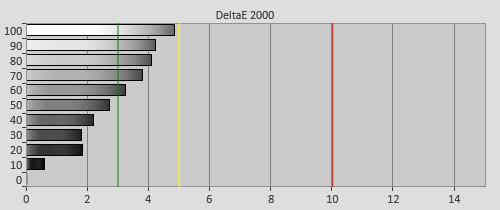 Pre-calibration RGB tracking and delta errors (dEs) in [Cinema pro] mode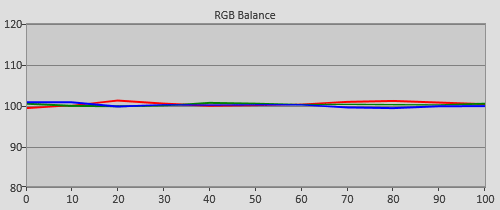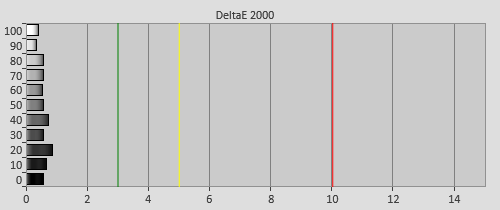 Calibrated RGB tracking and dEs in [Cinema pro] mode after 2p & 10p WB adjustments
Gamma
| | |
| --- | --- |
| | |
| Pre-calibration gamma tracking (2.43) | Post-calibration gamma tracking (2.4) |
Colour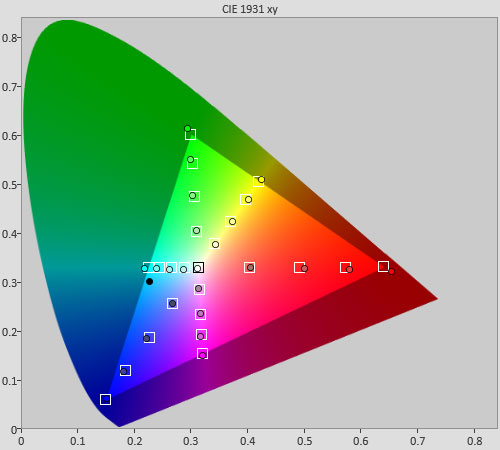 Colour saturation tracking after greyscale calibration in [Cinema pro] mode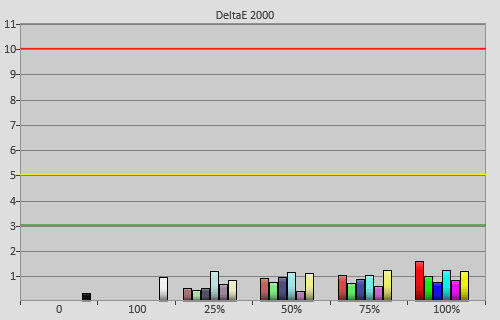 Post-calibration colour errors (<3 not appreciable to the eye)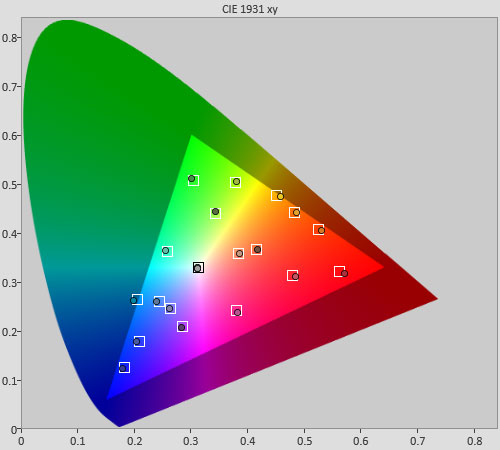 Post-calibration Colour Checker Classic test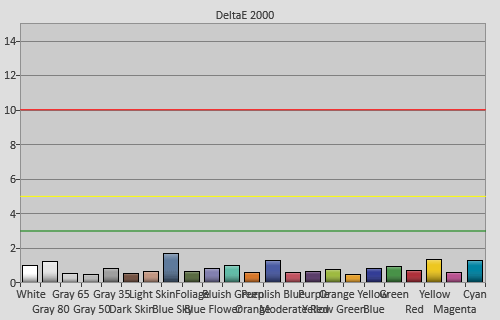 Post-calibration Colour Checker Classic errors (<3 not visible to the eye)
Benchmark Test Results
| | |
| --- | --- |
| Dead pixels | None |
| Screen uniformity | Very good for an edge-lit LED LCD |
| Overscanning on HDMI | 0% if [Screen Format] "Full" & [Display Area] "Full Pixel" or "+1" |
| Blacker than black | Passed |
| Calibrated black level (black screen) | LEDs dim down/ shut off |
| Calibrated black level (4×4 ANSI) | 0.052 cd/m2 with [Auto local dimming] enabled |
| Black level retention | Auto-dimming with full black screen |
| Primary chromaticity | Good |
| Scaling | Very good for HD sources |
| Video mode deinterlacing | Decent for SD; good for HD |
| Film mode deinterlacing | Passed 3:2 & 2:2 in SD & HD with [Film Mode] enabled |
| Viewing angle | Good for a VA LCD panel |
| Motion resolution | 1080 with [MotionFlow] "Clear" & "Custom" |
| Digital noise reduction | Optional; effective when engaged |
| Sharpness | Defeatable edge enhancement |
| Luma/Chroma bandwidth (2D Blu-ray) | Full luma; chroma horizontally blurred except in [Game] & [Graphics] modes |
| 1080p/24 capability | No judder in 2D & 3D |
| Measured panel refresh rate | 120Hz |
| Measured DCI-P3 coverage | 91% |
| Input lag (Leo Bodnar tester) | 36ms in [Game] mode |
| Full 4:4:4 reproduction (PC) | No for 3840×2160@60Hz |
Power Consumption
| | |
| --- | --- |
| Default [Standard] mode | 54 watts* |
| Calibrated [Cinema pro] mode | 52 watts |
| Standby | <1 watt |
*Note: Out of the box, [Light Sensor] was engaged by default.
Picture Quality
Black Level & Contrast
Without the help of local dimming, native black level on the KD55X9305C's VA LCD panel measured 0.065 cd/m2 on a 4×4 ANSI chequerboard pattern, though on a full-black screen this would dim down to 0.025 cd/m2.
The onboard pseudo-local dimming system is activated via the [Auto local dimming] control which comes in three strengths besides "Off", namely "Low", "Medium" and "High". Engaging [Auto local dimming] also allows for further adjustments of the [X-tended Dynamic Range] function which we found to manipulate gamma and had no need for.
As far as we could tell from our custom-authored pattern of a small white box crawling horizontally and then vertically against a black background along the edges of the screen, there were 16 vertical columns split into top and bottom halves, i.e. 32 designated zones on the 55" Sony X93.
However, because the TV uses edge-mounted LEDs instead of full-array direct LED backlight, control over illumination of the zones is quite imprecise, be it by physical limitation or processing design. For example, with [Auto local dimming] set to "Medium", one-third of the screen would exhibit residual illumination even when there's only a mouse cursor on the top left corner hovering over a black backdrop. Bumping [Auto local dimming] to "High" would reduce the area of residual illumination to one-quarter of the screen given the same scenario.
All three [Auto local dimming] intensities lowered ANSI blacks to around 0.052 cd/m2, though the "High" setting also dampened peak white to 115 cd/m2 from our calibrated brightness of 120 cd/m2. Compared with "Low", [Auto local dimming] "Medium" produced slightly deeper blacks in certain low-APL scenes but suffered from a touch more backlight fluctuation. We suspect most viewers will be happy with the improvement in black-level performance brought about by either setting.
Perhaps in preparation for high dynamic range (HDR), the KD-55X9305C's LCD panel was inherently bright: the lowest [Brightness] value of "Min" was sufficient for us to hit our normal peak white target of 120 cd/m2. Cranking both [Brightness] and [Contrast] up to "Max" drove peak luminance to 555 cd/m2 on full-field white.
Backlight/ Screen Uniformity
Our Sony KD55X9305CBU review sample displayed no clouding or corner bleed when inspected in a dimly-lit room once we calibrated the display and enabled [Auto local dimming]. We didn't observe any significant dirty screen effect (DSE) during panning shots in football, but there's a 2-mm-thin darkening around the borders most noticeable on bright uniform backdrops, which is par for the course for VA-type LCD panels these days.
Motion
In line with an overhaul of the user menu as far as picture settings are concerned, the [Motionflow] submenu has also undergone some changes. Although the [Motionflow] "Smooth", "Standard", "Clear" and "True Cinema" options remained the same as before, discarded were "Clear Plus" and "Impulse" to be replaced instead by "Custom" which provides two further controls in the form of [Smoothness] and [Clearness] sliders.
| | |
| --- | --- |
| | |
| "Motion" settings | "Clarity" settings |
It's easy to mistake these as separate dejudder and deblur controls similar to what's implemented on Samsung and LG TVs, but that's not the case on the Sony KD-55X9305C. From our tests, we worked out that [Smoothness] determined the amount of motion-compensated frame interpolation (MFCI); whereas [Clearness] was related to black frame insertion (BFI) or backlight scanning. Both boosted motion clarity to a certain degree, but the higher the [Smoothness] setting, the more the interpolation artefacts and soap opera effect (SOE) that ensued. Meanwhile, a higher [Clearness] setting increased the amount of flicker and brightness drop.
We proceeded to evaluate motion resolution using the horizontally scrolling lines pattern in Chapter 31 of the FPD Benchmark Software Blu-ray disc. With [Motionflow] off, unsurprisingly the 55X9305 yielded a motion resolution of 300 lines, which is standard for an LCD panel unassisted by motion-enhancing technologies. [Motionflow] "Standard" and "Smooth" doubled motion resolution to 600 lines, but introduced overt soap opera effect to 24fps movies (not to mention intermittent interpolation artefacts), therefore ruling them out as viable options for us.
[Motionflow] "
True Cinema
" merely recovered 24p frames from 60fps sources and didn't reduce motion blur, which left us with "
Clear
" and "
Custom
". For most users, the former – a mixture of interpolation and BFI that delivered a motion resolution of 1080 lines – should suffice, though there's some darkening requiring upping of [Brightness] to compensate, and definite soap opera effect however mild. For critical viewing of 24p films, we'd switch [Motionflow] off.
Being the perennial tweakers that we are, we also experimented with various [Smoothness] and [Clearness] settings in the [Motionflow] "Custom" submenu. If [Smoothness] was set to "Min" (i.e. no interpolation), [Clearness] needed to be cranked to "Max" to reach 1080-line motion resolution, but this caused obvious flicker (there's even a warning message), brightness loss (peak luminance topped out at 47 cd/m2), and double imaging on fast pans. In other words, [Clearness] "Max" is simply the old Sony "Impulse" mode relabelled.
SD & HD Processing
The Sony KD55X9305C's upscaling quality from high-definition sources was on par with the best Panasonic and Samsung have to offer, but standard-def material appeared soft and noisy with evidence of ringing and overshoot. In terms of SD video-mode deinterlacing, we saw some jaggies in the bouncing bars test pattern, but to be fair it's improved over previous Sonys.
With [Film Mode] engaged, the Sony X930C detected and processed 3:2 and 2:2 cadences correctly in both SD and HD, though the display would occasionally lose lock with 1080i/50 content. Like all Sony Bravias we've tested over the past few years, 1080p/24 video signal was handled smoothly without any sign of telecine judder even with [Motionflow] off.
4K
Ok, it's 2015, and judging from the KD-55X9305 review sample we had hooked up to the HDMI output of a Geforce GTX 970 graphics card on a Chillblast gaming computer, Sony's UHD (ultra high-definition) TVs still don't support 4:4:4 chroma (or even 4:2:2) at 4K@60Hz this year when LG, Panasonic and Samsung sets have been doing so since 2014. Whilst chroma subsampling will only bother a very small subset of users (namely those who are driving their displays from PCs), of more significance is surely the implication that the underlying chipset is not the full-fat HDMI 2.0 Level A with 18Gbps throughput, which may affect HDR playback over HDMI.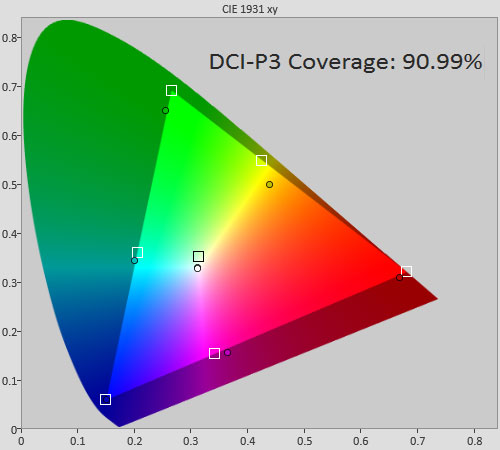 This complaint aside, native Ultra HD content (including the recently added Netflix 4K) looked utterly gorgeous on the Bravia X93C thanks to Sony's masterful blending of contrast, colour and detail. The company hasn't used quantum dot technology since its 2013 W9 and X9 televisions, but its wide colour gamut (WCG)-capable LED backlight (retaining the same TRILUMINOS marketing term) allowed the KD55X9305C to reach 91% of DCI-P3 standard anyway with [Colour space] set – somewhat ironically – to "BT.2020". [Colour space] "DCI" came in slightly smaller at 89% DCI-P3.
3D
The Sony KD-55X9305C ships with two pairs of active-shutter 3D glasses, which makes a refreshing change from the decision of Panasonic and Samsung to not include any 3D glasses even on their high-end 2015 models. Our custom-authored test pattern confirmed full HD 3D resolution, though there remained mild high-frequency rolloff in the vertical direction, meaning that extra-dimensional images on the Sony weren't quite as crisp as those presented by active 3DTV models from rival TV brands.
One issue we noted on our KD55X9305CBU review unit was that most of the picture settings (including 10-point white balance controls) were shared across 2D and 3D within a single preset on the same input. The only exceptions were [Brightness] and [Motionflow] which defaulted to "Max" and "Standard" respectively in 3D mode. Put another way, viewers who care about image fidelity in the third dimension will have to calibrate using a different picture preset other than that allotted for 2D.
The default [Motionflow] setting of "Standard" introduced some judder to 3-D 50Hz content, but once we switched [Motionflow] off, the 55in X93C handled 24fps, 50fps and 60fps 3D material smoothly without judder or interpolation. Crosstalk was minimal.
Gaming
When measured using a Leo Bodnar tester, the Bravia KD-55X9305C returned a figure of 36ms in its [Game] preset, which qualifies as relatively low by 4K TV standards. While lagging behind Samsung's 2015 TVs in outright responsiveness, the Sony X930C did have the upper hand in a couple of areas.

First, [Auto local dimming] can still be engaged in [Game] mode on the KD55X9305C, allowing gamers to obtain fluid gaming response without sacrificing the deeper blacks and higher contrast granted by pseudo-local dimming. Also, black frame insertion (BFI) remains available in [Game] mode for users who wish to experience the sharpest motion when playing games, although because [Motionflow] "Custom" > [Clearness] is forced to the highest setting of "Max" in [Game] mode, there's noticeable flicker and a significant drop in luminance causing input lag to increase ever so slightly to 39ms.
As stated before, full 4:4:4 chroma reproduction wasn't possible at 4K@60Hz on the Bravia X9305C, potentially putting off PC gamers who own high-end gaming rigs. Input lag in the [Cinema pro] preset was still a palatable 64ms.
Conclusion
The Sony 55X9305C offers several areas of improvements over the 55X9005B, which is no mean feat given how awesome the outgoing model was. The introduction of 10-point white balance controls is long overdue, helping the KD55X9305 achieve more accurate greyscale (and hence colours) than before. Sony has also provided more refined control over its pseudo-local dimming system which remains arguably the best in the business, working seamlessly to inject that elusive dose of cinematic magic we've rarely seen on TVs from other companies. And there's still HDR playback support to look forward to following a firmware update.
On the downside, Android TV feels clunky and unfinished (it froze and crashed a few times throughout our testing period, requiring a hard reset), standard-definition handling can be found wanting, and 4:4:4 chroma reproduction at 4K@60Hz is still lacking. Nevertheless, these shortcomings do not stop the Sony X93C from being one of the best televisions you can buy on the market today for enjoying HD and 4K material including sports and movies.
Note: If you're considering buying this television, please support this site by making your purchase from our advertising partner Crampton and Moore who will provide competitive prices and first-rate customer service.