Sony first dabbled with OLED display technology ten years ago, but the Bravia KD-65A1 we're reviewing today is a totally different beast. Whereas the XEL-1 that was launched back in 2007 measured only 11 inches in screen size, the Sony A1 OLED TV (also marketed as the A1E in the USA) is available as the 55-inch Bravia KD-55A1, 65-inch KD-65A1, and a mammoth 77-inch KD-77A1. Our 65in review sample carried the model number KD65A1BU, with the "BU" suffix indicating it's the three-pin-plug UK model.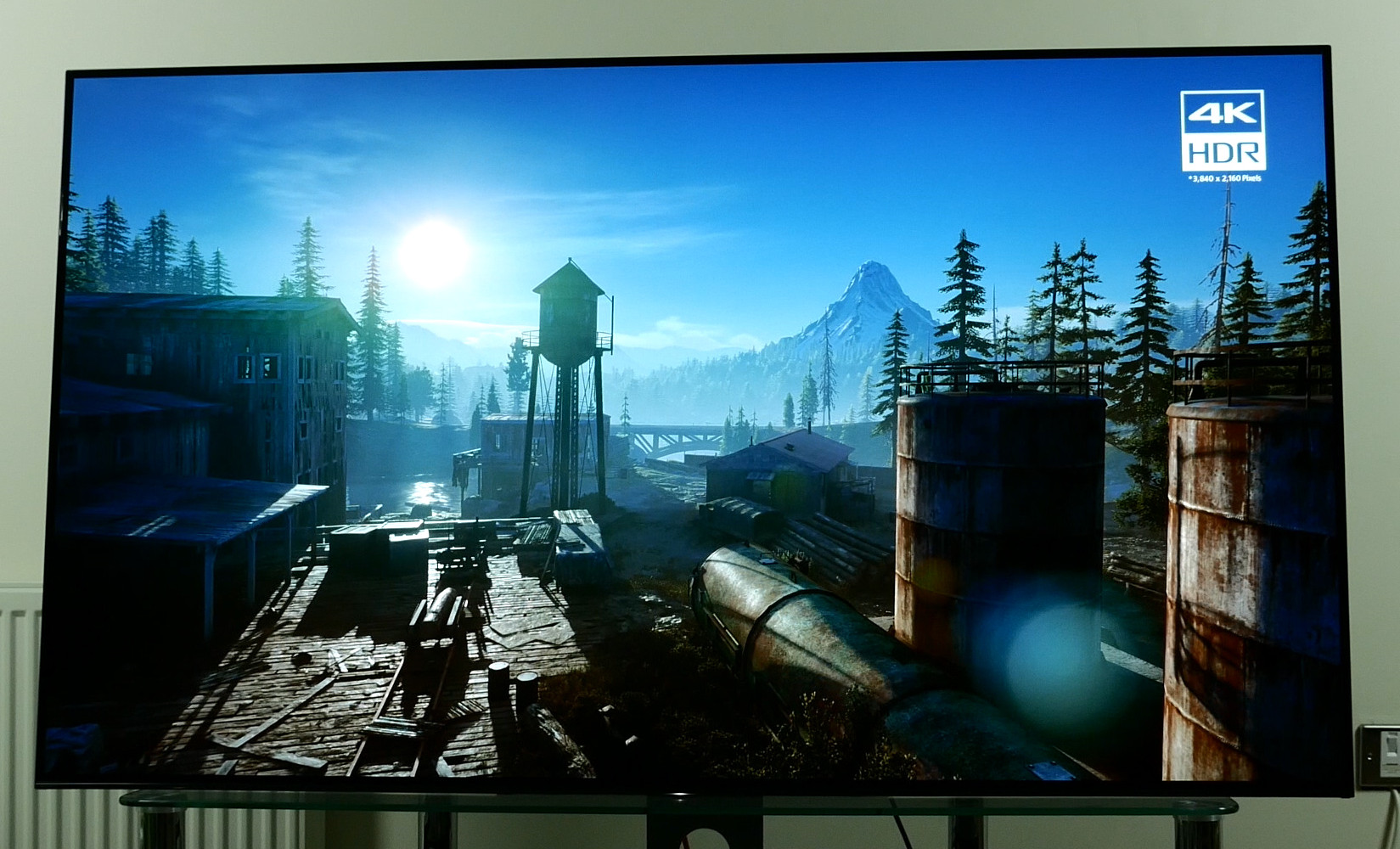 The unveil of the Bravia A1 OLED at CES 2017 didn't exactly come as a surprise, since there had been reports in late 2016 about Sony starting to purchase WRGB OLED panels from LG Display. What perhaps caught many (including us) off guard was the company's decision to embrace Dolby Vision (DV), the proprietary dynamic metadata system once thought to be shunned by picture processing powerhouses such as Sony. At this time of writing (June 2017), the firmware update that unlocks Dolby Vision hasn't been issued – we'll be sure to check out DV performance if we get the chance to review the smaller 55in KD-65A1 in the future.
Otherwise, the Sony KD65A1 features an OLED screen with 3840×2160 UHD (ultra high-definition) resolution, X1 Extreme video processing engine, Acoustic Surface sound technology which uses the entire screen as the speaker, as well as Android Smart TV platform.
Design
There have been many minimalistic TVs over the years, but surely none could beat the Sony A1/ A1E in this respect. In what must qualify as a masterstroke, Sony has taken full advantage of the slimness of the OLED panel to place a pair of rear actuators which then transmit sound through the screen. There are no visible speakers or table-top stand when viewed from the front, so all you're seeing is the picture, the picture and nothing but the picture.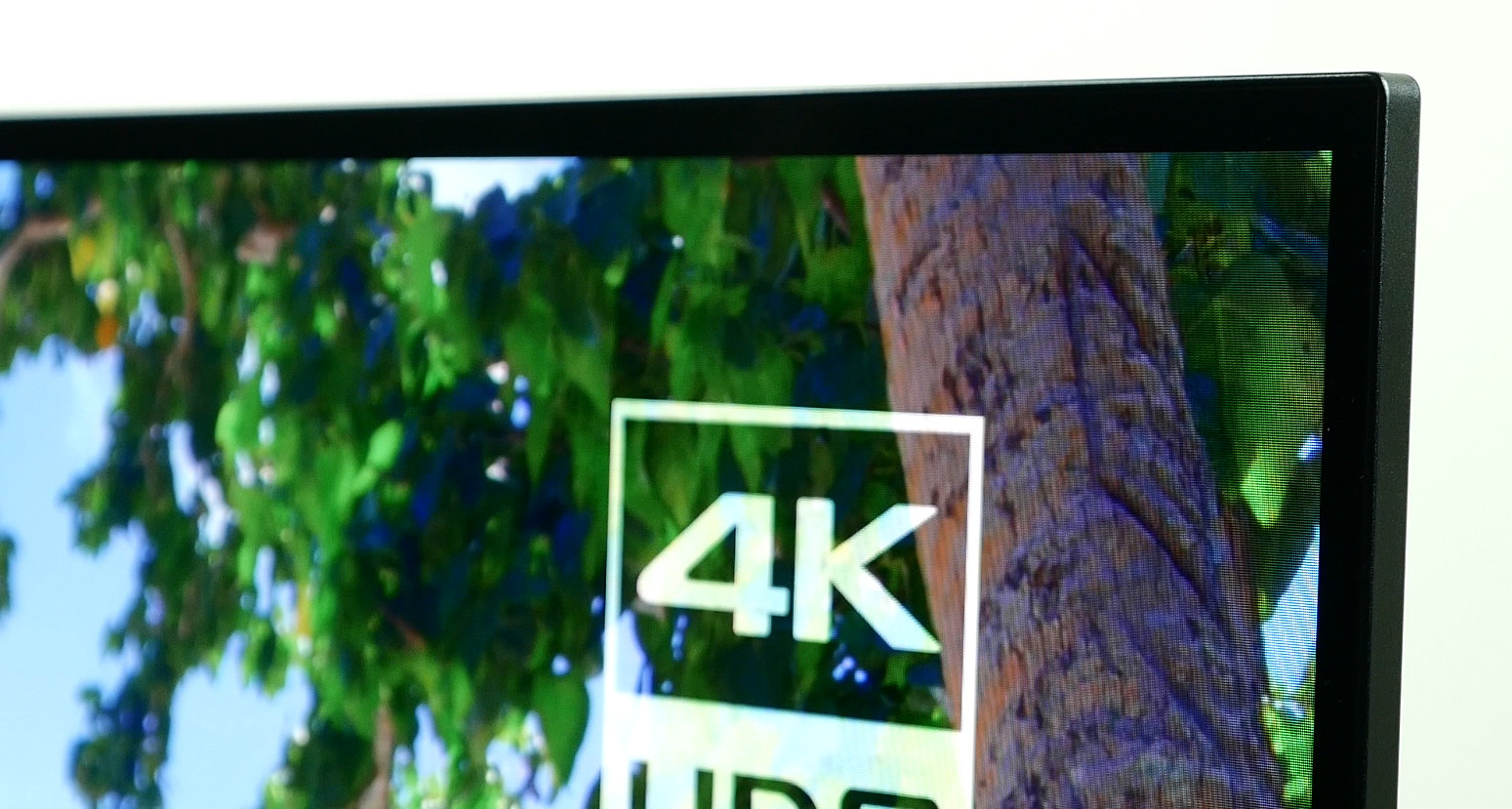 A front sheet of glass eliminates the traditional screen-and-bezel look, reinforcing the "monolithic slab" vibe. The company's designers have even taken the bold step of shrinking the normally prominent Sony logo to a tiny inscription at the bottom left corner. A gunmetal grey trim with rounded corners, as well as the mirror-finished back surface are further stylish touches.
To make the whole design work, the A1's OLED screen has to lean back against a rear support slate which also houses the television's processing, power circuitry and subwoofer. We didn't find the five-degree tilt in itself offensive – we swiftly got used to it and stopped noticing it within a few minutes of watching from the front.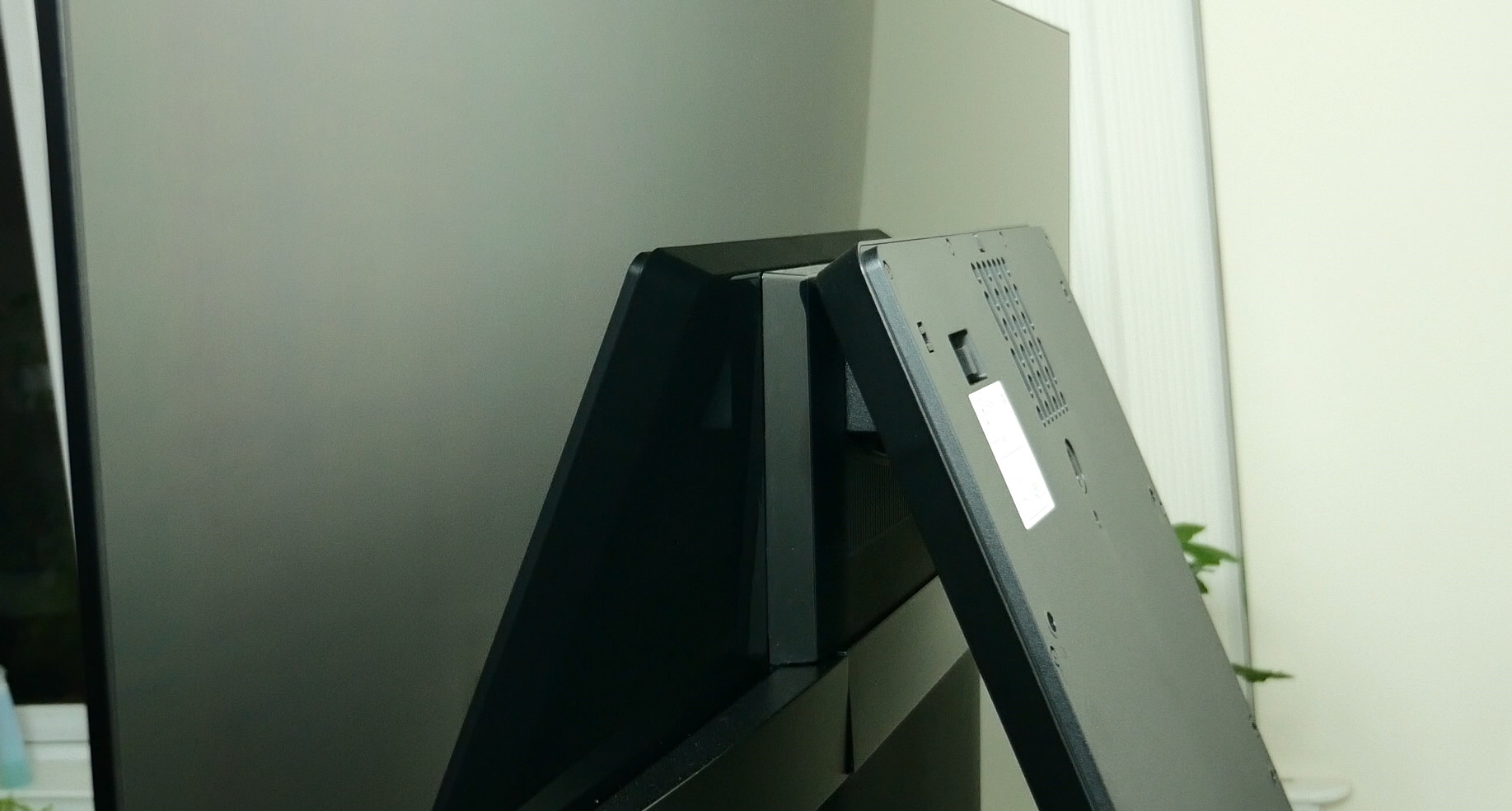 However, you'll need a fairly deep AV rack (34cm) to accommodate the entire setup if you don't plan on wall-mounting the Sony KD-65A1. Build quality is top-notch.
Remote Control
The supplied infrared remote control slowly grew on us during our review period. We still think it felt too lightweight and plasticky to go with a premium flagship display, but we appreciated its front rubber and back faux-metallic dual-texture surfaces, as well as satisfying button feedback. That the KD65A1's Android TV interface was more stable and responsive than previous iterations also helped the remote's cause.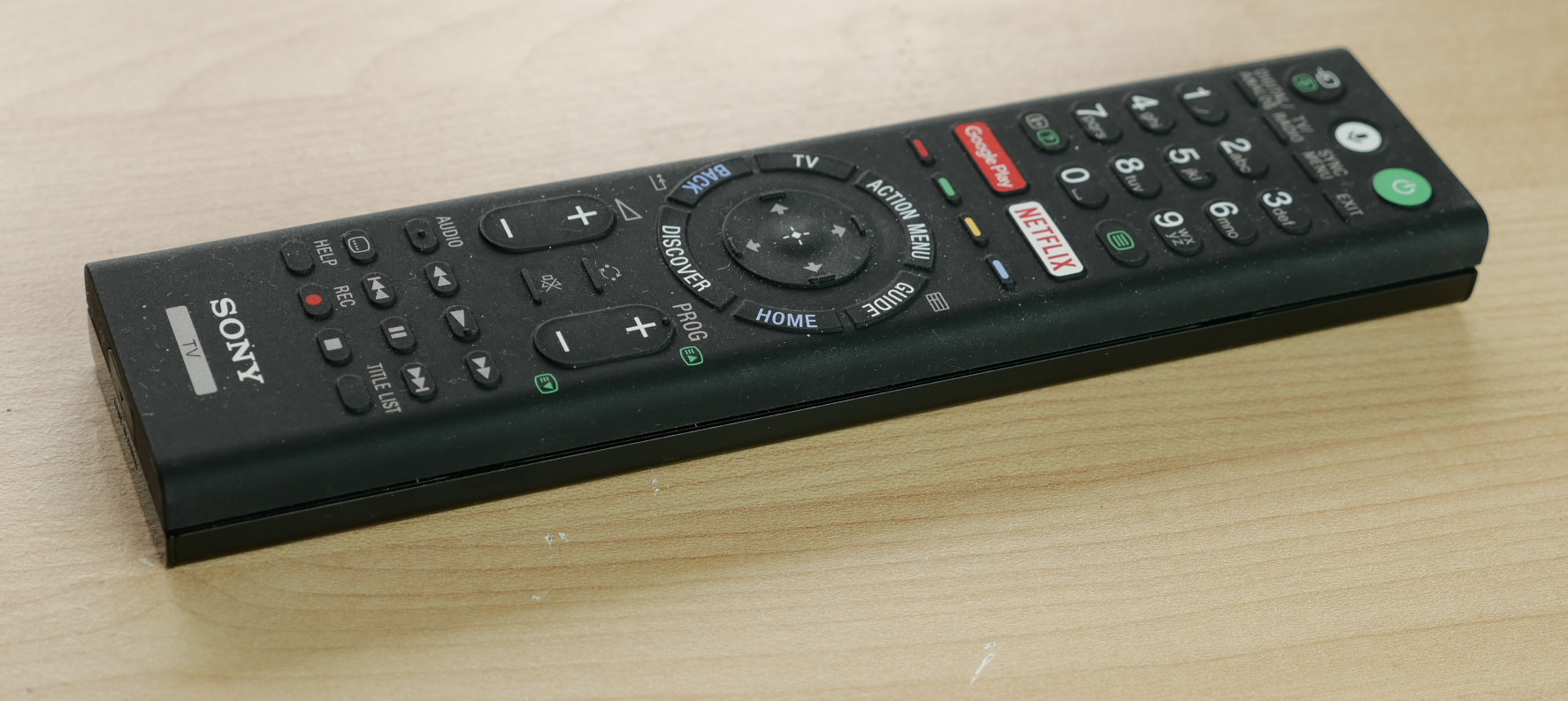 The IR sensor angle was quite narrow, thus requiring fairly precise pointing at the TV's central illuminated LED for maximum responsiveness.
Connections
All the connection sockets are found on the rear kickstand, most facing downwards. A grey fabric cover is supplied to achieve a cleaner look.

While it's entirely possible to play 4K Blu-rays in HDR through all four of the onboard HDMI ports, only HDMI inputs 2 and 3 support 3840×2160@60Hz resolution at higher bit depth/ chroma. The Sony XE93 and ZD9, which share the same X1 Extreme processor as the A1, suffer from the same limitations.
Unboxing Video & Picture Settings
Calibration
We calibrated our Sony KD65A1BU review unit using a Klein K10-A colorimeter profiled against a JETI Spectraval 1511 spectroradiometer, a Murideo Fresco Six-G signal generator, and Portrait Displays' CalMAN software.
Greyscale
Even in its most accurate [Cinema pro] picture preset out of the box, our Sony KD-65A1 review sample exhibited too much blue in the greys. We proceeded to use the provided two- and ten-point white balance controls to calibrate the greyscale and reduce delta errors (dEs) to below the visually perceptible threshold of 3.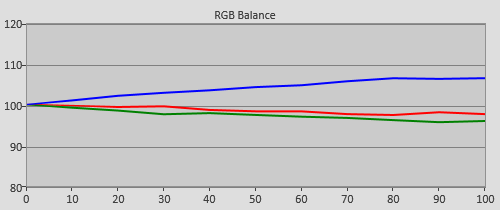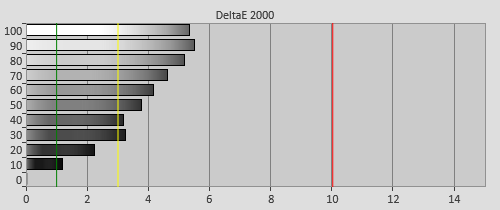 Pre-calibration RGB tracking and delta errors (dEs)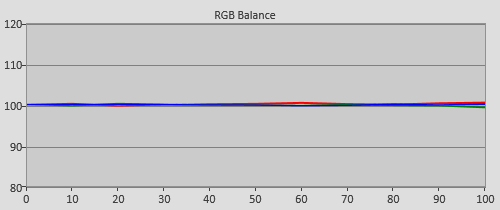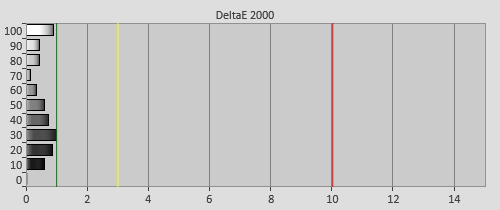 Calibrated RGB tracking and dEs after [Adv. colour temperature] adjustments
Gamma
| | |
| --- | --- |
| | |
| Pre-calibration gamma tracking (2.36) | Post-calibration gamma tracking (2.38) |
Colour
Sony remains the only major TV brand to not offer an advanced colour management system (CMS) even on the flagship A1 OLED. Despite this, colours clicked into place very nicely after greyscale was calibrated, with none of the 140 hues measured in the Colour Checker SG chart exceeding the humanly visible threshold of delta error (dE) 3.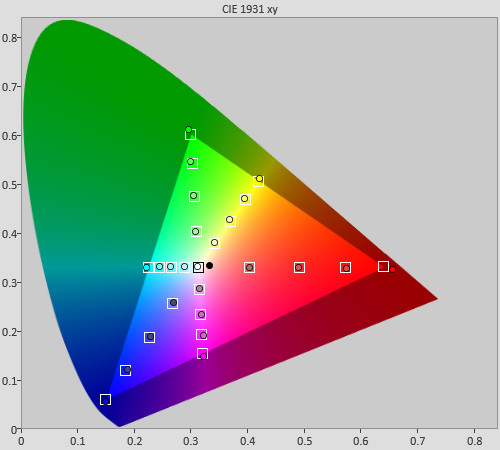 Post-calibration colour saturation tracking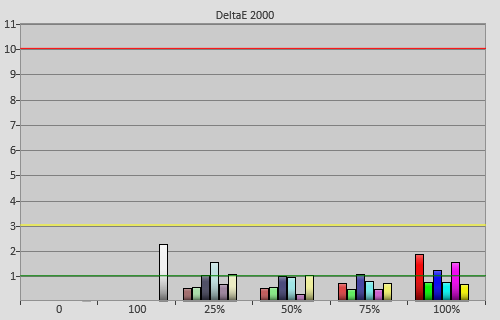 Post-calibration colour errors (<3 not appreciable to the eye)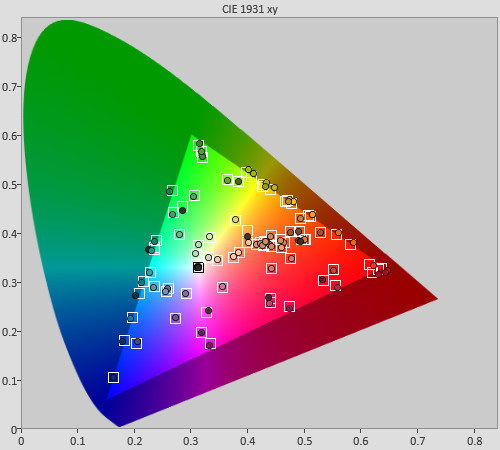 Post-calibration Colour Checker SG test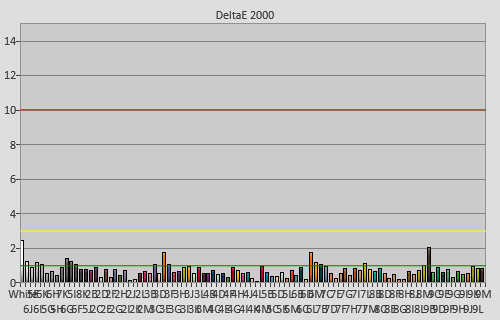 Post-calibration Colour Checker SG errors (<3 not visible to the eye)
Benchmark Test Results
| | |
| --- | --- |
| Dead pixels | None |
| Screen uniformity | One fairly thick vertical band & multiple near-black thin streaks; no vignetting or reverse vignetting |
| Overscanning on HDMI | 0% if [Screen Format] "Full" & [Display Area] "Full Pixel" or "+1", plus [Pixel shift] "Off" |
| Blacker than black | Passed |
| Calibrated black level (black screen) | 0 cd/m2 |
| Calibrated black level (4×4 ANSI) | 0 cd/m2 |
| Black level retention | Stable |
| Primary chromaticity (Rec.709) | Slightly oversaturated red primary |
| Scaling | Best we've seen on a consumer TV |
| Video mode deinterlacing | Effective jaggies suppression |
| Film mode deinterlacing | Passed 3:2/480i+1080i & 2:2/576i with [Film Mode] enabled, but occasionally lost lock with 2:2/1080i |
| Viewing angle (cone) | 166° |
| Motion resolution | 650 with [MotionFlow] engaged; 300 if off |
| Digital noise reduction | Optional; effective when engaged |
| Sharpness | Defeatable edge enhancement |
| Luma/Chroma bandwidth (2D Blu-ray) | Full luma; chroma horizontally blurred except in [Game] & [Graphics] modes |
| 1080p/24 capability | No judder |
| 2160p/24 capability | No judder |
| Measured panel refresh rate | 120Hz |
| Measured peak brightness | 750 cd/m2 (after calibration to D65) |
| Measured DCI-P3 coverage | 99% |
| Input lag (Leo Bodnar tester) | 47ms in 1080p (SDR & HDR); 31ms in 4K (SDR & HDR) |
| Full 4:4:4 reproduction (PC) | Yes for 3840×2160@60Hz with [HDMI Enhanced Signal] on in [Game] & [Graphics] modes |
Power Consumption
| | |
| --- | --- |
| Default [Standard] mode* | 86 watts |
| Calibrated [Cinema pro] mode | 100 watts |
| HDR [Cinema home] mode | 227 watts |
| Standby | <1 watt |
*Note: [Light Sensor] was switched on by default in the [Standard] picture preset out of the box.
Miscellaneous Data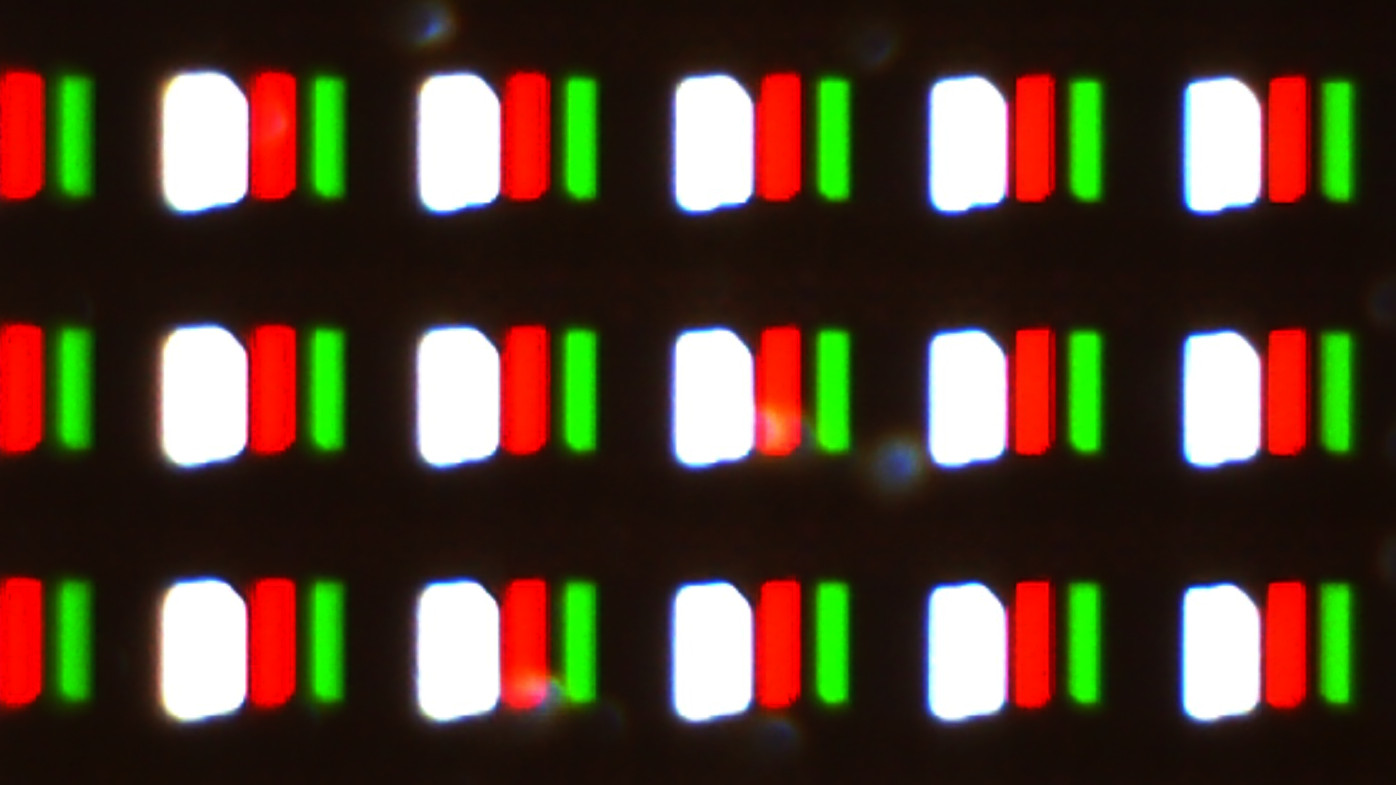 Macro photo of subpixel structure confirming WRGB OLED panel layout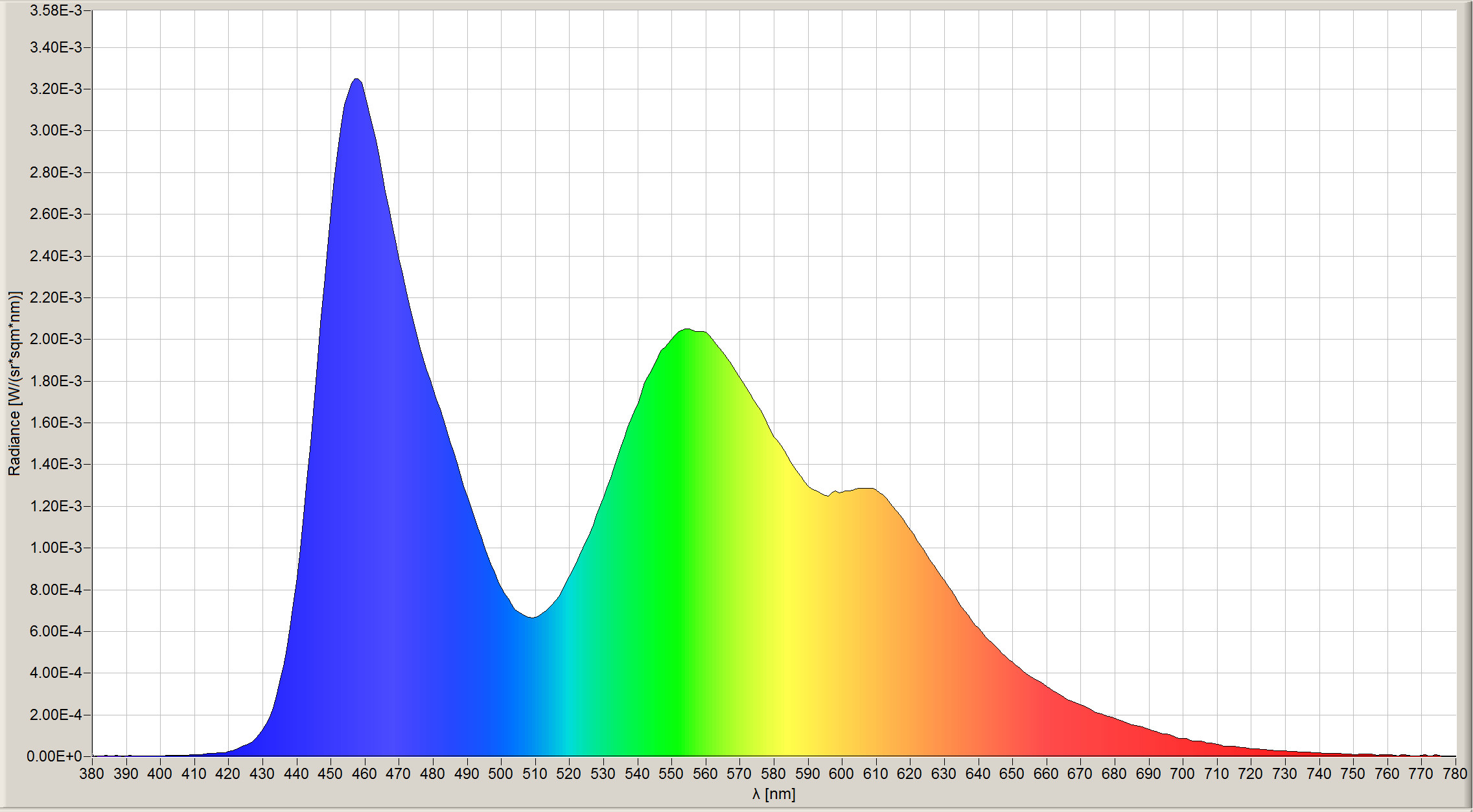 Spectral power of distribution (SPD) captured using a JETI 1511 spectroradiometer
Performance
By now, regular readers should know OLED's self-emissive strengths of true 0 cd/m2 blacks, supremely rich colours and very wide viewing angles, which are of course all present on the Sony KD-65A1. What we're going to focus on in this review is how the television compares with not only 2016 OLEDs, but also 2017 sets such as the LG C7 and the Panasonic EZ1002.
Near-Black
In a dark room, above-black rendition on the Sony A1 looked significantly cleaner and clearer than LG's 2016 OLED TVs which suffered from pixellation and noise especially in poorly-compressed sources. Of course, all the 2017 OLEDs we've tested thus far carried this improvement versus 2016 sets too, but where the Bravia KD-65A1BU outperformed its rivals – however marginally – was with low bit-rate content, particularly once its superb [Smooth Gradation] feature was enabled.
Interestingly, near-black gamma on our Sony KD65A1BU review unit measured closer to 2.2 and 2.3 than 2.4, causing very dark scenes to appear slightly washed out compared with the same scenes presented by the LG C7 and Panasonic EZ1002 which not only tracked gamma closer to 2.4 in the region above black out of the box, but also provided effective multipoint white balance and gamma controls.
| | |
| --- | --- |
| | |
| Sony A1 56-point gamma tracking | Panasonic EZ1002 56p gamma tracking |
We wondered if Sony engineers purposely coded near-black gamma tracking this way to not only give more insight into shadow detail, but also to narrow the gap between OLED's native 0 cd/m2 blacks and the sources' above-black signal so that near-black quantisation errors are less visible.
Pre-2017 OLED televisions tend to manifest low-luminance oversaturation to some degree. We took a bunch of measurements and watched a number of challenging low-light scenes, and the Sony Bravia A1 was improved from 2016 OLEDs, although the most saturated colours still looked a touch too vibrant in the darkest scenes. In case you're wondering, the LG B7/ C7 and Panasonic EZ1002 also behaved similarly in this regard.
Click on the options below to compare saturation tracking at 10% stimulus:
Sony KD-65A1BU | 2016 LG OLED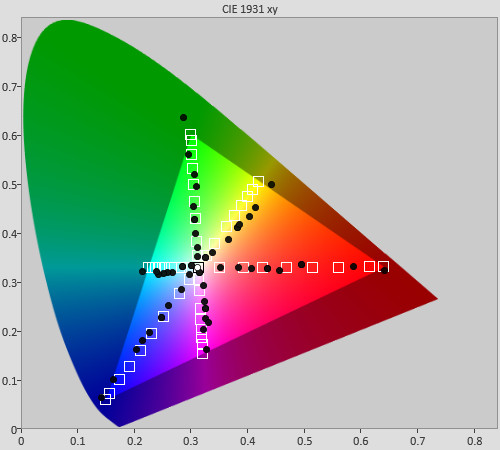 Scrutinised in a pitch-black room, our Sony A1BU review unit exhibited OLED's telltale vertical streaks on full-field 1% to 4% above-black patterns, with a 0.5-inch-thick one just to the right of the centre of the screen still visible on 30% video stimulus full-field raster, though we had to stare really hard to spot it in football. It cleared up a bit following a manual compensation cycle, and may improve with further TV use and panel compensation. Near-black uniformity on 65-inch OLEDs is generally not as good as that on 55-inch models, but even though our sample represented a worst-case scenario (and thoroughly debunked the oft-circulated myth that Sony TV review samples are cherry-picked), we weren't bothered by it in real-world viewing.
Light Output
Although the Sony KD65A1's ABL (Automatic Brightness Limiter) algorithm was less aggressive than 2016 OLED televisions, it kicked in earlier than LG's 2017 sets. Personally, we don't think it's a big deal, since most movies run at an APL (Average Picture Level) of below ten percent anyway once the top and bottom letterbox bars are taken into account, so overall brightness will look very similar on the Sony A1 and LG B7/ C7/ E7/ G7 and W7. It's only in high-APL frames such as Apple adverts, snow scenes and computer webpages that LG's lessened ABL translates to noticeably brighter whites.
Whilst on the subject of light output, let's discuss the onboard [X-tended Dynamic Range] control. According to our testing, it seemed to act like the [Panel Luminance] function found on 2013 Panasonic plasmas, with different settings applying a ceiling on maximum light output. On the Bravia KD-65A1, [X-tended Dynamic Range] "Off", "Low", "Medium " and "High" capped peak white luminance to 100 cd/m2, 140 cd/m2, 220 cd/m2 and 300 cd/m2 respectively on a 10% window in SDR mode. For HDR, you should never deviate from the default [X-tended Dynamic Range] value of "High" which is essential to extracting the highest peak brightness from the A1 Bravia OLED.
Motion
Engaging [Motionflow] allowed us to more than double the Sony KD65A1BU's motion resolution from the sample-and-hold baseline of 300 lines to 650 lines. There are two methods to achieve this. First is by motion-compensated frame interpolation (MCFI), i.e. [Motionflow] "Standard", "Smooth" or "Custom" with [Smoothness] set above "Min". Inevitably, some interpolation artefacts and soap opera effect (SOE) ensued however mild, though we've always found Sony's MCFI to be the least offensive among various TV brands.
| | |
| --- | --- |
| | |
| [Motionflow] "Off" | Optimised [Motionflow] "Custom" |
More exciting is black frame insertion (BFI) which can be activated by setting [Clearness] to "High" under the [Motionflow] "Custom" submenu. By inserting black frames between the original video frames, BFI refreshes our retinal persistence and reduces motion blur without introducing interpolation artefacts and soap opera effect, but there are at least two well-documented downsides due to how BFI works.
The first is drop in light output, which we don't think is a problem on the Bravia 65A1. With [Brightness] and [Contrast] set to "Max" and [X-tended Dynamic Range] to "High", peak white on a 10% windowed pattern measured 185 cd/m2 with BFI enabled, which is eminently usable in all but the brightest rooms. Lowering [X-tended Dynamic Range] to "Medium" still generated 125 cd/m2 which is more than sufficient for watching in a very dim environment.
Owners are more likely to be put off by the Sony A1's BFI because of flicker – at least that's what we initially thought when we put up a 24fps full-field white raster which came across extremely flickery. However, sending a 60fps video signal to the display reduced the flicker. To our eyes the 60Hz flicker wasn't bothersome at all, but sensitivity threshold does vary from one individual to another. Unfortunately the flicker became more noticeable with the 50Hz sports broadcast prevalent this side of the pond in the United Kingdom and Europe… you lucky Yanks.
HDR
For HDR, we measured the peak brightness on our Sony KD65A1 review unit to be 750 nits on windowed pattern sizes stipulated by the UHD Alliance (UHDA) for Ultra HD Premium certification. Full-field peak brightness came in at 135 cd/m2, incidentally the same luminance level at or below which ABL won't kick in. Like all 2017 OLED TVs we've reviewed, the Bravia KD65A1BU covered 99% of the DCI-P3 colour gamut standard.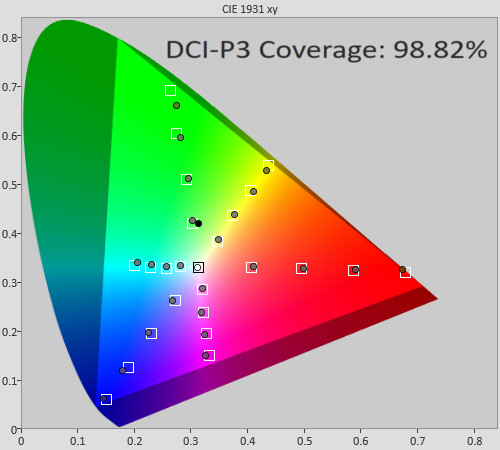 Post-cal colour saturation tracking against DCI-P3 standard in Rec.2020 container
There's been a rumour swirling (seriously, who started it?) that the Sony Bravia A1 series uses 2016 rather than 2017 OLED panels from LG Display. While we believe there's very little difference between the 2016 and 2017 WRGB OLED panels (with any improvements stemming from iterative manufacturing process), we're 100% certain the KD-65A1 is using the latest OLED panel from LG Display, judging from the relative absence of magenta cast compared with 2016 OLEDs when the screen is hit by light, a result of the different anti-reflective filter fitted on "2017" versus "2016" panels: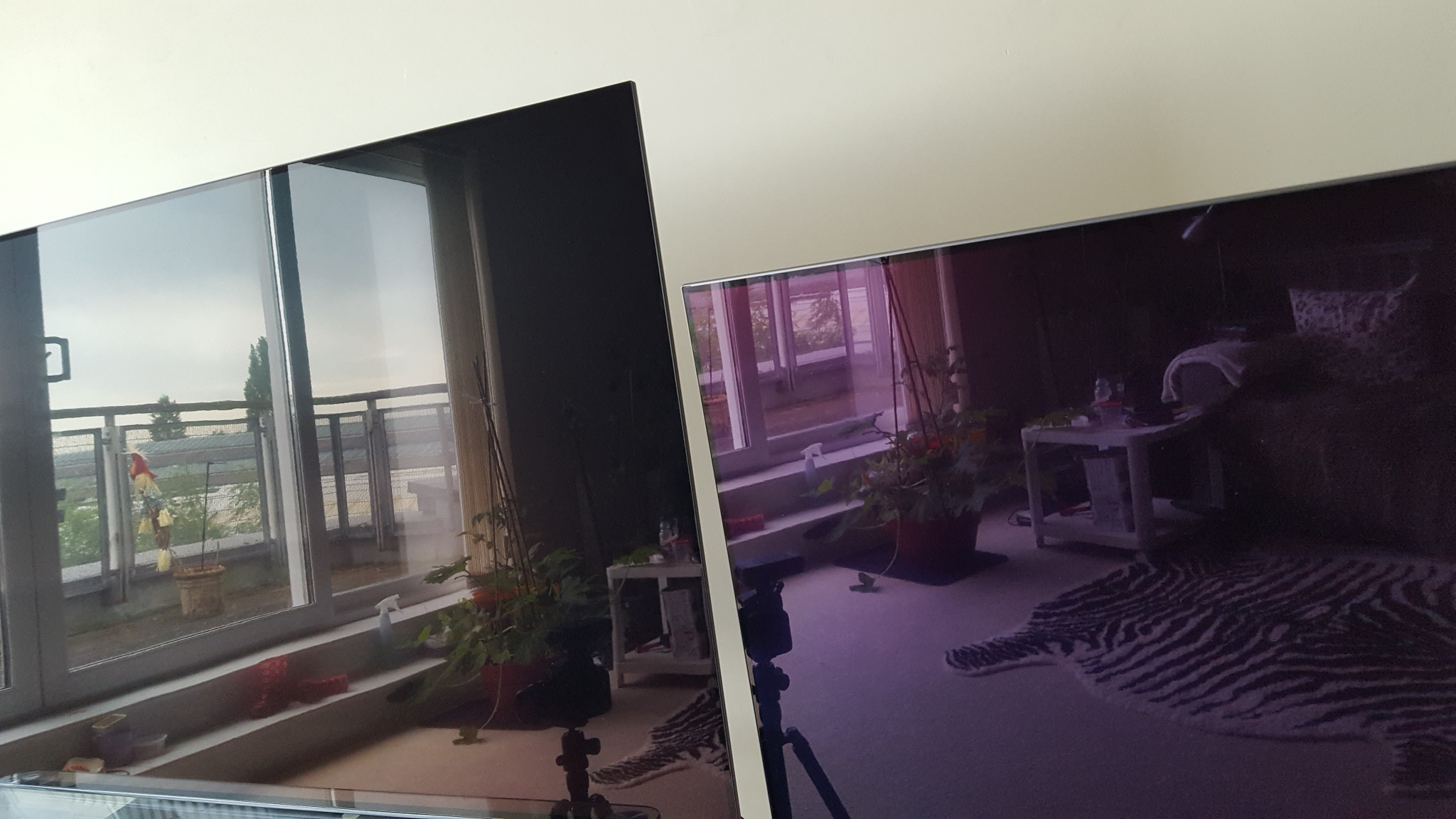 Left: Sony A1; Right: 2016 OLED TV
Let's tackle the thornier subject of HDR tone-mapping. On the previous Android 6.0.1 firmware, the Sony KD65A1BU tracked the PQ (perceptual quantisation) EOTF (electro-optical transfer function) standard differently depending on the picture preset, notably with [Cinema pro] mode looking brighter but clipping earlier:
Click on the options below to compare PQ EOTF on Android 6.0.1:
[Cinema pro] | [Cinema home] | [Custom]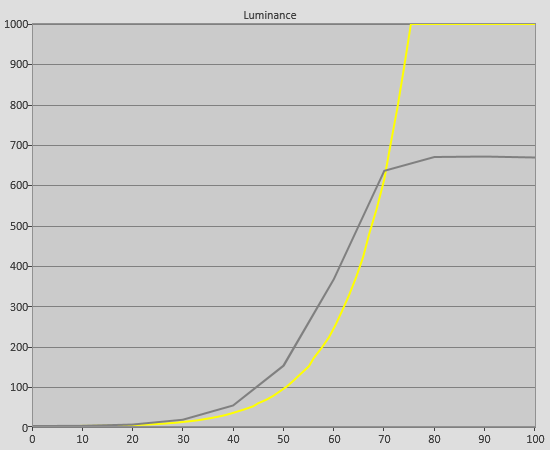 With the Android 7 Nougat update, what Sony appeared to have done was to lower the clipping point in [Cinema pro] preset by altering the default [Contrast] value in HDR mode, therefore bringing its PQ EOTF tracking closer to the ST.2084 standard, as you can see from the following charts:
Click on the options below to compare PQ EOTF on Android 7:
[Cinema pro] | [Cinema home] | [Custom]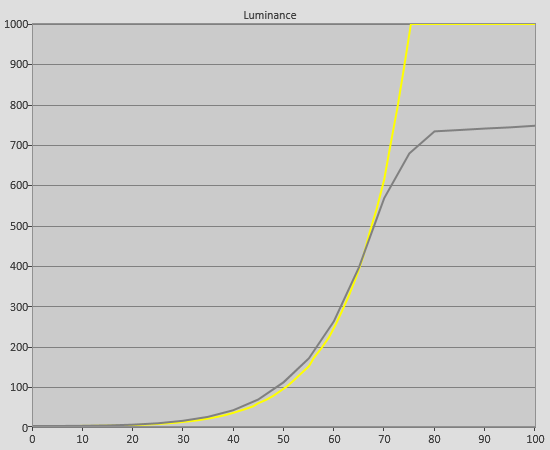 And here are the PQ EOTF tracking graphs for 4000-nit-graded HDR10 content:
Click on the options below to compare PQ EOTF for 4000-nit mastering:
[Cinema pro] | [Cinema home] | [Custom]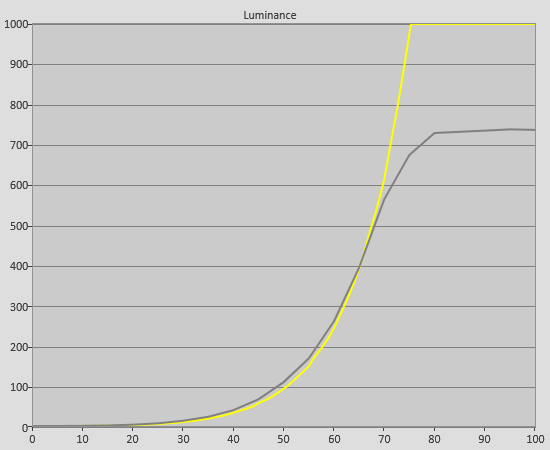 From what we can interpret from these charts, the Sony A1 OLED does not attempt to differentiate between 1000-nit and 4000-nit HDR10 content – it uses the same tone-mapping curve. For comparison, please check out the PQ EOTF tracking charts of the LG B7 and Loewe bild 7, two HDR TVs which apply different tone-mapping curves for 1000-nit and 4000-nit material respectively so they can retain bright specular highlights at the expense of lowering overall brightness.
In other words, the Sony KD-65A1 is primarily optimised for HDR videos that are mastered at 1000 nits, and will clip (read: discard) most highlight detail between 1000 nits and 4000 nits during playback of 4K Blu-rays that are mastered to 4000 nits. Here's how our Sony KD65A1BU review unit rendered bright specular highlights in two 4K Blu-rays that are mastered to 4000 nits, compared with a rival display that better preserved highlight detail:

Batman v Superman (timecode: 01:09:46). Sony A1 on left.

Pan (timecode 00:18:53)
You can recover more highlight detail by lowering [Contrast] in the user menu, but there are three issues. One, to fully retrieve every specular highlight all the way up to 4000 nits, the overall image has to be darkened so much that it no longer looks like HDR. Two, decreasing [Contrast] for 4000-nit HDR video will also affect 1000-nit content which is already tone-mapped optimally by the Bravia KD-65A1, and no sane user is going to go to the trouble of adjusting [Contrast] differently for 1000-nit versus 4000-nit movies… that's if he/ she even knows which 4K Blu-ray is graded at 1000 nits and which one at 4000! Last but not least, the altered [Contrast] setting will stick in SDR mode too if you use the same picture preset for SDR, potentially invalidating any existing SDR calibration. It takes a skilled calibrator who understands the intricacies of this TV plus HDR tone-mapping to negotiate these minefields and work out the best solution for clients.
Before everyone starts sending support ticket to Sony asking them to "fix" their tone-mapping, we would like to stress that in itself, there's nothing wrong with the HDR10 tone-mapping on the Bravia A1/ A1E OLED. There is no established standard for tone-mapping anyway, and to tone-map content which has been mastered to 1000 or 4000 nits to a display that's only capable of 700 to 800 nits, TV makers have to make a choice to sacrifice either brightness or detail. Sony has opted for the latter, perhaps awaiting the arrival of Dolby Vision dynamic metadata system for further improvements.
Otherwise, HDR material looked wonderfully polished on the KD65A1BU, with one particular area of strength being [Smooth Gradation] which suppressed posterisation better than any other OLED television we've tested to date. We verified that Android Nougat update added HLG (Hybrid Log-Gamma) support on the Sony 65A1 which successfully played a couple of HLG-encoded demo clips we had.
Gaming
Like the Sony Bravia ZD9 and XE93 which are both also equipped with the same X1 Extreme chipset, the KD-65A1's gaming responsiveness varied depending on whether upscaling was required. When asked to display a 4K UHD video signal (either SDR or HDR), the Sony A1's input lag measured 31ms according to our Leo Bodnar tester. However, sending a 1080p signal to the television increased lag time by one frame to 47ms.
| | |
| --- | --- |
| | |
| Input lag in 4K HDR | Input lag in 1080p SDR |
If getting the final word in low-latency responsiveness is not that important to you, the Sony KD-65A1BU offers a couple of unique features that can enhance your gaming experience. First is [Smooth Gradation] which worked well to smooth out in-game contouring yet didn't add any lag. Second is black frame insertion (BFI) which reduced motion blur at a cost of half-a-frame lag (8ms) if you're not overly sensitive to 60Hz flicker. We weren't.
Sound Quality
The Sony KD65A1 uses a revolutionary Acoustic Surface technology where sound emanates from the screen, driven by a pair of rear actuators and a subwoofer embedded inside the kickstand. We had the good fortune of being able to compare it beside two audio heavyweights, the Loewe bild 7.55 and the Panasonic EZ1002 which feature their respective soundbars, and the Bravia A1/ A1E acquitted itself well.
Although the Acoustic Surface couldn't match Loewe's 120w 2x60w soundbar and Panasonic's Technics-tuned Dynamic Blade Speaker system in outright volume and bass richness especially when cranked up loud, where the Sony excelled was in dialogue clarity, stereo separation and acoustic placement even at low volumes. Owners will find it perfectly adequate for day-to-day viewing, only needing to break out their external sound system for watching films.
Video Review
Conclusion
The Bravia A1 is an OLED masterclass from Sony. True, the Japanese manufacturer has experience with professional OLED broadcast monitors, but it's still fascinating to see how the company used every ounce of its video processing expertise to extract the most from OLED panels with a different subpixel layout (WRGB vs RGB) that are sourced from a third party (LG Display).
We've tested 2017 OLED TVs from LG, Panasonic and Sony side by side in a comprehensive manner – all of them are fantastic displays, though one might do some things better than the other two, and vice versa. The aces up Sony's sleeves are class-leading upscaling, suppression of posterisation and least-artefact-prone motion interpolation, thanks to the KD-65A1's X1 Extreme processor and [Smooth Gradation] super bit-mapping technology.
Perhaps the highest compliment we can pay to the Sony A1 is that it's the most forgiving OLED that makes the best of all types of content, even ropey, bit-starved ones. With the promise of Dolby Vision support to come, the Bravia KD-65A1BU is a must-audition for anyone in the market for a large-screen television this year.
Note: If you're considering buying this television, please support this website by making your purchase from our sponsor Crampton & Moore Leeds – call 0113 2446607 and ask for store manager David (who also organises our annual TV shootout event), quoting HDTVTest for advice, best price and first-rate service.