Sony's 2016 televisions have begun to hit the stores in March, which must be a welcome improvement from last year when the company's Bravia TV range experienced launch delays due to Android TV integration. Today we're reviewing the 65in Bravia XD93 which is Sony's sub-flagship 4K HDR (high dynamic range) model for the year ahead.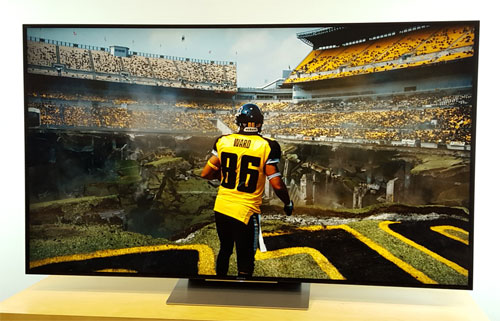 Coming in 2 screen sizes of 55 and 65 inches (model numbers KD-55XD9305 and KD-65XD9305 respectively), the Sony XD9305 features an innovative LED backlight implementation despite not carrying UHD Premium certification from the Ultra HD Alliance (UHDA). Dubbed "Slim Backlight Drive" by the Japanese manufacturer, the new approach involves stacking two columns of two LEDs along the left and right side of the LCD panel, and using separate light guide plates for each LED module to illuminate different zones. According to Sony, this method allows for the best of both worlds: the svelte form factor of an edge-lit LED LCD, and the increased zonal precision of a direct-lit full-array local dimming (FALD) set.
Design
High-end Sony Bravias over the past couple of years had sported a pair of front-firing side speakers which sounded superb but unfortunately increased the bulk of the television considerably. In 2016, the brand has decided to retire these hefty integrated speakers across its entire TV lineup, which will no doubt come as a relief to prospective owners in the UK and Europe who are struggling for space, or those who already have their own dedicated sound system in place.
Sony calls its 2016 Bravia styling ethos "Slice of Life", referring to how a band of champagne gold accent around the outer frame creates an illusion of two slates being glued together. The fairly reflective, glossy LCD panel is bordered by a suitably slim black bezel.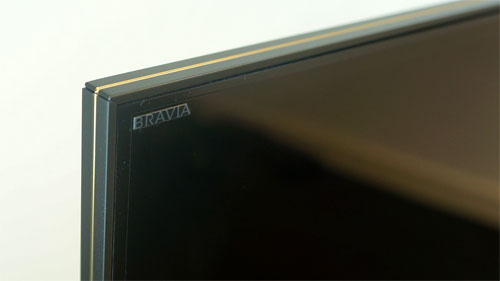 The panel sits on a central rectangular stand with a brushed metallic silver finish. Viewed from the side, the top half of the set is impressively thin, though the bottom half inevitably thickens to accommodate the internal processing and connection inputs. Like more and more Sony TVs these days, the KD65XD9305 comes with an external power brick with detachable cables that are reasonably long to cater for flexible installations.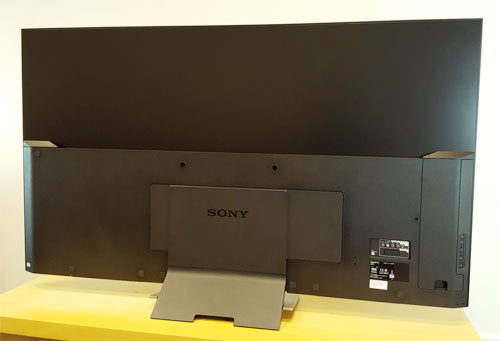 Around the back, Sony has included a cable-organising clip, not to mention cover plates for many of the exposed connection ports to keep things tidy. Whilst acceptable, build quality can come across as a bit plasticky.

Unlike some other TV makers, Sony has consolidated the remote controls into one unit on the Bravia XD93. Donning some "Slice of Life" cues (note the groove between the back cover and the front), the remote is skinned in textured soft rubber to improve grip. Its minimally-raised faux buttons provide wonderful tactile feedback, but can be frustrating to use especially in the dark – we've lost count of the number of times we'd mistakenly pressed the [Action Menu] button instead of the [Up] key.
Connections
All four HDMI inputs passed 3840×2160@60Hz resolution with HDCP 2.2 according to our tests.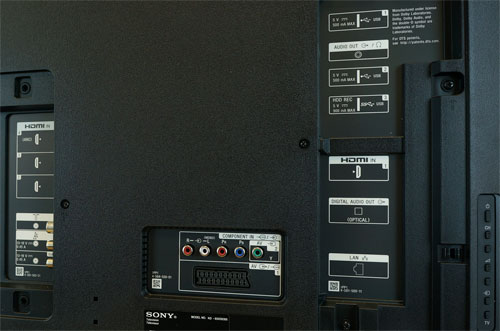 Calibration
We calibrated our Sony KD65XD9305BU review sample in the [Cinema pro] picture preset for regular HD content, and in [HDR video] mode for 4K HDR material (which we'll elaborate in the "Picture Quality" section later in this article). Equipment used included a profiled Klein K10-A meter, a Murideo Fresco Six-G test pattern generator, and SpectraCal's CalMAN Ultimate software. As is the case with almost every Sony television we've tested, the 65XD9305 delivered outstanding colour accuracy (once greyscale was properly aligned) in spite of the absence of an advanced colour management system (CMS).
Greyscale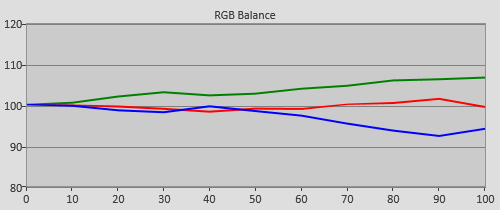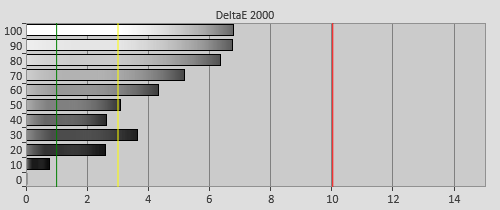 Pre-calibration RGB tracking and delta errors (dEs)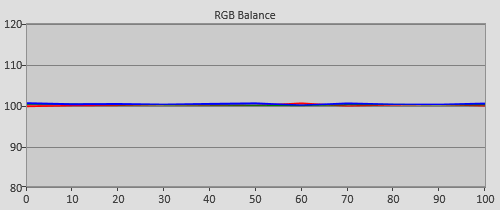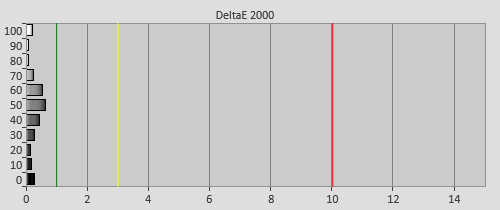 Calibrated RGB tracking and dEs after 2p & 10p white balance adjustments
Gamma
| | |
| --- | --- |
| | |
| Pre-calibration gamma tracking (2.36) | Post-calibration gamma tracking (2.37) |
Colour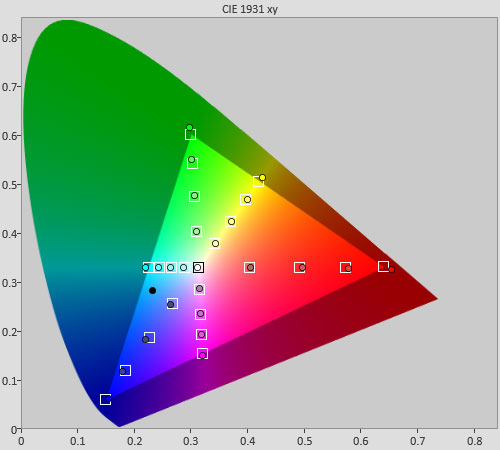 Post-calibration colour saturation tracking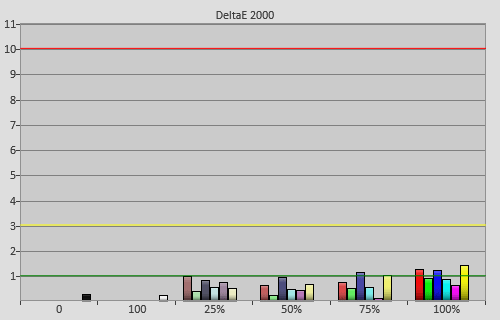 Post-calibration colour errors (<3 not appreciable to the eye)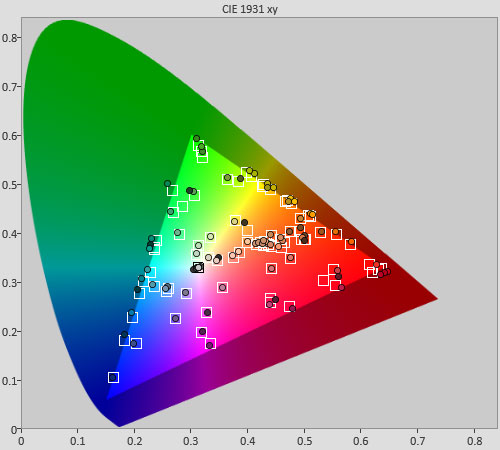 Post-calibration Colour Checker SG test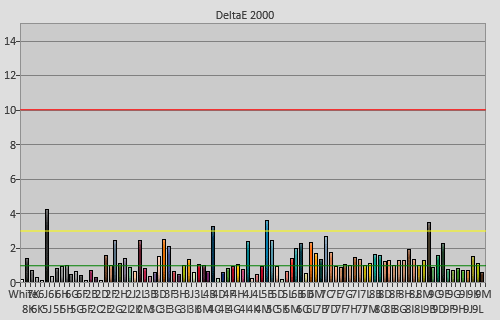 Post-calibration Colour Checker SG errors (<3 not visible to the eye)
Benchmark Test Results
| | |
| --- | --- |
| Dead pixels | None |
| Screen uniformity | Light bleed from 4 corners; one faint thin vertical band |
| Overscanning on HDMI | 0% if [Screen Format] "Full" & [Display Area] "Full Pixel" or "+1" |
| Blacker than black | Passed |
| Calibrated black level (black screen) | LEDs dim down/ shut off |
| Calibrated black level (4×4 ANSI) | 0.036 cd/m2 |
| Black level retention | Auto-dimming with full black screen |
| Primary chromaticity | Good |
| Scaling | Very good for HD sources |
| Video mode deinterlacing | Effective jaggies reduction |
| Film mode deinterlacing | Passed 3:2 & 2:2 in SD with [Film Mode] engaged, though cadence lock occasionally lost in HD |
| Viewing angle (cone) | 65° |
| Motion resolution | 1080 with [MotionFlow] "Clear" & "Custom" |
| Digital noise reduction | Optional; effective when engaged |
| Sharpness | Defeatable edge enhancement |
| Luma/Chroma bandwidth (2D Blu-ray) | Full luma; chroma horizontally blurred except in [Game] & [Graphics] modes |
| 1080p/24 capability | No judder in 2D |
| Measured panel refresh rate | 120Hz |
| Measured peak brightness | 1045 cd/m2 on 2% window |
| Measured DCI-P3 coverage | 95% |
| Input lag (Leo Bodnar tester) | 51ms in [Game] & [Graphics] modes |
| Full 4:4:4 reproduction (PC) | Yes for 3840×2160@60Hz with [HDMI Enhanced Signal] |
Power Consumption
| | |
| --- | --- |
| Default [Standard] mode* | 78 watts |
| Calibrated [Cinema pro] mode | 63 watts |
| [HDR video] mode | 202 watts |
| Standby | <1 watt |
*Note: [Light Sensor] was enabled by default out of the box.
Picture Quality
The Sony KD-65XD9305 uses a 10-bit AMVA LCD panel from AU Optronics (AUO). Native black level (i.e. without the help of local dimming) was deep by LED LCD standards, measuring 0.036 cd/m2 on a 4×4 ANSI chequerboard pattern and full-field black (auto-dimming defeated by displaying a pause icon from our Blu-ray player) once peak white was aligned to our usual target of 120 cd/m2.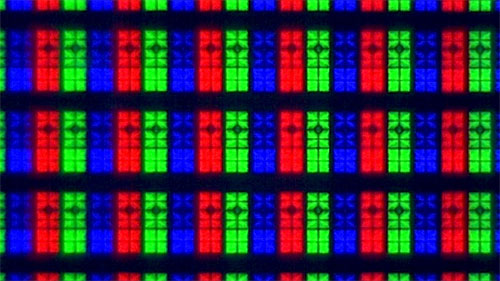 Macro photo of subpixel layout indicating VA-type LCD panel
As revealed by our thermal scan, the XD93's LED modules are mounted along both sides of the screen. The company's new "Slim Backlight Drive" technology indeed resulted in more dimmable zones than what you'd typically expect from an edge LED television. Using our own custom-authored test pattern of a small white box crawling horizontally then vertically against a black backdrop, we counted 4 columns and 8 rows lighting up, giving a total of 32 zones – the highest we have on record for an edge-lit LED LCD to date.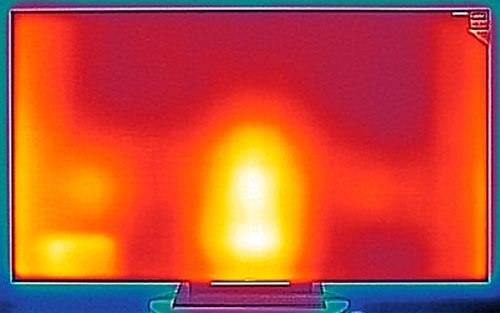 From our testing, every zone was capable of being turned on and off independently of one another, but the dimming algorithm could be a bit hit and miss at times. For example, occasionally in certain dark scenes we would spot a zone that's far away from the main action area lighting up, even though by common sense it should remain darkened. Nevertheless, on the whole the local dimming system on the Bravia KD65XD9305 was quite effective, and users shouldn't even think about switching it off.
Three [Auto local dimming] settings are offered besides "Off", namely "Low", "Medium" and "High". Going up the intensity ladder would generally (it's scene-dependent) darken more zones at the expense of aggravating blooming (a phenomenon where bright objects that are smaller in size than each locally-dimmed zone exhibit circumferential halos against a dark background).
Backlight & Screen Uniformity
With [Auto local dimming] disabled, our Sony KD65XD9305BU review unit exhibited backlight bleed from all 4 corners, which is perhaps unavoidable given the company's drive for a slimmer design. We found it necessary to set [Auto local dimming] at least to "Medium" before corner bleed was attenuated to an acceptable degree, but even then the lack of homogeneity would rear its ugly head whenever a video frame was bright enough to light up the zones.
Naturally, during brighter scenes this wasn't a major problem, since our eyes tend to ignore darker portions of the image in the presence of brightness (not to mention the depth, detail, faithful colour reproduction and cinematic quality delivered by the Bravia X93D). However, in low-APL sequences (such as the opening titles and end credits in The Dark Knight) the flashlighting surfaced more frequently than we would've liked, although for full disclosure we were watching in a pitch-black room. The introduction of some ambient lighting can mitigate the issue, but placement needs to be chose carefully (ideally behind the display – technically known as bias lighting) due to how reflective the screen is.
Grey uniformity was very good for an edge-lit LED LCD: we ran various shades of grey slides, and witnessed very little dirty screen effect (DSE), though the borders were darker than the centre. There's a very thin, faint vertical band just off-centre on the left, but it's only noticeable at high backlight settings (read: HDR) during slow pans across a tonally uniform background.
Motion
Overall, motion performance was slightly improved on the Sony XD9305 compared with last year's X93C. Judged using the horizontally scrolling lines pattern in Chapter 31 of the FPD Benchmark Software Blu-ray disc, a motion resolution of 1080 lines (or higher) was now attainable with [Motionflow] set to "Clear" or "Custom". Here's a detailed breakdown of the various [Motionflow] options:
"Standard": Frame interpolation; motion resolution 600 lines; moderate soap opera effect and interpolation artefacts.
"Smooth": Frame interpolation; motion resolution 650 lines; more apparent soap opera effect and interpolation artefacts.
"Clear": A combination of frame interpolation and backlight scanning; motion resolution 1080 lines; mild soap opera effect and interpolation artefacts; screen becomes dimmer;
[Motionflow] "
Custom
" offers two further slider controls, namely [Smoothness] and [Clearness]. The former dictates the intensity of motion-compensated frame interpolation (MCFI): the higher the value, the smoother the video, but the more obvious too the soap opera effect (SOE) and interpolation artefacts. [Clearness], on the other hand, activates backlight scanning on the set, which introduces some flicker and drop in luminance. Whereas last year's Sony Bravias provided five [Clearness] options, only three settings were available on the KD-65XD9305: "
Min
" (which is essentially off), "
1
" and "
Max
". By itself, even the "
Max
" setting didn't boost motion resolution beyond the LCD baseline of 300 lines – [Clearness] needs to be used in conjunction with [Smoothness] to enhance motion clarity. In case you're wondering, Sony appeared to have done away with the old [Impulse] mode once and for all, although to be fair it was always too dark and flickery to be of much use anyway.
Viewing Angle
The Sony XD9305's horizontal viewing angle was very decent for a VA LCD panel. Luminance fell by half at 32.5° off-axis (thus giving a viewing cone of 65°), whereas the gradual increase in off-angle pink tinting nudged delta errors (dEs) above the perceptible threshold of 3 at 23°.
4K HDR
We'd like to kick off this section with some measurements. With HDR mode engaged by injection of metadata from a Murideo Fresco Six-G signal generator, the Sony X93D's peak brightness came in at 1045 cd/m2 on a 2% window with greyscale calibrated to D65. Of course, the UHD Alliance's accreditation process for UHD Premium award uses larger window sizes, and our 65-inch sample only managed to hit a maximum of 875 cd/m2 (the UHD Premium specifications demand 1000 nits for LED LCDs) before tailing off gradually, which may explain why the XD93 is not UHD Premium-certified.
Full-field D65 white measured 440 cd/m2 in HDR mode. In terms of DCI-P3 gamut coverage, the KD-65XD9305 reached 95% (calculated using the same methodology adopted by the UHD Alliance for UHD Premium certification):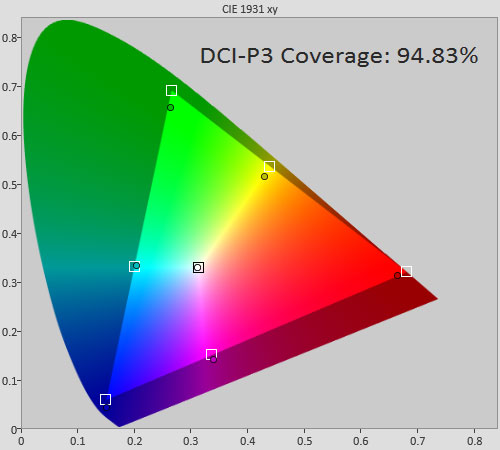 Upon detection of correct ST-2086 metadata, the Sony XD9305 will be locked into its [HDR video] picture preset. There also exists an [HDR Video Vivid] option – curiously buried in the [Reset] submenu – which simply jacks up the dynamic contrast, colour temperature, saturation and edge enhancement, but naturally we refrained from using it given our videophilic predisposition. Whilst not documented, the 4KTV provides several methods (including an unconventional one) to make Ultra HD Blu-ray movies more watchable during the day.
While [Auto local dimming] and [X-tended Dynamic Range] were locked to "Medium" and "High" respectively in [HDR video] mode, we could make changes to most other parameters including [Brightness], [Contrast], [Black Level], [Color temperature] and [Color Space]. Therefore, we proceeded to calibrate the TV for UHD (ultra high-definition) HDR, even though these are early days so several aspects of HDR calibration still need to be ironed out.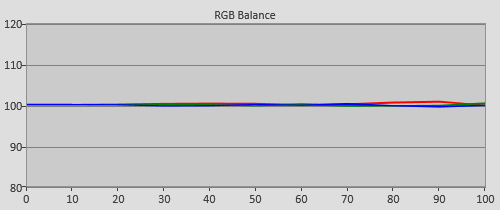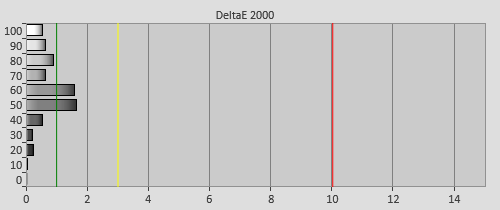 Calibrated RGB tracking and dEs in [HDR video] mode
Post-cal perceptual quantizer (PQ) electro-optical transfer function (EOTF)
Colour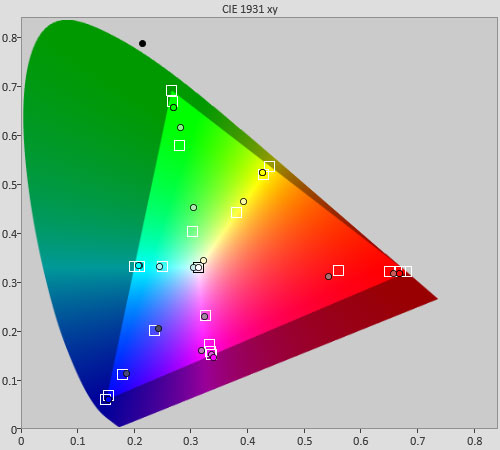 Post-cal sat tracking with [Color space] "DCI" with reference to DCI-P3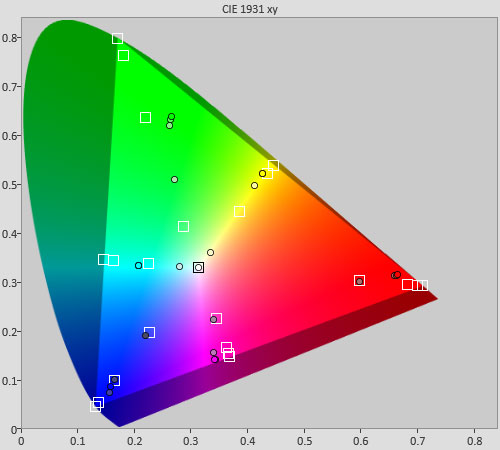 Post-cal sat tracking with [Color space] "BT.2020" with reference to Rec.2020
With numbers and graphs out of the way, we hooked up a Samsung UBD-K8500 Ultra HD Blu-ray player to the KD65XD9305, popped in a 4K Blu-ray… and were greeted with a message from the disc spinner suggesting that the display's not compatible with HDR, so the 65XD9305 was receiving 3840×2160 in standard dynamic range, and stayed in our calibrated [Cinema pro] mode.
It turned out we had to engage [HDMI Enhanced Signal] and then restart the TV to get the Sony XD9305 to recognise HDR metadata from the Samsung 4K BD player. And it was totally worth the effort, because in some ways the KD-65XD9305's HDR presentation was even more spectacular than the Samsung UE55KS9000 we recently tested despite not boasting as high a peak brightness.
When we reviewed the KS9000, we attributed the very mild judder observed during slow panning shots in The Martian to the 24p frame rate within the source, but once we saw how smooth the same pans were on the KD65XD9305BU, we realised that the Sony was the set that's actually capable of handling 2160p/24 signal natively without judder.
Dynamism and detail was off the charts, likely helped by good tone mapping of PQ curve. As long as the correct [Color space] and [Live Colour] settings were selected, colours would burst with a dazzling vibrancy, yet all the subtleties would remain intact thanks to the smooth gradation afforded by true 10-bit panel and driving. And as with most high-end Sonys, there's a magical whiff of cinematic quality that made the Bravia X93D utterly mesmerising to watch.
It goes without saying that such a high [Brightness] setting in HDR mode exacerbated the backlight inconsistency, but truth be told HDR's intense contrast and colours somehow made the corner bleeds not any more evident than they were in SDR, especially with the judicious use of bias lighting.
We noticed some black smearing of the runners' silhouettes against the blue sky in The Martian (timecode 2:11:44), which we put down to slower pixel response time. Such instances were few and far between throughout our time spent with the Sony 65XD9305 – we only mention it for the sake of completeness.
3D
The Bravia KD65XD9305 features 3D functionality of the active-shutter glasses (ASG) variety, though no goggles are included with the set. Let's start with the good news – the 3DTV successfully passed full HD 3D resolution according to our self-authored test pattern. The television could also go sufficiently bright to compensate for the darkening effect of the shuttering lenses, but interestingly the maximum luminance in 3D [Cinema pro] mode was capped to a lower level than some other picture presets.
Now for the bad: the Sony XD93's tri-dimensional mode appeared to be locked to 60Hz, so 24fps (from 3D Blu-rays) and 50fps material would display with some judder that's particularly noticeable during slow panning shots. By its own, [Motionflow] had no effect in 3D mode, but together with another picture setting, the judder could be smoothed out, although this would incur unmistakable soap opera effect (which to be fair was less offensive than that generated by many other TV brands) and interpolation artefacts.
Crosstalk was visible at certain depths, which could be ameliorated though not totally eradicated using the [3D depth adjustment] control. This value cannot be saved, so it needs to be tweaked from movie to movie, or even from scene to scene depending on the predominant depth where the crosstalk occurs. In the Tangled night lantern sequence that's our go-to extra-dimensional test footage, we found a [3D depth adjustment] setting of "1" to be optimal.
Gaming
Placing our Leo Bodnar input lag tester on the middle flashing white box on the screen of the KD-65XD9305, we encountered a weird phenomenon we haven't seen before. In [Game] and [Graphic] modes, the returned figure would slowly increase from 51ms to 70ms, then quickly drop back to 51ms before repeating the cycle. The same behaviour was observed in all other presets: for example, in [Cinema pro] mode the lag times would yo-yo between 78ms and 94ms.

After ruling out instrument error by obtaining stable readings from three other TVs we had in our test lab, we surmised that the phenomenon might be caused by the stacked LED backlight's sync rate throwing off the Leo Bodnar device. For now, we've jotted down an input lag result of 51ms, which means Sony has gone from a brand that's the champion of low-lag gaming TVs to one that's lagging behind in this area.
Video Review
Conclusion
The Sony XD93 is intended as a replacement for both the fateful X90C and the more impressive X93C from 2015. There's not a single shred of doubt that the KD65XD9305's image quality is head and shoulders above the X9005C, thanks largely to the use of VA-type LCD panel (which renders significantly deeper blacks) instead of IPS.
Compared with the X9305C though, the situation is less clear-cut. On the plus side, the XD9305's native black level and motion are slightly better, Android TV is more responsive and stable (we experienced very few occurrences of freezing and no crashes throughout our review period), footprint is smaller, and it holds the current record for the highest number of dimmable zones of any edge-lit LED television. The display also supports HDR10 open-source standard out of the box, with accurate PQ tonemapping (from 4K Blu-ray) and a peak brightness surpassing 1000 nits.
In the Japanese TV maker's pursuit of ultra-slim aesthetics however, backlight uniformity seemed to have taken a hit: our 65XD9305 review sample suffered from flashlighting from all four corners of the screen, although there's always a chance that other units in the wild may fare better. Twitch gamers will also be disappointed to learn that input lag has increased by 16ms (i.e. one frame) from last year's Sony Bravia Ultra HD models.
At the end of the day, the Sony KD-65XD9305 is a 4K HDR stunner: contrast and colours came to life with an intensity that's never been seen before in home cinemas, with the UHDTV effortlessly nailing the breathtaking detail and nuanced gradations of the new format. The Sony 65XD93 is proof that you don't really need a UHD Premium-certified display to get a first-rate high dynamic range viewing experience from Ultra HD Blu-rays.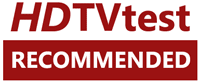 Note: If you're interested in buying this TV, please support us by considering making your purchase from our advertising partner Simply Electricals – call 01204 201124 for competitive prices and first-rate service.