We'll just come right out and say it: the Sony KD-75X9405C is not only the best LED LCD television we've tested to date; with only 4 months to go until the end of 2015, it's also the frontrunner for our "TV of The Year" award. Which is no mean feat considering the number of outstanding TVs that has been released this year, including LG's EG960V OLED display and Samsung's JS9500 SUHD TV, as well as Sony's own X93C step-down model.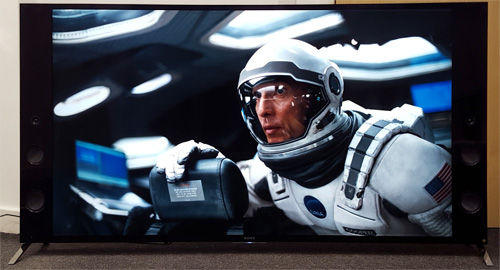 Perched on top of the Japanese manufacturer's 2015 Bravia lineup, the X94C is only available in one massive screen size of 75 inches. Together with the presence of Sony's archetypal front-facing magnetic fluid speakers flanking the LCD panel, this makes for a humongous display that isn't for the faint-hearted.
And the KD75X9405C can hardly be called affordable too, commanding a street price of around £7,500 at time of publication. But we'd argue that it's worth every penny, because this seriously talented set produces overall the most compelling image from HD sources – still the mainstay of most videophile's viewing habits even as the AV industry gears up towards 4K Ultra HD – we've seen from any TV this year.
Calibration
Calibration was trickier than Sonys of yesteryear, if only due to the introduction of 10-point white balance controls. [Contrast], [Black Level] and [Gamma] preferred to be set to certain values or else significant displacement would occur, and even then some of the 10p WB adjustments did not correspond to their supposed video signal intervals. Nevertheless, that did not stop us from obtaining extremely accurate greyscale and colours on our KD75X9405CBU review sample.
Greyscale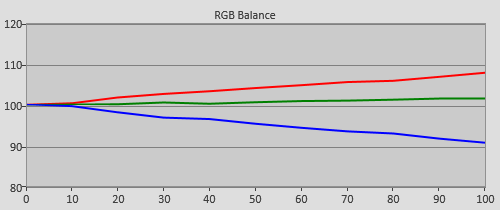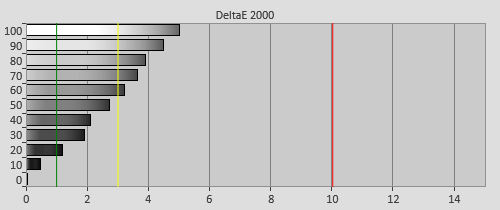 Pre-calibration RGB tracking and delta errors (dEs)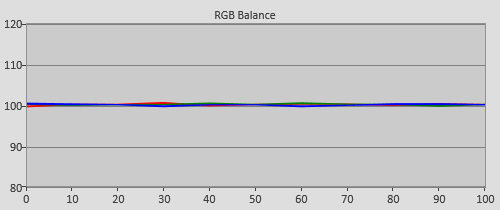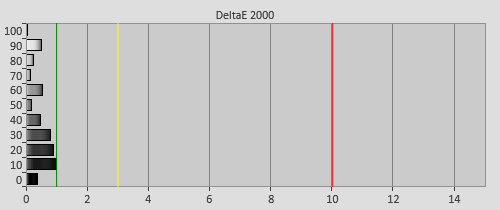 Calibrated RGB tracking and dEs after 2p & 10p white balance adjustments
Gamma
| | |
| --- | --- |
| | |
| Pre-calibration gamma tracking (2.48) | Post-calibration gamma tracking (2.38) |
Colour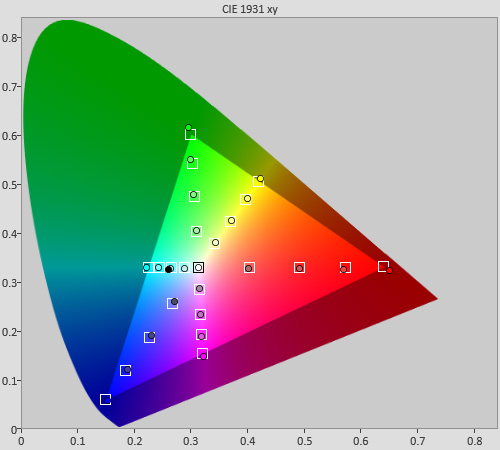 Post-calibration colour saturation tracking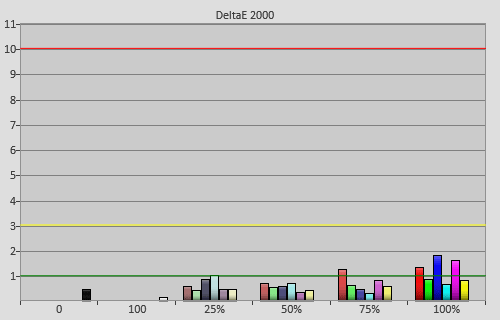 Post-calibration colour errors (<3 not appreciable to the eye)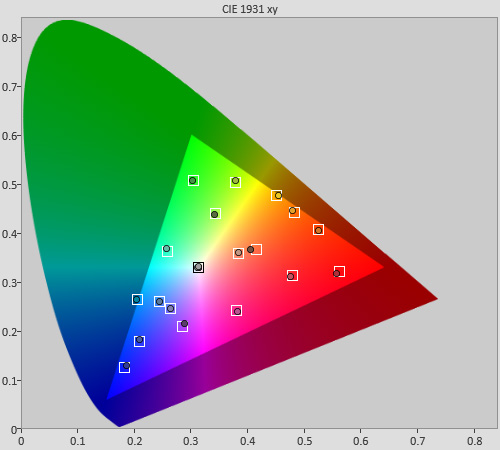 Post-calibration Colour Checker Classic test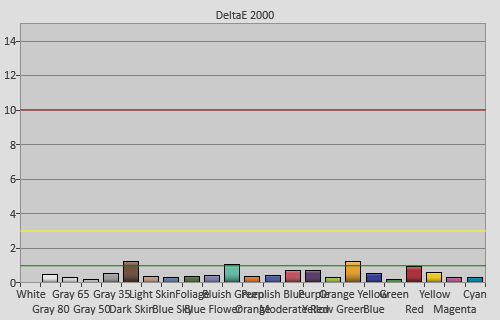 Post-calibration Colour Checker Classic errors (<3 not visible to the eye)
Benchmark Test Results
| | |
| --- | --- |
| Dead pixels | None |
| Screen uniformity | Very good |
| Overscanning on HDMI | 0% if [Screen Format] "Full" & [Display Area] "Full Pixel" or "+1" |
| Blacker than black | Passed |
| Calibrated black level (black screen) | LEDs dim down/ shut off |
| Calibrated black level (4×4 ANSI) | 0.078 cd/m2 |
| Black level retention | Auto-dimming with full black screen |
| Primary chromaticity | Good |
| Scaling | Very good for HD sources |
| Video mode deinterlacing | Decent for SD; good for HD |
| Film mode deinterlacing | Passed 3:2 & 2:2 in SD & HD with [Film Mode] enabled |
| Viewing angle | Good for a VA LCD panel |
| Motion resolution | 1080 with [MotionFlow] "Clear" & "Custom" |
| Digital noise reduction | Optional; effective when engaged |
| Sharpness | Defeatable edge enhancement |
| Luma/Chroma bandwidth (2D Blu-ray) | Full luma; chroma horizontally blurred except in [Game] & [Graphics] modes |
| 1080p/24 capability | No judder in 2D & 3D |
| Measured panel refresh rate | 120Hz |
| Measured DCI-P3 coverage | 94% |
| Input lag (Leo Bodnar tester) | 36ms in [Game] mode |
| Full 4:4:4 reproduction (PC) | Limited to 3840×2160@30Hz |
Power Consumption
| | |
| --- | --- |
| Default [Standard] mode | 90 watts* |
| Calibrated [Cinema pro] mode | 84 watts |
| Standby | <1 watt |
*Note: Out of the box, [Light Sensor] was engaged by default.
Picture Quality
The Sony X940C's black-level depth was superb by all accounts, making an absolute mockery of the 0.078 cd/m2 ANSI blacks we measured with peak white fixed at our normal dark-room target of 120 cd/m2. A key reason for this disparity in real-world performance versus test pattern measurement was the outrageously good full-array local dimming (FALD) algorithm implemented by Sony's engineers on the Bravia KD-75X9405C, which significantly improved blacks in most scenes without incurring many of the side effects associated with local dimming.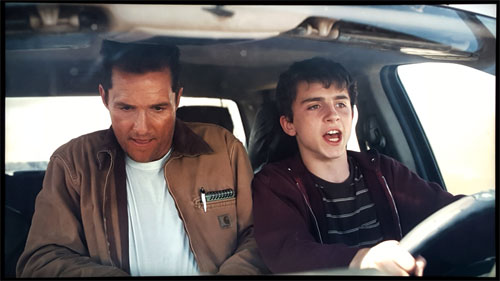 To make the company's achievement even more impressive, the number of dimming zones on the X9405C was relatively modest by FALD standards: we counted only 14 columns by 6 rows, giving a total of 84 independently dimmable zones. By comparison, Samsung's UE78JS9500 and Panasonic's TX-65AX902B feature 240 and 128 zones respectively. Yet the Sony exhibited less blooming than the former, and deeper blacks than the latter (although VA vs IPS panel also played a role here), defying the commonly-held belief that the greater the number of zones, the more effective the local dimming.
Update 15 September 2015: The Sony X940C's local dimming was so effective that our original calculation was wrong. Following prolonged periods of repeated scrutiny, we determined there were 16 columns and 8 rows, giving a total of 128 dimmable zones. The correct method was to count the number of zones where light was extinguished rather than switched on.
Of course, even with the help of local dimming, blacks (outside of a full-black screen) on the KD75X9405C could never reach the true zero state of an OLED television, but it's good enough, especially if some bias lighting's added to the mix. On balance, we'd take this over the near-black uniformity issues seen on LG OLEDs – what's the point of having perfect blacks if you're missing as much as one-third of the picture in very dark scenes? (We're referring to the vignetting problem as described in our review of LG's 55EC930V curved OLED TV)
Another trait in favour of the Sony X94C was its authentic colour reproduction, putting the display ahead of Samsung and LG sets when it came to depicting realistic shades and hues across different brightness levels. While it's still slightly behind high-end Panasonic Vieras in this department, we had to work hard on the Panasonic's CMS (colour management system) to achieve such degree of accuracy; whereas this aptitude seemed innate to the Bravia 75X9405C.
4K-wise, the Sony X940C appeared to be better-equipped than its rivals in coping with certain demands of UHD (ultra high-definition) Phase 2, specifically HDR (high dynamic range) and WCG (wide colour gamut). The panel was capable of searing brightness, hitting 698 cd/m2 and 715 cd/m2 in [Cinema pro] and [Vivid] mode respectively – the brightest we have on record. In fact, it's so bright that we had to use backlight scanning to bring peak white down to 120 cd/m2 even with [Brightness] set to "Min". With this sort of luminance reserve in place, the KD75X9405CBU shouldn't have any difficulty providing a first-rate high dynamic range experience when a HDR-unlocking firmware update arrives as promised later in the year.
DCI-P3 coverage also reached 94% with [Colour space] set to either "DCI" or "BT.2020" – again the highest we've measured so far.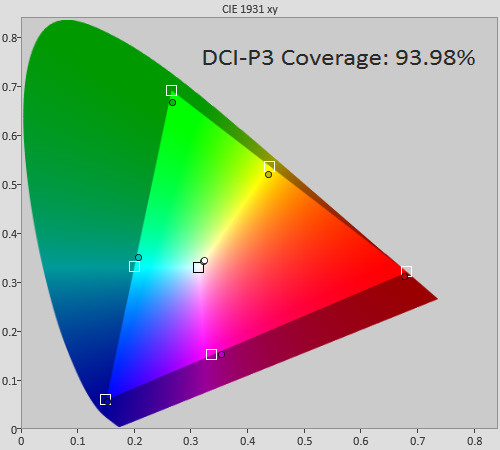 PC users may be disappointed to find that full 4:4:4 chroma reproduction at higher 4K frame rates remained elusive on a flagship television as expensive as the Sony Bravia KD-75X9405C. At 3840×2160@60Hz, chroma was subsampled to 4:2:0; and the only method to restore 4:4:4 at UHD resolution involved dropping the frame rate to 30Hz in [Game] or [Graphics] mode.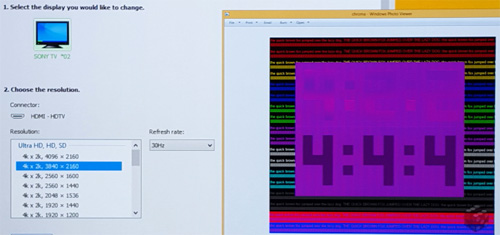 Updated 6 September 2015: At IFA, a Sony spokesperson told HDTVTest that the 75X94C is indeed capable of 4:4:4 chroma at 4Kp60 following a software upgrade, although release of said update in the UK is still under consideration.
For all the X94C's stunning image quality, there were several features we've missed from previous Sony Bravia televisions. The first was a set-and-forget [Motionflow] setting across different types of viewing material: in order to attain a motion resolution of 1080 lines (as determined via Chapter 31 of the FPD Benchmark Software test disc), unfortunately there's no way to avoid the dreaded soap opera effect (SOE) caused by frame interpolation, unless you're willing to put up with a severely dimmed and flickery picture (i.e. by setting [Motionflow] to "Custom" and [Clearness] to "Max"). What this means is that if you're sensitive to LCD motion blur, you may have to tweak [Motionflow] separately for video-based and film-based content for the best results.
We also wished to see the return of [Smooth Gradation], a nice Sony-exclusive feature that worked effectively to smooth out contouring in compromised sources. As it stood, the KD75X9405C manifested a touch more posterisation in select scenes from less-than-pristine Blu-rays compared with the Samsung UE78JS9500, though both displays were a good deal cleaner than the LG EG960 which had a tendency to exaggerate film grain and digital noise.
Upscaling from standard-definition resolution (480i/ 576i) looked softer on the Sony KD-75X9405C than what we're used to on competing models from Samsung and Panasonic. Engaging [Reality Creation] sharpened things up but introduced visible fizziness around high-contrast edges, so use it sparingly. Extra-dimensional material were presented with some faint crosstalk, but this was more than compensated for by the X94C's detail (we verified full HD 3D resolution) and dynamism ([Backlight] was locked to "Max" in 3D mode). Input lag came in at a thoroughly playable 37ms in [Game] mode.
Final Word
LCD detractors and OLED fans will surely ask: how can we prefer a transmissive display to a self-emissive one? After all, the viewing angle of the Sony KD75X9405C is narrower owing to the VA-type LCD panel used, and the TV's black level in real-life content will never match the true 0 cd/m2 blacks delivered by OLEDs.
In our opinion, the first issue was mitigated to a certain extent by the panel's sheer 75in size, making off-axis viewing more palatable than most other non-IPS LCDs. As for the second issue, it's true: the contrast and pop offered by OLED is unbeatable, at least as far as SDR video is concerned (the jury on HDR is still out until we have the chance to carry out a fair side-by-side comparison).
However, the LG EG960V trails the Sony X94 in the not-so-trivial areas of near-black uniformity, colour accuracy and video processing – the former is simply not fulfilling the director's creative intent in as faithful a manner as the latter. And we maintain that the black-level performance of the KD-75X9405C is actually sufficiently impressive thanks to Sony's masterful local dimming implementation… it truly is a case of "it's not the number of zones, it's how you use them".