The Bravia KD-75XD9405 is Sony's current flagship TV for 2016, and the direct successor to last year's supremely impressive X94C which in our opinion was one of the best televisions we've reviewed in 2015. Like its predecessor, the Sony XD94 only comes in one gigantic screen size of 75 inches, and features full-array local dimming (FALD) which is widely considered to be the pinnacle among LED backlighting systems.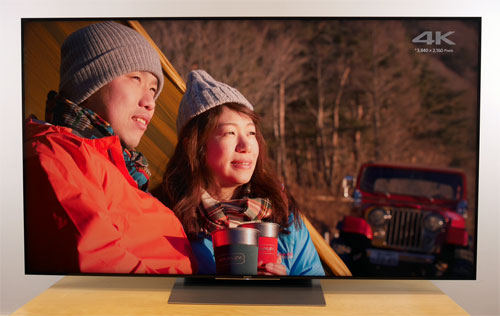 The Sony KD75XD9405 supports HDR (high dynamic range) playback at launch, but Japanese manufacturer has elected not to pursue Ultra HD Premium certification from the UHD Alliance (UHDA), instead preferring to use its own "4K HDR" branding. Other specifications include 4K X-Reality Pro video processing, Motionflow XR 1200Hz rating, Triluminos Display wide colour gamut (WCG), active-shutter glasses (ASG) 3D technology, and Android Smart TV platform.
Note: The 75XD94 retails at £4,999 which is significantly less expensive than the £7,499 commanded by 2015's 75X94C at launch. It's marketed in North America as the Sony Bravia X940D.
Design
In terms of styling, the most conspicuous change on the KD-75XD9405 from last year's KD-75X9405C is the removal of the prominent front-firing speakers flanking the screen, therefore reducing the TV's width considerably. The black bezel and even the chassis are surprisingly slim given the set's direct-lit LED underpinnings, and there's a champagne gold trim along the outer borders of the frame.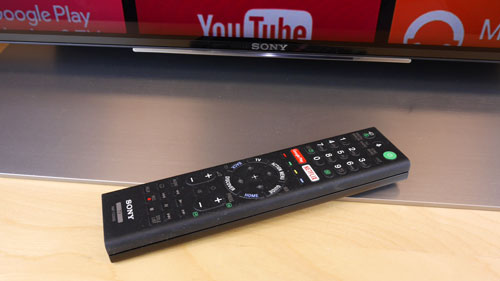 The panel sits on a brushed metallic silver table-top stand which thankfully doesn't take up much footprint, unlike many other 2016 TVs which – if not wall-mounted – need to be placed on an AV rack almost as wide as the screen itself. The 1.5m-long power cable is affixed to the television and cannot be detached.
Connections
Using a Murideo Fresco Six-G tester, we verified that all four HDMI ports on the Bravia XD94 accepted and displayed 3840×2160@60Hz video signal with HDCP 2.2 copy protection. HDMI4 is the one that supports ARC (audio return channel) for soundbar/ AV receiver integration.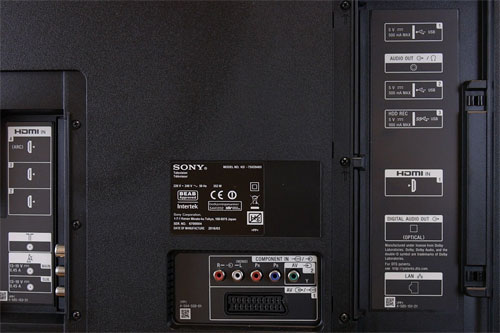 Calibration
We calibrated our Sony KD-75XD9405BU review unit with a profiled Klein K10-A meter, Murideo Fresco Six-G 4K HDR signal generator, and SpectraCal's CalMAN Ultimate software. Despite the absence of advanced colour management system (CMS) on the XD9405, once we calibrated greyscale to D65 using the onboard two- and twenty-point [White Balance] controls, colours fell into place accurately, with only 1 out of the 140 patches measured in the Colour Checker SG chart exceeding the humanly perceptible threshold of delta error (dE) 3.
Greyscale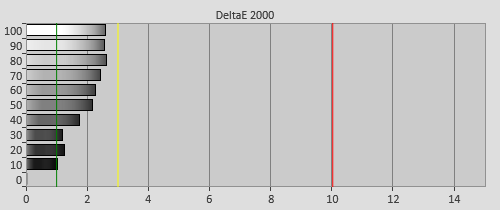 Pre-calibration RGB tracking and delta errors (dEs)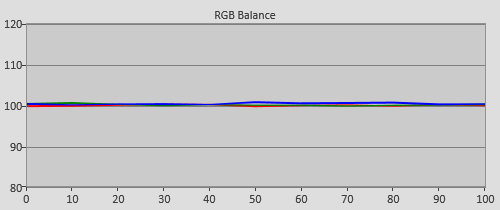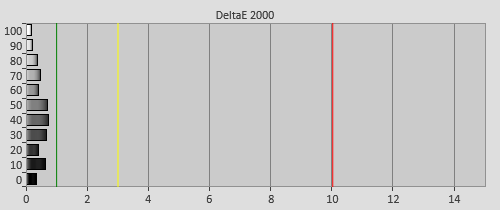 Calibrated RGB tracking and dEs after 2p & 10p white balance adjustments
Gamma
| | |
| --- | --- |
| | |
| Pre-calibration gamma tracking (2.5) | Post-calibration gamma tracking (2.36) |
Colour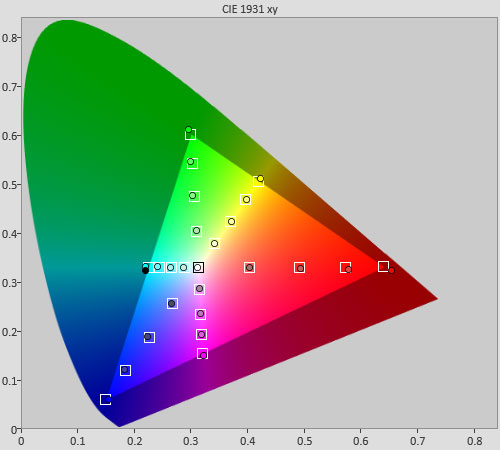 Post-calibration colour saturation tracking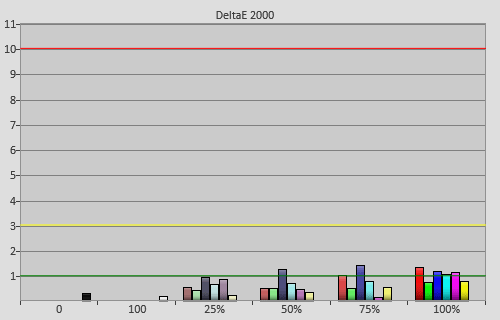 Post-calibration colour errors (<3 not appreciable to the eye)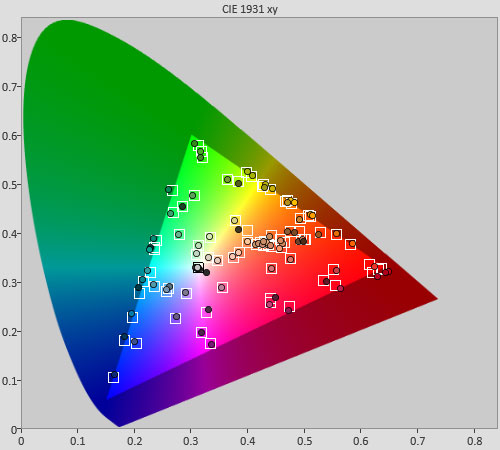 Post-calibration Colour Checker SG test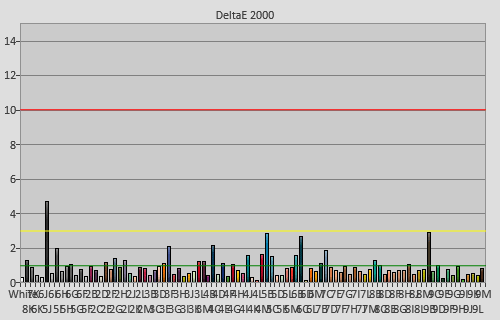 Post-calibration Colour Checker SG errors (<3 not visible to the eye)
Benchmark Test Results
| | |
| --- | --- |
| Dead pixels | None |
| Screen uniformity | Very good; mild darkening along edges on full-field rasters |
| Overscanning on HDMI | 0% if [Screen Format] "Full" & [Display Area] "Full Pixel" or "+1" |
| Blacker than black | Passed |
| Calibrated black level (black screen) | LEDs dim down/ shut off |
| Calibrated black level (4×4 ANSI) | 0.052 cd/m2 with [Auto Local Dimming] on |
| Black level retention | Auto-dimming with full black screen |
| Primary chromaticity | Good |
| Scaling | Very good for HD sources |
| Video mode deinterlacing | Effective jaggies reduction |
| Film mode deinterlacing | Passed 3:2 & 2:2 in SD with [Film Mode] enabled, though cadence lock occasionally lost in 1080i/50 |
| Viewing angle (cone) | 67° |
| Motion resolution | 1080 with [MotionFlow] "Clear" & "Custom" |
| Digital noise reduction | Optional; effective when engaged |
| Sharpness | Defeatable edge enhancement |
| Luma/Chroma bandwidth (2D Blu-ray) | Full luma; chroma horizontally blurred except in [Game] & [Graphics] modes |
| 1080p/24 capability | No judder in 2D or 3D |
| 2160p/24 capability | No judder |
| Measured panel refresh rate | 120Hz |
| Measured peak brightness | 740 cd/m2 (after calibration to D65) |
| Measured DCI-P3 coverage | 96% |
| Input lag (Leo Bodnar tester) | 35ms in [Game] & [Graphics] modes |
| Full 4:4:4 reproduction (PC) | Yes for 3840×2160@60Hz with [HDMI Enhanced Signal] |
Power Consumption
| | |
| --- | --- |
| Default [Standard] mode* | 111 watts |
| Calibrated [Cinema pro] mode | 80 watts |
| [HDR video] mode | 296 watts |
| Standby | <1 watt |
*Note: [Light Sensor] was enabled by default out of the box.
Picture Quality
Black Level & Contrast
We first took a macro photo of the KD75XD9405's subpixel layout to determine the type of LCD panel used. It's definitely VA (Vertical Alignment), but not one we've seen in recent years (note the diagonal lines):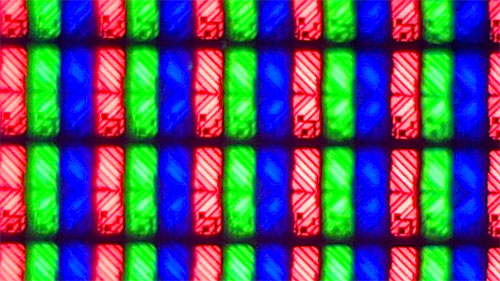 Macro shot of subpixel structure indicating VA-type LCD matrix
The Sony KD-75XD9405's native black level (i.e. without the help of local dimming) measured slightly deeper than that on last year's KD-75X9405C. With peak white pegged at our normal dark-room target of 120 cd/m2, black level came in at 0.059 cd/m2 on a 4×4 ANSI chequerboard pattern. The same figure was obtained from a full-black screen with auto-dimming defeated via displaying a pause icon from our resident OPPO Blu-ray player, but once the pause icon disappeared then the black luminance would dim down to 0.023 cd/m2 (this was with [Auto local dimming] switched off).
Thermal scan confirming direct-lit LED placement
Of course, Sony's local dimming algorithm is arguably the best in the business, striking a great balance between deepening blacks and keeping haloing/ blooming/ brightness fluctuation artefacts at bay. Using our own custom-authored test pattern containing a small white box crawling horizontally and then vertically against a black backdrop, we counted 12 horizontal columns and 8 vertical rows, giving a total of 96 separately dimmable zones, which long-time readers will know is less than the 128 FALD zones implemented on its predecessor the X94C.
Note: Since the local dimming system on the Sony 75XD94 favoured keeping more zones illuminated to minimise blooming or haloing, we counted the number of zones that switched off instead of using the more conventional method of counting the zones that lighted up. To make things easier, you can try counting the number of extinguished zones until you get to halfway of the screen, then double the figure.
Three [Auto local dimming] settings are available besides "Off", namely "Low", "Medium" and "High". [Auto local dimming] "High" darkened black level the most, but also dimmed the brighter portion of the image (peak white dropped to 110 cd/m2 from our calibrated level of 120 cd/m2) so there's actually little increase in contrast performance. Between "Low" and "Medium", the former would increase the spread of partially lit zones surrounding brighter elements on screen to suppress the appearance of blooming.
Motion
As with most Sony Bravias, motion fluidity (i.e. absence of judder/ stuttering) was impeccable on the XD94, but in terms of motion clarity, there's no way to attain a motion resolution of 1080 lines (as judged via the horizontally scrolling lines in Chapter 31 of the FPD Benchmark Software test Blu-ray) without also incurring soap opera effect (SOE) however slight to 24fps movies.
| | |
| --- | --- |
| | |
| Optimised [Motionflow] "Custom" (no SOE) | [Motionflow] "Clear" with some SOE |
Interestingly, the [Clearness] option under the XD9405's [Motionflow] "Custom" submenu restores the number of available options to 5 instead of the 3 found on the step-down XD93 series. [Clearness] "Max" delivered a motion resolution of 1080 lines, but introduced significant flicker and luminance drop – it's essentially a reincarnation of the old [Impulse] mode implemented on previous Sony Bravia TVs.
Viewing Angle
HDR
Using UHDA-sanctioned window sizes for awarding UHD Premium certification, the maximum peak brightness we managed to extract from our Sony XD94 review sample (calibrated to D65 in [HDR Video] mode) was only 740 cd/m2 (gradually tailing off over a much longer period than edge-lit sets), which partly explains why the Japanese brand has gone with its own "4K HDR" logo for marketing instead. Although this level of peak brightness meant that specular highlights did not appear as strikingly intense as 1000+ nits HDR televisions, it actually imparted some benefit, making us wonder if it's all part of Sony's grand masterplan.
From our extensive testing of 2015 and 2016 HDR-capable 4K TVs, we concluded that the presence of blooming/ haloing artefacts (light leakage around bright objects against a dark background, which is aggravated in HDR mode due to maxed-out backlight) has the potential to spoil your HDR viewing experience (particularly in dark scenes) as much as searing brightness can enhance it. And therein lies the beauty of Sony's engineering: the combination of relatively low FALD zone count and peak brightness plus clever local dimming algorithm on the XD9405 resulted in the least HDR blooming/ haloing we've witnessed on any LED LCD, whilst 700+ nits was still sufficient to deliver a convincing HDR presentation.
On our Bravia KD75XD9405BU review unit, peak brightness in [HDR Video] mode actually hit 796 cd/m2 out of the box, but because [G-Gain] needed to be adjusted downwards to neutralise greyscale to D65, peak brightness dropped slightly to 740 cd/m2 after calibration. If you don't mind sacrificing colour accuracy and video fidelity, peak brightness could actually be boosted to 880 cd/m2 by engaging [HDR Video Vivid] mode. Of course, this entailed [Black Adjust] "High", [Adv. Contrast Enhancer] "High", [Colour Temperature] "Cool" and [Live Colour] "High", not to mention excessive edge enhancement brought about by [Reality Creation], all of which constituted an eyesore to our videophilic brain. Full-field peak white settled at 360 cd/m2 in [HDR Video] mode on our review sample.
As pointless as this measurement is (yes we're finally admitting it), DCI-P3 gamut coverage hit 96% on the Sony KD75XD9405: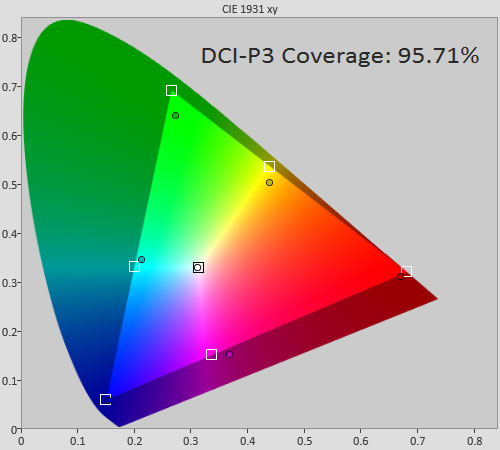 Although [Auto local dimming] and [X-tended Dynamic Range] were locked in for the [HDR Video] preset, many other picture affecting controls including colour temperature and gamma could still be adjusted, allowing us to calibrate in HDR mode: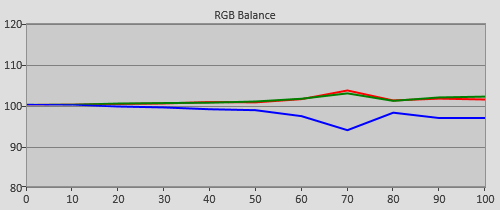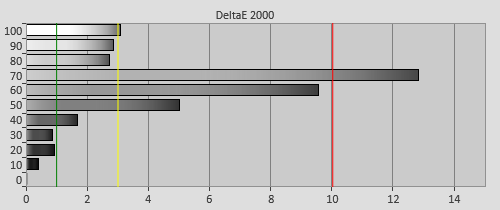 Pre-calibration RGB tracking and dEs in [HDR video] mode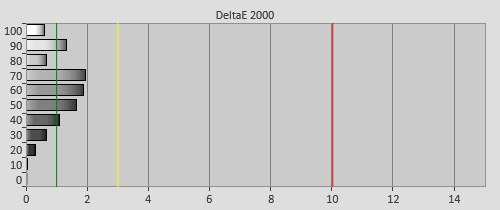 Calibrated RGB tracking and dEs in [HDR video] mode
| | |
| --- | --- |
| | |
| Pre-cal PQ EOTF | Post-cal PQ EOTF |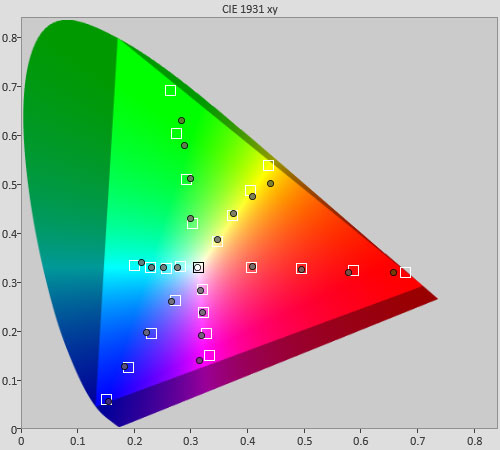 Post-calibration saturation tracking with reference to DCI-P3 inside Rec.2020 container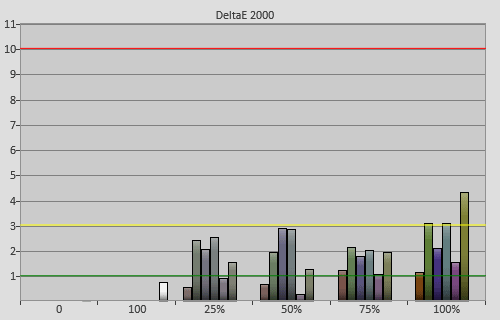 Post-calibration colour errors in HDR mode (<3 not appreciable to the eye)
We played a selection of our favourite Ultra HD Blu-rays from a Samsung UBD-K8500 4K Blu-ray player on the Sony KD-75XD9405, and were very happy with what we saw. Unlike competing 4K HDR models from LG and Samsung, slow panning shots in 2160p/24 material appeared buttery smooth even without the help of interpolation. The skies in The Martian were largely free of posterisation, a testament to the TV's nuanced gradation.
Colours looked vibrant yet realistic, and good tone-mapping ensured a punchy image with appropriate highlight and shadow detail extension, although for content that are mastered to higher than 1000 nits, the settings on either the display or the player need to be adjusted to prevent clipping of bright highlights.
3D
The Sony XD9405's tri-dimensional performance was better than what we observed on the sub-flagship Bravia 65XD93, largely because 24fps (3D Blu-rays) and 50fps (Sky 3D) content were rendered smoothly without judder or interpolation/ soap opera effect once the correct [Motionflow] setting was selected. The 75XD9405BU delivered full HD 3D resolution, though exhibited mild crosstalk which is common with active-shutter 3D systems. No glasses are included with the TV inside the shipping box.
Gaming
Using a Leo Bodnar device, we recorded lag times of 35ms in both [Game] and [Graphics] modes on the Sony XD94, which will appeal to both console and PC gamers.

in [Cinema pro] mode, input lag went up to 64ms.
Conclusion
A worthy successor to last year's Bravia 75X94C, the Sony KD-75XD9405 seldom put a foot wrong in producing spellbindingly beautiful images in both SDR and HDR. While its dimming zone count and peak brightness didn't go as high as other FALD (full-array local dimming) LED LCDs, in many ways we actually prefer its HDR presentation to most other transmissive Ultra HD Premium displays, thanks to Sony's outstanding halo management, impressive colour accuracy and traditional strength of judder-free motion.
Scrutinise hard enough, and you can probably spot some minor evidence of cost cutting (LCD panel used, build quality, absence of powerful speakers, etc.), but at the end of the day, the Bravia XD94 does come in £2,500 or 33% cheaper than its X94C predecessor at list. Whichever way you look at it, a 75-inch TV that's compatible with current 4K HDR standards (HDR10, HEVC, HDCP 2.2) and delivers some of the best picture quality around for only £5,000 is an extremely tempting proposition.
Note: If you're considering buying this television, please support this website by making your purchase from our sponsor Crampton & Moore – call 01302 365760 and ask for Richard, quoting HDTVTest for competitive prices and first-rate service.