Stop press. It's only June, but we may have just found the best 2017* LED LCD TV, and the honour goes to Sony's KD-75XE9405. Our review sample was the KD75XE9405BU sold in the United Kingdom.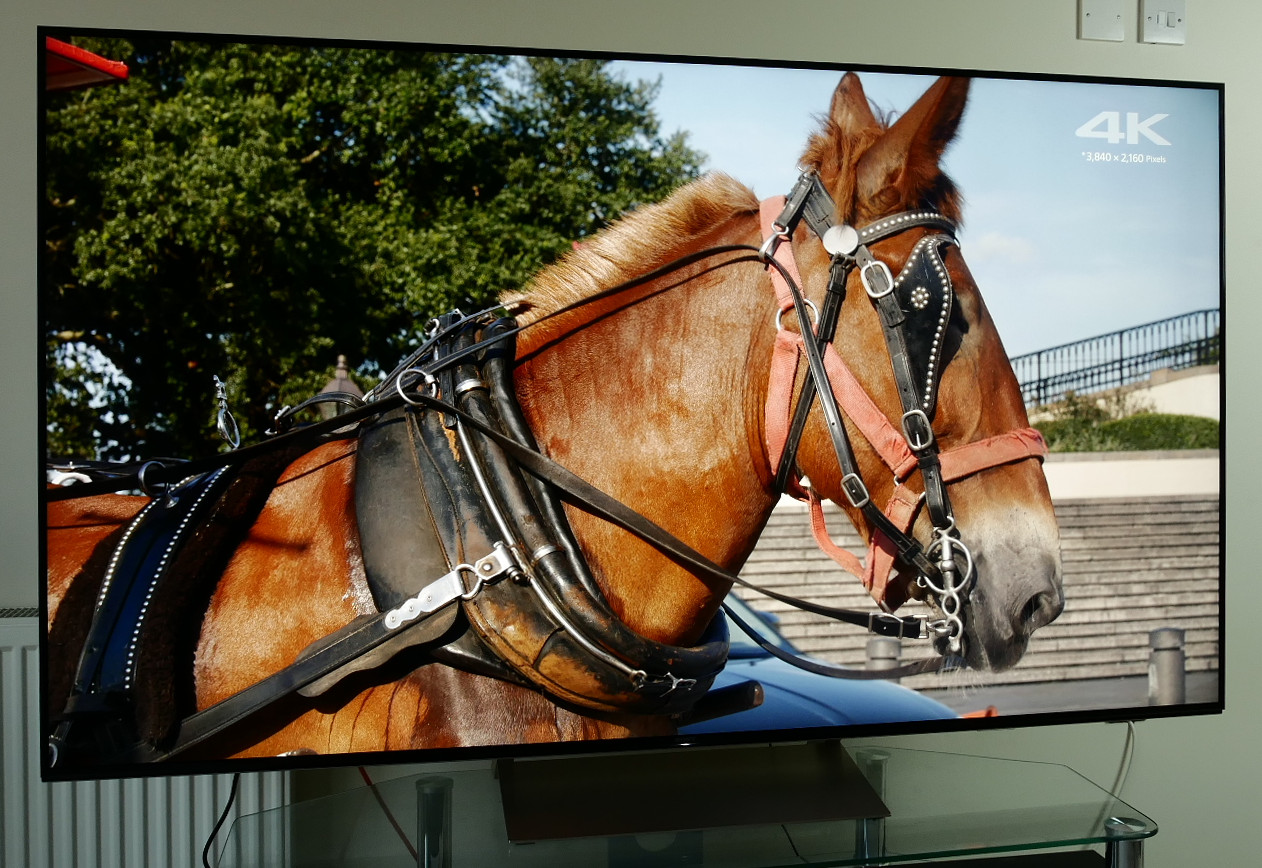 The Bravia XE94 (also marketed as the X940E in the USA) only comes in one mammoth screen size of 75 inches, and costs a not-insignificant five thousand pounds even after a recent price drop, and so won't appeal to everyone. But if you have the space and budget, then no other television in 2017 – except the Japanese brand's own ZD9/ Z9D flagship – can outperform the Sony 75XE9405 when it comes to sheer HDR impact.
*Note: Because it was released during fall last year, we consider the Sony Z9D/ ZD9 series to be a 2016 model, even though the television continues selling throughout 2017 as the company's flagship LED LCD.
The key ingredient that elevates the picture quality of the Sony KD75XE9405 above those of competing 2017 LED LCDs is full-array local dimming (FALD) direct-lit LED backlight technology. For the uninitiated, FALD divides the screen into separate segments or zones, and the light output of each zone can be controlled independently of one another. This allows darker areas of the image to maintain their deep blacks even though a higher light output is asked of another part of the screen to illuminate the brighter elements, thus contributing to greater contrast performance. Among video enthusiasts, FALD is widely recognised as the pinnacle of LED LCD technology.
As it turned out, Sony is the only TV manufacturer among the big four in the UK to offer LED LCD televisions with full-array local dimming this year. By contrast (pun fully intended), LG's, Panasonic's and Samsung's 2017 LED LCDs are all edge-lit, although the former two are at least banking on OLED display technology within their TV ranks to make a splash. In case you haven't received the memo, Samsung's 2017 QLED TVs still use edge-lit LED backlight instead of true emissive tech.
Casting our eyes abroad, Vizio and TCL offers competitively-priced FALD displays in North America, and Hisense will be bringing out a couple of large-sized full-array local dimming sets later this year. But not all FALD systems are created equal, and there are a few factors that make the one implemented on the Sony XE94 so stunningly impressive.
First is the number of zones: the higher the figure, the more precise the backlight control. Using a self-authored test pattern consisting a small white box crawling horizontally and then vertically along the borders of a black background, we counted approximately (we'll explain why this is in the following paragraphs) 16 vertical columns and 16 horizontal rows on our Bravia XE9405 review unit, giving a total of 256 individually dimmable zones.
To put this figure into perspective, only the Sony ZD9 (648 zones), the Panasonic DX902 and the Toshiba ZL1 (both 512 zones) can boast a higher zone count among LCD-based televisions since records began. It's also more than two times the number of FALD zones found on its predecessor, the Sony XD94.
It's one thing to provide a high number of independently dimmable zones, it's another to utilise them effectively, but thankfully Sony's local dimming algorithm is in our opinion the best in the business as far as consumer LED LCD TV is concerned, striking a wonderful balance between achieving inky blacks and minimising haloing/ blooming artefacts.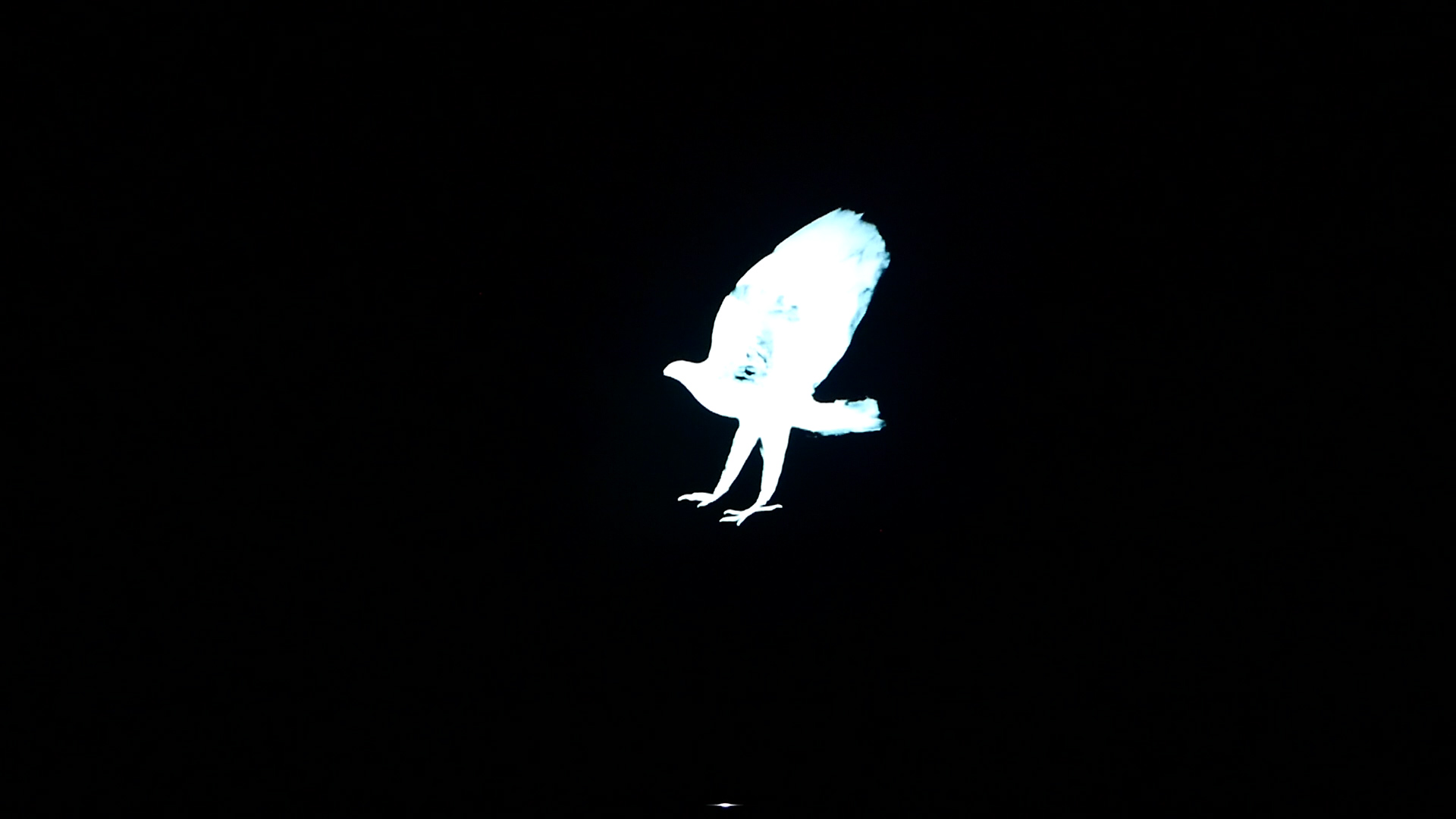 Head-on, blooming was remarkably well-controlled in opening credits of The Martian
In fact, the algorithm on the Bravia KD75XE9405BU was so effective in keeping blooming at bay, it made the aforementioned zone count exercise very tricky, since we had difficulty determining where one zone ended and another began! Needless to say, viewed straight on, throughout our review period we couldn't recall one instance where blooming or haloing (i.e. circumferential light contamination from bright elements against a dark background) bothered us even in the most challenging HDR scenes.
The Sony XE9405 could also generate prodigious amount of light. Whilst not at the level of the Bravia KD-65ZD9 we tested last year, peak brightness on a 10% windowed pattern after calibration to D65 white point was one of the highest we've measured, coming in at a whopping 1285 nits. And unlike Samsung's LED LCDs, the 75XE9405 could sustain this level of peak brightness for prolonged periods of time (we gave up tracking after five minutes), resulting in a more consistent HDR viewing experience. Full-field peak brightness was 560 nits.
Thanks to its inherently higher luminance output and possibly different tone-mapping algorithm, the Sony KD75XE9405 successfully resolved most specular highlight details in Batman v Superman: Dawn of Justice and Pan, two 4K Blu-ray movies that are mastered to 4000 nits.
With [Motionflow] disabled, motion resolution (as determined via the horizontally scrolling vertical lines in Chapter 31 of the FPD Benchmark Software test disc) came in at 300 lines which is expected of a sample-and-hold display without the help of motion enhancement technologies. [Motionflow] "Standard" and "Smooth" doubled the figure to 600 lines, but because these settings constituted pure MCFI (motion-compensated frame interpolation), soap opera effect to 24p films and interpolation artefacts inevitably ensued.
To obtain the highest motion resolution of 1080 lines (or even higher), a dose of backlight scanning was required through either [Motionflow] "Clear" or "Custom". With both, there's a drop in light output, but the Sony XE9405 offered more than enough brightness reserve to compensate. [Motionflow] "Custom" allowed us to further finetune the amount of interpolation ("Smoothness") and/ or backlight scanning ("Clearness").
| | |
| --- | --- |
| | |
| [Motionflow] "Off" | Optimised [Motionflow] "Custom" |
[Clearness] "
Max
" activated black frame insertion (BFI) akin to the "Impulse" mode on older Sony Bravias. It flickered a lot with 24Hz video signal, though tolerably less so with 60Hz frame rate. What will likely deter most users from using [Clearness] "
Max
" is the drastic drop in brightness: we measured a maximum of only 100 cd/m
2
on a windowed pattern; and 42 cd/m
2
full-field. Not totally unusable, but severely restricted in versatility.
If you analyse the motion pursuit camera photos above, you'll see that the moving UFO exhibited longer-than-expected trails against the grey backdrop. And therein lies one of the weaknesses of the VA-type LCD panel deployed on the Sony KD-75XE9405 – its slower response time resulted in dark smearing/ trailing against a lighter background. Whether it'll bother you depends on your individual sensitivity and the type of video material viewed; we watched a ton of fast-action sports such as tennis and football on the 75XE94, yet we hardly noticed it at all.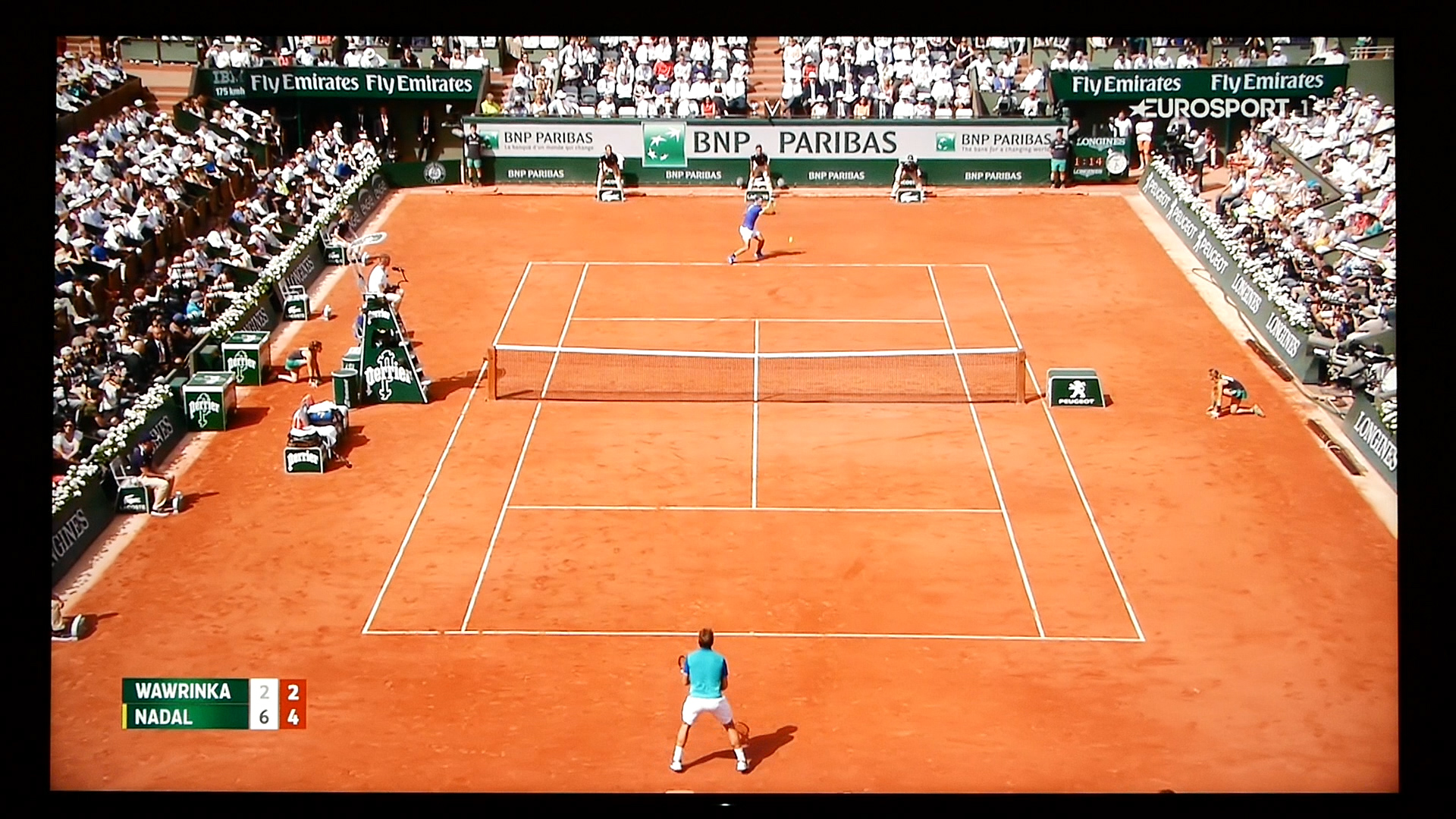 Like the XE1-toting Sony ZD9, XE93 and A1, the Bravia XE94 presented disparate input lag figures for 1080p and 2160p video signals. Sending a 4K signal to the television (with [Game] mode selected) yielded a lag time of 25ms according to our Leo Bodnar tester regardless of whether it's in SDR or HDR, but a 1080p signal would increase the lag by around one frame to 43ms, presumably caused by the XE1's upscaling process.
| | |
| --- | --- |
| | |
| Input lag in 4K HDR | Input lag in 1080p SDR |
Outside gaming responsiveness, the Sony KD75XE9405BU provided a couple of really nice features that could enhance your gaming experience, namely [Smooth Gradation] that could reduce in-game posterisation, and black frame insertion to improve motion clarity. The latter added roughly half a frame lag, bumping 1080p SDR and 4K HDR latency to 51ms and 34ms respectively.
Benchmark Test Results
| | |
| --- | --- |
| Dead pixels | None |
| Screen uniformity | Very good; mild darkening of corners |
| Overscanning on HDMI | 0% if [Screen Format] "Full" & [Display Area] "Full Pixel" or "+1" |
| Blacker than black | Passed |
| Calibrated black level (black screen) | LEDs dim down/ shut off |
| Calibrated black level (4×4 ANSI) | 0.027 cd/m2 with optimised [Auto local dimming] |
| Black level retention | Auto-dimming with full black screen |
| Primary chromaticity (Rec.709) | Slightly oversaturated red and green primaries |
| Scaling | Best we've seen on a consumer TV |
| Video mode deinterlacing | Effective jaggies suppression |
| Film mode deinterlacing | Passed 3:2/480i+1080i & 2:2/576i with [Film Mode] enabled, but occasionally lost lock with 2:2/1080i |
| Viewing angle (cone) | 64° |
| Motion resolution | 1080 with [MotionFlow] "Clear" & "Custom" |
| Digital noise reduction | Optional; effective when engaged |
| Sharpness | Defeatable edge enhancement |
| Luma/Chroma bandwidth (2D Blu-ray) | Full luma & chroma in [Game] & [Graphics] modes |
| 1080p/24 capability | No judder |
| 2160p/24 capability | No judder |
| Measured panel refresh rate | 120Hz |
| Measured peak brightness | 1285 cd/m2 (after calibration to D65) |
| Measured DCI-P3 coverage | 92% |
| Input lag (Leo Bodnar tester) | 43ms in 1080p (SDR & HDR); 25ms in 4K (SDR & HDR) |
| Full 4:4:4 reproduction (PC) | Yes for 3840×2160@60Hz with [HDMI Enhanced Signal] on in [Game] & [Graphics] modes |
Power Consumption
| | |
| --- | --- |
| Default [Standard] mode* | 89 watts |
| Calibrated [Cinema pro] mode | 94 watts |
| HDR [Cinema home] mode | 391 watts |
| Standby | <1 watt |
*Note: [Light Sensor] was switched on by default in the [Standard] picture preset out of the box.
Calibration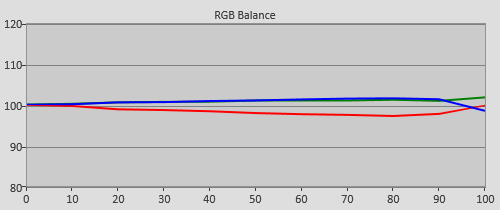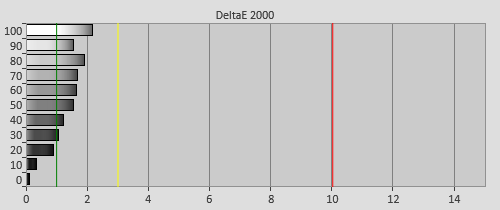 Pre-calibration RGB tracking and delta errors (dEs)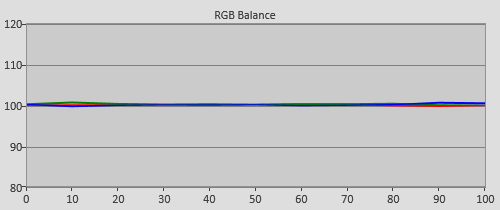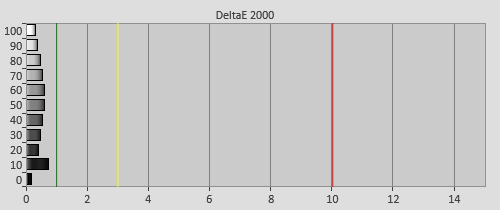 Calibrated RGB tracking and dEs after [Adv. colour temperature] adjustments
| | |
| --- | --- |
| | |
| Pre-calibration gamma tracking (2.38) | Post-calibration gamma tracking (2.37) |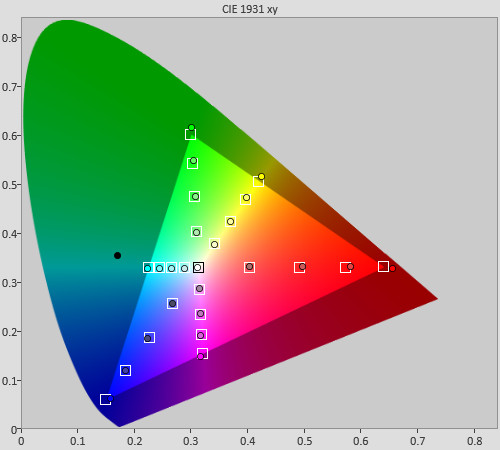 Post-calibration colour saturation tracking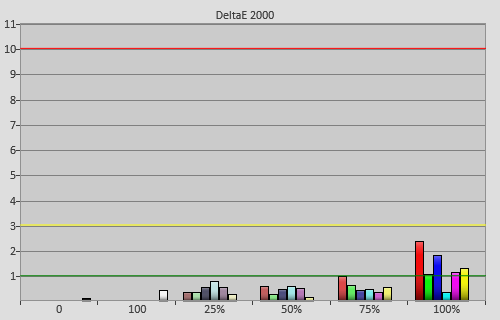 Post-calibration colour errors (<3 not appreciable to the eye)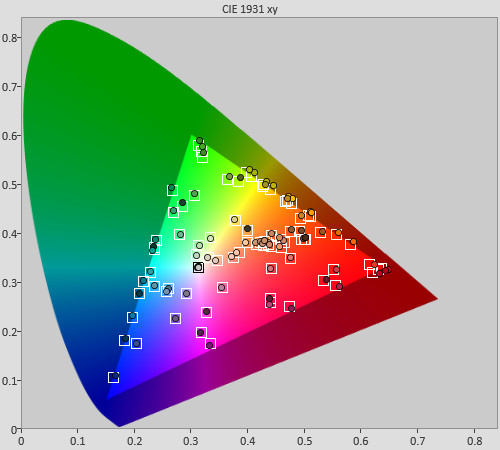 Post-calibration Colour Checker SG test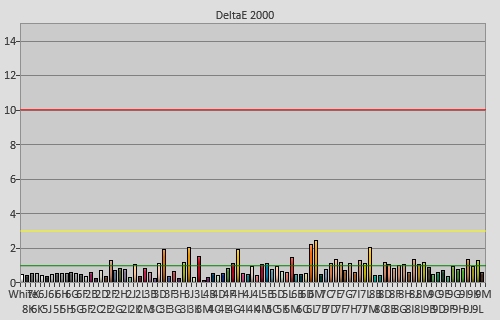 Post-calibration Colour Checker SG errors (<3 not visible to the eye)
Miscellaneous Data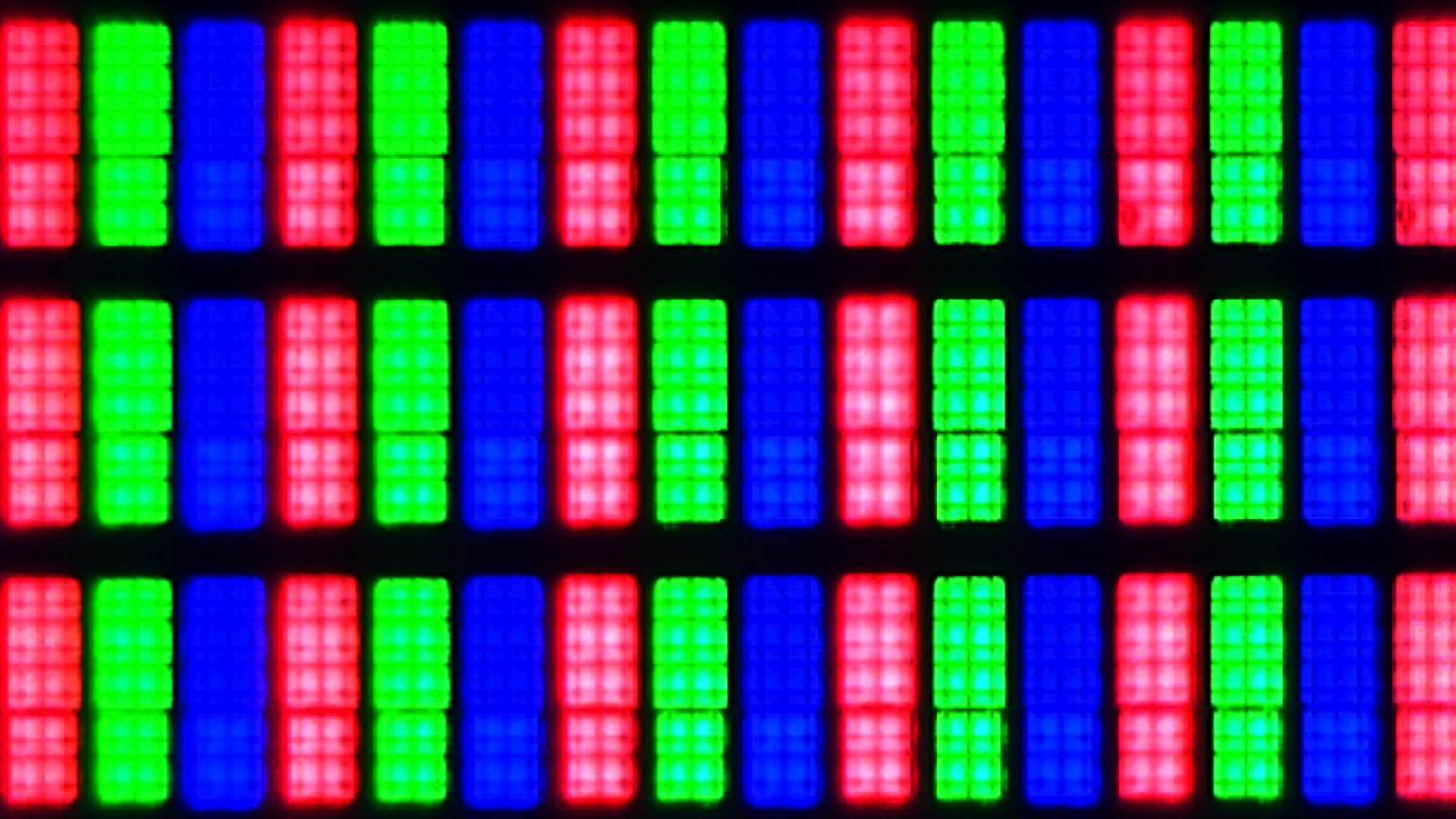 Macro shot of subpixel layout indicating VA-type LCD matrix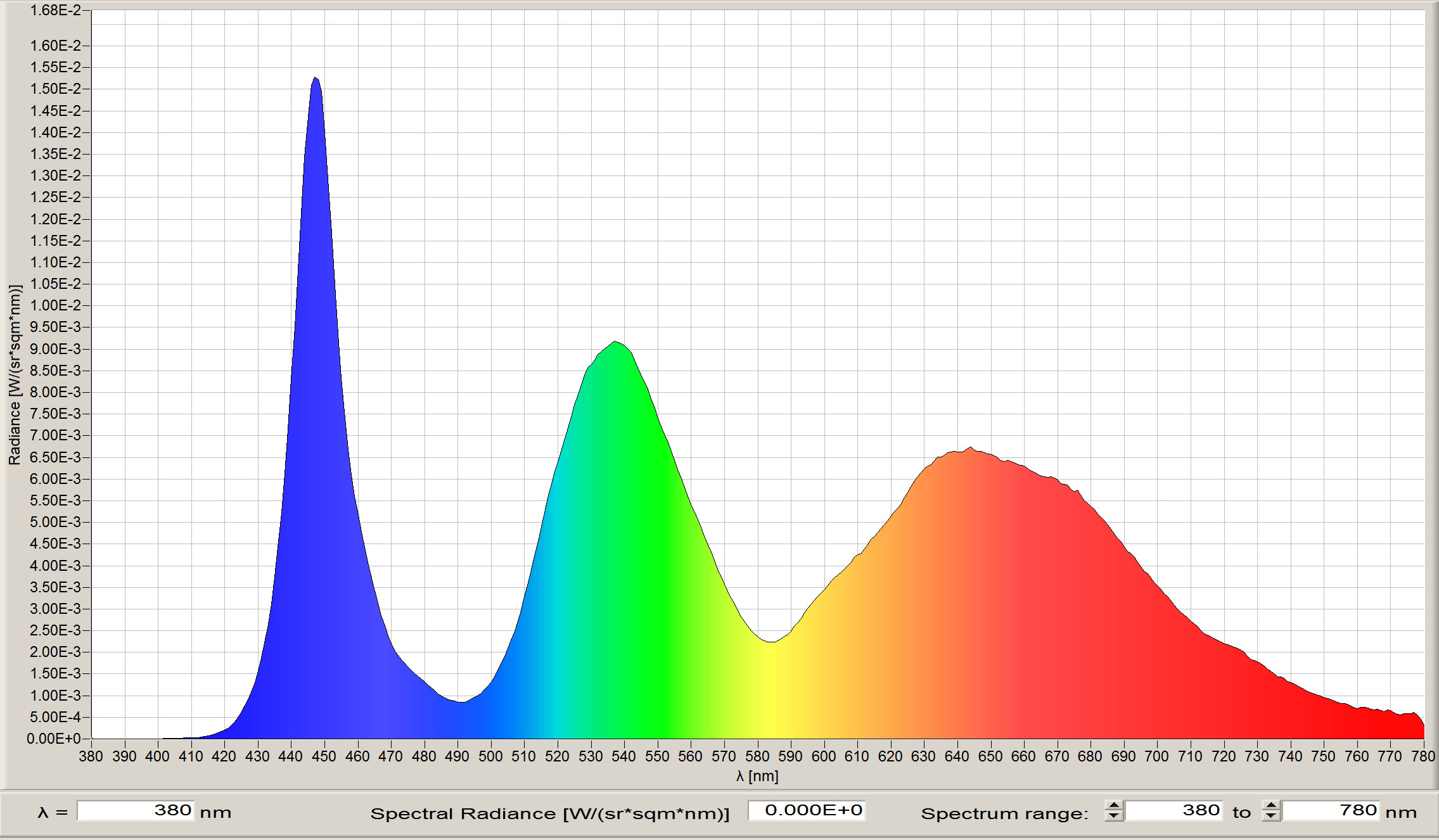 Spectral power of distribution (SPD) captured using a JETI 1511 spectroradiometer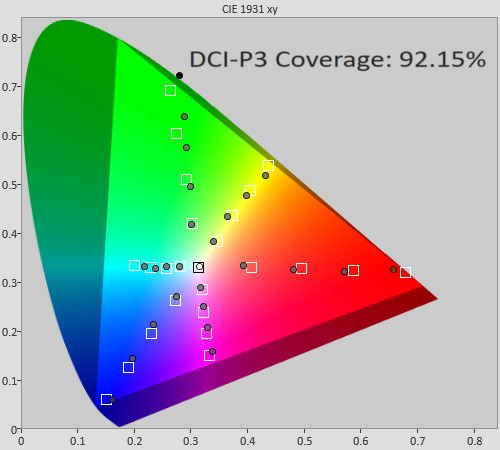 Post-cal colour saturation tracking against DCI-P3 standard in Rec.2020 container
Video Review
Conclusion
The Sony XE94 is undoubtedly an upgrade over last year's XD94, offering significantly more FALD (full-array local dimming) zones, higher peak brightness, and upgraded X1 Extreme chipset with future Dolby Vision support and superior upscaling over its predecessor. In terms of image quality, the downsides were some dark trailing and narrower viewing angles owing to the VA LCD panel used, higher 1080p input lag, and if we had to nitpick, its colours didn't appear as explosively dynamic as Samsung's top-end QLED.
But contrast ratio is the most important factor that decides ultimate picture quality, and in this respect, the Sony KD75XE9405BU delivered in spades. Ironically, the main threat to the TV is the company's own 75in ZD9 which is blessed with even higher peak brightness and number of dimming zones. The latter does cost £1500 more though, and we suspect many prospective buyers will be happy to go with the XE9405 and pocket the difference.
Unless another TV brand (or even Sony themselves) spring a surprise launch at the IFA Berlin trade show in September, the Bravia KD-75XE9405 is a shoe-in for the best 2017 LED LCD as far as picture performance is concerned.