Sony's 2013 lineup of midrange and high-end Bravia LED LCD televisions has turned out to be a surprise hit among gamers this year, largely due to their super-low input lag and 4:4:4 chroma support. The Japanese manufacturer's W6 series has proven particularly popular: the omission of 3D capabilities (which apparently no one seems to care for anyway) has lowered the price point to become affordable enough for those wanting a superb gaming experience.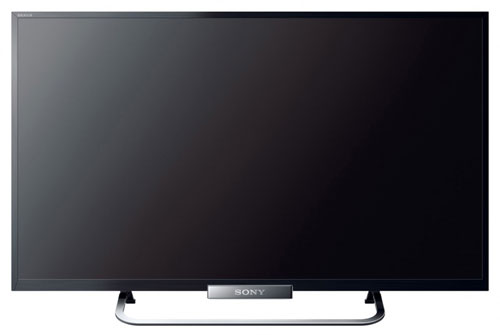 When we tested the 42-inch Sony W653 back in August, we lauded it as the best flat-screen TV available on the market for playing video games. Today we're taking a look at its smaller sibling, the 32-inch KDL32W653 which features a full HD resolution of 1920×1080, edge LED backlight technology, Motionflow 200Hz XR, as well as inbuilt WiFi that allows for easy access to the company's internet-connected Smart TV platform. It's also the smallest display in Sony's Bravia stable to be equipped with the X-Reality PRO image processing engine.
The specific model we tested was the Sony KDL32W653ABU which denotes the United Kingdom 3-pin-plug version. The same HDTV may be sold by high-street retailers such as John Lewis, Richer Sounds, Currys and Argos, or web merchants like Amazon as the KDL-32W653A. The design, on-screen menu, connection inputs and remote control are identical to those found on the bigger KDL42W653, so please visit that review if you need more details or a refresher.
Calibration
Note: Our review unit was calibrated using CalMAN 5, the industry-leading video calibration software.
Greyscale
If you're not going to carry out advanced calibration on your KDL-32W653 (and let's face it, not many will), the single most important step you can take to achieve relatively accurate images on the TV is to set [Scene Select] to "Cinema".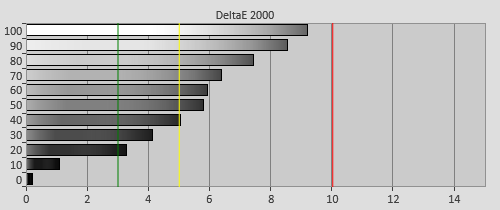 Pre-calibration RGB tracking and delta errors (dEs)
Even so, there remained too much green in the greys, which got progressively stronger towards higher luminance levels. Wasting no time, we waded straight into the television's [White Balance] submenu to try to dial this out.
Usually we prefer to work the red and blue channels without touching green (which affects luma) when calibrating greyscale, but because the RGB gain controls on the Sony KDL32W653A are only adjustable downwards (thus preventing us from raising the red and blue levels), we had no choice but to use the [G Gain] slider to attenuate the green component.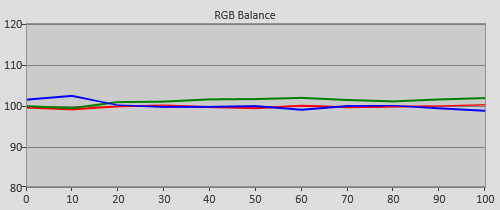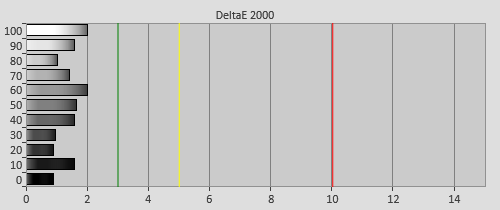 Post-calibration RGB tracking and delta errors (dEs)
We achieved an excellent result, with delta errors (dEs) reduced to below 3 (commonly accepted as the visible limit for the human eye) across the entire luminance range. Who needs 10-point white balance controls?
Gamma
This year's Sony HDTVs have been targeting 2.4 gamma by default in its most accurate [Cinema 1] picture preset, which is praiseworthy since 2.4 is the EOTF (electro-optical transfer function) recommended by the ITU for HDTV displays used for studio mastering in a dark room.
| | |
| --- | --- |
| | |
| Pre-calibration gamma tracking (2.43) | Post-calibration gamma tracking (2.41) |
Fortunately adjusting [G Gain] on the 32in W6 didn't seem to have any adverse effect on gamma tracking which remained quite linear to 2.4 throughout. This will contribute to a very realistic rise out of black, not to mention a satisfying rich image contrast without any undue jumps or dips in brightness.
Colour
As per usual, the Bravia KDL32W653 doesn't come with any onboard Colour Management System (CMS), so we had to make do with what's originally there. The lowest colour errors were obtained when we nudged [Colour] up to "52":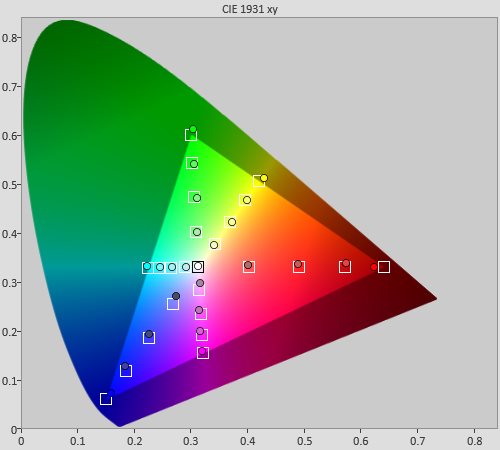 Post-calibration colour saturation tracking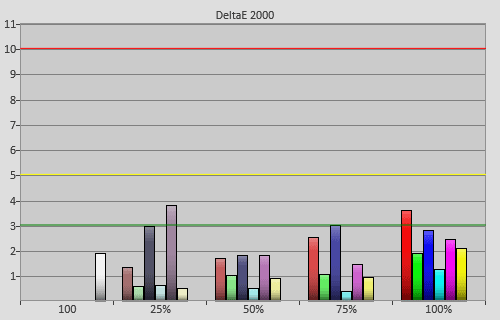 Post-calibration colour errors (<3 not appreciable to the eye)
dEs exceeded the perceptible threshold of 3 for 100% red and 25% magenta colour saturation tracking points, but this is acceptable for a non-CMS-equipped TV – most viewers probably won't be able to tell outside of a side-by-side comparison with a reference screen anyway.
Benchmark Test Results
| | |
| --- | --- |
| Dead pixels | None |
| Screen uniformity | Very good for an edge LED TV |
| Overscanning on HDMI | 0% if [Screen Format] "Full" & [Display Area] "Full Pixel" |
| Blacker than black | Passed |
| Calibrated black level (black screen) | LEDs dim down to 0.023 cd/m2 |
| Calibrated black level (ANSI checkerboard) | 0.048 cd/m2 |
| Black level retention | Auto-dimming with full black screen |
| Primary chromaticity | Slightly undersaturated red & blue |
| Scaling | Very good |
| Video mode deinterlacing | Decent |
| Film mode deinterlacing | Passed 3:2 cadence over 480i |
| Viewing angle | Good for VA LCD panel |
| Motion resolution | 1080 (but double image) with [LED Motion Mode] on; 300, off |
| Digital noise reduction | Optional; effective when engaged |
| Sharpness | Defeatable edge enhancement |
| Luma/Chroma bandwidth (2D Blu-ray) | Full luma; chroma horizontally blurred except in [Game] & [Graphics] modes |
| 1080p/24 capability | Judder-free |
| Leo Bodnar input lag tester | 33ms in [Game] mode |
| Full 4:4:4 reproduction (PC) | Yes, in [Game] and [Graphics] modes |
Power Consumption
| | |
| --- | --- |
| Default [Standard] mode | 23 watts* |
| Calibrated [Cinema 1] mode | 32 watts |
| Standby | <1 watt |
*Note: Out of the box, [Light Sensor] is engaged by default, which explains why energy usage was lower before calibration than after.
Picture Quality
Black Level
The LCD panel used on the Sony KDL-32W653A is a VA-type sourced from Taiwanese vendor AU Optronics (AUO), which performed nearly identically to that found on the larger KDL-42W653A in terms of black-level response. We measured post-calibration black level to be 0.048 cd/m2 on both full-field video black and 4×4 ANSI checkerboard patterns. The TV did indulge in some auto-dimming (which we didn't find intrusive in real-life viewing) when asked to display full-screen black, in which case the black level dropped to 0.023 cd/m2 according to our Klein K10-A meter.
For those of you who are not familiar with these numbers, what it means is that the 32″ W653 is capable of delivering a sufficiently deep shade of black by LED LCD standards, which – together with the flat 2.4 gamma – lends pop and depth to the picture on screen.
Screen/ Backlight Uniformity
As far as edge-lit LED TVs are concerned, it's generally easier to illuminate a smaller surface area in an even fashion from the LEDs mounted along the borders of the screen, and so it proved with the Sony KDL32W653. After calibration, there wasn't any sign of backlight bleed or clouding; and on our review sample, we didn't even detect any dreaded dirty screen effect (DSE) which plagues many an LED TV.
Motion
Like its bigger brother, the KDL32W653A yielded a motion resolution of 300 lines (using the horizontally scrolling line chart in Chapter 31 of the FPD Benchmark Software disc as reference) natively. The TV doesn't provide any [MotionFlow] options, but does have an [LED Motion Mode] toggle which, when engaged, activates black frame insertion (BFI), boosting motion resolution up to 1080 lines.
Unfortunately [LED Motion Mode] does not come without its own shortcomings, which made it pretty much unusable for day-to-day use. All black frame insertion algorithms cause a dip in on-screen luminance due to the way how intermediate black frames are added in-between the original video frames, but on the KDL-32W653, enabling BFI dimmed down the image so much that we couldn't achieve our peak luminance target of 120 cd/m2 even with [Backlight] and [Contrast] cranked up to maximum. There were also noticeable double ghosted images along the edges of moving objects.
That said, even without the help of [LED Motion Mode] to reduce motion blur, the Sony W6 put in a very decent motion performance. We watched some fast-paced football broadcast on the television, and was suitably impressed by how clean the motion was. Of course there existed the inevitable drop in the definition of the crowd and the pitchside advertising boards during quick pans across the football field, but this did not degrade into a blurry, smeared mess not infrequently seen on lesser TVs.
Video Processing
The Bravia KDL32W653 upscaled standard-definition content crisply onto its full HD 1080p panel, exhibiting just a smidgen more ringing than Samsung's algorithm, which was virtually imperceptible at this screen size. Video-mode deinterlacing was decent rather than stellar: in the HQV Benchmark rotating bar test pattern, jaggies started appearing earlier than on competing HDTVs, but we'd be lying if we said we saw too many instances of jagged edges in real-world material.
Unlike the KDL42W653, the KDL-32W653A failed to maintain lock on 2:2 cadence over 576i for a reasonable amount of time even with [Film Mode] set to "Auto". Once again, we think it's not a major issue on a 32-inch TV given how tiny any deinterlacing artefact must look from normal viewing distance. If you wish, you can outsource the processing of film-based content to a competent external device (set-top box, Blu-ray player, etc.) by sending progressive video signal to the television.
Console Gaming
Clocking an input lag of 33ms in [Game] mode as measured using a Leo Bodnar device, the Sony 32W6 didn't quite hit the heights of the 42W6 in terms of gaming responsiveness. It still belongs in the upper echelons as far as gaming TVs go, and should satisfy all but the most demanding of gamers. Engaging [LED Motion Mode] in [Game] mode increased the input lag slightly to 38ms which is still serviceable; whereas [Cinema] mode roughly doubled this number to 73ms. Full 4:4:4 reproduction was intact in [Game] and [Graphic] modes.
Conclusion
The Sony KDL32W653 delivers very good picture quality, with the highlight being a combination of deep blacks and flat 2.4 gamma that bestows a rich, lush look on all types of content, which is capable of putting some larger and more expensive TVs to shame. Although its input lag is low enough for most gamers (even hardcore ones), if you want ultra-smooth, chart-topping gaming responsiveness, the larger, 42-inch Sony KDL-42W653A is the one to go for.