For all of Sony's enthusiasm towards 4K Ultra HD throughout 2013, it's the supreme gaming responsiveness on their 1080p HDTVs that generated the most interest among TV buyers who do their research. On our input lag ranking table, the top slots are dominated by last year's Sony Bravias, namely the W6, W8 and W9 series. While Sony will continue to intensify its assault on 4K this year, the Japanese manufacturer will still have some full HD televisions in its 2014 lineup, one of which is the subject of today's review.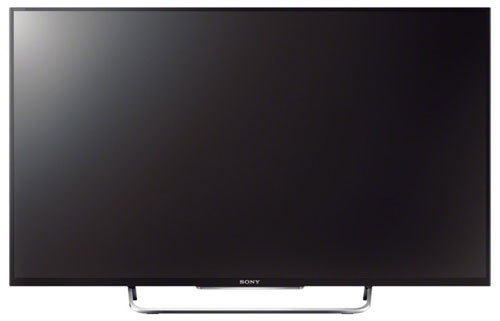 The Sony KDL42W705B is the 42-inch model within the company's new Bravia W7 range which also comes in 32in and 50in sizes. It features a FHD screen resolution of 1920×1080, edge LED backlighting, X-Reality PRO video processing engine, Motionflow XR 200Hz technology, dual Freeview HD and satellite tuners, inbuilt wireless connectivity, and Sony's revamped Smart TV interface. Other listed specifications not directly related to picture quality include "Social Viewing" which adds Twitter or Skype interaction to your TV viewing experience, and a "Live Football Mode" that optimises the picture and sound for watching footie, tying in with Sony's sponsorship of the 2014 FIFA World Cup in Brazil.
Design
The KDL-42W705B is almost an exact carbon copy of the KDL-42W653A we tested back in August 2013, sporting a suitably slim matte black bezel, and a silver low-profile fixed table-top stand in the mould of a wire rack. As can be expected from an edge-lit LED LCD display, the TV is largely thin when inspected from the sides, only bulging out in the middle and along the bottom to accommodate the connection ports and speakers respectively.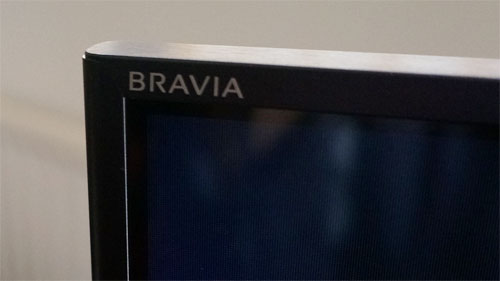 The Sony KDL42W705 even uses an external power brick just like the W6. As far as we could tell, the only major cosmetic difference is the absence of the rectangular "Intelligent Core" unit on the bottom border of the screen, which has been replaced with thin, silver stripe of lip-shaped accessory that hangs from the beneath the W7. The stand can be repurposed as a basic bracket for wall-mounting – kudos to Sony for the ingenious practicality.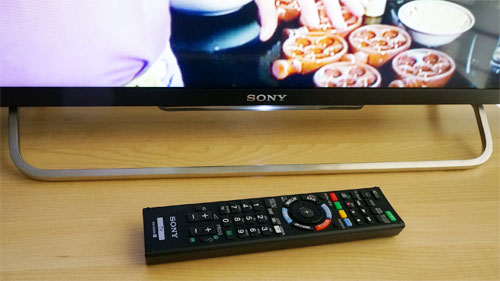 All in all, it's a very classy design, with the slenderness of the frame providing a quite convincing "picture floating in air" effect. For those of you looking for an alternative to the swarm of black TV bezels out there, Sony also offers a silver version with model number KDL42W706B at the same £649 recommended retail price (RRP).
Connections
One of the key complaints on last year's Sony Bravia W653 range was that it only offered a miserly two HDMI and one USB inputs. Fortunately this has been addressed on the KDL42W705B which is equipped with two USB and 4 HDMI ports.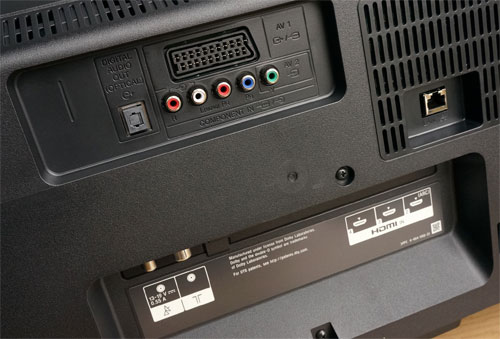 Rear: 3 x HDMI, component, RGB Scart, aerial, satellite, LAN & audio out
Side: HDMI, 2 x USB, control buttons
Operation
For the most part, the picture-affecting controls available on the Sony 42W7 remain unchanged from the previous years, although finding them on the [Home] menu is not easy – they're embedded within an inconspicuous small icon on the top right of the screen. However, like last year, you can access the picture (and sound) adjustment menus directly by pressing the [Option] key on the supplied remote control.
There are a variety of top-level presets which can be selected through the [Scene Select] menu, such as "General", "Auto", "Cinema", "Sports", "Music", "Photo", "Game", etc. The two that should prove useful are "Cinema" for accurate video reproduction, and "Game" for improved gaming responsiveness.
Note: Every time our Sony 42W705B review sample was switched on from cold standby, it took more than 30 seconds before certain remote control actions (e.g. summoning the home menu, changing inputs) would get the desired result on the television. We put it down to initialisation and caching of the in-TV processor, but this sort of waiting around can prove frustrating for some users.
Calibration
Note: Our review unit was calibrated using CalMAN 5, the industry-leading video calibration software.
To take a pre-calibration measurement, we switched [Scene Select] to "Cinema", which should deliver the most accurate out-of-the-box image based on our experience with Sony flat-screen TVs over the past few years.
Greyscale
The default [Colour Temperature] of "Warm 2" in "Cinema 1" [Picture Mode] yielded a greyscale that contained too much green component, becoming worse as the image got brighter.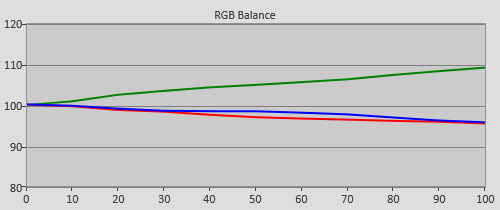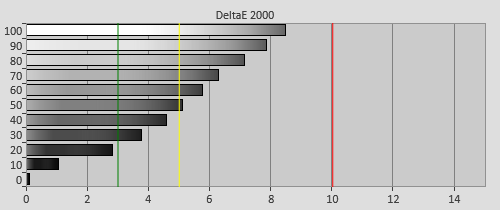 Pre-calibration RGB tracking and delta errors (dEs)
The characteristics of the KDL42W705's onboard white balance controls remain unchanged from those seen on Sony Bravias over the last several years. It's still only a 2-point system, when other major TV makers have been offering 10-point or even 20-point WB controls on their midrange models. The RGB bias controls are exceedingly coarse, while the gain controls can only be adjusted downwards, further limiting our calibration options.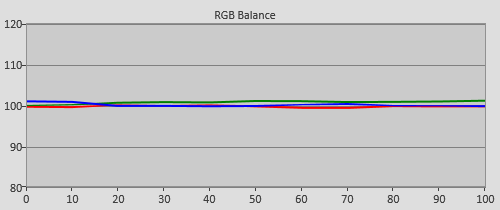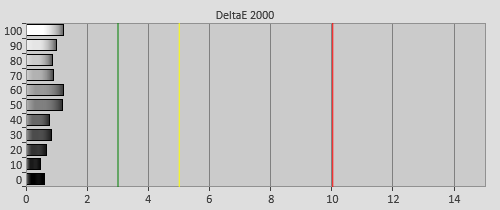 Post-calibration RGB tracking and delta errors (dEs)
The good news is despite these handicaps, just a few clicks of the [G-Gain] and [B-Gain] controls were enough to align greyscale to an impressively accurate standard, with delta errors (dEs) reduced to below 2 (the widely accepted perceptible threshold is thought to be 3) across the entire luminance range.
Gamma
Sony was the only TV brand that targeted 2.4 gamma by default in its most accurate "Cinema" presets in 2013, and we're pleased to see the company do the same again in 2014. For critical viewing on a capable display in a dimly-lit environment, there's no reason why you should opt for a gamma of 2.2 over 2.4, since the latter has been decreed by the International Telecommunications Union (ITU) as the recommended electro-optical transfer function (EOTF) for studio mastering on a flat-screen HDTV in a dark room.
| | |
| --- | --- |
| | |
| Pre-calibration gamma tracking (2.37) | Post-calibration gamma tracking (2.38) |
The default [Gamma] setting of "-2" in [Cinema 1] picture mode already tracked very closely to 2.4 in a linear fashion, so we left it untouched.
Colour
The Sony KDL-42W705B doesn't come with any advanced colour management system (CMS), but that's not really an issue, since the colours are mostly spot-on after greyscale calibration, with the only slight blemish being an undersaturated red primary.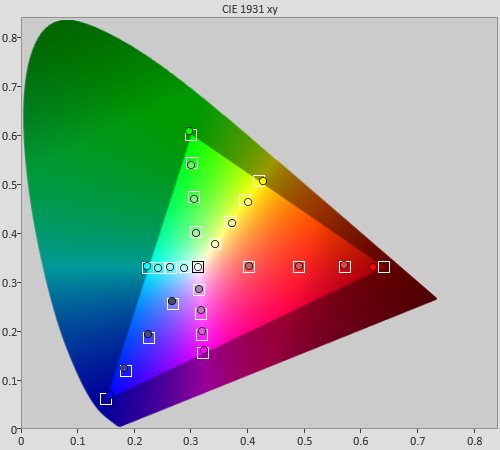 Post-calibration colour saturation tracking
This is reflected in the following chart, where 100% saturation red was the only measurement to creep over the visible delta error (dE) threshold of 3. That said, most viewers won't be able to tell the difference outside of a side-by-side comparison with a reference display.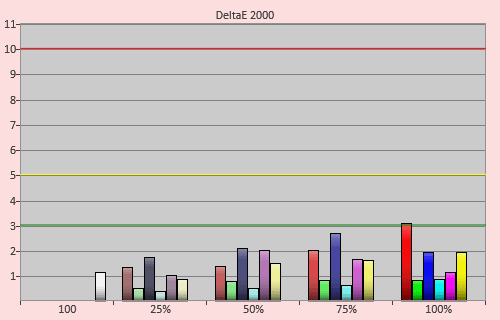 Post-calibration colour errors (<3 not appreciable to the eye)
Benchmark Test Results
| | |
| --- | --- |
| Dead pixels | None |
| Screen uniformity | Very good for an edge LED TV |
| Overscanning on HDMI | 0% if [Screen Format] "Full" & [Display Area] "Full Pixel" |
| Blacker than black | Passed |
| Calibrated black level (black screen) | LEDs dim down to 0.011 cd/m2 |
| Calibrated black level (ANSI checkerboard) | 0.042 cd/m2 |
| Black level retention | Auto-dimming with full black screen |
| Primary chromaticity | Undersaturated red primary |
| Scaling | Very good |
| Video mode deinterlacing | Decent |
| Film mode deinterlacing | Passed 3:2 cadence over 480i |
| Viewing angle | Good for VA LCD panel |
| Motion resolution | 1080 (but double image) with [LED Motion Mode] on; 300, off |
| Digital noise reduction | Optional; effective when engaged |
| Sharpness | Defeatable edge enhancement |
| Luma/Chroma bandwidth (2D Blu-ray) | Full luma; chroma horizontally blurred except in [Game] & [Graphics] modes |
| 1080p/24 capability | No judder |
| Input lag (high-speed camera) | 6ms compared to lag-free CRT in [Game] mode |
| Leo Bodnar input lag tester | 14ms in [Game] mode |
| Full 4:4:4 reproduction (PC) | Yes, in [Game] and [Graphics] modes |
Power Consumption
| | |
| --- | --- |
| Default [Standard] mode | 28 watts* |
| Calibrated [Cinema 1] mode | 37 watts |
| Standby | <1 watt |
*Note: Out of the box, [Light Sensor] is engaged by default, which explains why energy usage was lower before calibration than after.
Picture Quality
Black Level
The AUO-sourced VA-type panel implemented on the Sony KDL-42W705 delivered deep blacks by LED LCD standards. Like most LED TVs these days, the Bravia W7 dims down its LEDs when asked to display full-screen video black. We measured a black level of 0.011 cd/m2 this way, though of course this is not truly representative of the native black level of the set (we rarely watch full screen black in normal viewing).
To determine the true black-level response of the television, you can either get the TV to display a small amount of lit pixels (for example a pause icon from a Blu-ray player) against a black background, which would defeat the auto-dimming; or use a 4×4 ANSI checkerboard pattern where black patches are interspersed with white ones. In both cases, our Klein K10-A meter returned a black level measurement of 0.042 cd/m2 once we calibrated the KDL42W705B, and pegged peak white luminance to 120 cd/m2.
Backlight Uniformity
Backlight uniformity was good on our KDL42W705 review sample – we noticed no clouding or backlight bleed even before calibration. Due to the way a limited number of LED bulbs mounted along the edges are required to illuminate the entire LCD screen, some dirty screen effect (DSE) was inevitable (as is always the case on edge LED televisions), but this rarely troubled us in real-world viewing.
Motion
The Sony 42in W7 doesn't come with any [Motionflow] options in its user menu, so there's no motion-compensated frame interpolation system at our disposal to boost the TV's motion resolution from its baseline level of 300 (which is par for the course for a vanilla LCD panel). However, there exists an [LED Motion Mode] control which is Sony's version of black frame insertion (BFI). Engaging this would bump up measured motion resolution (as judged using Chapter 31 of the FPD Benchmark Software disc) to the maximum (for this specific test sequence) of 1080, but it introduced a few side effects that made it pretty much unusable.
All black frame insertion techniques incur some brightness loss and introduce flicker: after all, new black frames are added in-between the original video frames to "reset" our retinal persistence and deliver clearer perceived motion. On the Bravia KDL-42W705B though, the algorithm was too aggressive: with [LED Motion Mode] enabled, we only managed to extract a highest luminance of 36 cd/m2 even with [Backlight] and [Contrast] cranked up to max; and the flicker was very noticeable on bright scenes.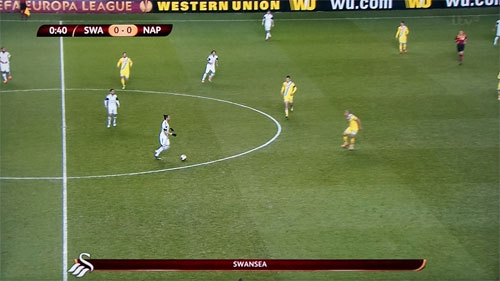 Despite the lack of any usable motion-enhancing technologies, we didn't find motion clarity on the KDL42W705 to be wanting when we watched some live football broadcast. Yes, there's the LCD blur, but motion was generally clean, without any sign of black trailing that can affect some VA LCD panels.
HD
The combination of deep blacks, neutral greyscale, relatively accurate colours and ruler-flat 2.4 gamma resulted in a superb high-definition picture that would give even flagship LED TVs a run for their money. The linear 2.4 gamma in particular injected plenty of "pop" and richness to every type of material displayed on screen, with a realistic rise out of black that did not muddy shadow detail. 1080p/24 content like Blu-ray discs were handled impeccably by the Sony W705, with nary a hint of telecine judder.
SD
The Sony KDL42W705B is a competent standard-def performer. Upscaling was crisp with full detail capture from the SMPTE RP-133 test card, albeit with a touch more ringing than competing Samsungs, as well as intermittent flickering if [Reality Creation] was engaged. With [Film Mode] set to "Auto", the television correctly detected and processed 3:2 over 480i, but could not maintain lock on 2:2 over 576i in a consistent fashion. This means that interlaced PAL film-based material may display with some deinterlacing artefacts or resolution loss.
When it comes to video-mode deinterlacing, the KDL42W705's performance was average rather than stellar, revealing more jaggies in the rotating wheel and bouncing bars patterns in the HQV Benchmark test disc than HDTVs from LG, Panasonic and Samsung. To be fair, this has always been the case on Sony Bravias for as long as we've started testing flat-screen televisions, yet we don't hear many owners complaining, so the jagged edges are probably not as conspicuous in real-life content.
Console/ PC Gaming
Boasting the lowest input lag we've ever recorded, and also full 4:4:4 reproduction in [Game] mode, the Sony 42″ W7 is an ideal large-sized display for both console and PC gamers. Our Leo Bodnar input lag tester gave a reading of 13.5ms, eclipsing the previous best of 14.6ms set by another Sony HDTV, the KDL42W653.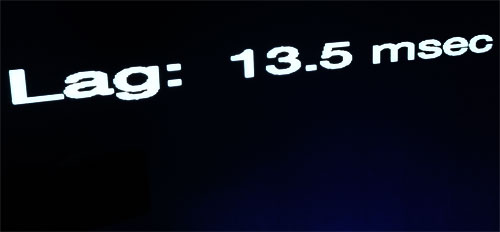 Furthermore, [Game] mode offers two presets, namely [Game-Standard] and [Game-Original], the latter of which can be configured to provide a less garish and more accurate colour palette for playing games on the Bravia KDL-42W705B.
Conclusion
From our tests, it seems that the Sony Bravia W7 is the new W6. Featuring deep blacks, mostly accurate colours, 2.4 gamma, and above all record-breaking gaming responsiveness, the KDL-42W705 should prove to be a hit among movie and game enthusiasts who don't need 3D. It even improves upon the popular, outgoing KDL-42W653 by offering two extra HDMI ports.
It's early days yet (since this is the first and only television we've reviewed in 2014), but we're calling the Sony KDL42W705B the gaming TV to beat for the year ahead. If you're looking for an ultra-responsive display to be paired up with your PS4 or Xbox One, that's capable of delivering lush images yet is still affordable, then the 42-inch Sony W705 deserves a place on the top of your shopping list (and in your living room).
Note: If you're interested in buying this TV, please support us by considering making your purchase from our advertising partner Crampton and Moore who will provide competitive prices and first-rate customer service. At the very least, go ahead and like their Facebook page, thanks!