For most TVs we review, the findings can usually be extrapolated to different screen sizes within the same model range due to otherwise identical specifications. However, that's not the case with the Sony KDL42W829 we're testing today. Whereas the larger KDL-50W829 we reviewed six months ago featured active-shutter glasses (ASG) 3D capabilities and a Motionflow XR rating of 800Hz, this 42-incher uses passive 3D technology and a Motionflow XR 400Hz system. Will the 42in W829 exhibit dissimilar picture quality to its 50in sibling? Let's find out.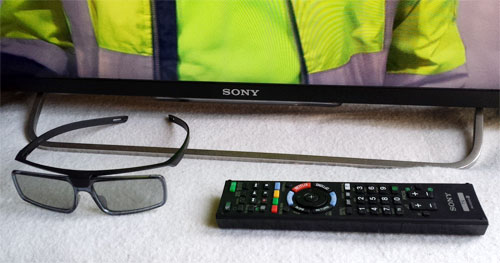 Note: The physical design, user menu, rear connections and remote control on the Sony KDL-42W829B are the same as those found on the KDL-50W829B, so please refer to that review if you need more details or a refresher.
Calibration
We calibrated our Sony KDL42W829BBU review unit using our profiled Klein K10-A meter, DVDO AVLab TPG signal generator, and SpectraCal's CalMAN 5.3 video calibration software.
As per what we normally do on Sony Bravia flat-screen televisions in recent years, we first disabled [Light Sensor] to prevent the on-screen brightness from being affected by ambient lighting, then set [Scene Select] to "Cinema" – the most accurate out-of-the-box picture preset on the KDL-42W829.
Greyscale
The default [Colour Temperature] of "Warm 2" in [Cinema 1] mode produced greys that had too little red component, which got progressively worse as the image got brighter.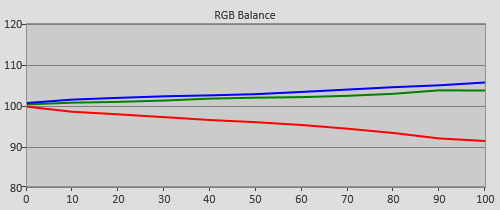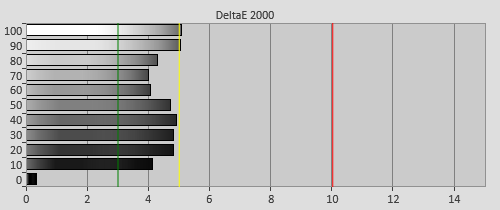 Pre-calibration RGB tracking and delta errors (dEs)
The Sony KDL42W829 comes with two-point [White Balance] controls, which we used to calibrate greyscale to the video and broadcast industry standard of D65.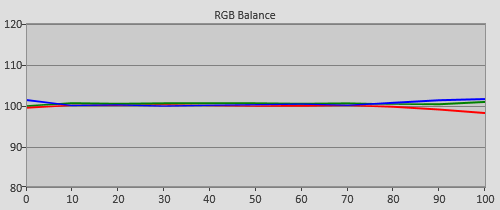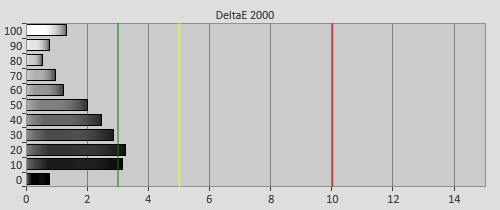 Post-calibration RGB tracking and dEs in [Cinema] mode
Post-calibration, although delta errors (dEs) were just a smidgen above 3 (the commonly accepted threshold before inaccuracies become visible to the human eye) around 10% and 20% stimulus, these were more a result of skewed gamma than RGB imbalance. Greys appeared neutral, ensuring that the on-screen image will be free of any untoward tint in real-life viewing.
Gamma
We've previously praised Sony's recent TVs for targeting 2.4 gamma in their most accurate picture preset, but for some unknown reason that's not the case on the Bravia KDL-42W829B whose default [Gamma] setting of "-2" yielded an overall gamma of 2.13.
| | |
| --- | --- |
| | |
| Pre-calibration gamma tracking (2.13) | Post-calibration gamma tracking (2.23) |
Dropping [Gamma] to the minimum level of "Min" resulted in an average gamma of 2.23 which was still some way off 2.4, the reference electro-optical transfer function (EOTF) recommended by the International Telecommunications Union (ITU) for flat-panel HDTVs used for studio mastering in a dark room.
Colour
As was the case with the 50″ version, the 42″ Sony W829 featured a slightly compressed colour gamut, with an undersaturated red primary being the most prominent.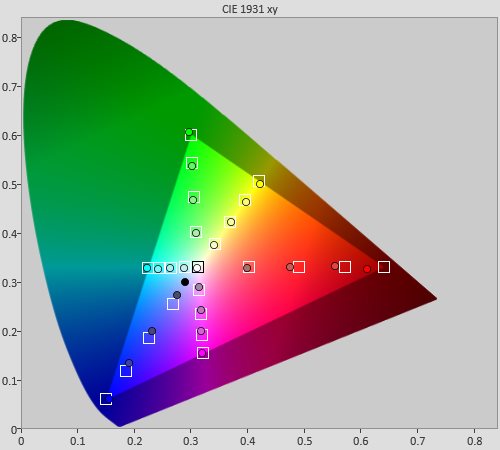 Post-calibration colour saturation tracking
Since the KDL-42W829 – like all Sony Bravias – doesn't offer any advanced colour management system (CMS), and the global [Colour] control affects not only all the primary and secondary colours but also colour decoding, there was little we could do to rectify the inaccuracies.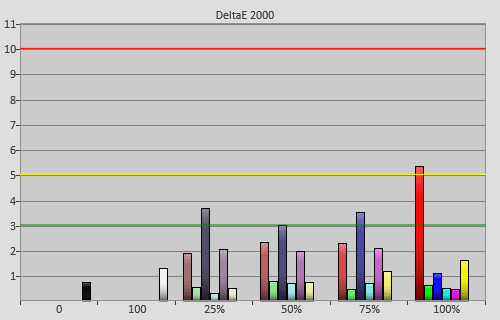 Post-calibration colour errors (<3 not appreciable to the eye)
Benchmark Test Results
| | |
| --- | --- |
| Dead pixels | None |
| Screen uniformity | Very good for an edge LED TV |
| Overscanning on HDMI | 0% if [Screen Format] "Full" & [Display Area] "Full Pixel" |
| Blacker than black | Passed |
| Calibrated black level (black screen) | LEDs dim down to 0.01 cd/m2 |
| Calibrated black level (ANSI checkerboard) | 0.042 cd/m2 |
| Black level retention | Auto-dimming with full black screen |
| Primary chromaticity | Undersaturated red primary |
| Scaling | Very good |
| Video mode deinterlacing | Decent |
| Film mode deinterlacing | Passed 3:2 cadence over 480i |
| Viewing angle | Good for VA LCD panel |
| Motion resolution | 300 unless [LED Motion Mode] engaged (too dim) |
| Digital noise reduction | Optional; effective when engaged |
| Sharpness | Defeatable edge enhancement |
| Luma/Chroma bandwidth (2D Blu-ray) | Full luma; chroma horizontally blurred except in [Game] & [Graphics] modes |
| 1080p/24 capability | No telecine judder in 2D or 3D |
| Input lag (high-speed camera) | 8ms compared to lag-free CRT in [Game] mode |
| Leo Bodnar input lag tester | N/A |
| Full 4:4:4 reproduction (PC) | Yes, in [Game] and [Graphics] modes |
Power Consumption
| | |
| --- | --- |
| Default [Standard] mode | 32 watts* |
| Calibrated [Cinema 1] mode | 45 watts |
| Standby | <1 watt |
*Note: Out of the box, [Light Sensor] was enabled by default, accounting for the lower energy consumption before calibration compared with after.
Picture Quality
The VA-type LCD panel supplied by Taiwanese vendor AU Optronics (AUO) to Sony this year have been remarkably consistent: once peak white was pegged at 120 cd/m2, native black level on the Bravia KDL42W829B measured 0.042 cd/m2, the EXACT same figure we obtained on the KDL-50W829B and even the step-down KDL-42W705B. Backlight uniformity was very good for an edge-lit LED LCD TV too, with no clouding or corner bleeding in sight once calibrated.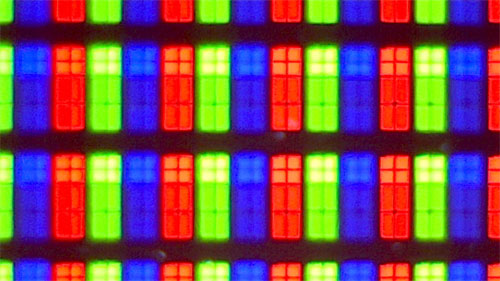 Subpixel structure indicating VA matrix
As suspected, the KDL42W829's lower Motionflow XR rating meant that Sony's [Motionflow] motion-compensated frame interpolation (MCFI) control was nowhere to be found in the user menu. There's one way to increase motion resolution from the LCD baseline of 300 (determined via the horizontally scrolling lines pattern in Chapter 31 of the FPD Benchmark Software test disc) to 1080, and that's by engaging [LED Motion Mode] which activates black frame insertion (BFI). However, the resultant picture was too dim for this feature to be practical: even with [Backlight] and [Contrast] cranked to "Max", peak light output from our 42W829 sample dropped to a paltry 27 cd/m2 once [LED Motion Mode] was switched on.
High-definition images looked detailed and authentic, though colours appeared a touch less lush than what we're expecting because of the lower gamma and also undersaturated reds. Standard-def processing was decent rather than spectacular, but we don't foresee many owners complaining about it.
For tri-dimensional viewing, the rare combination of a VA LCD panel and passive 3D on the KDL-42W829B worked wonders, contributing to an engrossing experience that's rich in depth and contrast (deep blacks plus bright, vibrant colours) yet free of crosstalk (as long as you sit within 15° of eye level vertically) and flicker. As with all passive 3DTV systems, vertical resolution in 3-D mode was effectively halved, so eagle-eyed viewers will observe some softness and jagged edges in extra-dimensional material.
We didn't manage to get our Leo Bodnar input lag tester working on our Sony KDL42W829BBU review sample (the flashing white boxes simply wouldn't show up despite multiple attempts), but from our testing the TV was equally as responsive as the larger 50in W8 model both subjectively and objectively (we measured an input lag of 8ms using the traditional cloned monitor/ stopwatch method).
Verdict
The Sony KDL-42W829 is an impressive HDTV with deep blacks and superb gaming responsiveness. That said, should you have the budget and space to accommodate a larger set, it's probably wiser to opt for the 50-inch Sony KDL50W829 which is equipped with blur-busting motion interpolation technology.