With all the latest and most advanced TV technologies – ranging from quantum dots and high dynamic range (HDR) to full-array local dimming (FALD) and motion enhancement – going to 4K Ultra HD sets these days, it seems almost pointless to review a 1080p HDTV. But the Sony W805C we're taking a look at today is, after all, the direct successor to last year's best-selling Bravia W829 series, not to mention available at a keen price, so naturally our interest is piqued.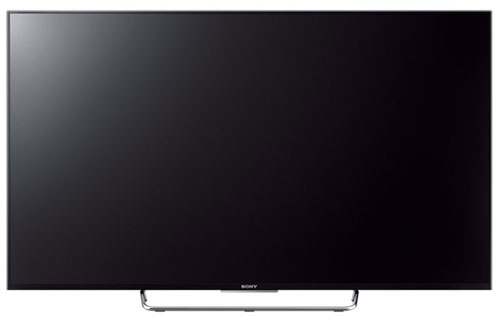 The W80C range comes in three screen sizes in the UK, namely the 43-inch Sony KDL-43W805C, the 50-inch KDL-50W805C and the 55-inch KDL-55W805C (which is the model we're testing). Features include edge LED backlighting, full HD 1920×1080 resolution, the Japanese brand's X-Reality PRO video processing engine, a Motionflow XR rating of 800Hz, active 3D capabilities, as well as a new Android TV platform.
Design
There's no big change in styling from 2014's KDL50W829 to this year's KDL55W805. The matte black bezel remains impossibly slim, only widening somewhat at the bottom to accommodate the central Sony logo, while a brushed metallic silver finish along the top fascia adds a touch of class to the entire ensemble.
The LCD panel sits on a low-profile "wire rack" stand that's covered in gleaming chrome. The KDL55W805C ships with an external power brick, a traditional zapper plus a Smart remote, but no 3D glasses.
Connections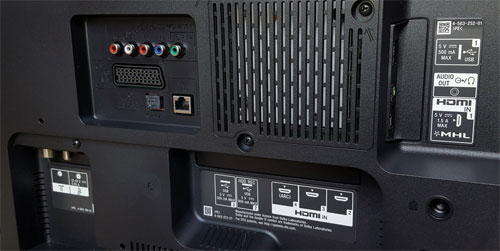 4x HDMI, 3x USB, component, SCART, Freeview HD & satellite tuners, LAN, audio outs
Calibration
We calibrated our Sony KDL55W805CBU review unit with a profiled Klein K10-A meter, DVDO's AVLab TPG signal generator, and SpectraCal's CalMAN software, using the TV's most accurate out-of-the-box picture preset, i.e. [Cinema pro] mode.
We've previously applauded Sony for providing a new 10-point [White Balance] system on the firm's 2015 Bravias, but to be honest it wasn't needed at all for the 55″ W80C, since 2-point [White Balance] controls were enough to reduce delta errors to imperceptible levels. Following greyscale calibration and some adjustments of the [Colour] control, all the measured colour points clicked into place in an accurate fashion, with 100% red capable of being fully saturated to Rec.709 gamut, an improvement over 2014's W8 series.
Greyscale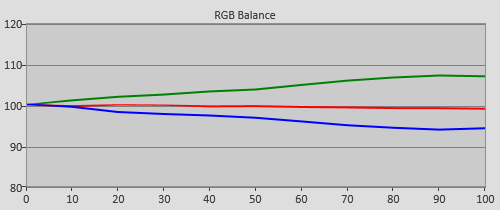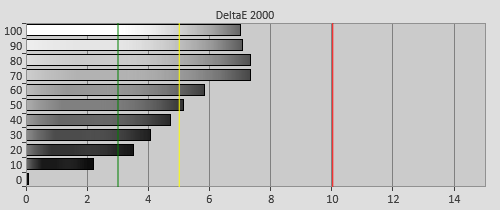 Pre-calibration RGB tracking and delta errors (dEs) in [Cinema pro] mode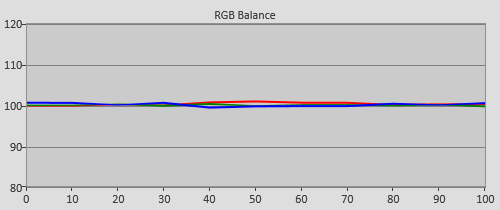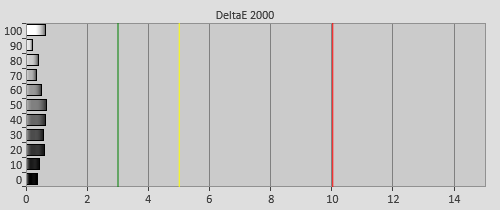 Calibrated RGB tracking and dEs in [Cinema pro] mode
Gamma
| | |
| --- | --- |
| | |
| Pre-calibration gamma tracking (2.67) | Post-calibration gamma tracking (2.36) |
Colour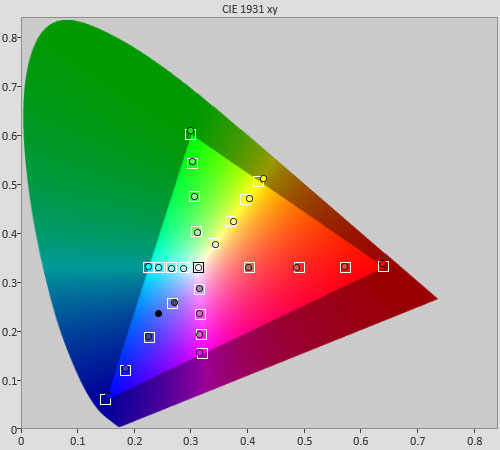 Post-calibration colour saturation tracking in [Cinema pro] mode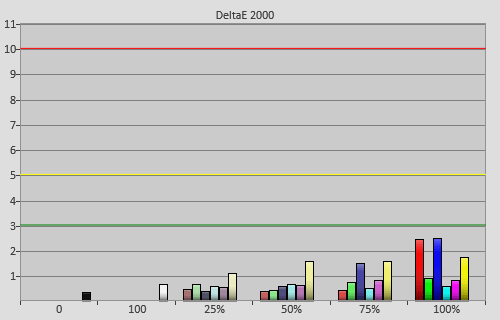 Post-calibration colour errors (<3 not appreciable to the eye)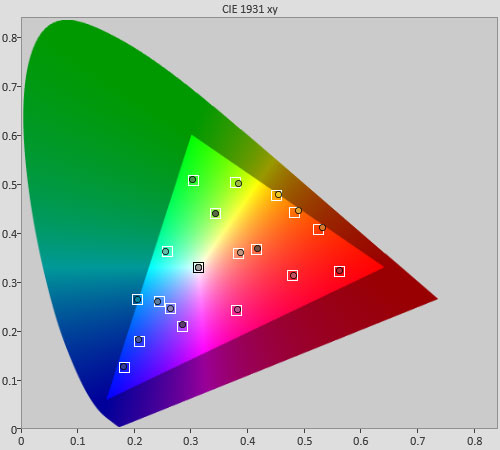 Post-calibration Colour Checker Classic test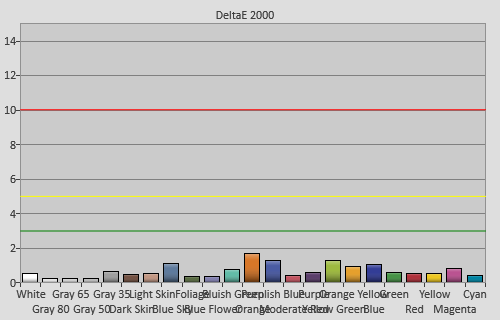 Post-calibration Colour Checker Classic errors (<3 not visible to the eye)
Benchmark Test Results
| | |
| --- | --- |
| Dead pixels | None |
| Screen uniformity | Good for an edge LED TV |
| Overscanning on HDMI | 0% if [Screen Format] "Full" & [Display Area] "Full Pixel" |
| Blacker than black | Passed |
| Calibrated black level (black screen) | LEDs dim down to 0.006 cd/m2 |
| Calibrated black level (4×4 ANSI) | 0.025 cd/m2 |
| Black level retention | Auto-dimming with full black screen |
| Primary chromaticity | Good |
| Scaling | Good |
| Video mode deinterlacing | Decent |
| Film mode deinterlacing | Passed 3:2/480i+1080i & 2:2/576i with [Film Mode] on |
| Viewing angle | Decent for VA LCD panel |
| Motion resolution | 600 to 1080 with [Motionflow] engaged; 300, off |
| Digital noise reduction | Optional; effective when engaged |
| Sharpness | Defeatable edge enhancement |
| Luma/Chroma bandwidth (2D Blu-ray) | Full luma; chroma horizontally blurred except in [Game] & [Graphics] modes |
| 1080p/24 capability | No judder in 2D or 3D with correct [Motionflow] settings |
| Input lag (high-speed camera) | 21ms compared to lag-free CRT in [Game] mode |
| Leo Bodnar input lag tester | 37ms in [Game] mode |
| Full 4:4:4 reproduction (PC) | Yes, in [Game] and [Graphics] modes |
Power Consumption
| | |
| --- | --- |
| Default [Standard] mode | 25 watts* |
| Calibrated [Cinema pro] mode | 42 watts |
| Standby | <1 watt |
*Note: Out of the box, [Light Sensor] was enabled by default, explaining why energy usage was higher after calibration than before.
Black Level
The VA-type LCD panel on the Sony KDL-55W805C delivered some of the deepest blacks natively (i.e. without the help of local dimming, not that the TV is equipped with any) by LED LCD standards. After pegging peak white to our usual dark-room target of 120 cd/m2, black level came in at 0.025 cd/m2 on both a full-field video black (with auto-dimming defeated by displaying a pause icon from our Blu-ray player) and a 4×4 ANSI chequerboard pattern, which is impressive even for a VA panel.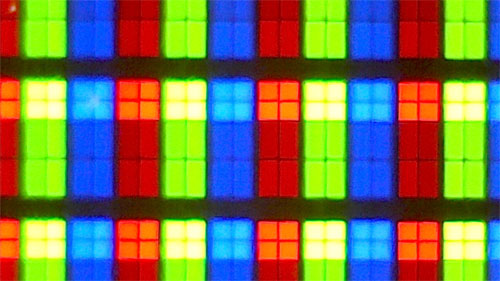 Macro shot of subpixel structure pointing towards VA-type LCD matrix
Like most LED TVs, the Bravia KDL55W805C dimmed its backlight automatically when asked to display a full-black screen, which lowered measured blacks to 0.006 cd/m2.
The Sony W805C employs frame dimming instead of pseudo-local dimming, which is activated through the [Adv. Contrast Enhancer] option within the [Brightness] submenu. Our objective testing revealed severe gamma skewing in brighter scenes, and so we advise leaving this setting off.
Backlight/ Screen Uniformity
Considering that it's an edge-lit LED TV, backlight uniformity on our Sony KDL55W805CBU review sample was good: we observed no clouding or corner bleed in a dark viewing environment, though if we peered hard enough (or stood up) we could see the bottom border (where the LEDs are placed) being marginally brighter than the rest of the LCD screen. We didn't spot any worrying DSE (dirty screen effect) either in panning shots across an evenly toned backdrop (for example in live broadcasts of golf and football).
Motion
The 55in Sony W80C performed slightly worse than the company's step-up 4K model X93C in terms of motion performance. With [Motionflow] set to "Off" or "True Cinema" (whose purpose is to recover 24p frames from 60Hz sources), motion resolution stayed at 300 lines (as determined using the horizontally scrolling lines in Chapter 31 of the FPD Benchmark Software test disc) which is what we'd expect for an LCD panel unassisted by motion-enhancing technologies.
While [Motionflow] "Standard" and "Smooth" doubled motion resolution to 600 lines, they introduced soap opera effect (SOE) to 24fps films, as well as intermittent interpolation artefacts in complex moving scenes. [Motionflow] "Clear" increased motion res further to 900 lines, but incurred some brightness drop (which thankfully could be adequately compensated by upping [Backlight] appropriately) due to the addition of backlight scanning.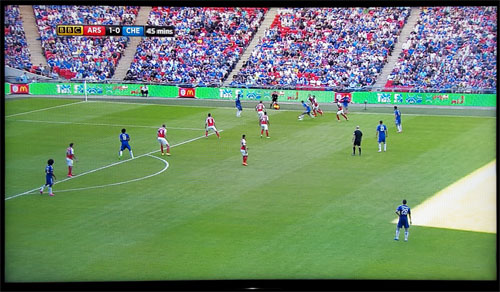 For users who like to tinker, Sony has also provided separate [Smoothness] and [Clearness] settings in the [Motionflow] "Custom" submenu, allowing for the respective intensities of frame interpolation and backlight scanning/ black frame insertion (BFI) to be adjusted independently. However, even for us who have considerable experience and the benefit of test patterns to help us out, it wasn't easy to arrive at a set of values that worked perfectly for all content. To achieve a motion resolution of 1080 lines, you'd either have to put up with overt soap opera effect, or endure significant flicker and image darkening with [Clearness] set to "Max" (we measured a peak luminance of only 36 cd/m2 even with [Brightness] and [Contrast] cranked up to their maximum values).
Video Processing
There were no major changes in the quality of video processing from last year's immensely popular Sony W829 to 2015's W805C, if our review unit was anything to go by. SD-to-HD upconversion was good, capturing full detail with sufficient crispness and no objectionable ringing. The TV also cleaned up jaggies in video-based material fairly effectively, though there remained some jagged edges on the third bar of DVE's bouncing bars pattern, which has been the case on Sony televisions as far as we can remember.
The KDL55W805C correctly detected and processed 3:2 and 2:2 cadences in 480i and 576i respectively with [Film Mode] engaged, but depending on its setting there might be some smoothing thrown in. As for interlaced high-definition content (1080i), 3:2 was problem-free, but 2:2 would lose lock frequently.
3D
A increasingly common trend along with non-inclusion of 3D glasses, the Sony KDL-55W805C is yet another active-shutter 3D TV that doesn't deliver full HD 3D resolution, following in the footsteps of its KDL-50W829B predecessor. Assessed using our custom-authored 3D resolution test pattern, the alternating black and white single-pixel horizontal lines simply merged into one solid grey block, indicating a loss of vertical resolution in the third dimension. Like what's experienced on passive 3D HDTVs, this translated into jagged edges, line twitter and generic softness in extra-dimensional material.
The default [Motionflow] setting of "Standard" in 3-D mode caused some judder with 24Hz and 50Hz sources, but once this was corrected, the 55-inch W8C handled 24fps, 50fps and 60fps tri-dimensional content smoothly without judder or interpolation. While crosstalk could be surprisingly intrusive at times, it's a vast improvement over the Sonys of yesteryears.
Gaming
It appears that Sony is ceding ground to Samsung in the battle for uber-responsive gaming TVs – gone are the days of sub-20ms Bravias. Our Leo Bodnar input lag tester returned a figure of 37ms in [Game] mode, whereas the more traditional stopclock plus high-frame-rate camera method yielded a lag measurement of 21ms, which is still quick enough for all but the most demanding of twitch gamers.

An advantage Sony's [Game] mode holds over Samsung's is full 4:4:4 chroma reproduction, making it more appealing to PC users. Input lag in the [Cinema pro] preset was exactly one frame higher at 53ms.
Conclusion
The Sony KDL-55W805C is largely a sideways move from last year's W829 Bravia, but that's no criticism of the former, because the latter has set quite a high bar as far as large-screen HDTVs go. Images on the W805C looked positively absorbing owing to deep blacks and wonderfully realistic colour palette (that's able to saturate reds fully, unlike its predecessor), although 3D remained half-res (just like its predecessor).
The Sony W80C's input lag was roughly one frame higher than the 2013 and 2014 Sony 1080p TVs, but for most owners this should still feel addictively fluid. Available at a street price of below £900 at time of publication, the KDL55W805 represents tremendous value for money when it comes to picture quality.