Quickly following up on the Sony 42W7 and 50W8 we've reviewed over the last couple of weeks, today we're looking at the Japanese manufacturer's top-end 1080p TV for 2014, namely the Bravia W95 series which comes in two screen sizes: the 55-inch Sony KDL-55W955B and the 65-inch KDL-65W955B. We're testing the smaller model.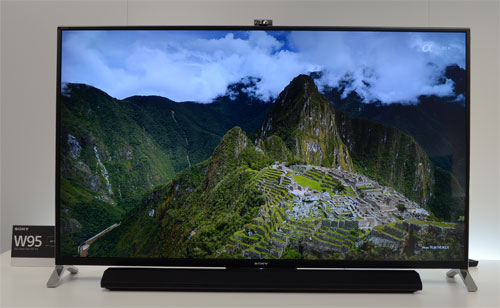 The Sony W950B features a native screen resolution of 1920×1080, edge LED backlighting, X-tended Dynamic Range (the company's moniker for this year's pseudo-local dimming system), TRILUMINOS Display technology, X-Reality Pro video processing engine, integrated Freeview HD and satellite tuner, as well as inbuilt full HD camera.
Perhaps most interestingly for those of us who care about the underlying type of LCD panel used (and its associated pros and cons), the Bravia KDL55W955 is equipped with passive 3D instead of active-shutter glasses (ASG) technology found on 2013's W905 range, marking the very first time a passive 3D TV is spearheading Sony's full HD television lineup. Let's find out how it fares in our array of tests.
Design
Sony's introduction of a new "Wedge" design on its high-end 2014 Bravia TVs will almost certainly divide opinion. Inspected from the sides which sport a brushed metallic silver finish, the chassis widens from top to bottom in the shape of a tall triangle. It is chunky – a radical departure from the slimline edge LED TVs that have proved immensely popular among TV buyers in recent years. The triangular prism make-up may also present a problem for wallmounting, as either the semi-glossy LCD screen or the back panel will be at an angle to the wall.
According to Sony, the enlarged base not only lowers the television's centre of gravity thus allowing for a smaller footprint, but also provides space for more powerful speakers. While the company's promotional material usually depict the KDL55W955B as being supported on a pair of feet at both ends of the panel, they can actually be affixed to an inner slot instead, saving owners from having to buy an AV rack that stretches the entire width of the TV.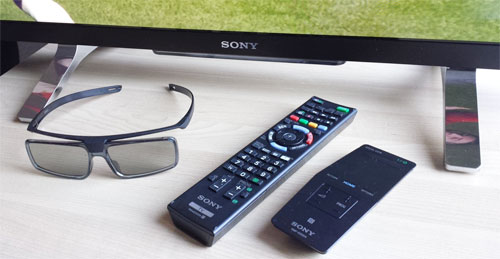 The sound quality of the W955's downfiring speakers was above average, though nowhere near the superb clarity, stereo separation and bass we heard through the front-firing "elephant ears" speakers implemented on the Bravia X9 4K Ultra HD TVs. For better or worse, the KDL-55W955 doesn't come with an external power brick, but has a fixed power cord.
Connections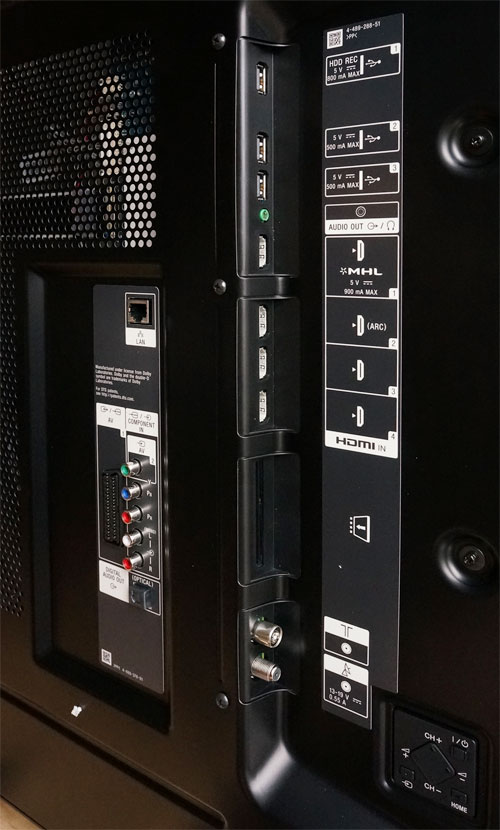 4x HDMI, 3x USB, component, RGB Scart, aerial & satellite sockets, LAN, audio outs
Operation
Despite its flagship status (at least as far as non-4K Bravias are concerned), disappointingly the Sony W95-B suffers from the same power-up initialisation lag issue we saw on the step-down W7 and W8. This means that every time the telly is switched on from cold standby, you'd have to wait at least 30 seconds before you can summon the home menu or change input source, which can be highly frustrating.
The KDL-55W955B ships with a traditional clicker and a secondary "One-Flick" touchpad remote, as well as an IR blaster that lets users control an external set-top box (such as a Sky+HD box) using the TV remote.
Calibration
Note: Our Sony KDL55W955BBU review sample was calibrated using CalMAN 5, the industry-leading video calibration software.
A number of top-level picture presets are available on the Bravia W950, accessible through the [Scene Select] menu. As always, for accurate video reproduction, [Scene Select] should be set to "Cinema", within which two further sub-presets exist, namely "Cinema 1" and "Cinema 2". We calibrated in "Cinema 1" mode which is more suitable for critical viewing in a dimly lit environment.
Greyscale
No, your eyes are not fooling you – the following is really the pre-calibration greyscale run we took with [Colour Temperature] left at its default setting of "Warm 2" on the KDL55W955: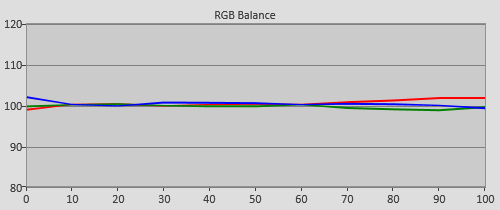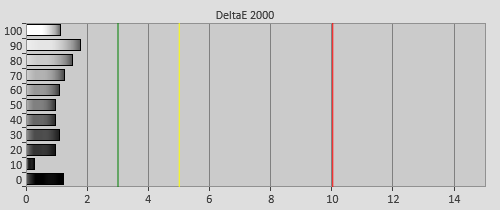 Pre-calibration RGB tracking and delta errors (dEs)
With delta errors (dEs) all staying under 2 (the commonly accepted perceptible threshold is 3), there's really nothing we needed to do – this is probably the most accurate out-of-the-box greyscale we've measured on ANY flat-screen TVs we've reviewed thus far. After pegging peak white luminance to our usual target of 120 cd/m2, and maybe a few other clicks here and there, we completed the easiest white balance calibration in our career: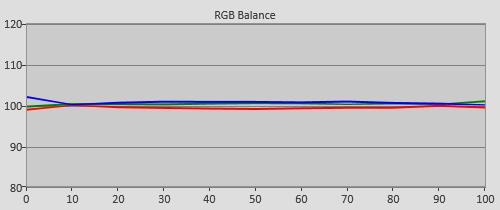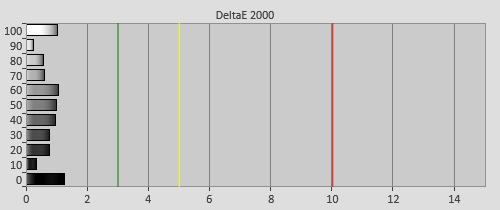 Post-calibration RGB tracking and delta errors (dEs)
The accurate greyscale will ensure that no untoward tint creeps into any content watched on the Sony W95.
Gamma
Sony continue to fly the 2.4 gamma flag high, and we absolutely respect them for it. After all, the International Communications Union (ITU) has since 2011 recommended 2.4 as the EOTF (electro-optical transfer function) for flat-screen HDTVs used for dark-room studio mastering.
| | |
| --- | --- |
| | |
| Pre-calibration gamma tracking (2.34) | Post-calibration gamma tracking (2.36) |
With [Gamma] left untouched at its default value of "-2" in [Cinema 1] mode, average gamma tracked very closely to 2.4 in a linear fashion, which will provide a punchy image with a realistic and smooth transition from darker to brighter areas on screen. We also experimented with [LED Dynamic Control], i.e. Sony's pseudo-local dimming technology, and found that the highest "Standard" setting skewed high-end gamma, which may cause certain bright scenes to appear a touch unnatural. If you wish to use [LED Dynamic Control], "Low" will suffice (as we'll explain later in the "Picture Quality" section).
Colour
The Sony KDL55W955B's native colour gamut was slightly larger than Rec. 709 HDTV specification, causing red and green primaries as well as their associated secondary colours to appear mildly oversaturated. Engaging [Live Colour] would worsen these inaccuracies.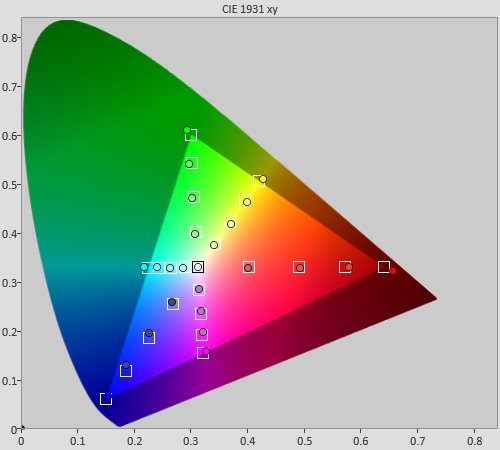 Post-calibration colour saturation tracking
Sony hasn't offered any advanced colour management system (CMS) on its Bravia televisions since we started reviewing TVs in 2007, and it seems the company won't start doing so in 2014 either. With limited controls at our disposal, the only adjustment we could make was to dial [Colour] up a couple of notches to "52", noting that this setting yielded the least delta errors (dEs) across all the saturation tracking points we measure.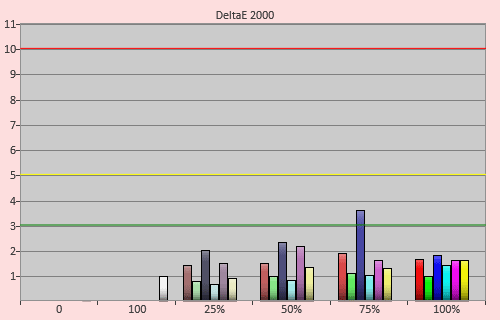 Post-calibration colour errors (<3 not appreciable to the eye)
When all is said and done, only 75% saturation blue exhibited visible error – even then the average viewers will be hard-pressed to pick it up in real-life content unless they have access to a reference display for side-by-side comparison.
Benchmark Test Results
| | |
| --- | --- |
| Dead pixels | None |
| Screen uniformity | Backlight bleed bottom left and top right corners |
| Overscanning on HDMI | 0% if [Screen Format] "Full" & [Display Area] "Full Pixel" |
| Blacker than black | Passed |
| Calibrated black level (black screen) | LEDs dim down/ shut off |
| Calibrated black level (ANSI checkerboard) | 0.173 cd/m2 with [LED Dynamic Control] "Low" |
| Black level retention | Auto-dimming with full black screen |
| Primary chromaticity | Oversaturated red and green primary |
| Scaling | Very good |
| Video mode deinterlacing | Decent |
| Film mode deinterlacing | Passed 3:2 cadence over 480i |
| Viewing angle | Good for LCD |
| Motion resolution | 600 to 1080 with [Motionflow] engaged; 300, off |
| Digital noise reduction | Optional; effective when engaged |
| Sharpness | Defeatable edge enhancement |
| Luma/Chroma bandwidth (2D Blu-ray) | Full luma; chroma horizontally blurred except in [Game] & [Graphics] modes |
| 1080p/24 capability | No judder in 2D or 3D |
| Input lag (high-speed camera) | 6ms compared to lag-free CRT in [Game] mode |
| Leo Bodnar input lag tester | 17ms in [Game] mode |
| Full 4:4:4 reproduction (PC) | Yes, in [Game] and [Graphics] modes |
Power Consumption
| | |
| --- | --- |
| Default [Standard] mode | 33 watts* |
| Calibrated [Cinema 1] mode | 35 watts |
| Standby | <1 watt |
*Note: Out of the box, the default [Light Sensor] setting was "On", which explains why energy usage was lower before calibration than after.
Picture Quality
Black Level
The Sony KDL-55W955 uses an IPS LCD panel from LG Display, and our worst fear was realised. With [LED Dynamic Control] switched off, the TV's native black level post-calibration came in at a rather uninspiring 0.202 cd/m2 as measured on the centre black patch in a 4×4 ANSI checkerboard pattern, and also a full-field video black screen with auto-dimming defeated by asking the W95B to display some lit pixels (e.g. a Blu-ray player's pause icon).
This is one of the poorest black-level response we have on record, and the 55in W955 desperately needs help in this department. Setting [LED Dynamic Control] to "Low" and "Standard" lowered ANSI black level to 0.173 cd/m2 and 0.145 cd/m2 respectively; the corresponding figures on full-screen black with auto-dimming defeated were 0.104 cd/m2 and 0.081 cd/m2. Auto-dimming would shut off the LEDs if [LED Dynamic Control] was engaged; or drop minimum luminance level (MLL) to 0.01 cd/m2 otherwise.
What does it all mean? Even with [LED Dynamic Control] enabled, the blacks on the KDL-55W955B will appear greyish in a dimly lit room at night, robbing the on-screen image of any depth and dynamism, therefore making the TV unsuitable for high-quality home theatre viewing. Furthermore, engaging [LED Dynamic Control] would introduce some blooming (since the discrepancy between the dimmed state and the display's native black level is greater), as well as brightness fluctuations with certain low-APL scenes (for example the final chapter of The Dark Knight as the coin drops), but we think that it's a worthwhile tradeoff not only to extract better contrast performance from the Bravia W950, but also because of the reason outlined in the next paragraph.
Backlight Uniformity
Unfortunately our KDL55W955 sample exhibited quite severe backlight consistency issues that would irk any video enthusiast. There was backlight bleed from the bottom left and top right corners, with some discolouration affecting the latter area too.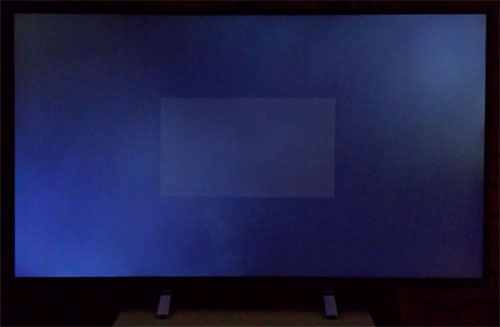 In addition, we spotted mild dirty screen effect (DSE) when we ran the horizontally scrolling motion resolution chart from the FPD Benchmark Software Blu-ray disc, which is not surprising given how LED lamps mounted along the edges have to illuminate the entire LCD screen. We didn't see much DSE in real-life content to trouble us though, even while watching football broadcasts.
Motion
The Sony Bravia KDL55W955B offers no less than six [Motionflow] options: "True Cinema", "Standard", "Smooth", "Clear", "Clear Plus" and "Impulse". With [Motionflow] switched off, the television's native motion resolution was 300 as determined via the horizontally scrolling lines patter in Chapter 31 of the FPD Benchmark Software test disc, which is par for the course for LCD TVs. The pure frame interpolation modes, namely [Motionflow] "Standard" and "Smooth", doubled motion resolution to 600; whereas other settings with BFI (black frame insertion) component – "Clear", "Clear Plus" and "Impulse" – boosted motion resolution to 1080.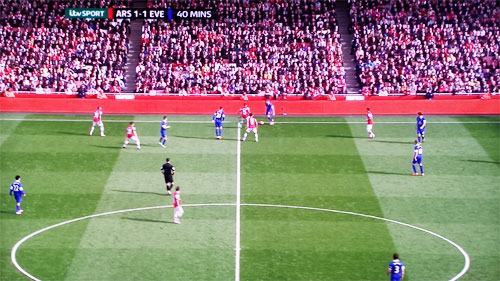 We managed to extract 60 cd/m2 from the W955B's "Impulse" mode (100% BFI) with [Backlight] and [Contrast] cranked up to "Max". While this level of light output is higher than what we got from the step-down Sony KDL50W829B, it's still too dim for most applications. The best [Motionflow] setting for day-to-day use is "Clear", which delivers high motion clarity without introducing significant interpolation artefacts or brightness drop.
Video Processing
The Sony KDL-55W955's X-Reality Pro engine is the same as that implemented on the Bravia W7 and W8, so it's hardly surprising that our suite of tests revealed no difference in video processing. Scaling of standard-definition content to be fitted on the 1920×1080 panel was crisp with no resolution throwaway, although engaging [Reality Creation] would cause intermittent flicker to appear on busier areas on screen.
Like all Sony Bravias, the W95 betrayed more jagged edges in HQV Benchmark's rotating wheel and bouncing bars patterns than rival Panasonic, LG and Samsung HDTVs. With [Film Mode] set to "Auto", the TV successfully detected and processed 3:2 cadence over 480i, but failed to maintain lock on 2:2 over 576i, or even detect 3:2 and 2:2 or 1080i. We recommend sending progressive video signal from a competent external Blu-ray/DVD player or set-top box to the KDL-55W955B for the best picture.
3D
The Sony W950 comes with two pairs of polarized 3D glasses that require an easy assembly. As with all passive 3DTVs, tri-dimensional images were reasonably bright and flicker-free, though eagle-eyed viewers would notice jaggies, a softer picture and dark horizontal scanlines since the vertical resolution is effectively halved in the third dimension, not to mention more obvious screen uniformity issues (we saw several dark vertical bands on our review unit) because of the increased brightness that's necessary to counteract the darkening effect of 3D glasses.
Some crosstalk was inevitable, particularly during high-contrast scenes where bright objects were set against a darker background. Watching the KDL55W955 beyond 15° of eye level vertically worsened crosstalk significantly, but this is the norm for passive 3D televisions anyway. Unlike the Bravia W829 which is active 3D, the W955 handled 24Hz, 50Hz and 60Hz extra-dimensional material without judder even if [Motionflow] was set to "Standard" – a side benefit of passive 3D's lack of need of synchronisation between display and eyewear.
Console/ PC Gaming
The way things are going, Sony Bravias will soon occupy the top 10 slots on our input lag ranking table, and it's because of TVs like the KDL55W955B. Our Leo Bodnar input lag tester returned a figure of 17ms in [Game] mode, which is insanely fast. If you're one of the few gamers who enjoy the nearly blur-free motion granted by [Impulse] mode, you'll be pleased to know that it only added half a frame (8ms) lag, bringing the total to 25ms. We do not recommend playing video games in [Cinema] mode which had 105ms lag on our W95B review sample.

Together with full 4:4:4 chroma reproduction, the fluid responsiveness of the KDL-55W955's [Game] mode amounts to a gratifying gaming experience. However, we must point out that there are other Sony televisions capable of delivering even greater enjoyment due to their deeper blacks and richer-looking colours.
Conclusion
There's just no sugarcoating this: the KDL-55W955B is the worst-performing Sony Bravia flagship HDTV we've reviewed in terms of picture quality. It's a disappointing departure from the excellent heritage of high-end Bravia TVs, all because of the use of IPS-type LCD TV panel that's notorious for shallow blacks – perhaps it's a strategic decision by Sony to funnel potential buyers towards the company's 4K Ultra HD models?
If you can find a set free of the backlight uniformity issues that plagued our sample, and are going to use the television primarily in a bright room, then the KDL-55W955 is not without its virtues. It has great out-of-the-box greyscale accuracy, good colour balance, impressive motion rendition, and first-rate gaming responsiveness. Nevertheless, this year's midrange Sony W705 and W829, or even better, last year's top-end Bravia W9 (if you can still find stock) are wiser buys due to their superior contrast performance.
Note: If you're thinking about buying this television, please support us by making your purchase from our advertising partner Crampton and Moore who will provide competitive prices and first-rate customer service. At the very least, please go ahead and like their Facebook page, thanks!