Samsung has launched its flagship SUHD TV for the year ahead at its CES 2016 press conference in Las Vegas. The KS9500 will spearhead the South Korean manufacturer's SUHD range, every model of which will bear an "Ultra HD Premium" logo for meeting the requisite specifications stipulated by the UHD Alliance (UHDA).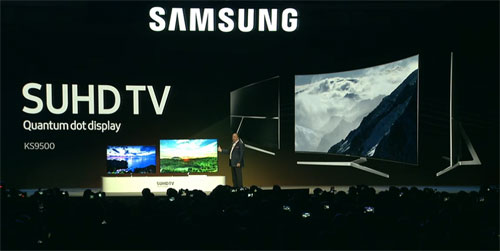 The Samsung KS9500 will come in three screen sizes, namely the 65-inch UE65KS9500, the 78-inch UE78KS9500 and the 88-inch UE88KS9500. Perhaps the most surprising thing about these flagship models is the lack of full-array local dimming (FALD) technology: the KS9500s are edge-lit, presumably to achieve the "bezel-less" curved design which is intended to provide a more immersive viewing experience. That an edge-lit display can still hit the 1000 nits peak brightness/ 0.05 cd/m2 blacks HDR (high dynamic range) requirements for "Ultra HD Premium" certification must rank as an outstanding achievement for Samsung.
According to CNet's David Katzmaier, a FALD-equipped KS9800 series is in the works, but from past experience, don't hold your breath on it becoming available until much later in 2016 (or else the KS9500 wouldn't have been handed flagship status). Samsung's SUHD televisions currently do not support Dolby Vision HDR format.
Other features on the KS95 include the world's first cadmium-free, 10-bit quantum dot panel, as well as IoT (Internet of Things) compatibility through a SmartThings Extend USB adapter (free with every 2016 SUHD television purchase for a limited period). One particular innovation we are having high hopes for is the moth-eye-inspired anti-reflection technology (dubbed "Ultra Black" by the company). We've been very impressed with similar implementation on Philips TVs, and look forward to seeing whether the Samsung UE65KS9500 can deliver a lucid picture that's free of distracting reflections in a bright room.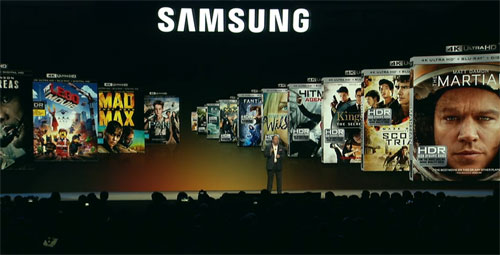 At the press event, the Seoul-headquartered consumer electronics giant also announced that its UBD-K8500 Ultra HD Blu-ray player (which was first unveiled at IFA last year) can be pre-ordered as of today for delivery in March. At a price of US$399 for a first-wave next-gen device, the Samsung UBDK8500 frankly looks like a steal, and it even has dual HDMI outputs!