A recent report has revealed that there was a spike in the number of 3D LCD TV panels shipped in the final quarter of last year, with the figure reaching 7.8 million units, reflecting a quarter-on-quarter increase of 26 percent. This places the total number of extra-dimensional LCD television panel shipments in 2011 at 21.2 million, which means that 10 percent of LCD TV panels shipped in 2011 were 3D-capable.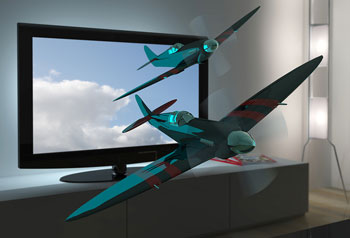 10% of LCD TV panels shipped in 2011 were 3D-capable
The data comes from the Advanced LED + 3D section of the latest Quarterly Large-Area TFT LCD Shipment Report published by California-based market research firm DisplaySearch. According to the report, panel makers are targeting strong growth for this year, with a goal of 138 percent growth – i.e. 3D LCD TV panel shipments of 50 million units. This would increase the penetration rate of 3D to 21.6 percent of all LCD TV panels shipped for the year.
David Hsieh, vice president at Displaysearch's greater China market division, said that the popularity of and the demand for 3D are on the rise as a result of TV manufacturers continuing to raise awareness about 3DTV and promote the technology more. Having been marketed through lower prices and more cost-effective technologies, 3D capability is now starting to be included by some television brands as a standard feature on their HDTV models above a certain level, he added.
The report also showed that active-shutter-glasses technology still commands a larger market share than its passive 3D (patterned retarder) counterpart at the moment, registering a 6.2 percent penetration among all 3-dimensional LCD TV panels shipped in 2011 versus 3.9 percent for patterned retarder. However, DisplaySearch expects the latter to close the gap this year: panel manufacturers' shipment targets indicate that the technologies' respective penetration rates will be 11.6 percent and 10 percent in 2012.