LCD TV shipments in the USA, which has enjoyed healthy year-on-year growths since records of shipment volume began in 2006, will probably experience an annual decline this year due to the ongoing economic malaise and less-than-expected price cuts, a market research company has predicted. If the forecast comes true, then 2010 will be the first year in US history that sales of flat-screen LCD televisions have shrunk compared to the previous year.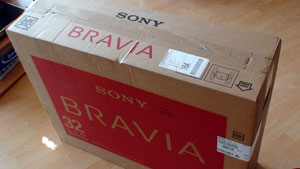 iSuppli, a California-based market research and consulting firm specialising in the electronics sector, forecast that sales of LCD TVs in America will post a decrease of 1.2%, from the 32.3 million units shipped in 2009 to 31.9 million units this year. Although the estimated decline is relatively minor in scale, the possibility of it materialising against the years of strong sales will still come as a big surprise.
iSuppli's principal TV analyst Riddhi Patel cited a few factors that may be responsible for the decline in LCD shipments. Topping the list is the state of the US economy dominated by high unemployment and low consumer confidence, which inevitably hit LCD TV sales. As Americans tighten their belts, many would probably put off buying a brand new, all-bells-and-whistles LCD HDTV.
Also, in 2010 LCD television prices did not drop as much as the years before. According to Ms Patel, this year TV manufacturers' made a concerted effort to restrict supply volume, and used additional HDTV features – for example LED backlight, internet connectivity and 3D capabilities – to maintain price levels (whereas in the past LCD TV makers and retailers have frequently resorted to price discounts to stimulate flat screen sales). Disappointed by the relative lack of tempting offers, US consumers are simply not buying as many LCD TVs as before, preferring to spend their disposable income on other gadgets like the Apple iPad or the Amazon Kindle.
Outside the USA, increased affordability of LCD TV models continues to fuel growth in emerging markets like China and Latin America, causing the worldwide LCD market to expand by 20.3% in 2010.