Just before 2012 comes to an end, LG Electronics has revealed its entire range of flat-screen TVs for the year ahead, sticking to its mantra of getting 'em announcements in early before CES kicks off in Las Vegas next week. While on surface LG's press release seems to be focusing on improvements in Smart TV content and user interface, we dug deeper (with info from CNet USA) to discover three core PQ-affecting changes to the South Korean manufacturer's 2013 lineup.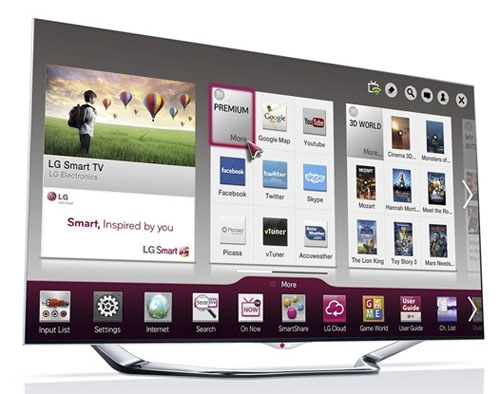 LG reveals 2013 TV lineup: no direct local-dimming LED; plasma range cut
1) No More Full-Array Local Dimming LED
LG's 2012 flagship HDTV was the LM960V series that features full-array locally-dimmed LED backlighting, which in theory is capable of delivering deeper blacks and brighter whites concurrently, contributing to a greater contrast ratio. Due to lukewarm demand and presumably higher production costs, the company will no longer be using this LED backlight technology on any of its 2013 LED TV models.
The flagship mantle will be passed onto the firm's 84-inch ultra HD 4K behemoth, the LG 84LM960V, which will continue to be available to buy throughout 2013 at a suggested retail price of £22,500. Below that will be the LA8600 and LA7400 series which sport LG's LED+ (edge LED with pseudo-local-dimming) backlighting, 200Hz refresh rate (for UK and European markets), dual-core processor, FPR (film-type patterned retarder) passive 3D, and the updated Magic Remote with new "Voice Mate" voice control technology incorporating natural language recognition.
2) No More CCFL LCD Backlight
All new LG LCD TVs next year will be illuminated by LED rather than traditional CCFL (cold-cathode fluorescent lamp) backlight. If you're concerned that screen uniformity will take a hit, worry not: at least some of these are direct-lit LED models without local dimming, which in our experience harbour similar characteristics to CCFL-backlit LCD televisions (thicker chassis, but more uniform backlight). This includes the LG LA6200 series with passive Cinema 3D, and the LN5400 series that does not offer 3D nor Smart TV functionalities.
3) Plasma Range Halved
Given the dwindling sales and market share of plasma displays, LG's decision to halve next year's plasma ranges from six to three will hardly come as a surprise. The range-topper will be the LG 60PH6700 – the only 3D TV in the company's 2013 lineup to use active-shutter glasses (ASG) technology. Step-down models comprise the non-3D PN6700, and the HD-ready PN4500.
Design
LG's 2013 upper-tier edge-lit LED LCD televisions will carry what the company calls a "Cinema Screen" design, where the bezels are trimmed down (again) to nearly invisible. Also new among the stylistic cues is a reworked "Magic Stand" that according to LG creates a floating effect for the panel. Despite its avantgarde aesthetics, the stand boasts a swivelling and rolling capability, allowing viewers to reposition the screen easily.
LG will be showing off these HDTVs and more at CES 2013 which begins in Las Vegas next week. We'll bring you the UK and European model numbers, prices and release dates as we learn more at the event.