LG Electronics has unveiled its new lineup of OLED TVs at the CES 2017 consumer electronics trade show in Las Vegas this week, and unfortunately for any remaining fans of 3D movies, the South Korean manufacturer has joined most other TV brands in culling 3D from their 2017 OLEDs.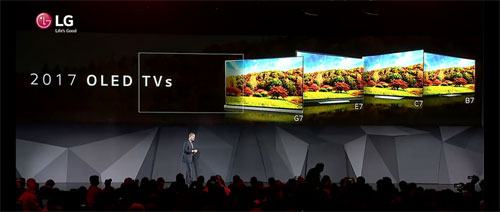 That's right: none of LG's new W7, G7, E7, C7 or B7 OLED models will support 3D, even though we've been informed that the cost to implement 3D capability is incremental at best. It's such a big shame, because LG 4K OLED televisions had provided by far and away the most stunning and immersive tri-dimensional viewing experience we've witnessed from a direct-view display to date.
On LG's 2015 and 2016 UHD (ultra high-definition) OLEDs, the onboard passive 3D technology not only worked with flicker-free polarized 3-D glasses which – unlike its active-shutter counterpart – did not require synchronisation or battery power, it also allowed for a sufficiently bright extra-dimensional image: we routinely measured 110 cd/m2 peak white from the critically-acclaimed LG E6 after 3-D calibration. To put this figure into perspective, in 3D mode we've never extracted more than 50 cd/m2 from any active 3D TV including the brightest LED LCDs such as the Sony ZD9 or the Panasonic DX900/ DX902.
Now, polarized 3D filter normally halves the vertical resolution, but on a 4K OLED this merely means that 2160p is downres-ed to 1080p which is the native resolution of 3D Blu-rays anyway. Throw in OLED's true blacks, rich colours and absence of crosstalk (as long as you sit within 13° of eye level to the screen), and watching 3D Blu-ray films on an LG Ultra HD OLED TV is truly a sight to behold.
As much as we enjoy 3D on LG 4K OLEDs, we understand why the company has decided to abandon the format. Going forward, not many film studios are going to bundle 4K HDR and 3D Blu-rays in one package, so most consumers will have to choose between an Ultra HD Blu-ray and a 3D Blu-ray unless they are enthusiastic enough to double-dip. And since HDR itself delivers a profound sense of depth due to light directionality, and HDR's benefits are easily visible without the need to wear extra goggles, most buyers will pick up the 4K UHD version, giving movie studios even less incentive to release 3D Blu-rays in the future.
Nevertheless, we do think that had LG persisted with 3D this year, it could become a unique selling point (USP) especially among 3D enthusiasts who have amassed stacks of 3D Blu-ray discs, but alas, that's not the case. As of today, the best three-dimensional picture quality can be found on the outgoing LG C6, E6 and G6 OLED televisions, so if 3D is important to you, we suggest you snag one before stock runs out.
Also gone from LG's 2017 OLED ranges are curved screens (even the C7 will have a flat panel), though we suspect very few will shed a tear over this omission. After all, even Samsung – undoubtedly the fiercest advocate of curved TVs – has decided to position the flat-screen Q9F as its flagship QLED TV for the year ahead.