Recognising that 3D glasses remain one of the major obstacles putting consumers off buying current 3D TV models, Korean TV maker LG Electronics has teamed up with French luxury eyewear designer Alain Mikli to introduce a contemporary range of 3D glasses that are not only fashionable, but also comfortable to wear. These new LG 3D glasses are scheduled to make an appearance at the Consumer Electronics Show (CES) in Las Vegas next month.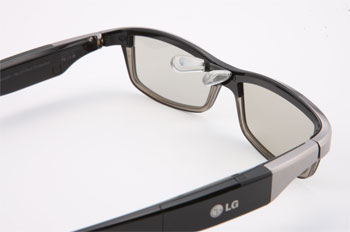 Given Alain Mikli's trend-setting reputation, obviously style and flair ranked on top of his consideration when asked to design LG's new 3D eyewear. Seeking to distinguish their 3D glasses from plastic-composed offerings from other HDTV brands, LG and Mikli decided to use metallic materials for moulding the 3D eyeglasses in accordance with the French designer's trademark minimalistic styling.
In addition to superior aesthetics, the newly designed LG 3D glasses also boast a number of ergonomic features. To prevent the viewer from feeling tired when wearing the 3D glasses especially over a long period of time, the front-back weight ratio of the 3D eyewear is optimally balanced. A pair of specially crafted, patented nose pads helps the glasses sit more comfortably on the user's nose, while spring-loaded arms with lengthened tips wrap snugly around the sides of the head with greater comfort and fit.
Standalone availability and prices will only be announced at CES 2011, but LG has confirmed that its new-style 3D glasses will be included with the company's 2011 batch of high-end 3D TV displays. It remains unknown though whether the polarized 3D glasses for LG's passive 3DTV range will also get the Mikli touch (LG is the only big-name TV manufacturer that markets both active and passive 3D TVs).