LG Electronics has been making all sorts of headlines for its boundary-pushing efforts in OLED and 4K display technologies, but the company's core television sales are still made up of LED LCD TVs especially of the more affordable kind. The LA620V series we're looking at today is just one such television, representing the cheapest Cinema 3D (LG's superb moniker for its passive 3D tech) range within the Korean manufacturer's sprawling lineup of HDTVs for 2013.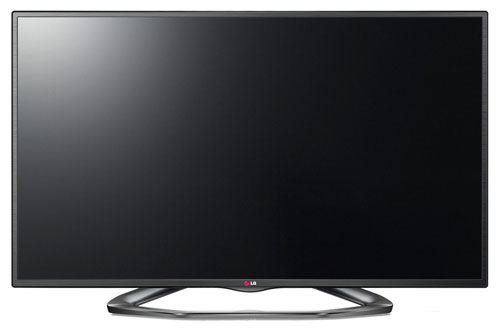 The LG 42LA620V is a 42-inch UK model featuring direct-lit LED backlight, DVB-T2 Freeview HD tuner, dual-core processor, three HDMI inputs, and integrated WiFi which makes it a doddle to access the onboard Smart TV portal. The LA620 comes in no less than five other screen sizes, including the 32in LG 32LA620V, 47in 47LA620V, 55in 55LA620V, as well as 50″ and 60″ versions.
Design
Since its LED backlighting system is of the direct-lit variant, the 42LA620V's chassis is understandably bulkier than edge-lit sets. The dark gunmetal grey bezel is still suitably slim, surrounding the LCD screen which exhibits a semi-reflective gloss – perhaps the budget price point precluded a more effective anti-glare filter from being fitted? An LG logo adorns the middle of the bottom border of the bezel, below which a soft red glow can be seen emitting from the LED indicator.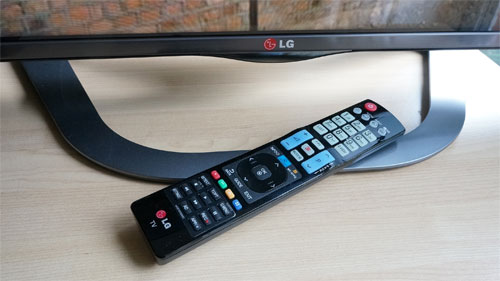 The panel sits atop LG's archetypal "ribbon" stand which sports a bezel-matching gunmetal grey finish, and is swivel-capable. Although plasticky in parts, the 42LA620's build quality is acceptable given its modest price tag.
Connections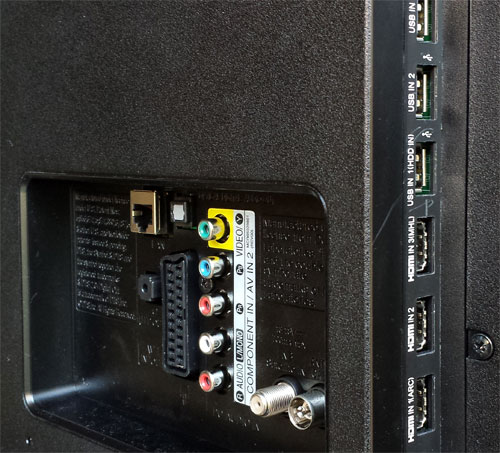 3x HDMI, 3x USB, component, SCART, Freeview HD & satellite tuners, LAN, audio outs.
Calibration
Note: Our review sample was calibrated using CalMAN 5, the industry-leading video calibration software.
The 42LA620V calibrates like a dream. In its most accurate out-of-the-box [Expert] mode which carries ISF's endorsement, peak white output measured bang on 120 cd/m2 even without any further adjustments to the [Backlight] and [Contrast] controls. It seems that LG has done its homework, and its collaboration with ISF (Imaging Science Foundation) is paying off.
Greyscale
The default [Colour Temperature] of "Warm2" in [ISF Expert1] mode produced a picture that was excessively red-tinted, due to insufficient blue component in the greys: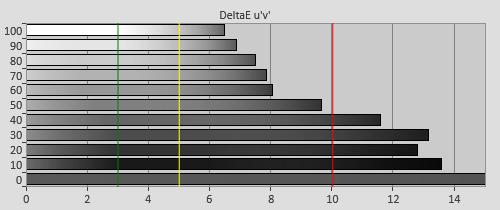 Pre-calibration RGB tracking and delta errors (dEs)
Fear not, for LG has provided not only 2-point [White Balance] controls, but also a 20-point system which gives twice the level of granularity offered by the 10p WB controls available on high-end HDTVs from other brands. However, as we've noted on last year's LG televisions we've tested, summoning the [White Balance] submenu altered the backlight output on the LA620V, so we had to exit the user menu completely before taking measurements, after which we'd have to re-enter the submenus to make further adjustments. A not insurmountable quirk, but inconvenient all the same.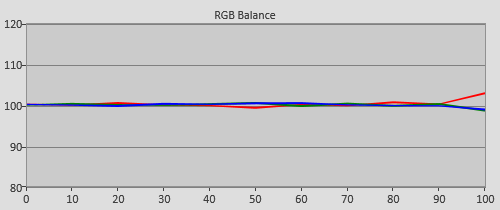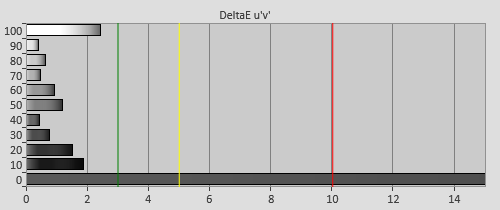 Post-calibration RGB tracking and dEs in [Professional1] mode
In practice, the 2p system was enough to correct most of the greyscale errors on the LG 42LA620V, though we did use the 10IRE (and 20IRE to a lesser extent) controls in the 20-point [White Balance] submenu to neutralise the blue tinge at the low end. The raised red level at 100% stimulus was a result of digital clipping – no amount of adjusting using the 100IRE sliders could rectify it. The only way to eradicate this is to lower the overall [Contrast] which we're reluctant to do considering the already unimpressive contrast performance of the LA620's IPS LCD panel, so we left it be.
Gamma
Pre-calibration, gamma tracked fairly close to 2.2 in a linear fashion in the [ISF Expert1] mode. The 42LA620's black level was some way north of 0.1 cd/m2, so we decided not to pursue gamma 2.4 which has been established as the reference EOTF (electro-optical transfer function) by ITU for flat-screen HD displays used for studio mastering in a dark room.
| | |
| --- | --- |
| | |
| Pre-calibration gamma tracking (avg 2.26) | Post-calibration gamma tracking (avg 2.2) |
The TV doesn't feature any dedicated 10-point gamma editor, prompting us to take the opportunity while calibrating greyscale to iron out some minor kinks in gamma tracking at the low end.
Colour
The 42LA620V comes with a HSL-based colour management system (CMS). The individual controls work fairly well independently of each other if you look at only the outer gamut, but because the CalMAN 5 calibration software allows us to analyse different colour points within the gamut, we discovered that excessive adjustments of the [Luminance] setting would mess up sub-100% saturation tracking. Therefore we trod carefully, making sure to cross-check back and forth between the parameters with each adjustment, and settled at the following results: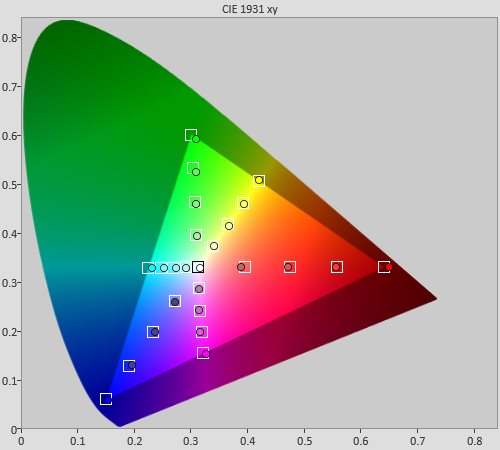 Post-calibration colour saturation tracking
Green primary was slightly deviated towards yellow at 100% saturation, but all in all this represents outstanding colour accuracy, with delta errors (dEs) never exceeding 3 which is commonly accepted as the perceptible limit for the human eye.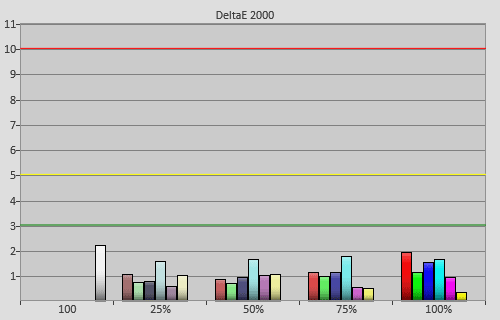 Post-calibration colour errors (<3 not appreciable to the eye)
Benchmark Test Results
| | |
| --- | --- |
| Dead pixels | None |
| Screen uniformity | Not good: dirty screen effect; pink tinge on right side |
| Overscanning on HDMI | 0% with Aspect Ratio set to "Just Scan" |
| Blacker than black | Passed |
| Calibrated black level (black screen) | LEDs shut off |
| Calibrated black level (ANSI checkerboard) | 0.174 cd/m2 |
| Black level retention | Auto-dimming with full black screen |
| Primary chromaticity | Very good |
| Scaling | Excellent |
| Video mode deinterlacing | Very effective jaggies reduction |
| Film mode deinterlacing | Passed 3:2 & 2:2 cadence tests |
| Viewing angle | Good for an LCD TV |
| Motion resolution | 300 |
| Digital noise reduction | Very mild undefeatable noise reduction |
| Sharpness | Defeatable edge enhancement |
| Luma/Chroma bandwidth (2D Blu-ray) | Full Luma; Chroma horizontally blurred unless [PC] mode in 60Hz |
| 1080p/24 capability | No judder in 2D or 3D with [Real Cinema] engaged |
| Leo Bodnar input lag tester | 43.4ms with [Game Mode] engaged |
| Full 4:4:4 reproduction (PC) | Yes, with input label set to [PC] |
Power Consumption
| | |
| --- | --- |
| Default [Eco] mode | 42 watts |
| Calibrated [ISF Expert1] mode | 44 watts |
| Standby | <1 watt |
Picture Quality
The IPS-type LCD panel found on the LG 42LA620V is not well-known for its black level, and the TV's contrast performance suffers as a result. At this budget price point, any sort of pseudo-local dimming is obviously not feasible, so LG's engineering team have opted to shut down the LEDs on the LA620V completely when the television is asked to display a full black screen (that's when the TV's mediocre blacks is most apparent). To be fair, most other TV makers resort to this tactic too on their LED TVs, but LG's implementation borders on the aggressive side, with very little in the way of time delay and fade-away effect before the LEDs switch off, which can be a bit jarring.
To measure the set's native black level, we used a 4×4 ANSI checkerboard pattern to make sure the LED bulbs stayed lit. With top-end luminance pegged at 120 cd/m2, calibrated black level on the 42LA620 came in at a rather uninspiring 0.174 cd/m2. In a dimly-lit environment which we generally recommend for critical viewing, dark scenes would take on a greyish haze, robbing the on-screen images of any dynamism. This is an HDTV that's more suited for general-purpose use in a brighter room, though the lack of an effective anti-reflective filter may throw a spanner in the works.
Unfortunately there's another blemish on the 42in LG LA620V that spoilt our enjoyment. Despite being a direct-lit set (which in theory should boast better backlight/screen uniformity than edge LED televisions), our review sample – randomly picked from retail stock – was afflicted with visible dirty screen effect which would rear its ugly head during panning shots. Furthermore, we observed a 2-inch-wide band of pink discolouration running down the right side of the screen, causing whichever content that's presented in that area to be tinted red (this was naturally most noticeable over a neutral, uniform background).
Which is a crying shame, because otherwise the LG 42LA620V has a lot of good things going for it. Greyscale and colour accuracy was top-notch, and the TV's standard-definition processing ranked among the best we've tested, delivering crisp upscaling without excessive ringing, not to mention highly effective jaggies suppression. The [Real Cinema] toggle in the [Picture Option] submenu serves two purposes – engaging this setting allowed for correct detection of 3:2 and 2:2 film cadences, and also playback of 1080p/24 material without judder. Keep this on.
Like some of last year's LG HDTVs, the LA620V intermittently applied a gentle layer of noise reduction even when both the [Noise Reduction] and [MPEG Noise Reduction] controls were set to "Off". This was particularly obvious with interlaced content – both HD and SD – from digital television broadcasts: in fact, we first detected this issue when we saw fine wrinkles and facial spots being erased upon the slightest movement! Until LG (or any other TV brand for that matter) truly respect that not tampering with film grain is necessary for the preservation of the director's/ producer's artistic intent, and stop applying underhanded noise reduction despite what their [Noise Reduction] controls say at the user-menu level, their TVs will never be treated by videophiles as displays good enough for critical viewing.
You may ask, could this scrubbing of fine detail simply be a manifestation of the low motion resolution instead of undefeatable noise reduction? After all, the 42LA620's motion resolution as determined through the scrolling lines test pattern in Chapter 31 of the FPD Benchmark Software disc was only 300 which is what we would expect from a vanilla LCD panel unassisted by motion-compensated frame interpolation (MCFI). Do not be fooled by the [TruMotion] control: it has only dejudder but no deblur function, i.e. enabling this will only introduce soap opera effect to 24p movies without any increase in motion resolution. Leave it off.
Anyway, the way we could tell that it was noise reduction rather than pure motion blur that was responsible for the disappearance of picture detail upon movement was that the visible effect was more fleeting than uniform, indicating that it happened at a video processing level. Also, once the motion stopped, the fine details would magically and instantly come back into view, which is different from the more evenly distributed behaviour of simple motion blurring. Of course, having other HDTVs which do not partake in such shenanigans available for side-by-side comparison helped immensely too.
LG has been the biggest advocate of passive 3D since the beginning, and in line with the company's experience and know-how, the 42LA620V's tri-dimensional presentation was as good as the display technology allowed it to be, delivering bright, flickerless 3-D images with minimal crosstalk. As with all passive 3D TVs, vertical resolution is effectively halved, and so eagle-eyed viewers may notice dark horizontal scanlines, jagged edges or a softer picture depending on how far you sit. The set ships with four pairs of polarized 3D glasses included.
Console Gaming
LG's flat-screen televisions, particularly high-end ones, have been notorious for high input lag in recent years, but things seem to be taking a turn for the better in this department. In the [ISF Expert1] mode, the 42″ LA620V returned an eye-watering figure of 143.7ms from the Leo Bodnar input lag tester. However, engaging [Game] mode slashed this number right down to 43.4ms. Whilst not the quickest, this should prove responsive enough for all but the most demanding of hardcore gamers out there.
Smart TV
LG's internet-connected platform is almost unchanged from last year in terms of graphical user interface (GUI), with different Smart TV apps categorised into separate panels. Interestingly, the Smart TV portal features a small preview window at the top left displaying a video feed of the current input source, whereas the regular EPG (Electronic Programme Guide) doesn't even provide a running audio feed let alone video!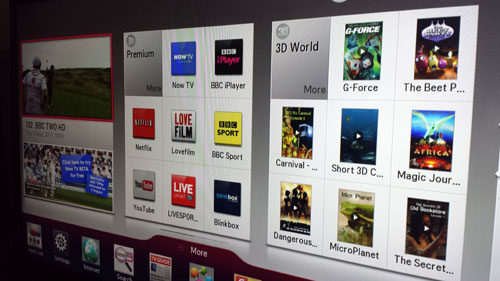 Navigation is reasonably responsive, but we did miss the company's excellent Wii-style Magic Remote which is included with more expensive models. Most of the popular Smart TV apps including BBC iPlayer, LoveFilm, Netflix and YouTube are on board, though ITV Player, 4oD and Demand 5 are conspicuously absent (and offered by arch-rival Samsung, for those of you keeping count). LG does have an exclusive on-demand provider in its library in the form of British Sky Broadcasting's NOW TV.
Sound Quality
By flat-panel TV standards, the LG 42LA620V's audio quality is very decent. While significant improvement can still be had through an external home theatre system or soundbar, the TV delivers sufficiently clear dialogue and satisfying bass extension that puts the flimsy sound from most LED TVs to shame – the set's bulkier chassis probably contributed greatly to the meatier acoustic body.
Conclusion
As a technical publication which ply our trade in scientific measurements, we absolutely loved the comprehensive suite of calibrations offered on the LG LA620V, as well as the accurate greyscale and colours we managed to achieve through it. As with most IPS-based LCD TVs though, the 42LA620V's Achilles' heel was inevitably going to be its subpar black-level response.
To make matters worse, our review unit was beset by screen uniformity issues which took the shine off the TV's excellent SD processing and 3D capabilities. As such, we've had to qualify our recommendation.
Note: If you're interested in buying this TV, please support us by considering making your purchase from our advertising partner Crampton and Moore who will provide competitive prices and first-rate customer service.