LG Electronics is hoping that its "Cinema 3D" range of passive 3-dimensional TVs will be a hit with consumers in the UK, if a media demonstration event held last week is anything to go by. Just like last year, the Korean TV manufacturer kitted out a swanky London townhouse with its 2011 HDTV models (mostly "Cinema 3D" LED-based LCD TV displays accompanied by polarized 3D glasses) to be sampled by members of the British press.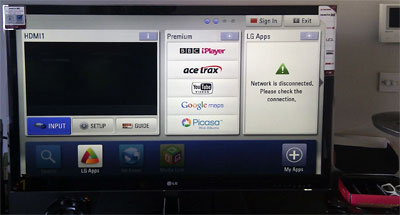 Featuring the company's FPR (film patterned retarder) polarized 3D technology which was first unveiled in Beijing towards the end of last year, LG's "Cinema 3D" LED LCD televisions purportedly deliver a flicker-free tri-dimensional viewing experience, as well as allow for passive 3D glasses (similar to the ones handed out at cinemas) which are cheaper, lighter and does not require synchronisation nor battery charging. In fact, every "Cinema 3D" TV bought in the United Kingdom will come with seven pairs of 3D eyewear, and in the unlikely event that this is not enough, each additional pair will only cost £2.
The first batch of LG "Cinema 3D" TVs to arrive in UK stores comes in three flavours, namely the LW450U, LW550T and LW650T series. These 3D LCD televisions will be illuminated by edge LED backlight with some form of local dimming (LG calls this "LED plus with Spot Control"), and have the ability to carry out real-time 2D-to-3D conversion on the fly. Later this year, the top-end LW950T series will be launched, featuring the company's Nano Lighting Technology.
42LW650T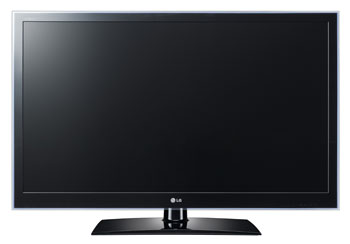 The LG LW650T series is available in screen sizes of 42, 47 and 55 inches, i.e. the 42LW650T, 47LW650T and 55LW650T. All models in this range will have integrated Freeview HD tuner, TruMotion 200Hz motion-compensated frame interpolation technology, and the company's new Smart TV internet-connected platform which provides access to a wide range of online services including BBC iPlayer, YouTube, Facebook and Twitter. The LW650T can also be controlled via a motion-sensitive Magic Motion remote, or through a downloadable app from your iPhone or Android smartphone.
42LW550T
The step-down LG LW550T series will sport all the features found on the LW650 except for TruMotion 200Hz (the LW550 only has the 100Hz variant). Again, three screen sizes are available: the 42-inch 42LW550T, the 47-inch 47LW550T, and the 55-inch 55LW550T.
Lacking in built-in Freeview HD tuner and Smart TV portal, the LG LW450U series is the entry-level "Cinema 3D" range. It comes in four screen sizes: the 32″ 32LW450U, the 42″ 42LW450U, the 47″ 47LW450U, and the 55″ 55LW450U.
The LG LW450, LW550 and LW650 sets should start trickling into UK stores from this week onwards at competitive prices, especially when you consider the generous number of 3D glasses bundled in. The Seoul-based TV maker is also running a cashback promotion in conjunction with British Sky Broadcasting, where Sky TV subscribers can claim a rebate of up to £400 on a "Cinema 3D" television purchase made before the 8th of June from participating retailers.