The company formally known as Lucky Goldstar has come a long way in the recent years. LG was primarily known for producing pocket-friendly electronics but recently, they have expanded their horizons and ventured into the high-end market with an excellent range of products such as these (LG TVs) that fuses art and performance seamlessly. Today, we are reviewing the elegantly designed LG 42SL9000 edge-lit LED-based LCD HDTV, which has been praised for its features and functions elsewhere.

Note: The LG 42SL9500 — sold exclusively by the Dixons Store Group (DSG) comprising Dixons, Currys and PC World — is essentially the same TV with minor cosmetic differences. Since the LG 42SL9000 and LG 42SL9500 share identical specifications, picture quality should be similar on both panels.
Design
Considering its price, the aesthetics and build quality of the LG 42SL9000 LED TV is purely outstanding, and one could easily believe it to be of higher value costing north of £2000.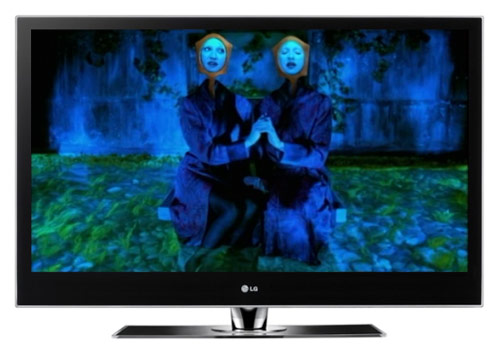 The metallic frame used in conjunction with tough glass shield not only provides an expensive look, but also serves to protect the LED LCD display. I myself fell in love with the design (back in early 2009) when it was first announced to the public — I simply adore the overall colour and design scheme chosen by LG.
However, due to its slim profile and protective glass shield, unpacking the unit can be quite tedious, effectively requiring two adults (and preferably two pairs of rubber gloves) to protect the user and the unit. There are no handles/ grips on the LG 42SL9000 so one must reach towards the bottom of the shipping box to obtain a firm grip. Once safely removed from the box, the panel must then be placed on a flat surface to assemble a segment of the stand. It sounds easy in theory but difficult in practice.
In the future, it would be helpful if all manufacturers can pre-fit a set of grips or handles on their flat screen televisions, which can be removed after assembly. I'm sure it doesn't cost the earth, and can save owners a lot of hassle.
For those who are green-minded, I am happy to inform that all LG SL series of LED-backlit LCD televisions feature a hard power switch located beneath the panel (slightly right to the LG logo). It allows complete shutdown of the panel during prolonged period of absence.
Connections
The location of the connection ports is in keeping with today's standards. They are easily accessible and fairly well constructed but the rear section does require minor reinforcement to prevent warping.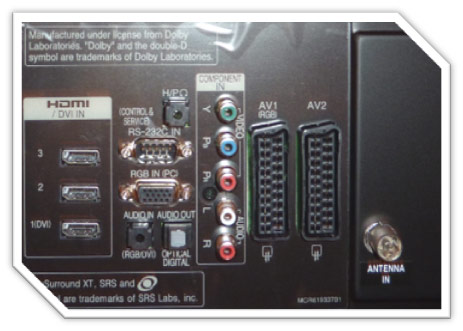 GUI
The GUI on the LG 42SL9000 HDTV is identical to those seen on the 2008 high-end plasma range, featuring excellent colour scheme, well defined icons, appropriate font and efficient layout. However, there is still room for improvement within the calibration section as both greyscale and 2D colour management are embedded in the same window, which can be quite aggravating due to excessive vertical scrolling. Responsiveness could also be improved slightly, but then again, people rarely use their TV display's GUI these days after the initial setup.
The [Quick Menu] allows users to change the picture and sound modes, aspect ratio (including configurable zoom option), timer etc. It is a useful tool but LG could have also added the option to enable/ disable 100Hz as the model in question does not feature independent MCFI (i.e. separate dejudder and de-blur processing). The animation could also be improved as 15fps (Frames per Second) is rather outdated.
One of the prevailing selling points of the LG 42SL9000 LED TV is the ISF option, which comes in the form of [Expert 1] and [Expert 2] (day and night respectively). The ISF mode allows users to configure Horizontal and Vertical Sharpness in addition to the standard and professional controls. However, as stated above, the LG 42SL9000 only sports a 2D colour management system. This could have been a serious issue on any other display with poor colour chromaticity, but thankfully this is not the case here.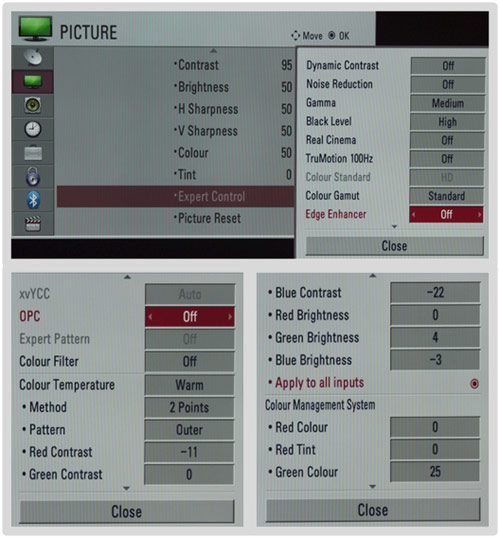 Like most other competing high-end models, the LG 42SL9000 also features independent source customisation, which allows users to customise the on-screen picture according to the source. The LED LCD TV also contains a simple 9-page user manual and information regarding the Digital Switchover.
Remote control(s)
Akin to the Samsung Edge LED TV range, LG supplied two sets of remote controls with the 42SL9000. The secondary (mini/ baby) remote can be useful in certain scenarios, but lacks the essential [Quick Menu] option. The main remote is well-constructed and robust. The chrome outline is a nice touch; and while responsive, the backlit buttons' tactile feedback falls just short of those on high-end remotes.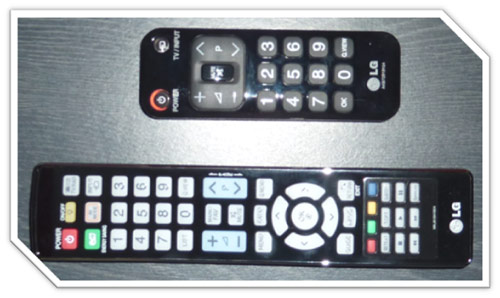 Calibration
Greyscale and Gamma accuracy are vital for portraying the representation of any given image accurately. Therefore, the display must be calibrated to a set of standards used by the video and broadcast industry. In the case of HDTVs, the set standard for colour space is Rec. 709 which is similar to sRGB — both standards share identical white point (D65) and gamma value (2.2).
Greyscale calibration ensures all greys between black and white are free from colour dominance, which is achieved by assigning the RGB values to 6500K colour temperature (CCT). Unfortunately, it's not possible for a TV display to yield 100% accuracy. So the goal is to maintain errors within acceptable levels.
Note: The results below were obtained by placing the light-measuring equipment at the centre of the screen. It is done to ensure error values are kept to a safe minimum.
Greyscale
Thanks to the effective calibration menus provided by LG, I was able to obtain excellent results without too much effort. The 2D Colour Management System is far from perfect, but the LG 42SL9000's colour luminance was virtually on the spot following calibration, producing an average delta E value of less than 5.0.
Pre-Calibration

Pre-calibration CCT in [ISF] mode with [Colour Temperature] "Warm"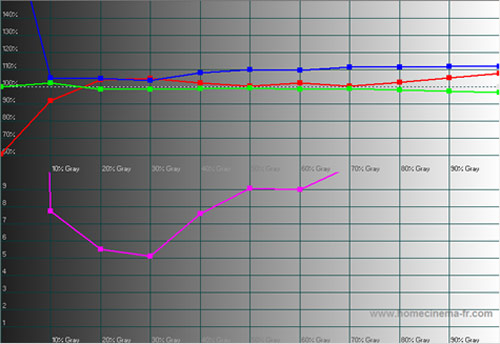 Pre-calibration RGB tracking and delta errors (dEs)

Pre-calibration greyscale data
Post-Calibration

Post-calibration CCT in [ISF] mode with [Colour Temperature] "Warm"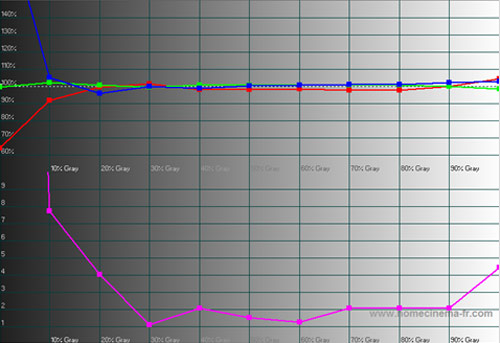 Post-calibration RGB tracking and delta errors (dEs)

Post-calibration greyscale data
Gamma
Pre-Calibration

Pre-calibration gamma tracking
Post-Calibration

Post-calibration gamma tracking
Colour
Pre-Calibration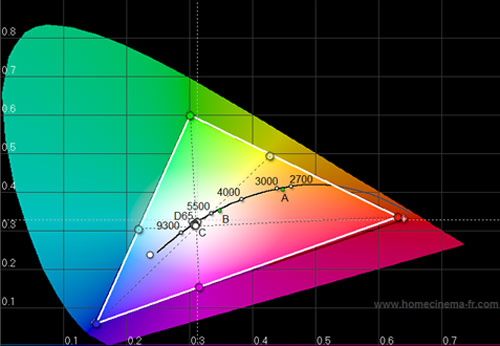 Pre-calibration CIE diagram

Pre-calibration colour data
Post-Calibration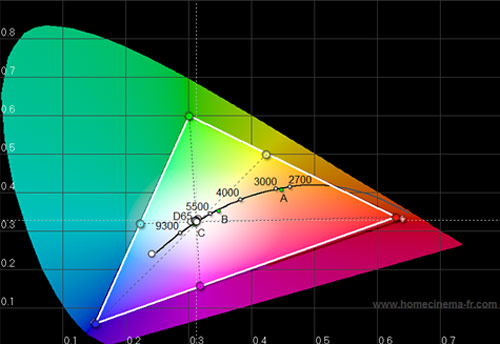 Post-calibration CIE diagram with reference to HD Rec. 709

Post-calibration colour data
Benchmark Test Results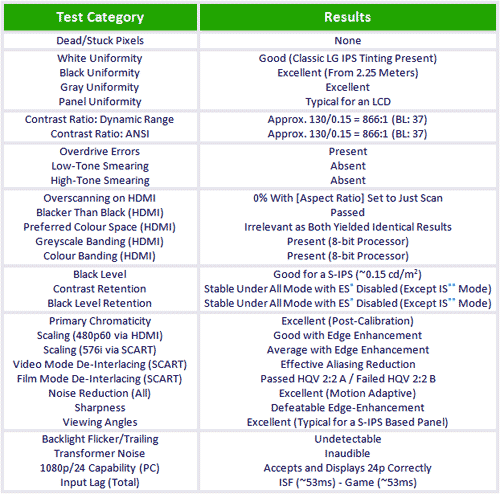 * ES = Energy Saving; ** IS = Intelligent Sensor
Power Consumption

Uniformity
The LG 42SL9000 LED LCD TV yielded excellent black and (good) white uniformity. During the pure white test (100IRE), I was able to detect the classic red and green tinting commonly found on LCDs (particularly in LG panels). Backlight bleeding was negligible, and the panel uniformity was typical of a consumer-grade display, which proves the fact that Edge-LED does not always have to result in uneven backlight uniformity. There were a few visible defects and imperfections across the panel, which might hinder calibration accuracy. However, such errors are common to most consumer-grade LCD televisions.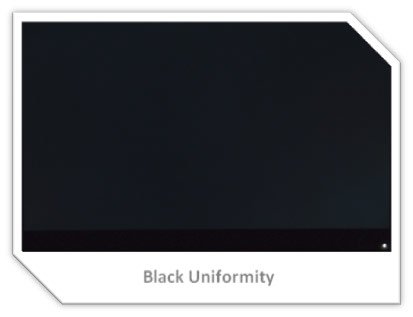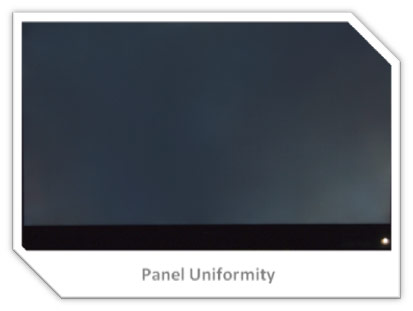 Contrast Ratio
In [ISF Expert 1] mode with white level (contrast) set to 95, the LG 42SL9000 LED television yielded a rather average dynamic range and ANSI contrast of ~866:1… this is nevertheless an improvement for an S-IPS based panel. Blacks could be further improved by enabling [Dynamic Contrast] at the cost of black-level stability and shadow detailing (not recommended of course).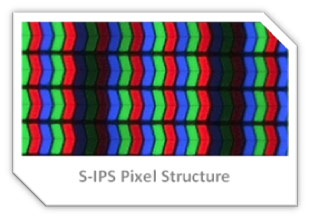 Motion Performance (Pixel Response) & MCFI
With my tests based on PixPerAn, I was able to detect the usual overdrive error (minor over-shoot) and a certain degree of pixel lag (as illustrated below), which are still common to LCDs of late. Smearing was negligible and comparable to today's H-IPS and IPS-Pro models. In fact, the only negative trait I noticed was the slight double/ ghost image that occurred during fast movements, but vanished once TruMotion 100Hz (MCFI) was enabled. It's likely to have been caused by pulsing backlight, but I didn't have sufficient time to carry out the required tests to confirm this.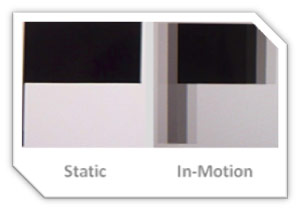 Having stated the above, LG's MCFI (motion-compensated frame interpolation) algorithm is on par with Samsung's — effective but flawed. It produced visible visual artefacts on test patterns (as illustrated below), though these are mostly imperceptible on the majority of real-world content, mainly because the vast amount of information and motion rendered on screen acts as a form of distraction. During certain scenarios, some visible artefacts (e.g. line flicker) did creep up and was detected quite easily. Thankfully, motion-related artefacts were largely absent but this is content-dependent. For example, contents with inconsistent motion (e.g. Music Videos and Video Games) can easily confuse the MCFI algorithm, which often leads to frame-jumps/ stutter.
Sadly, LG has failed to provide user configurable  Low-Motion and High-Motion MCFI. So engaging TruMotion 100Hz also enables Low-Level MCFI responsible for converting Low-Motion Contents (e.g. 24-30p) to High-Motion (>48p), which destroys the movie/ cinematic look. So it's best to reserve the use of MCFI for video-based contents (e.g. sports and soaps).
Overscanning
The aspect ratio can be configured via the [Quick Menu] and the [Main Menu] found on the remote. The LG 42SL9000 LED-backlit LCD HDTV features several aspect ratio options ranging from [Just Scan] (1:1) to [Cinema Zoom], which can be configured accurately to zoom into the contents mastered in Cinema Scope Aspect Ratio (2:39:1). However, doing so will decrease perceived resolution due to crop and scale.
Blacker-than-Black (HDMI)
The LG 42SL9000 accepts both 0-255 and 16-235 video formats. However, the user must manually select Low (16-235) and High (0-255) via the main user menu.
Please note that when cycling between colour spaces and black levels, the LG 42SL9000 sometimes doesn't automatically revert to the correct black levels (e.g. switching from YCbCr to RGB Full). To overcome this issue, select 4:3 aspect ratio, and ensure the black level of the displayed area is in sync with the inactive area as illustrated below.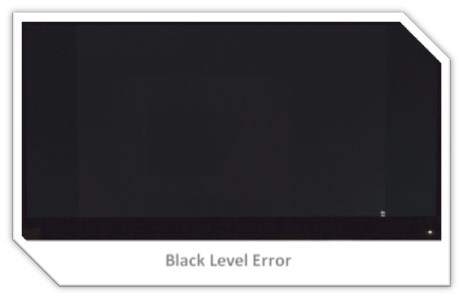 Backlight Flicker and Trailing
The LG 42SL9000 LED-based LCD TV does not generate detectable flicker or trailing, which is excellent news for those who have sensitive eyes.
Viewing Angles
The S-IPS panel embedded within the LG 42SL9000 yielded above-average black and excellent gray and white viewing angles. Due to S-IPS mode, off-axis colour, gamma and contrast shifts were limited to a minimum. However, when viewed from less than 2.25 meters, the blacks around the edges (especially the corners) will appear glowing, mimicking the effect of backlight bleed. This is normal for consumer-grade S-IPS and e-IPS panels.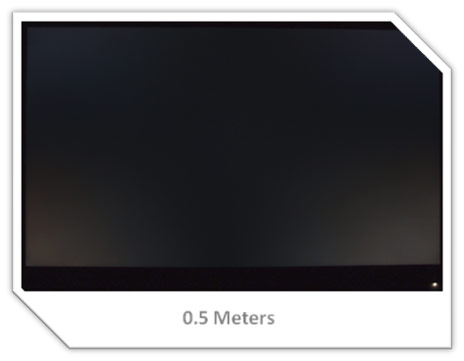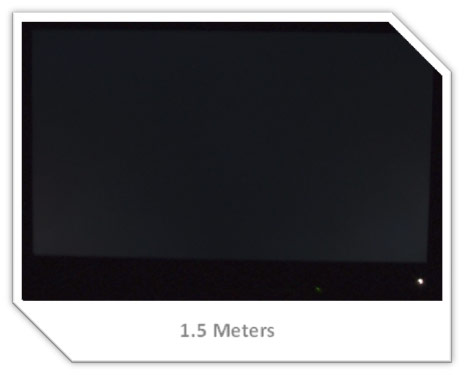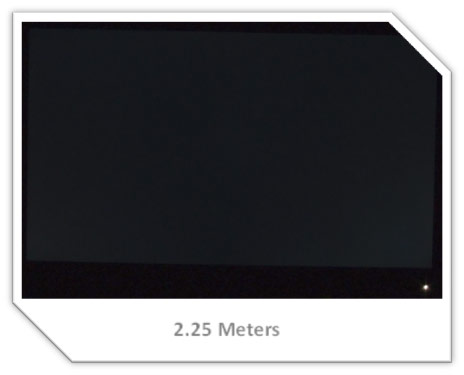 LG could have utilized H-IPS technology similar to the IPS-Pro used by Panasonic, which yields near-plasma viewing angles. Perhaps the cost of H-IPS is too high at present.
Sharpness
The LG 42SL9000 HDTV fully supports true HD 1:1 pixel mapping while offering the option to configure edge enhancement. It also includes the option to independently adjust horizontal and vertical sharpness.
Picture Performance
For evaluating image quality in the real world, we used a series of images known to expose even the most hidden artefacts and errors.
Note: The following three tests were conducted under [Expert 1] mode.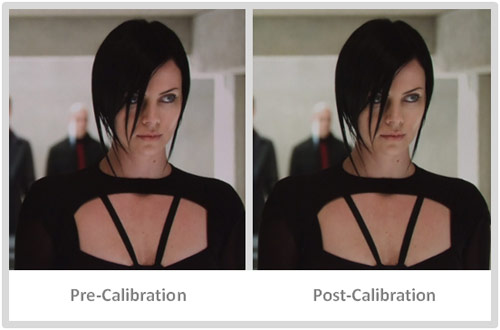 The LG 42SL9000 LED-backlit HDTV yielded acceptable results following simple calibration in [Expert 1] mode. The mass shades of warm colours that envelop Charlize Theron's face, neck and chest were identifiable (slightly too warm but not enough to completely dilute her hazel eyes). However, the average consumer may not be able to detect the error without side-by-side comparison with a reference display.
The included greyscale and CMS controls allowed us to rectify the red shift and we immediately noticed overall improvements in greyscale and colour accuracy. The final image appeared natural and true to life.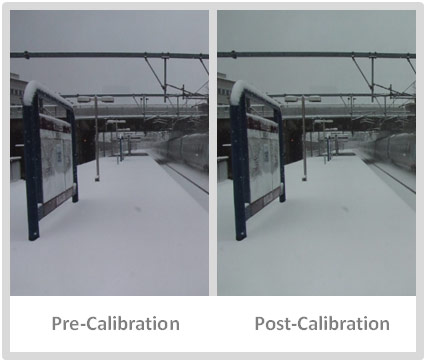 We use the image above to detect visual inaccuracies in greyscale, gamma and black crush; and the performance of the LG 42SL9000 LED LCD TV was more than acceptable prior to greyscale calibration. There was no evidence of any serious black crush, nor could I detect any errors in gamma. However, there were obvious signs of colour shift notably red. Having stated that, the majority of users may not be able to spot the errors without the benefit of a reference display.
After greyscale calibration, the rendered image was on par with one of our reference models (the Dell 2209WA).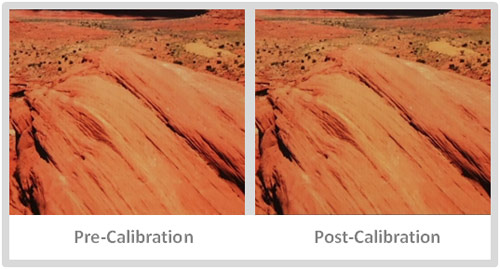 Just like the previous two results, the image above was rendered with somewhat adequate accuracy, though the visible red shift yielded a rather unnatural appearance.
After calibration, we saw an immediate improvement. The various shades of warm colours were natural and pleasing to the eye.
High Definition
High-def materials on the LG 42SL9000 HD TV were beautifully rendered, and video noise was virtually non-existent, (which is pleasantly surprising for an overdriven S-IPS panel). The anti-reflective coated glass shield and wide viewing angles provided a sense of additional depth and lucidity comparable to competing high-end models. The lack of 10-bit processor was an oversight, but visible posterization was limited to certain test patterns as illustrated below: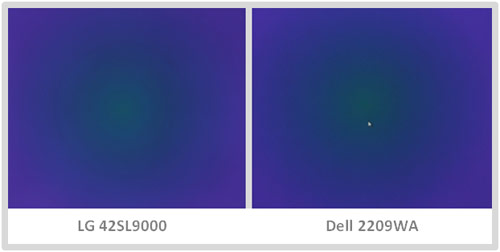 The AR coating was effective in reducing glare but reflection was still present (although well controlled). Double image was a concern; however it was only perceivable when viewed from extreme angles, and thankfully, it did not affect the ANSI contrast ratio.
There were no issues with LG 42SL9000's 24p performance — it produced clean judder-free motion. However, the Sharp LE700 still has the crown for rendering 24p motion comparable to DLP cinemas.
In truth, the only grave weakness is the black level, which affects perceivable shadow-detail and  comparable to 2006/7 PVA panels. However, as mentioned above the rendered images were pleasing, and with adequate ambient light, the greys can be perceived as blacks.
Standard Definition
The LG 42SL9000 produced average standard-def results with negligible noise via RGB SCART. Although the overall image was clean and stable, blacks were crushed and fine details were lost during upsampling. The common bleeding of colours and visual artefacts were present, but for the most parts these remained negligible. We strongly recommend users of the LG 42SL9000 LED-based LCD television to invest in an external SD source, possibly one with upscaling capabilities.
Scaling

: Upscaling progressive source via HDMI was somewhat inferior compared to the ATI HD4XXX series graphics cards, and upscaling interlaced source via SCART yielded rather unpleasing soft results. The [Edge Enhancer] did improve the image quality without inducing too many perceivable visual artefacts, but it is certainly not a replacement for a high-quality scaler.

Film and Video Mode De-Interlacing

: The LG 42SL9000 did an excellent job of minimising aliasing during deinterlacing of high-motion contents. It failed to detect the obscure 2:2 pulldown type B found on the HQV test disc, but such task can be outsourced to a dedicated DVD player, which only leaves broadcast contents (again) to be outsourced if necessary.

Digital Noise Reduction

: Thanks to Adaptive Noise Reduction, enabling NR did not cause any form of adverse motion-related artefacts such as smearing. The motion and saturation levels remained true to the content.
Gaming
The LG 42SL9000 LED TV could have excelled in the gaming aspect, but unfortunately it was let down by an input lag of 53ms. That said, casual players may not be able to detect the latency, and we felt rather comfortable playing First Person Shooters. However, die-hard Call of Duty fans may want to opt for another display with input lag of less than 30ms.
Audio Performance
The sound quality of the LG 42SL9000 LED-based LCD is comparable to a pair of £5 Active Speakers, which isn't a surprise given the available depth. However, the TV does provide some midrange enhancement (Clear Voice II) which should be disabled, and SRS TruSurround XT which was quite effective in creating wider soundstage. It is probably better to invest in external speakers to obtain decent audio performance.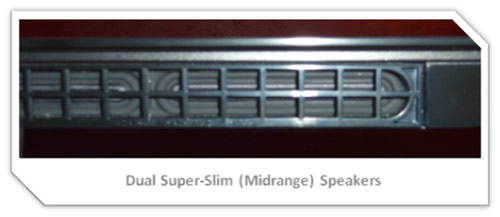 The headphone socket is located at the rear, which can be used to connect to a pair of active speakers (as the volume can be controller via the TV remote), but all enhancement features are automatically disabled. However, it can be quite inconvenient for pure headphone usage.
Conclusion
Pros
Excellent HD Performance
Excellent Built Quality
Defeatable Backlight Dimming
1:1 Pixel Mapping and Aspect Ratio Correction
Accepts Blacker than Black
Excellent Primary Chromaticity (Post-Calibration)
Excellent Viewing Angles (Excluding Black)
Excellent Digital Noise Reduction
Excellent GUI (Minus Calibration Layout)
Negligible Transformer Noise
Lack of Perceivable Backlight Flicker and Trailing
ISF Mode
High-Quality Remote
Excellent Black and Gray Uniformity
Accepts and Displays 1080p/24 Without Telecine Judder
Cons
Input Lag of 53ms
Subpar Sound Quality
No 3D CMS
Average SD Performance via SCART (Including Scaling)
Average Dynamic Range and ANSI Contrast
Visible Banding and Posterization (HDMI)
Unified MCFI and Performance
Summary
The LG 42SL9000 is a testimony to LG's capabilities and an indicator for the things to come. Its picture performance is on par with edge-lit LED-based offerings from competing manufacturers. In fact, certain characteristics of the 42SL9000 (e.g. grey uniformity and pixel response) are clearly superior in comparison to higher-end VA-based models. Sadly other than its fabulous design, the LG 42SL9000 fails to offer genuine stronghold in areas that are of most importance (black levels and input lag), which unfortunately alienates two strong consumer sectors (home cinema enthusiasts and avid gamers).
On a positive note, thanks to its excellent colour and greyscale accuracy, in addition to good (over-all) viewing angles and screen uniformity, the LG 42SL9000 can potentially be used as a reference display which may appeal to image professionals on a limited budget.