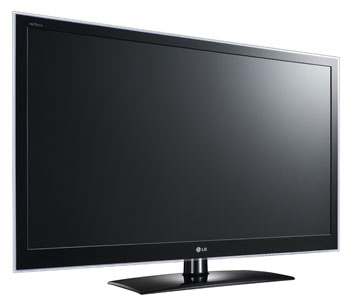 Given the frequency with which its marketing department is sending out press releases in recent weeks, one would think that LG Electronics is the only TV manufacturer unveiling new 3D TV displays at the Consumer Electronics Show (CES) 2011 in Las Vegas next week. The Korean conglomerate has just announced another 3D-ready HDTV that will make an appearance at the company's CES 2011 show area, namely the LG LW6500 series of passive 3D TVs featuring its proprietary "Film-type Patterned Retarder" (FPR) 3D LCD TV technology.

Four screen sizes are in the pipeline: the 42-inch LG 42LW6500, the 47-inch LG 47LW6500, the 55-inch LG 55LW6500, and the 65-inch LG 65LW6500, though which specific models will grace the CES 2011 remains to be seen. All LG LW6500 3DTV sets will be equipped with the company's next-generation FPR LCD screens which were first unveiled at a launch conference in Beijing two weeks ago. Having gathered strong support from research labs, TV makers and retailers, LG claimed that its FPR panel is able to deliver 3D full HD resolution via polarized/ passive 3D technology, therefore largely eliminating the issue of flicker which is commonly encountered on current systems using active shutter glasses 3D technology.
According to a lab analysis from China's Research Institute of TV and Electro-Acoustics, LG FPR 3D LCD TVs exhibited a "Flicker Index" of approximately 0.8, which is significantly lower than the typical readings of over 600 measured on active 3D TVs. Determined to position the LW6500's ability to output flicker-free 3D images as a unique selling point (USP), LG has taken the extra step to obtain certifications from leading independent testing laboratories Intertek and TUV, making the LW6500 the world's first 3D TV to be certified "flicker-free".
Besides producing flicker-free 3D pictures (which also lessen eye fatigue), the passive 3D technology implemented on the LG LW6500 confers further benefits in terms of the compulsory 3D eyewear. Polarized 3D glasses are generally less expensive, lighter (LG quotes a weight of merely 16 grams for each pair included with the LW6500) and more comfortable to wear than active-shutter 3D glasses, since the polarized glasses do not require batteries, recharging nor syncing.
The LCD screens on the LG 42LW6500, 47LW6500, 55LW6500 and 65LW6500 are coated with a thin film dubbed "3D Light Boost" to counter the darkening effect of 3D glasses. Other specifications include LG's Infinia styling, "Smart TV" concept (internet-enabled plus a motion-sensitive Magic Motion remote control), TruMotion 200Hz motion-compensated frame interpolation (MCFI) technology, 2D-to-3D conversion, DLNA/ wifi connectivity, and DivX Plus HD compatibility for the playback of DivX and DivX HD videos.
More details on the pricing and availability of the LG LW6500 3D TV range should be revealed at the company's CES 2011 press conference.