LG Electronics has unveiled its flagship LW980T range of Cinema 3D TVs – comprising the 47-inch 47LW980T and the 55-inch 55LW980T – at the recent IFA 2011 trade show in Berlin. Boasting an impressive list of specifications, the LG LW980T series is set to whet the appetites of video enthusiasts when it eventually hits the market in the UK and Europe.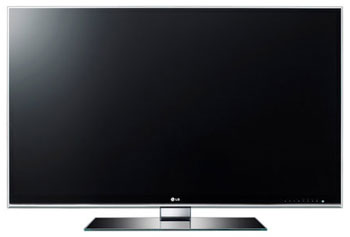 LG 47LW980T passive 3D TV with Nano LED tech
Topping the features list on both the LG 47LW980T and 55LW980T is the company's proprietary Nano LED technology that purportedly combines the strengths of full-array local-dimming as well as edge LED backlighting. A thin film containing a full array of LEDs is deployed on the LCD screen, which is divided into clusters of dimming zones (242 on the 47LW980T; 288 on the 55LW980T) that can be independently switched on and off to deliver deeper blacks and brighter whites for greater contrast levels. In the past, such local-dimming technology typically entails a compromise in terms of physical dimensions, but LG has found a way to bestow the LW980T with an impressive slimness normally only found on edge-lit LED displays.
Originally LG was planning to unleash the Nano LED technology on its active-shutter 3D TV models, but the Korean manufacturer has had a change of heart following its decision to commit to passive 3D. The LG 47LW980T and 55LW980T are equipped with the TV maker's FPR (film-type patterned retarder) 3D LCD panel technology which is capable of delivering flicker-free tri-dimensional images, plus allows for the use of cheaper, lighter and more comfortable polarized 3D eyewear.
One feature the Seoul-based consumer electronics giant has been demonstrating at IFA 2011 is the "Dual Play" functionality on the LW980T HDTV sets. By wearing special polarised glasses (left/left or right/right), two players can take advantage of the polarising characteristics on the FPR panel to enjoy full-screen multiplayer gaming (albeit in 2D rather than 3D) at the same time.
With news that the US equivalent (LG 55LW9800) has become the first passive 3D television to gain THX 2D and 3D Display Certification, it's not unreasonable to expect British and European models to be THX-certified too. Expected to hit the UK market later this month, the LG 47LW980T and the 55LW980T will command suggested retail prices of £1799 and £2499 respectively.