Korean TV manufacturer LG Electronics has launched five new models of LED-backlit LCD televisions in Japan: two featuring the company's proprietary "Nano Lighting Technology"; and three "Cinema 3D" models based on its FPR (film-type patterned retarder) passive 3D technology. Similar HDTV sets were released in Korea early last month, and now the Seoul-based conglomerate is ready to test the waters in the Japanese market with these new models which are certain to appeal to those who demand exquisite aesthetics in addition to excellent picture quality.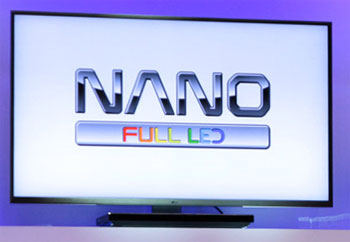 Marketed under the moniker "Nano Full LED", the LG LZ9600 series offers what most lovers of flat-screen television sets are so keen on – an ultra-slim design with a thickness of just 8.8mm which gives the HDTVs a sleek and minimalistic appearance. Two screen sizes are available: the 47-inch LG 47LZ9600 and the 55-inch 55LZ9600 which carry respective retail prices of 290,000 yen (around £2235) and 330,000 yen (approximately £2545).
The 47LZ9600 and 55LZ9600 are no slouches in the specifications department either. The full HD 1080p IPS panels are illuminated by a full array of LEDs divided into separately controllable dimming zones (240 on the 47-incher; 280 on the 55-incher) to achieve greater on-screen contrast through deeper blacks and brighter whites. This is further enhanced by another innovation dubbed "Micro Pixel Control" which allows for manipulation of brightness down to each individual LED, delivering a claimed dynamic contrast ratio of 10 million to 1.
An ultra-thin film imprinted with a finely dotted (a few nanometres apart) pattern makes it possible for the LZ9600 to achieve their slenderness while retaining the superior image quality attributes of direct-lit, local-dimming LED backlighting technology. The LG 47LZ9600 and 55LZ9600 also boasts 480Hz TruMotion MCFI (motion-compensated frame interpolation) system supplemented by scanning backlight, wide viewing angles (a characteristic of IPS LCD panel), and optional USB-HDD recording functionality. Interestingly, the LZ9600 series does not have 3D capabilities, perhaps a sign that the company is truly seeking to maximise 2D picture quality on its flagship range.
Japanese consumers who wish to watch extra-dimensional content will have to opt for the LG LW5700 "Cinema 3D" series that ships with polarized 3D glasses. These 3D TV models come in sizes of 32″ (32LW5700), 42″ (42LW5700) and 47″ (47LW5700), and are priced at 150,000 yen (£1155), 180,000 yen (£1390) and 230,000 yen (£1775) respectively.