Already the de facto leader in large-sized OLED television technology in 2014 given Samsung's pullout and other manufacturers' disinterest, LG Electronics is also going after the UHD (ultra high-definition) market in an aggressive fashion. At the company's product showcase event held at Mercedes-Benz World in Weybridge this week, LG revealed that its new 49-inch Ultra HD 4K TV will go on sale at £1800, making the model one of the lowest-priced 4K TVs in the United Kingdom to date.
Note: Since the publication of this article, a reader (thanks Sachin) has pointed out that the Samsung UE48HU7500 is available to buy for £1699, making it the cheapest 4K television on the market instead of this LG. Our apologies for the oversight.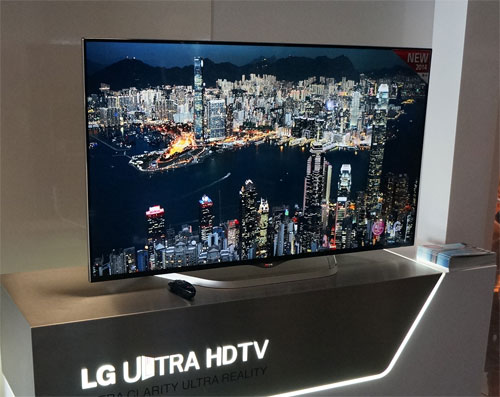 The LG 49UB850V features a native screen resolution of 3840×2160, IPS LCD panel, HDMI 2.0, inbuilt HEVC decoding (allowing access to Netflix 4K), HDCP 2.2 (for playback of future copy-protected 4K content), Cinema 3D (i.e. passive 3D) with two pairs of polarized glasses included, Magic Remote, integrated WiFi, and the brand's new WebOS Smart TV platform. The UB850V also comes in one other screen size, namely the 55-inch LG 55UB850V.
But the LG UB850 isn't the Korean manufacturer's flagship 4K Ultra HD TV series – that honour goes to the UB980V which is available in three versions: the 65-inch LG 65UB980V, the 79-inch 79UB980V, and the 84-inch 84UB980V. Features are mostly the same as the step-down UB850V, with the exception of a 90W 5.2 channel speaker system designed by Harmon Kardon, and of course totally different screen sizes to avoid cannibalisation of sales.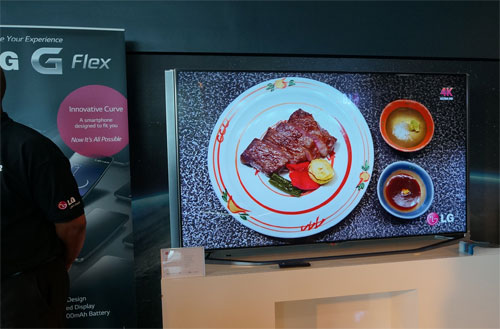 It was the 79-incher that was on show at the LG showcase event we attended, delivering bright, colourful and highly detailed (LG's 4K demo reels are the best we've seen among TV makers) images on an invitingly huge screen. Sound quality was impressive with ample bass and minimal distortion at high volumes, though it's still trumped by the Sony X9's "Magnetic Fluid" speakers in terms of audio clarity and stereo separation. Perhaps the most remarkable element is the LG 79UB980V's scarcely believable price of £8000, which whilst still out of reach for most people, represents a significant discount relative to the £22,500 commanded by LG's first-generation Ultra HD television.
LG's 2014 TV ranges should hit UK stores within the next few weeks – we'll try to get a few models in for review.