OLED television has captured the attention and imagination of the videophile community due to the display technology's ability to render true blacks, and one manufacturer more than others has been responsible to push the technology forward and make it mass-market. In fact, South Korean behemoth LG is the only company with a commercially viable OLED tech at this time of writing, and makes no secret that it is supplying other TV brands with its WRGB OLED panel. Earlier this week, HDTVTest caught up with LG UK at its shiny new headquarters at Weybridge to talk all things OLED, and here are five key takeaways.
Out with the old; in with the OLED
LG believes that OLED is the future of television, and aims to be known as the pioneer of this entirely new category of television. In our opinion, the firm is already well on its way to achieving this goal: largely thanks to its dominance in this area since 2013, LG has become synonymous with OLED among video enthusiast. At the briefing, the company took us through an evolution of televisions from CRT and plasma to LED LCD, culminating in the current OLEDs whose self-emissive characteristic without the need for a backlight unit (BLU) brings many advantages.
Big promotional campaign to build awareness
To make it easier for staff and retailers to drive home the strengths of OLED TV technology, LG has come up with a clever ABCD acronym. A stands for Angle (of viewing); B, Black level; C, colour; and D for design (super-slim). The company revealed that it has invested in a consistent advertising campaign to promote its OLED offerings since 2014, and accounts for more than 60% of TV ad spend (for TV category) in the United Kingdom from the beginning of 2015 until September.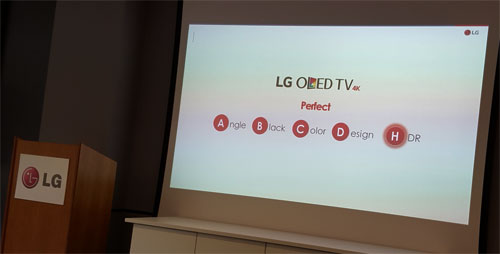 And in an effort to build awareness, LG is not stopping here. The Korean brand has just launched a new advertising campaign this week which will run for eight weeks through the Black Friday shopping frenzy and into the week before Christmas. Through strategic installation and partnerships with various venues like airports, museums, shopping malls and stadiums, LG hopes to increase consumers' exposure to OLED TVs.
LG OLED TVs support two HDR standards
There are at least five different HDR (high dynamic range) standards being developed for widespread acceptance, and LG's 2015 HDR-capable OLED models, namely the curved EG960V and EG920V plus flat-screen EF950V, support HDR-10 and BBC's Hybrid Log-Gamma solution. HDR-10 is used by Amazon Prime Video in its 4K HDR streaming, and most likely will be adopted by Netflix when its HDR content goes live. Ultra HD Blu-ray also supports HDR-10 while including other competing HDR standards in its specifications.
Upon detection of HDR-10 metadata, the HDR mode on the aforementioned LG OLEDs will kick in. As we've witnessed at IFA two months ago, LG's in-house and BBC's UHD HDR material looked spectacular, with enhanced detail in the shadows and highlight areas while maintaining the inky blacks. However, we have to admit that Amazon's Mozart in The Jungle appeared quite dim and muted in comparison during the demo; in fact it came across no better than your bog-standard SDR content. We're not sure if the problem lies with Amazon's delivery, the broadband bandwidth within LG UK's headquarters, or the set's interpretation of PQ (Perceptual Quantizer) EOTF.
LG OLEDs selling well in UK
It's been a challenging year for TV makers in the UK, with GfK data showing that absolute sales value declined 9% YTD (year to date) Sep'15. LG is bucking the trend though, posting a sales growth of 6%, and much of it is attributed to OLED. In fact, the company revealed that more than 99% of £1500+ televisions it sold were OLED models, and when you consider that LG is on track to make up 20% market share in this competitive segment by the end of this year, it means that one in five TVs over the value of £1,500 sold in 2015 could very well be an OLED television.
Curry's 55EF950V & 65EF950V exclusivity
LG told HDTVTest that the current exclusive arrangement with DSG (who owns Currys) and select Euronics retailers with regards to sales of the flat-panel EF950 series will last until the end of 2015. Fear not that prices will remain high though, because Currys has just reduced the prices of the 55″ LG 55EF950V and 65″ 65EF950V to £2,499 and £3,999 respectively. Together with a time-limited 10% discount (enter promotional code LSTV10% at checkout), this brings the price of a 55in flat OLED to £2,249; and 65-incher to £3,599, both with 5-year guarantees, which are frankly bargains to our eyes. Pile in!