Pre-IFA product announcements are rolling in, and it's LG Electronics who has struck first as far as TVs are concerned. The Korean consumer electronics giant has sent word this morning that it will unveil yet another 55-inch OLED TV at the IFA 2013 trade show which kicks off in Berlin this week. However, what gets us excited is that this large-screen OLED display is flat, unlike previous curved versions which both LG and cross-town arch-rival Samsung have released in their homeland of South Korea, the USA and Germany.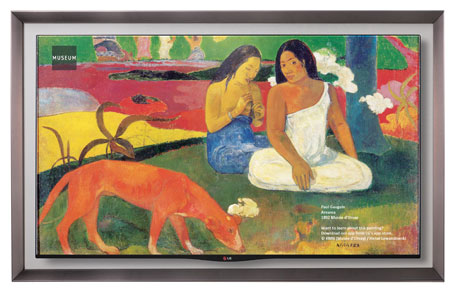 LG's newest 55-incher has been given a model number of 55EA8800 (or 55EA880V/ 55EA880W in the UK and Europe), and a moniker of "Gallery OLED TV". Readers with elephant-like memory may recall that these model numbers were originally assigned to 55in OLED televisions sporting a distinctive "flamingo stand" which was first spotted at CES at the beginning of the year. It seems that LG has decided to abandon the one-legged stand, choosing instead to make the OLED panel wall-mountable like a piece of art. Considering its "Gallery OLED TV" label, we're not even sure if the EA8800 will ship with a table-top stand.
The LG 55EA8800 uses the company's proprietary WRGB technology which incorporates an additional white subpixel – this purportedly costs less to manufacture than Samsung's "true" RGB OLED design. OLED display technology has long been hailed as the future of television for many reasons, and we expect the EA8800 to deliver absolute blacks, vibrant colours and plasma-like viewing angles – all encased within a super-slim and lightweight chassis.
Other features include full HD 1080p rather than 4K resolution, a forward-facing 2.2 channel audio system – dubbed "Canvas Speakers" – that is embedded within the aesthetically understated bezel under the guise of faux art mat, as well as a Gallery Mode that lets you enjoy high-res legendary paintings from Vincent van Gogh and Paul Gauguin, or just your own personal photos in slideshow format.
The LG 55EA880V/ 55EA880W OLED television will go on sale in Germany this month, with rollout in other markets to follow, though no price has been mentioned. The TV will be on exhibit at LG Electronics' stand at IFA 2013, namely Hall 11.2 in Messe Berlin. In case you've missed it over the weekend, here's a manufacturer-by-manufacturer breakdown of the new TVs we expect to see at this year's IFA.