Consumers in Germany will be the first in Europe to get their hands on shiny new OLED display technology after LG Electronics announced the arrival of its 55-inch 55EA980V curved OLED TV in the country, ahead of a wider European launch expected in the coming months.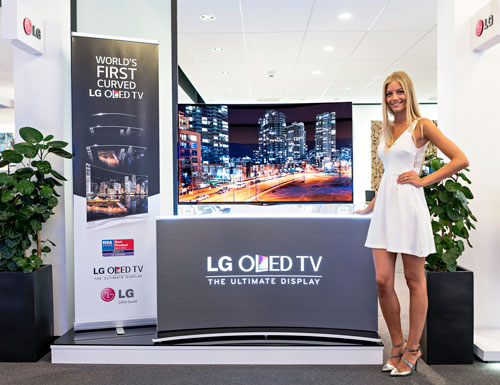 LG made its announcement over the weekend, saying that its next-generation TV – which was first spotted in Las Vegas at the 2013 CES – would go on sale in select German retailers for €8,999 (about £7,733) later this week.
We've previewed LG's 55EA9800 before, but in case you missed it and are wondering what all the fuss is about, the Korean manufacturer gave a few details in its press release. Measuring just 4.3mm in depth and weighing barely 17kg, the principle behind curved OLED technology is that not only does it bring the most awesomely colourful and dazzling images ever, but it also recreates an IMAX arena-like experience in your living room. The idea is that the curved screen ensures that every part of it is the same distance from your eyes, allowing you to focus on 100% of the screen without any blurring at the edges. The fact that LG is releasing its curved OLED model instead of the flat-screen version (just like it did in the USA) does give us reason to ponder if the latter will ever make it to these shores – just like Samsung, LG's remaining completely tight-lipped about its reasons for this decision, something that suggests all future OLED models may be of the bendy variety.
LG's curved OLEDs will go on sale in Germany this week, before landing in other, non-specified European countries in the last three months of this year. Interestingly the €8,999 asking price is considerably cheaper than what the 55EA9800 retails for in the US, around $3,000 less. It's likely that this is retaliation by LG for Samsung's decision to slash the price of its curved OLED television in the US to just $8,999 two weeks ago, suggesting that LG may well take similar action in the States too.
LG hasn't said for definite that the 55EA980V will arrive in the UK this year, but given how important us Brits like to think we are, we think it's safe to assume we should be able to get our hands on one in time for Christmas.
In-Kyu Lee, vice president and head of LG Electronics' TV division, said in a statement that the firm is committed to delivering the most advanced OLED experience to its customers in Europe.
"With its beautiful, ultra-thin curved design and next-generation display technology, the 55EA9800 curved OLED marks the beginning of a new era when it comes to home entertainment," said Lee.