After what seems like a long wait, LG Electronics has finally launched its 55-inch curved OLED TV in the United Kingdom. Given a model number of 55EA980W, the stunning next-generation display will go on sale at selected retailers across the country as of today.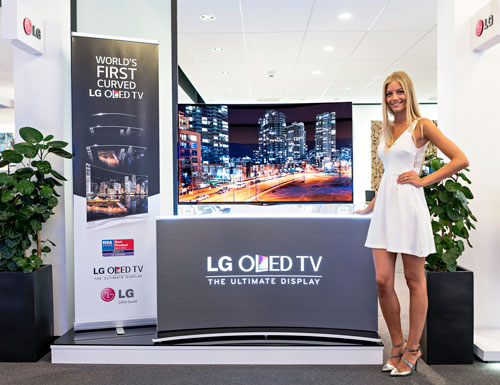 British consumers will now be able to get their hands on this television which was first released in the company's native homeland of South Korea, and subsequently the USA and Germany.
The LG 55EA980W features the company's White OLED technology, a full HD 1080p rather than 4K resolution, passive 3D (dubbed "Cinema 3D") capabilities, Smart TV functionalities, a super-slim design at just 4.5mm thick, as well as a gentle curvature to distinguish it from the swarm of flat-screen TVs available on the market. Of course, the most appealing aspect about OLED technology is its picture quality, which is capable of delivering true blacks, bright whites, vibrant colours, and wide viewing angles due to OLED's self-emissive characteristic.
Commenting on the launch, LG UK's commercial director of consumer electronics Andy Mackay said,
As pioneers of the World's first and leading Large Screen OLED Technology, we are excited to launch and bring our unique and immersive, Curved Screen Design to consumers here in the UK this Autumn.
LG's 55in EA980W curved OLED HDTV has been given a price tag of £7,999, which surprisingly is £1,000 more expensive than Samsung's rival curved OLED model the KE55S9C that is available to buy exclusively from upmarket retailer John Lewis at a price of £6,999.