South Korea's LG Electronics is pushing its OLED display technology to the fore with the inclusion of its 'affordable' 55EG920V 4K OLED TV in a brand new marketing campaign that's offering free, six-month subscriptions to Netflix Premium to anyone who buys one of its latest 4K TVs.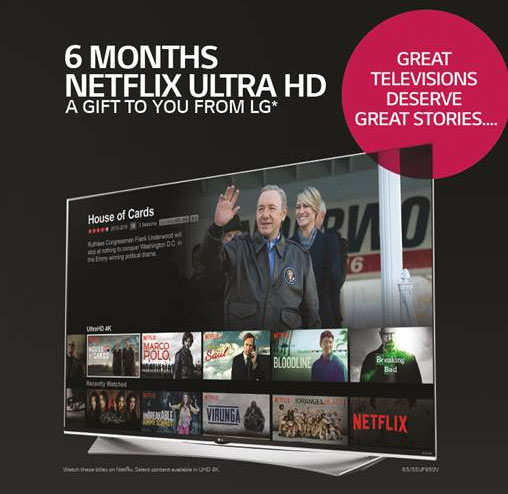 LG announced the Netflix deal this week, saying the offer runs until the 29th of July. Each new LG smart TV will come with a special voucher containing a code that gives free access to Netflix's video streaming service for six months, including all 4K Ultra HD content which costs £8.99 per month for new subscribers. That's not a bad deal sweetener, considering native 4K content is pretty much non-existent anywhere else in the UK at present.
More interesting though is LG's listing of a new EG920V ultra high-definition (UHD) OLED television in the special offer. This model appears to be the more affordable entry-level 4K OLED which is expected to launch at IFA this September, something LG UK's product manager of home entertainment Robert Taylor hinted at during the company's product launch event last month.
LG hasn't said a great deal about the 55EG920V, but what we do know is it'll feature a 55-inch curved screen with 3840×2160 resolution, inbuilt HEVC decoding, three HDMI ports, and is likely run on the older WebOS 1.0 Smart TV platform. Preliminary retail price seems to be set at £2,999 at time of publication.
The inclusion of the 55EG920 in this year's big marketing campaign confirms what HDTVTest has suspected for some time, that LG is determined to ensure that OLED doesn't just remain a niche product. Up until now, the South Korean manufacturer has positioned its OLED televisions as a premium product for those who want the very best in picture quality.
No one is denying OLED delivers superb image quality mainly due to its self-emitting display characteristic that's capable of rendering true blacks, but the real reason LG was asking for such a high price was because the technology was incredibly difficult and expensive to manufacture. But that's no longer the case – last year LG finally cracked the problem of low yields, and announced it was planning to ramp up production.
Clearly LG is going all out with its OLED efforts in 2015. With its plan to flood the market with more OLEDs than ever before, at a much lower price point, AND with 4K resolution, hopefully it won't be long before OLED finally becomes mainstream.