For video enthusiasts seeking a replacement for the now-defunct plasma television, the large-screen OLED TV waiting game has been a long and protracted one, not least due to the difficulties manufacturers face in making this mouthwatering display technology commercially viable. However, there appears to be light at the end of the tunnel, with several signs pointing to the imminent arrival of LG's highly anticipated 4K Ultra HD OLED TVs in the United Kingdom.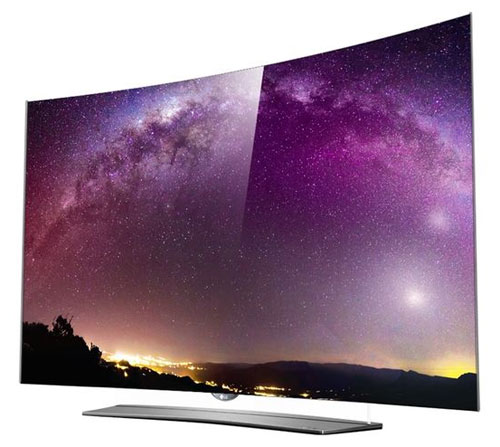 At the company's 2015 UK product launch event earlier this month, we were told that 2014's carry-over 65EC970V and this year's new LG 55EG960V and 65EG960V 4K OLED displays will be released together at around the same time between March and April. Now, it seems increasingly likely that the EG960V series – featuring a faster processor and upgraded WebOS Smart TV software – will land on these shores before the EC970V that's been repeatedly delayed since June last year.
Last week, the team at AV publication What Hi-Fi tweeted a photo of an exclusive review sample of what appeared to be the new LG EG960, judging from the curved base carrying an "OLED" inscription, and the transparent stand to give a "suspended-in-air" impression. Also, LG UK put up a video of a new ad extolling the virtues of OLED's true blacks, ending with a product shot of the 65EG960V instead of last year's 65EC970V:
Last but not least, British retailer Currys has this week listed the 55-inch LG 55EG960V for sale at £3,799 (which is accurate to the retail price suggested by the South Korean manufacturer during its UK launch event), with availability slated for between two and four weeks. 4K UHD (ultra high-definition) OLED is here finally, and we can't wait!