LG Electronics has unveiled its EM960V series of OLED television at an event in Monaco this week. The LG 55EM960V – described as the "most advanced commercial OLED TV" by the Korean consumer electronics manufacturer – is scheduled to hit European markets in the second half of 2012 at a price of 9,000 euros (around £7,200).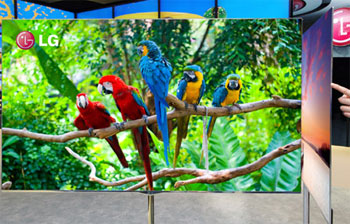 LG 55EM960V OLED TV price (£7k) & availability revealed
The 55-inch OLED (organic light-emitting diode) display features LG's 4 Colour Pixel (red, green, blue and white) and Colour Refiner technologies, which according to the company produce some of the most vibrant yet natural images available to the human eye. And because OLED TVs are self-emissive (unlike LED or LCD TV displays which require a separate backlight unit), the LG EM960V is capable of delivering outstanding blacks as well as wide viewing angles.
To sweeten the deal even more, the 55EM960V dons an exterior that boggles imagination – the set measures only 4mm in depth and 10kg in weight, thanks to the use of carbon-fibre reinforced plastics. Of course, being a technological showpiece, the LG 55EM960V comes equipped with the firm's passive Cinema 3D capabilities and internet-connected Smart TV functionalities.
LG Home Entertainment Company's president and CEO Havis Kwon pointed out that only a handful of innovations in the history of television have made as big an impact as the arrival of OLED TV. He added that the TV maker intends to make "OLED synonymous with LG", driven by the launch of the EM960 which marries class-leading picture quality with stunning aesthetics. LG's Europe Operations head Stanley Cho believes that the company is on course to become the region's leading TV brand, with the EM960V spearheading its premium HDTV lineup.
The LG 55EM960V will be available to preorder in the UK from July 2012 for delivery before Christmas. The Seoul-headquartered conglomerate is embroiled in a head-to-head sprint against cross-town rival Samsung to release the world's first large-screen OLED television on the consumer market. Earlier this month, the latter confirmed its plan to launch its own 55″ ES9500 OLED TV in the second half of this year, albeit only in its home country of South Korea initially.