Ever keen to step up its marketing efforts, LG Electronics has just rolled out a new global brand identity strategy tied to an "It's All Possible" theme, in a campaign that will see the company showcase its latest OLED TVs at 45 international airports worldwide.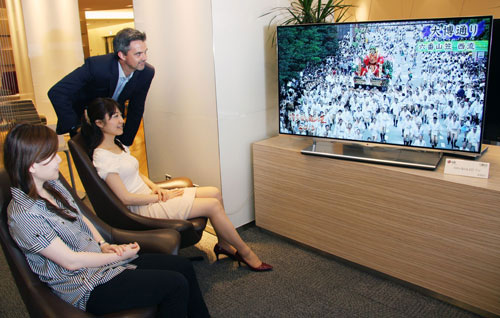 Explaining its new rebranding, LG stated that the idea was to "play up" the rapid advances in technology and consumer's behaviour, with the new theme conveying a new message: "LG's consumer-focused goals to inspire, empower and make consumers smile."
A spokesperson for the Korean TV manufacturer said that the new theme will help to consolidate LG's brand affinity, something that has become increasingly important to the company in a super-competitive global marketplace. As part of its new marketing efforts, LG plans to stress its mission of "delighting customers with unique, consumer-focused products that create value-added solutions to enhance people's everyday lives".
LG launched the "It's All Possible" theme on the 1st of August, with a new video advertisement being displayed on the company's electronic billboard in Times Square, New York, and also visible on its website at www.LG.com. The new theme will sit alongside the company's existing "Life's Good" tagline.
The Seoul-based conglomerate plans to follow this up with an intense marketing campaign for its newly released 55-inch OLED TVs, which are set to be showcased at 45 international airports later this month, starting with Tokyo's Narita Airport in Japan. The effort will expose thousands of air travellers to the amazing picture quality delivered by LG's OLED television technology for the first time, with the Korean brand's displays scheduled to appear at airports in cities such as Bangkok, Berlin, Dubai and New York.
LG Electronics' Home Entertainment Company president and CEO Havis Kwon said that the airport advertising campaign would help to showcase the "future of television" to a global audience for the first time.
"We're giving consumers a unique opportunity to see for themselves how superior OLED is from traditional flat screen TV displays. OLED is something that cannot be described, it has to be seen to be believed," stated Kwon.
The airport campaign is an inspired move by LG, which will see its latest high-end TVs exposed to a wide variety of consumers, including business travellers and families travelling on holiday. The LG 55EM9700 HDTVs will be on display in airport lounges, giving travellers plenty of time to soak up the experience and decide if OLED is for them.
LG first launched its OLED TVs in South Korea earlier this year, more than 12 months after it first showcased the technology at CES 2012. The company beat cross-town rival Samsung to the punch by several months, and has so far sold "several hundred" OLEDs in its home nation, with the curved version only recently going on sale in the USA.