It's the moment that thousands of TV diehards have been waiting for – LG Electronics has finally announced that it's ready to start taking pre-orders on its eagerly anticipated 55-inch OLED TVs in its home country of South Korea, with shipments to begin as soon as this February.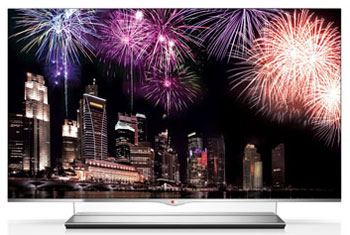 LG taking 55EM9700 OLED TV preorders in Korea; price £6.3k
LG, who first unveiled its award-winning OLED TV almost one year ago at CES 2012, said that its next-generation HDTVs would cost five times the price of a similarly-sized LCD TV when they hit the stores next month. OLED display technology has long been billed as the "future of television", offering higher contrast images than anything preceding it, as well as superior energy efficiency. In addition, OLED panels can also be made much thinner than LCDs, to the point that it's likely we could soon see flexible mobile devices using the technology in the near future.
According to LG, the new 55EM9700 OLED TV will cost 11 million won (around £6,300) to preorder in its native South Korea, with shipments pencilled in for the first week of February. The company plans to parade the new OLED televisions in more than 1,400 South Korean retail outlets during the next month, with similar launches in the US, Europe, and other Asian countries planned for the near future.
Update: LG UK has confirmed that its 55-inch OLED television (model number 55EM970V) will be launched in the United Kingdom some time during the first quarter of 2013.
The news has been well received by shareholders, with LG's share price shooting up by 5.4% in the hours following the announcement, representing the company's largest daily share appreciation for more than five months. LG, along with the world's number one TV manufacturer Samsung, has long been pinning its hopes on OLED technology to reverse the global decline in television sales, and help widen the gap between them and Japanese rivals like Sony and Panasonic, which have placed their chips (for now) on Ultra HD 4K TVs instead.
Even so, there is a long way to go yet before OLED can make a significant difference to the global HDTV industry's fortunes, given the prohibitive price of the technology. Whilst worldwide sales are forecast to leap from 50,000 in 2012 to 1.7 million units by 2014, this still only represents a fraction of the 250 million televisions that are expected to be sold during 2013.
One of the main reasons for OLEDs high cost is that neither LG nor Samsung has managed to perfect its manufacturing processes, resulting in extremely low yields that drive up production costs.
There's been no word from Samsung on when it might release its own OLED TVs to the mass market. The world's largest TV maker had originally planned to begin shipping its own ES9500 OLED TV last year, only to delay their launch due to poor market conditions and high production costs.
But now that LG has played its hand, all eyes will be on Samsung at next week's CES 2013 to see what surprises they might bring to the table…