LG Electronics has today officially confirmed that its 55-inch OLED TV will be coming to the UK. In a move devised to emphasise the display's premium status, the 55EM970V will be showcased exclusively at luxury department store Harrods in Knightsbridge, London.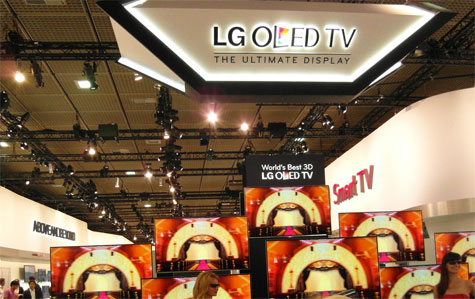 LG 55EM970V OLED TV up for preorder in UK: price £10k; ships July
Both LG and cross-town rival Samsung have been whetting our appetite with numerous "launches" and demos of their OLED TVs at consumer electronics trade shows since 2011, but due to rumoured difficulties in obtaining high enough yield rates to make the venture commercially viable, there have been repeated delays in actually getting the much-anticipated HDTV sets onto store shelves.
However, that is all due to change this year, with LG being the first to release its version albeit initially only in its native country of South Korea. According to the manufacturer, the United Kingdom will be the first European market to be getting the much-anticipated 55″ OLED television.
Commenting on the launch, LG UK's president Brian Na said that the company is proud to be the first in the world to bring a large-screen OLED display to the public, which is set to revolutionise the TV market.
The EM970V uses WRGB organic light-emitting diode technology to deliver supremely deep blacks, vibrant colours as well as wide viewing angles, whilst at the same time measuring only 4.5mm in depth, and weighing less than 10kg. Other features include the Korean firm's passive Cinema 3D technology and Smart TV platform, not to mention a near-bezelless Cinema Screen Design.
The 55EM970V will be exhibited at the Harrods Technology section located on the third floor of its flagship Knightsbridge store, which also carries another of LG's world's first – the 84LM960V 84-inch ultra HD 4K TV. The 55in OLED TV is available to preorder now for delivery in July, with an estimated price tag of around £10,000.