LG Electronics stopped short of holding an official press conference at the IFA 2012 consumer electronics trade show in Berlin this week, instead opting to show members of the press around its booth with sessions of guided media tour. This is probably because the company's two killer products – the 55-inch 55EM970V OLED TV and the 84-inch 84LM960V 4K TV – have been making the rounds at similar events since January, and will be familiar to presser-weary journalists.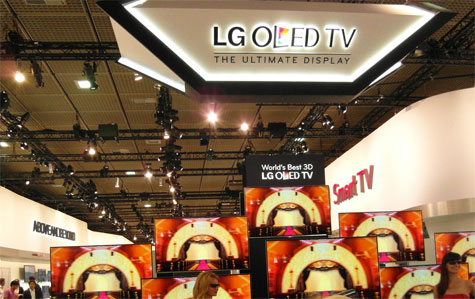 LG 55EM970V OLED TV does the rounds at IFA
Although its much-anticipated 55″ organic light-emitting diode (OLED) television has been unveiled earlier this year at the Consumer Electronics Show (CES) in Las Vegas, and then subsequently at a launch event in Monaco, the Korean TV manufacturer still took the opportunity to showcase the jaw-dropping display once again, as it vies for dominance in the OLED arena against cross-town rival Samsung.
Carrying the tagline "Above and Beyond", the LG 55EM970V features self-emissive pixels which can be switched off completely on a per-pixel basis, resulting in the deepest blacks imaginable. This provides a perfect canvas for the colours – rendered through the firm's WRGB 4-subpixel and Colour Refiner technologies – to pop in a manner that has the potential to surpass even the legendary Pioneer Kuro plasma TVs. 
In terms of availability, LG said the EM970V is still on track to be released by this Christmas, with a price tag close to £10,000.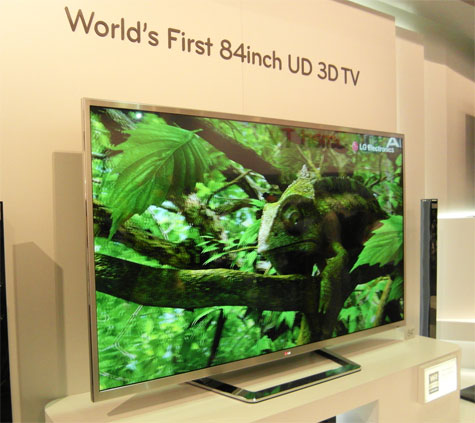 The other impressive display on show was of course the Seoul-headquartered conglomerate's 84″ ultra-definition TV with a native screen resolution of 3840 x 2160, quadrupling the number of pixels found on "regular" 1080p HDTV sets. Equipped with LG's proprietary FPR (film-type patterned retarder) technology, the 84LM960V not only is capable of delivering full HD 1080 images to each eye via passive 3D (of which the company is the fiercest advocate), but also allows for multi-view gaming where two players watching the same panel can get different perspectives without needing to resort to split-screen.
Already out in the company's home country of South Korea, the LG 84LM960V will make its UK debut around October priced at approximately £15,000.