LG was the first of the big TV manufacturers to step into the Ultra HD 4K arena when its monster 85-inch LM9600 hit the shops in July last year, and it initially had a big impact, selling 300-odd TV sets within the first six months. But with a price tag of 25 million won (about £14,500), the vast majority of videophiles were left on the sidelines to await something that they could actually afford in this lifetime.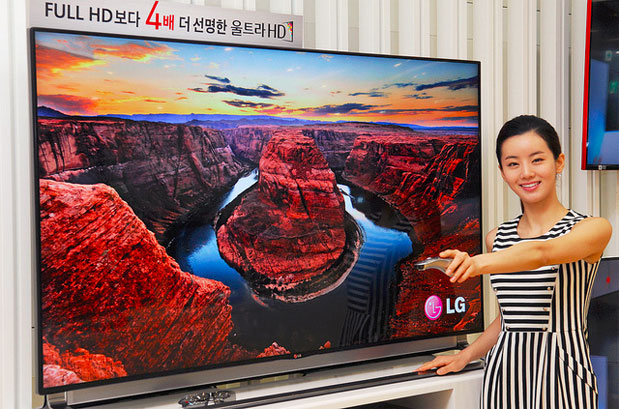 LG launches 55-inch LA9700 & 65-inch LA9700 4K TVs in Korea
Now, almost one year later and LG is finally ready to start selling its 4K technology to the average Joe, taking the wraps off of its 55LA9700 and 65LA9700 4K Ultra HD TVs, which will go on sale Korea later this month.
LG announced in a press release that it's now taking pre-orders for its more realistically-sized 4K TVs, entering into direct competition with rivals Samsung and Sony, whose own smaller sets were announced in the last month. They still won't be cheap of course, but for Korean consumers who are determined to get their hands on the latest and greatest in display tech, LG's newest TVs are just about affordable. According to its press release, the 55-inch version will retail at 7.4 million won (about £4,300), with the larger 65-inch model commanding a 10.9 million won (£6,300) price tag.
As with the earlier 84-inch version, LG's more compact variety sports all of the features that define its smart TV range, including its funky Magic Remote that allows viewers to navigate the Home Dashboard via a series of intuitive gestures, video upscaling to 4K standard, voice recognition technology, and more than 1,400 apps available to download. On the audio front, the TVs boast LG's latest 4.1 channel, front-mounted "moving speakers" which are claimed to provide a sharper, more unified sound quality.
As always, the only problem with 4K TVs is the lack of anything decent to watch on them, aside from a few demonstration channels and the odd movie or two produced by the manufacturers themselves. However, LG appears to be making inroads on that front, claiming that it's signed "cooperation agreements" with a number of Korean broadcasters and content makers to begin producing more native 4K content.
No word yet on a UK release date, but with Samsung and Sony's smaller 4K models already on the way, we can't imagine that it'll be too long before LG does the same. Feel free to check out LG's machine-translated press release for more information.
Source: LG Newsroom