LG has quietly dropped a Christmas present for fans of OLED TV display technology. It appears that the South Korean manufacturer has submitted a slew of its new 2015 TVs for MHL (Mobile High-Definition Link) and WiFi certification, revealing at least two upcoming series of UHD (ultra high-definition) OLED televisions, including a flat-screen version which have been a long time coming.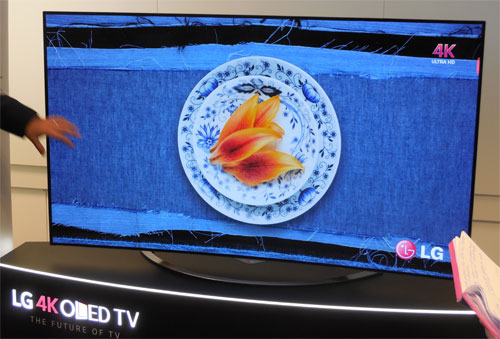 Trawling through the approved product database on the MHL and Wi-Fi Alliance websites, we found the following model numbers:
65EG990V, 65EG9900, 77EG990V, 77EG9900
65EF980V, 65EF9800
Drawing upon our knowledge of LG's TV nomenclature (the first two numbers represent the screen size; whereas E denotes OLED models), we can surmise that the EG990V is the successor to the EC970V curved 4K OLED television in the UK and European markets, coming in 65-inch and 77-inch sizes. The EG9900 is the equivalent North American model.
Given that it's nearly the end of 2014 and we've not yet seen any LG 65EC970V 4K curved OLED in the wild (at least in the United Kingdom), one wonders if the company still intends to put that particular model on store shelves, or indeed if potential buyers will still be willing to shell out £6,500 for one when a replacement is months away.
Perhaps more appealing to detractors of curved TVs is the LG EF980V series which seems to be a flat-panel 4K Ultra HD OLED TV (F=flat?), available in one single 65in size. Again, the EF9800 is the corresponding range destined for the US market.
Interestingly, Wi-Fi Alliance lists several additional OLED-specific model numbers:
55EG960V, 55EG9600, 65EG960V, 65EG9600
55EF950V, 55EF9500, 65EF950V, 65EF9500
Going by the assumption that EG represents curved OLEDs whilst EF stands for non-curved versions, there should be a new 55-inch flat-screen OLED television in the form of the EF950V/ EF9500 series, which will please viewers who are hell-bent against curvy tellies.
The only question is whether the EG960V/ EG9600 and EF950V/ EF9500 are feature-stripped 4K UHD models (for example, slower onboard processor, lack of motion-enhancing technologies, older WebOS, etc.), or full HD 1080p displays. Our guess is the former, considering how hard it is to convince consumers to pay premium prices for non-4K televisions these days.
Of course, there's no guarantee that any of these MHL- and WiFi-enabled OLED TVs will make it to market, but by the same token, it's highly unlikely that LG and these organisations would waste their resources certifying vapourware. We shall learn more when we visit LG's show hall at CES 2015 in Las Vegas next month.