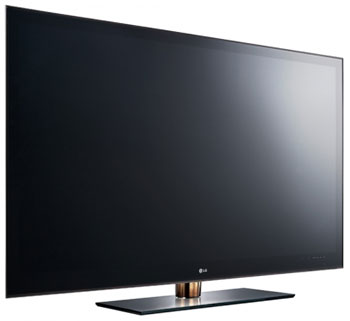 LG Electronics, the second largest TV manufacturer in the world after Samsung, is set to unveil the LG 72LZ9700 3D-ready LED LCD TV at the Consumer Electronics Show (CES) 2011 in Las Vegas next week. The Seoul-based conglomerate claims that the LZ9700 72-incher will be the world's biggest "full LED 3D TV" at launch.

While details remain sketchy at the moment, the LG 72LZ9700 appears to be very similar to the LG 72LEX9 – then also touted as "the largest commercial 3D LED TV" in the world – launched in the company's home country of South Korea back in October. Both the LG 72LZ9700 and the LG 72LEX9 are local-dimming LED-backlit LCD HDTV displays boasting 3D capabilities, and in both cases the Korean TV maker has carefully qualified the superlatives used to describe the 3DTV sets, instead of simply calling them the "world's largest 3D TV" (that honour would probably go to Panasonic's 152-inch full HD 3D plasma TV with 4K x 2K resolution).
Like the LEX9, the LG LZ9700 range of 3D LED TVs sports a full array of LEDs that illuminates the LCD screen. These LED bulbs are in turn regulated by "Micro Pixel Control" video processing, which is essentially LG's local-dimming algorithm that allows the brightness of each LED to be controlled separately, resulting in deeper black and greater contrast levels.
The inclusion of 400Hz Trumotion MCFI (motion-compensated frame interpolation) technology on the LG 72LZ9700 will hopefully deliver higher motion resolution as well as reduce crosstalk during 3D viewing. Besides the usual connectivity features of DLNA, USB and media sharing, the 72LZ9700 is also equipped with LG's Smart TV functionalities which combine a selection of internet-connected web apps and a motion-sensitive "Magic Motion Remote Control" (akin to the Nintendo Wii remote) to create a unique UI experience.
While LG has hinted that the LZ9700 series of full HD 3D LED LCD TVs will be released in the USA early next year, pricing and availability in the UK and European markets will probably only be announced during the company's press conference at CES 2011.