Lots of 4K Ultra HD TVs, curved displays, and OLED televisions were on show at IFA 2013 this week (certain models even combining all three of these hot features in one set), but what would you think of a 4K curved OLED TV that measures a mammoth 77 inches in screen size? Because that's what LG Electronics has just unveiled at the consumer electronics event, and it looked absolutely stunning.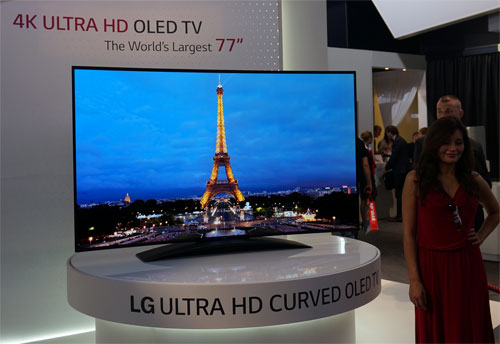 LG's timing of the unveiling was extremely interesting. Despite rumours that the Korean manufacturer will showcase a 77in OLED television at IFA (as we first reported in our pre-IFA preview), the gigantic display wasn't actually present on LG's showhall on Thursday the 5th of September which was the designated press day.
However, the very next day when LG opened its doors to the public, there stood the majestic 77-incher as the centrepiece, attracting tons of attention from attendees – presser-weary tech journalists not excepted. Perhaps LG was waiting to see what fierce cross-town rival Samsung was up to before showing its hand?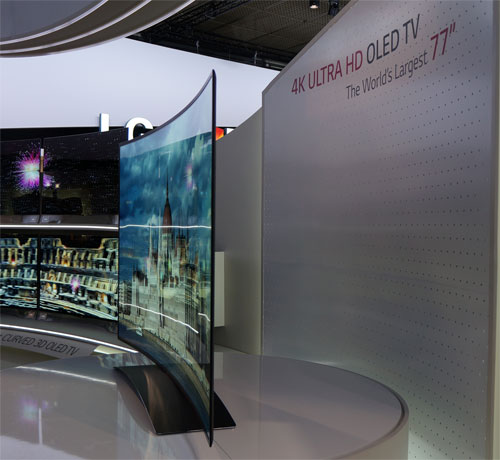 Earlier in the week, Samsung unveiled the world's first curved 4K OLED TV which comes in 55 inches. This is comfortably dwarfed by LG's 77-inch 4K Ultra HD OLED TV which also sports a slight concavity, earning it the "world's largest" honour. Although the display is earmarked for commercial applications rather than for the home, it proves that large-screen OLEDs can go beyond 55″, even though a curvature may be necessary to make this possible.
Commenting the 77″ Ultra HD 4K curved OLED TV which uses the brand's WRGB OLED (or technically white OLED with colour filters) technology, LG Home Entertainment Company's president and CEO Havis Kwon said that it is proof that the firm "will never stop pushing the boundaries and exploring new possibilities".