Would you really like to impress your mates with the most amazing gadget available on the market right now? If so, you can forget all about saving up for the latest iPhone when it comes out this autumn, what you really need to get your hands on is LG's 84-INCH MONSTER of a television set with 4K UHDTV resolution.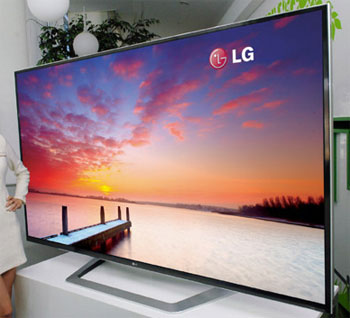 LG unveils 84LM960V 84-inch 3D 4K UHDTV in Korea
Yep, you read that right – an 84″ beast of a TV sporting a mind-blowing 3840×2160 ultra-high definition resolution, and it's all set to hit the high street shops from next month. 4K resolution isn't anything new of course, as we've previously seen it on the likes of Toshiba's 55ZL2, but at 84 inches, that gives us a screen that's almost double the size of that particular display.
Obviously, with so many more inches, that's something which will be reflected in the price of LG's newest baby. Although the South Korean manufacturer has yet to announce how much the 84LM960V will cost in the UK, its 25 million won price tag in its native Korea equates to around £13,999, approximately twice the price of the aforementioned Toshiba.
Being such a new technology, there isn't an awful lot of content available that takes advantage of the TV's 4K Ultra High Definition Resolution, something that LG's CEO Havis Kwon acknowledged in his official press release announcing the 84LM9600 (which is the official model number of the UDTV in other parts of the world):
"The 4K Ultra High Definition Resolution is a technology that's still in its infancy, but we felt that it was important for LG to make the first move in this space."
As with all of LG's high-end HDTV models, the 84LM960V sports all of the latest smart TV features that define these products, including its latest Magic Remote that allows for intuitive navigation of the Home Dashboard. In addition, those with the money (and a living room that's big enough!) to shell out on such an immense piece of hardware will also gain access to premium content services like 3D world, as well as more than 1,400 apps available through the company's Smart TV ecosystem.
The 84LM9600 also supports portable devices such as smartphones, tablets and laptop computers, meaning that even more content can be accessed through the Smart Share Plus feature, while computer gaming is taken to a whole new level thanks to its embedded 2D to 3D conversion engine. The 84″ 3D 4K UHDTV is no slouch on the audio front either – boasting a 2.2 Speaker System with a pair of 15W woofers and two 10W speakers.
The LG 84LM960V will be showcased at this year's IFA 2012 show in Berlin, Germany, before going on sale across the world in September – watch this space for further updates!