The LG 84LM960V will set you back a pretty penny or two, but its high price tag is unlikely to put off those who have been eagerly awaiting the UK release of the monster 84-inch ultra high definition (4K) LED LCD television.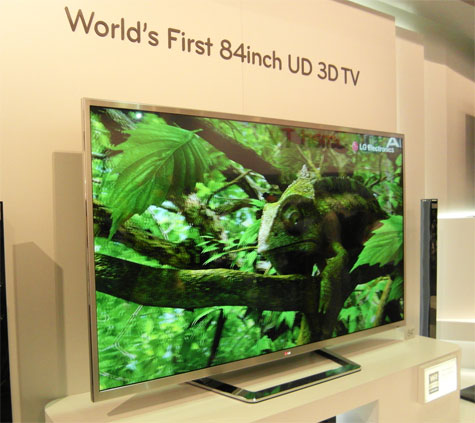 LG 84LM960V 84-inch Ultra HD 4K TV hits UK after Gadget Show launch
The South Korean firm has announced that its gargantuan 'daddy' of home entertainment has just hit British high street stores, becoming the first commercially available 4K TV set in the United Kingdom.
LG made its announcement earlier today at the Gadget Show Live, where it showed off its new £22,500 product boasting an 84-inch screen that supports ultra high definition (UHD), with a picture quality of a stunning 8 million pixels per frame, a full four times the resolution (3840×2160) of bog standard 1080p HDTV panels available till now.
4K is the hottest new trend in the TV sector today, and LG Electronics is trying to establish itself as the leader as manufacturers scramble to stake a claim in this emerging space.
Previously, we've seen the likes of Toshiba unveil a 55-inch 4K TV, while Panasonic has offered up a 20-inch variant. Hot on their heels is Sony with its mammoth KD-84X9005, another 84-incher boasting a 3840×2160 screen resolution.
However, it's LG that has staked the first claim for a piece of the UK's 4KTV market, with its 84LM960V set to arrive in ten flagship UK stores before Christmas, including Bentalls Kingston, Richer Sounds Southampton and John Lewis Sloane Square.
Stephen Gater, LG's consumer marketing director, said today that the company is "proud to be the first to offer Ultra High Definition technology to UK consumers".
"Our LM960V's functionality is just as impressive as its size, as proven when it amazed audiences earlier this year at the IFA. It represents every single advancement in technology that we, as a TV manufacturer, are proud to offer.
"We're confident that our 4K TV is going to capture the imagination of UK consumers when they finally see it for the first time with their own eyes".
LG says that its LM960V looks superb even with standard, non-4K content, as it uses a Triple XD Engine to boost picture quality. In addition, content from external sources like websites and hard drives can also be rendered in high detail the same way.
Even so, viewers who can afford the sets will have a problem getting their hands on native 4K content they can actually watch. As with 3D TV, which was only released two years ago, there is a distinct lack of native content available – something highlighted by Sony's decision to bundle in a loaned Ultra High Definition media player and ten movie titles with its own 84″ UHDTV.
Until more 4K content becomes available, and until the price tag of such sets comes down a notch or two (or three!), Ultra High definition TV in the home is likely to remain a luxury that few will even be that bothered about, yet alone be able to afford.