LG Electronics has confirmed that active-shutter-glasses (ASG) technology will only be deployed on the company's 3D plasma TV sets for the year ahead. Believing that passive 3D represents the way forward for the 3D-at-home revolution (at least until glasses-free 3D becomes technically and commercially viable on a large-screen display), the Korean HDTV manufacturer will be using polarized "Cinema 3D" technology on its 2011 lineup of LED-based 3D TVs across the board.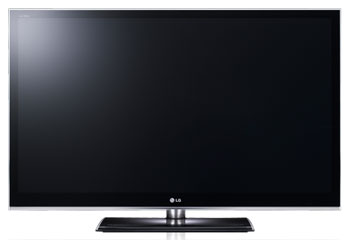 The LG plasmas that will feature active 3D technology include the PW450T, PZ250T, PZ550T, PZ570T and PZ950T series. All models in these plasma-based 3D TV ranges will have Freeview HD tuner built in, as well as 600Hz subfield motion. The entry-level PW450T series, comprising the 42-inch 42PW450T and the 50-inch 50PW450T, will only sport a HD-ready native screen resolution of 1024 x 768.
All other LG 3D-capable plasma TVs for 2011 will feature full HD 1080p resolution. Going up the hierarchy, the PZ550T adds 2D and 3D THX certification; the PZ570T adds the company's new Smart TV internet-connected platform; and the top-of-the-line PZ950T sees the inclusion of a wifi USB dongle for wireless connectivity, and a motion-sensitive Magic Motion remote for more intuitive interaction with the TV's user interface. These LG plasma tri-dimensional televisions will come in screen sizes of 50″ (such as the 50PZ570T and the 50PZ950T) and 60″ (like the 60PZ570T and the 60PZ950T).
LG had originally planned to implement active-shutter 3D technology on its forthcoming LW950T series of flagship LED-backlit LCD TVs blessed with Nano Lighting Technology, but after some careful consideration, the Seoul-based TV maker made a strategic decision to use polarized 3D instead on the 47LW950T and 55LW950T. This is hardly surprising given the positive reception received for the company's "Cinema 3D" TVs: research has shown that 88% of consumers prefer them over active-shutter equivalents when it comes to 3D viewing experience. Besides being capable of delivering flicker-free 3-dimensional images, the main strength of passive 3D technology lies in the polarized 3D glasses which are generally cheaper (costs £2 per pair), lighter and easier to use (does not require battery, charging nor syncing with the 3DTV) than their ASG counterparts.