LG's 2012 Cinema 3D internet-enabled televisions will become the first in the HDTV industry to boast a new WiDi (Wireless Display) connectivity interface developed by Intel. The Korean TV manufacturer and the American chipmaker this week signed a strategic pact to mutually promote the latter's WiDi technology which makes it possible for content stored on laptops, smartphones and tablets to be transmitted and displayed on the former's Smart TVs without the need for WiFi connection nor external adapter. Under the partnership agreement, both firms will engage in marketing activities together, starting with the unveiling of WiDi-capable LG Cinema 3D products at the Consumer Electronics Show (CES) 2012 in Las Vegas next month.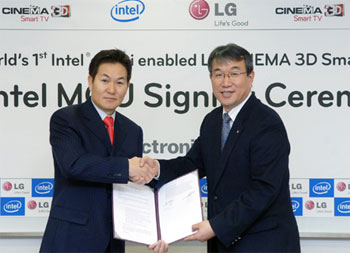 LG Cinema 3D Smart TVs to be WiDi-connected in 2012
The Intel Wireless Display technology works by establishing a direct connection between the WiDi chips that are embedded on the source device (for example notebooks and other mobile gadgets) and the target display (e.g. an LG Cinema 3D Smart TV, projector or monitor), therefore doing away with unnecessary wireless internet connection. Materials that can be transmitted from the source device to the target display are not only limited to those which are saved on the hard drive or memory card, but also include streamed online content such as YouTube videos and web TV broadcasts.
Another advantage of the WiDi technology is that the mobile source device does not need to be tied down during the real-time streaming process, which means that users can use their laptops, netbooks, tablet PCs and mobile phones to do other things while transferring content to a Smart TV, projector or monitor.
Seog-ho Ro, senior vice president of TV business unit at LG Electronics, said that the partnership between the company and Intel will allow owners of Cinema 3D Smart TV sets to enjoy a wide range of content in a seamless, convenient way. He hoped that the incorporation of WiDi connectivity into LG Cinema 3D TVs to improve user experience will set them apart from competing models from other brands.