After giving us a tantalizing first glimpse of the world's first curved OLED TV at last January's CES, LG has now hinted that these cutting-edge displays may be on sale in the UK before the end of the year.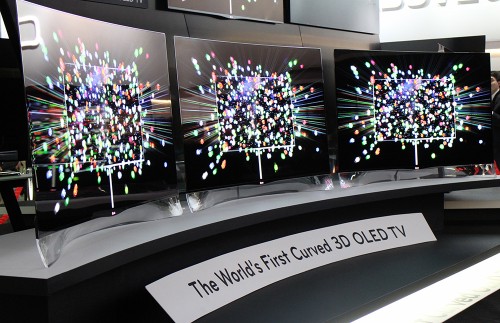 LG curved OLED TV to go on sale by end of 2013
Curved screens have been getting a lot of hype this year. Much of the focus in recent months has been on smaller screens however, with the development of curved-screen iPhones and Galaxy phones rumoured to be in the works. Now though, LG is claiming that its prototype curved OLED TV is almost ready to hit the shops.
Speaking to Trusted Reviews at the recent Seocho R&D campus in Seoul, South Korea, LG's Team Manager of the Home Electronics Product Communication Hung Shin revelaed that the first curved TVs are likely to be on the market soon.
"We're getting a variety of curved TVs ready, not just the 55-inch version but other, larger versions as well. We believe that consumers will find curved-screen technology to be strongly immersive," said Hung Shin.
Thomas Lee, LG's Vice President of Home Entertainment, went even further, saying that the technology will become a new "major trend". He added that curved TVs are likely to be launched sometime in the second half of 2013.
As we saw at CES, LG's concave-design prototypes are designed to give viewers a more immersive viewing experience by providing better viewing angles. The idea is that consumers will gain a better view of the edges of the screen – important on large screen devices – while the image depth is also enhanced as the edges are brought slightly closer to the eye. LG showed off a 55-inch, 1080p Full HD prototype at CES, featuring WRGB pixel construction to produce highly impressive contrast ratios and vibrant whites. LG's curved TV also sported a sleek, ultra slim design that'll earn the highest praise in any living room.
Kyung-Jin Kang, Chief Engineer of LG's Home Electronics brand, likened the experience of viewing curved TV to a home cinema.
"Cinema screens are always curved, and when you apply this to the TV, it's like having a cinema right there in your living room," he promised.
Source: Trusted Reviews