If the glittering collection of OLED (organic light-emitting diode) TVs gracing LG's showhall at the IFA 2014 consumer electronics trade show in Berlin is anything to go by, the South Korean brand is set to thrust itself into the minds of many video enthusiasts, especially those who are on the lookout for a viable replacement for Panasonic and Samsung plasmas which are no longer being made.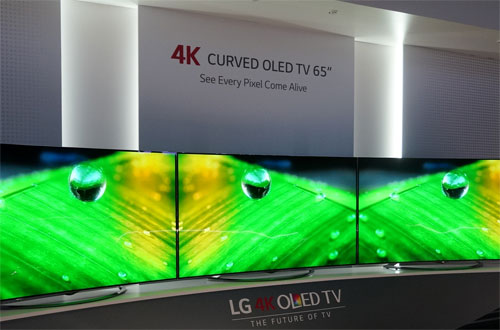 Turn back the clock to around this time last year, and you'd find that both LG Electronics and cross-town arch-rival Samsung had just started selling their 55-inch curved OLED displays in the form of the 55EA980W and the KE55S9C respectively. Today, the two companies' OLED television fortunes could not be more different. Samsung has struggled massively with the unprofitably low manufacturing yields from its "true RGB" OLED display technology, so much so that the world's number 1 TV maker decided to temporarily shelve its large-screen OLED panel production for the next few years, turning its attention to pushing curved LED LCD televisions instead.
On the other hand, LG's WRGB OLED technology proved to be much more scaleable, with yield rates improving to higher than 80% according to a company spokesperson. And we have no reason to doubt this figure, not when LG Display has been supplying its "white OLED" panel to Chinese manufacturers and more recently Panasonic, as well as kitting out its IFA booth with the most impressive lineup of big-screen OLED TVs we've witnessed to date.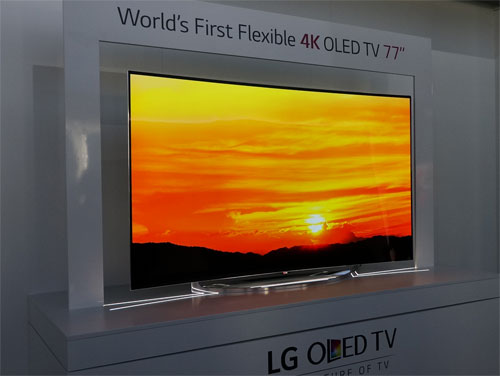 Making an appearance was the 77-inch flexible UHD (ultra high-definition) OLED television that first broke cover at CES 2014 in Las Vegas earlier this year, together with LG's forthcoming 55in, 65in and 77in curved 4K OLED TVs, the biggest of which we saw at a UK launch event some two months ago. An LG spokesperson told HDTVTest that the 65-inch 65EC970V is still on track for an October release, though there's currently no plan to release the smaller 55-inch 55EC970V, or indeed a flat version.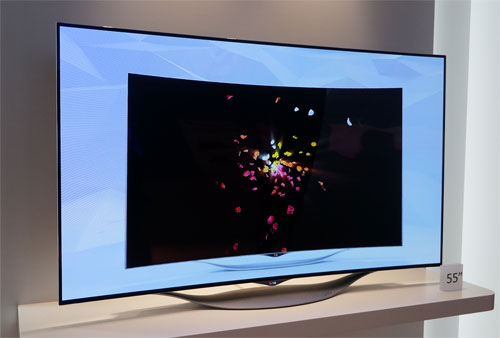 LG 55EC930V curved OLED TV with leaf-shaped stand
However, a new 55″ LG OLED model will be coming to the United Kingdom shortly, and that's the 55EC930V. It's curved, and features the firm's critically acclaimed WebOS Smart TV platform, but is only 1080p and not 4K Ultra HD. The LG EC930V is scheduled for a late September/ early October release, with pricing to follow. The corresponding model in the USA (55EC9300) is priced at a very modest (for an OLED telly) $3,500, so we'd imagine that it shouldn't cost more than £3,500 on these shores.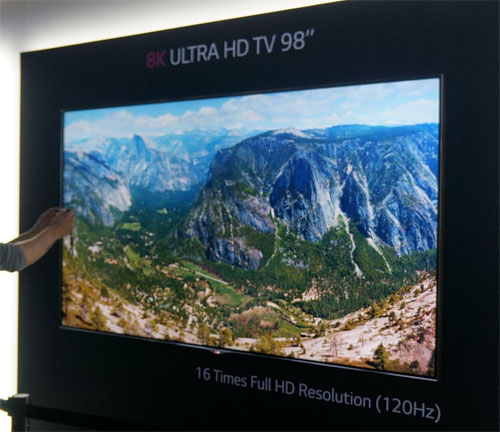 Behind closed doors with strictly limited access, LG also showed off a 98-inch 8K TV prototype (which is based on LED LCD technology, not OLED), and a pair of Swarovski-treated limited edition OLED TVs announced pre-IFA. As suspected, the Swarovski OLEDs are 1080p full HD displays not dissimilar in design and specification to the existing LG EA980W. Two styles were exhibited: one with a stand made completely out of crystal pieces; and another whose plastic stand was encrusted with Swarovski crystals. For the moment, only the latter will be sold as a premium, limited edition in select markets.
LG's limited edition OLED TVs with Swarovski crystals
At a time when videophiles are mourning the passing of plasma, it's heartening to see LG steadfastly pursuing large-sized OLED TVs which are capable of delivering the ultimate picture quality owing to the self-emissive display technology's ability to render true blacks. These OLED televisions are perhaps the most important products in LG's history, even more so than the award-winning LG G3 that has to compete with numerous highly-specced smartphones including the upcoming iPhone 6. The halo effect of OLED TV simply cannot be overlooked, as it has the potential to catapult LG into the top-tier AV status that has long been coveted by the Korean manufacturer.